I think this is the first year I am able to participate fully in Back to Middle-earth Month since B2MeM has existed. Normally the events require quite a bit of work from the mods during the event; this one was structured quite by chance--though no less brilliantly--so that the work was heavily front-loaded, which means that I'm able to actually participate. (Usually I manage one story, maybe two. This year, I'm doing the nonfiction path with fingers tightly crossed that, when I reach the Wild square, I will roll the option to choose something from one of the more creative paths and can write a story as well.)

My first piece was "On Writing Aman, or the Balance between the Mythic and the Real." It's on B2MeM, SWG, and the Tumblr place.

My current project, for the prompt "Analyze a Chapter or Passage," is a comparison of the death scenes of Fëanor and Fingolfin. I had done a short analysis of these two scenes for the unpublished (though being presented at the Vermont Tolkien Conference next month) paper on historical bias, and I decided to expand this out into its own essay. I'm hoping it will be finished and posted before the end of break.

Also, "Assignation," aka "the skanky fanfic," is now up on SWG and AO3, in case you missed that literary gem. It's Aredhel/Celegorm/Curufin, though I like to hope it's more than just PWP. It's been up on the SWG, but if you want to read the skanky fanfic on AO3, now you can.

Last fannish thing. Hedonist by Heart has done another beautiful piece of fan art for Another Man's Cage called "Before the Hush." If you like it, please go show her some love over on DeviantArt or Tumblr.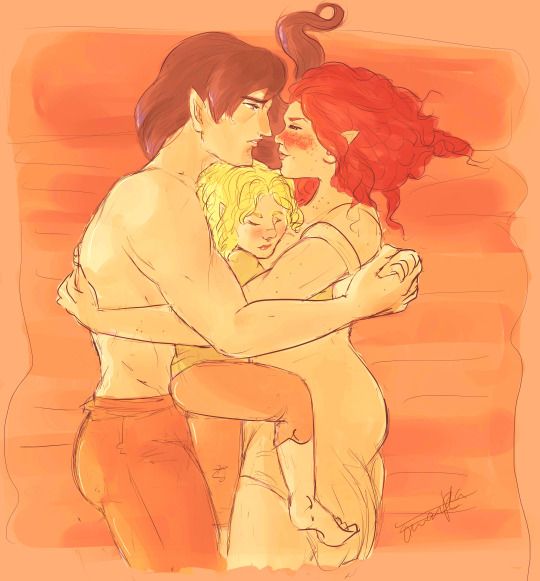 The passage from AMC that inspired it:

"I love you," I say.
"I love you too," he replies, and Tyelkormo awakens, sees me, and squeals with muted joy, wriggling across Fëanáro to lie between us.

Fëanáro rolls over to face me, resting his chin in Tyelkormo's hair. Both of our arms circle our son and reach for each other. I am agonized to see that his eyes are reddened-he has been weeping?-and realize that he has perceived my earlier thoughts, and he had imagined me gone, ducked beneath the river and running through the night to my father's house and the simpler life I knew before the day that he came into my forge and pressed into my hand an engagement ring.

Holding our son between us, I realize that life was simpler then but empty.
"I could not bear you to leave me," he whispers. "I will do your bidding until the end of Arda if only-"

I put my fingers to his lips. "Hush," I say. "I made my choice that day in the forge, and it is not a choice I shall ever regret. All things will end before my love for you."


Hedonist by Heart has done artwork for AMC before but I think this one is my favorite. I feel like the genuine love and affection I hoped to show between the characters comes out in her art. And I simply love how she has drawn Nerdanel and the intensity of her Fëanor. (And Celegorm! Who doesn't want to snuggle that little muskrat and forget all about that whole kidnapping-Lúthien-betraying-Felagund thing??) Anyway, I love the piece and wanted to share it (and her work).

It occurs to me that this is the first and possibly only journal entry I will write over my fabulously long Winter Break. (I still feel like I'm getting away with something. We don't go back to school till Wednesday.) It's been a busy one: first preparing for B2MeM, then I edited a doctoral dissertation (for pay!), and of course there's always papers to grade and units to plan, and I went in to work for a day to give my classroom a much-needed reorganization and straightening up, and the SWG lately has more chores to do than a farm. It sounds work-filled and awful, but I've loved every moment of it. (And there were doses of fun: We went to St. J's--which feels forever ago--we went to the Ski and Snowboard Museum in Stowe, I had a snowboard lesson, we saw La La Land, we've had a lot of really good meals out.) I've come to terms with the fact that, if I were a dog, I'd be a Border Collie: You know, the kind of breed that gets described as being "happiest when working." I've been working, and happy, but subsequently not around much.


---
This post was originally posted on Dreamwidth and, using my Felagundish Elf magic, crossposted to LiveJournal. You can comment here or there!
http://dawn-felagund.dreamwidth.org/407973.html