2 Photos/2 Days + 1 Unsolved Mystery
I took a photo for yesterday but didn't post it, so today I have
two
(okay, actually
three
) photos, plus a very annoying unsolved mystery.
Last night, we went out for dinner at the Thai restaurant in Newport. They also have sushi--and a phenomenal sushi chef--and I have been fiending for sushi something fierce. Twice, I have gone to places with great sushi, and they haven't had it at that particular moment for whatever reason. Thankfully, as the saying goes, three is a charm, and I succeeded in getting my sushi! At last!
Dusit Thai is a beautiful restaurant in addition to having incredible food. It's my favorite restaurant in Vermont, hands down, and there is some pretty steep competition for that title.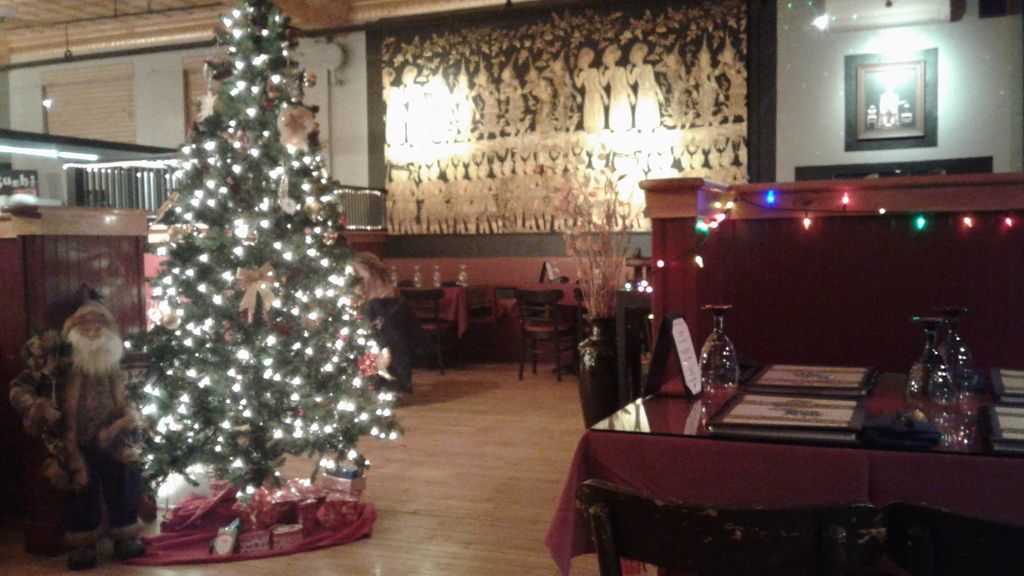 Their portions are huge, so Bobby and I shared a spicy eggplant stirfry that we'd never tried before and will definitely have again. I've never tried anything off of their stirfry menu because I tend to hear "stirfry" and think "boring," but this was far from boring. Then we shared three sushi rolls.
Bobby had rented a movie for us for the night, and this is where the annoying unsolved mystery comes in. When he picked me up from school, he told me that he rented a DVD, and I saw it on the floor behind my feet, sitting on a pile of bungee cords. Somewhere between that time and our return from the Thai restaurant, the DVD disappeared.
In between, we went to the Thai restaurant and, after that, shopping at the natural market, so I got out of the car just once after he picked me up from school. All the same, given where it was placed--behind my feet--and how high off the ground our car is, it is unlikely that it fell out of the car. We tore apart the house and car--looking in and under things, including many places where it could not possibly be--and even drove back to Newport and checked where we parked the car, in case it had fallen out. NOTHING. We came up with multiple theories that were shot down one by one. It's so frustrating! Our house is small, and it's pretty impossible to lose things here. I am hoping that when we return to the video store to cop to losing the movie that the owner will tell us that someone found it in Newport and turned it in. But I highly doubt that it could have fallen out of the car.
My best theory at this point? That there was some kind of anomaly in the universe and it simply disappeared!
Today, Bobby went to Jay Peak to snowboard. Since the Yaris isn't appropriate for driving in the snow--we intend to replace it as soon as we can sell our house in Maryland--then we are sharing the Subaru, so I went with him, had breakfast with him, then drove back to Newport to run errands. One of which was getting my library card at the Newport Library! An actual library that is open every day except Sunday and has a lot of books for all audiences! Maybe because I look like someone who would avail herself of this or maybe because she tells everyone, the young woman who helped me informed me without my asking that I would be able to use interlibrary loan after three months in good standing.
I of course visited the fantasy section and was delighted to find a pretty nice selection. I was amused by the arrangement of genres, however.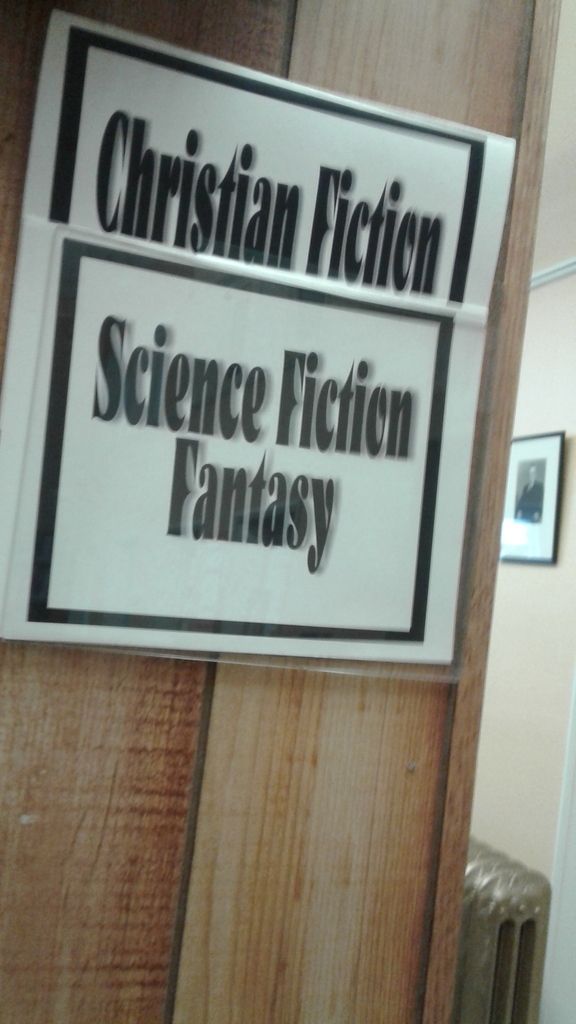 It seems like this would be controversial in a lot of places in the U.S. to have these two side by side! I imagine little church ladies glowering at ... well, people like me!
Then I went back to Jay Peak to meet Bobby for lunch and wait for him to go home. Jay Peak has received four feet of snow so far this year. It has received more snow than Breckenridge in Colorado and Jackson Hole in Wyoming. According to Bobby, "The goods are in the woods," and it was a very good day. The mountain will be all open very soon; the only reason it is not already (with four feet of snow!) is that the famed tramway needed a special part for a repair, which has arrived and was being done this weekend. Parts of the mountain are only accessible via the tramway, so they have been unable to get all open because of that.

All of this snow is
much
needed. Jay Peak (and Burke Mountain in the southern NEK) became embroiled last year in a financial scandal due to the crooked dealings of their owner, who is now under federal investigation. It's a long and convoluted story, but the gist was that major expansions at Jay Peak that were done using local labor and businesses went unpaid-for. And this is not, as anyone who reads here knows, a wealthy area. The Northeast Kingdom is very low-income. These were contractors and workers who did work on the resort and were never paid for it. The threat that the resort would close (or be temporarily shut down) added an element of distress because so many people depend on the resort for their employment. And again, this is not an area that can weather a lot of economic distress.
To add insult to injury, last year, the snowfall in Vermont was exceedingly low--the NEK didn't even have a white Christmas--and the resort suffered even further from that. So the snowfall this year--among the best the resort has ever had--could not come at a better, more-needed time.
---
This post was originally posted on Dreamwidth and, using my Felagundish Elf magic, crossposted to LiveJournal. You can comment here or there!
http://dawn-felagund.dreamwidth.org/398641.html