Holland Pond
Autumn is still descending in its multi-hued glory to Northern Vermont. Yesterday was a grumpy, gray, rather miserable day: 55F/13C, damp, with those drifting, misty showers that seem to ooze out of the air itself. Nonetheless, Bobby and I decided to take a couple-hours kayak jaunt out on Holland Pond, about a half-hour northeast of us. It had been recommended to him as a rather remote and especially beautiful site among the Northeast Kingdom's myriad ponds and lakes.
The rain thankfully held off for the duration of our paddle, and there was enough wind to ensure that we were kept quite warm as we fought to keep our kayaks on course. It was a really fun pond--definitely one of my favorites--with a handful of cabins on its western shore but otherwise surrounded by a wildlife management area and very remote. It was unusual in the large, gray boulders that lined its edges. There were quite a few little coves to explore, one of the things I love best about kayaking. While hiking, of course, leaving the trail is verboten. On the water, one can duck into a little cove or start down a creek to see where it leads, worrying at most about getting stuck and having to make an undignified exit. (Not a problem once yesterday, despite putting myself into some tight spots; I am getting good at navigating the new kayak like I once was with the cantankerous bastard.) When I was a kid, there was nothing better than opening a novel with a map on the first few pages, and even now, I can read a road atlas for hours if left to my own devices. Kayaking scratches that itch to explore very, very well.
Of course, I took pictures. They are cell phone photos taken on a gloomy day, mostly from a kayak being tossed lightly in the wind so not the best quality, but I hope they give some sense of Holland Pond and the day!
Looking from the access area to the pond.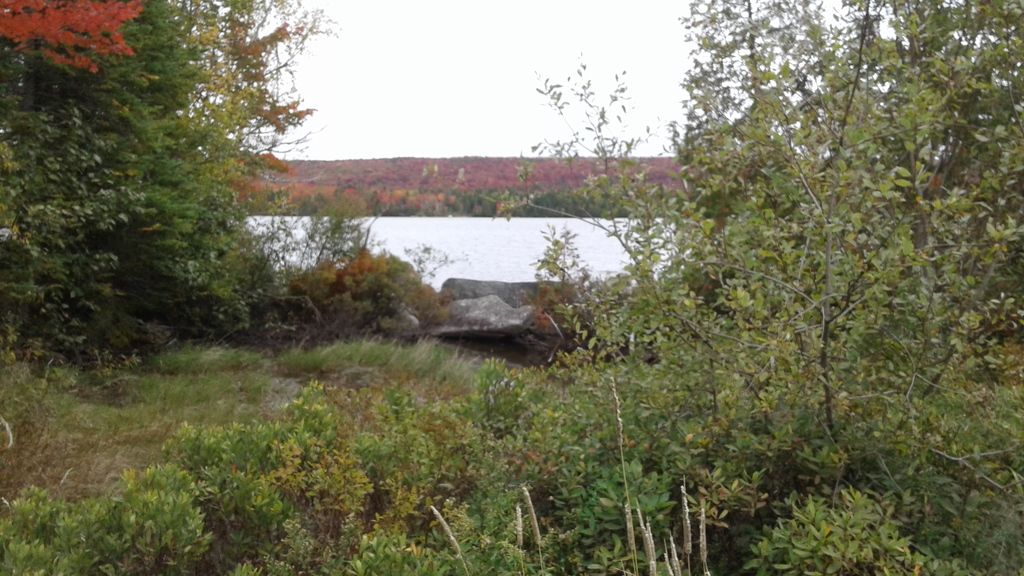 Heading north!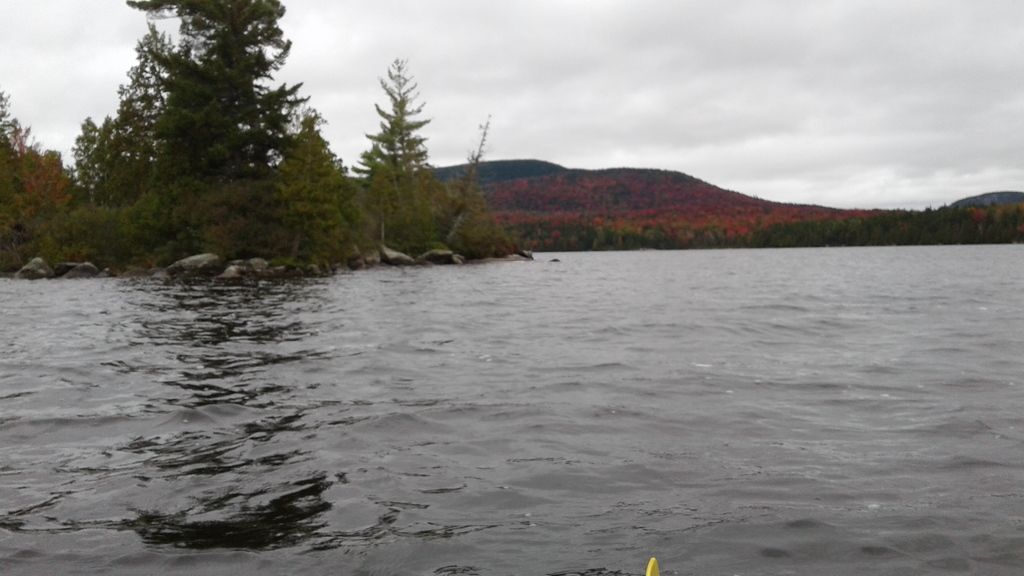 The mist on the mountains was beautiful. (The hell with New Zealand; Vermont is Middle-earth is so many ways!)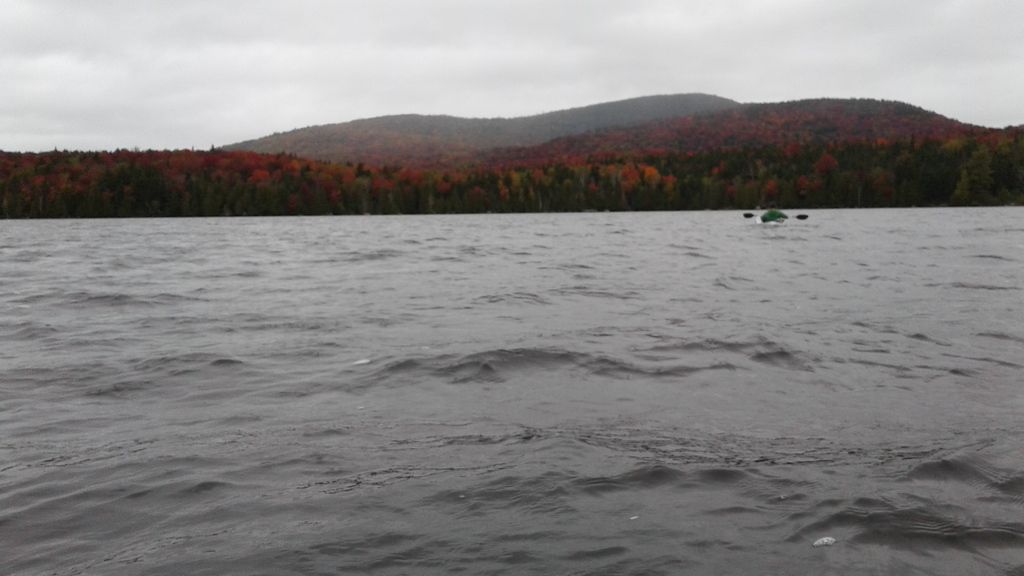 Autumn is coming.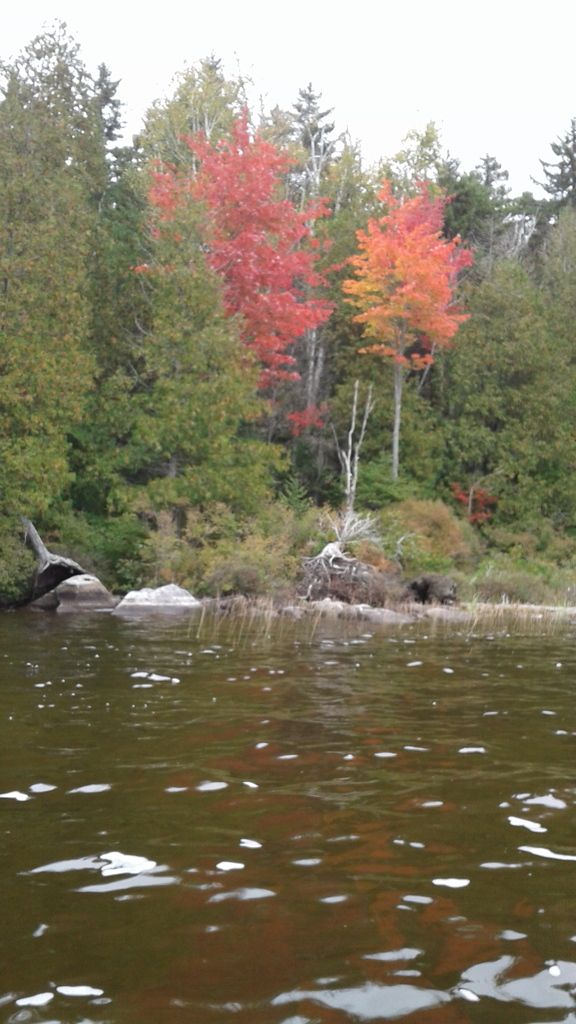 We stopped and floated in a cove at the northern end that was protected from the wind. I took a selfie. I looked rather raggedy; I don't even want to say how long it had been since I washed that hair!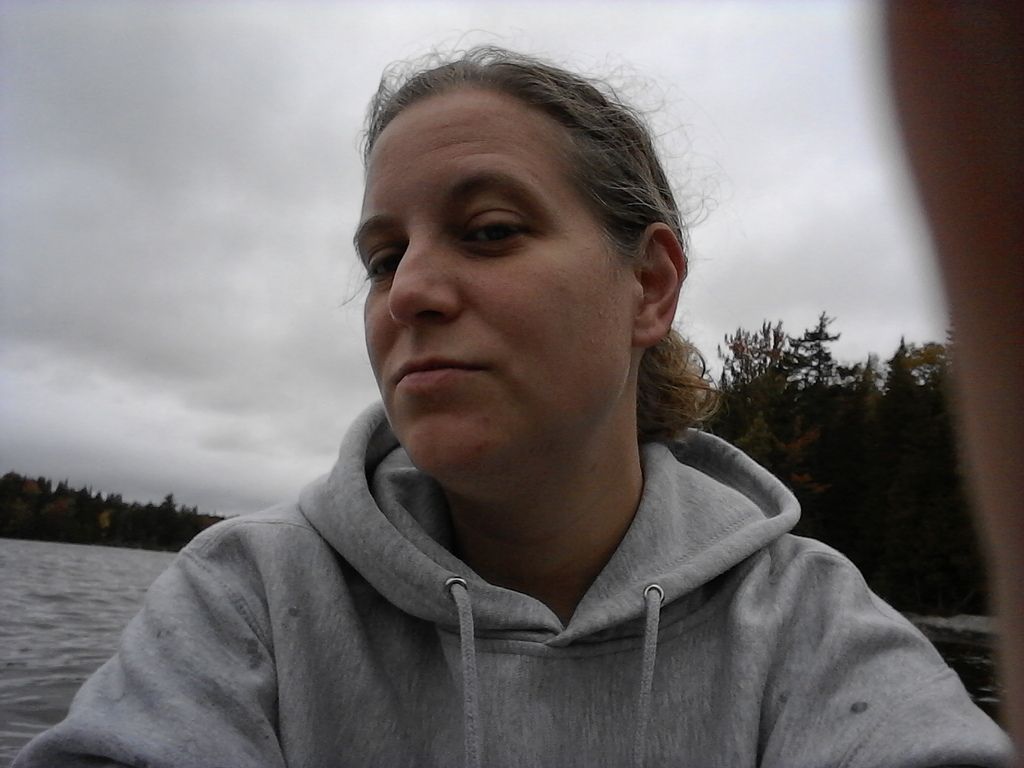 One of the coves we explored. A few creeks feed into the pond, but Vermont had a really dry summer this year, so the water level is low everywhere and they weren't passable. On a better year, they might be?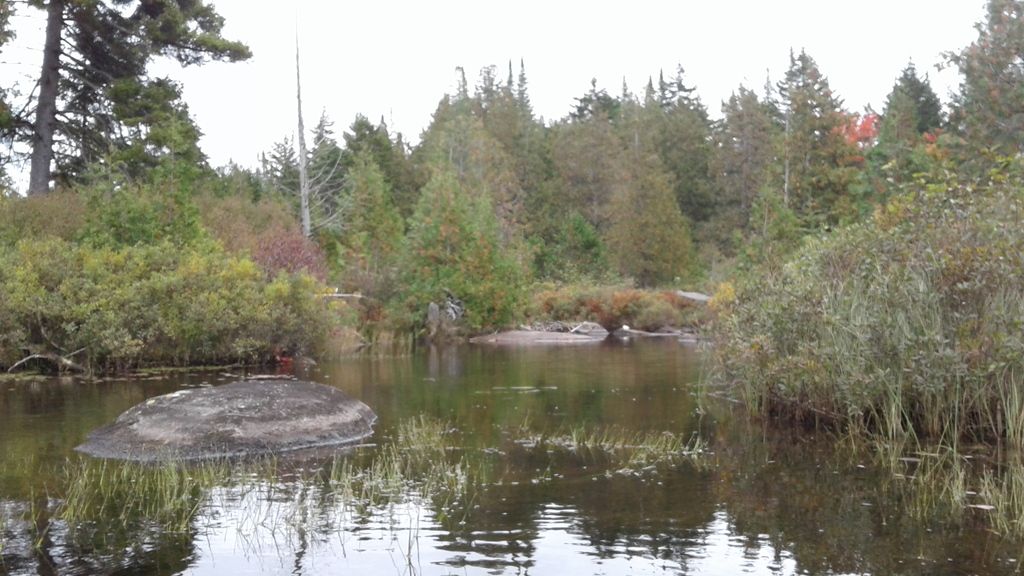 Heading back to the south. We didn't make it all the way to the other end; "pond" in Vermont can mean "actually small" or "really a smallish lake." Holland Pond is more of the latter.
This guy.
Something about the pattern of the lily pads on the water and the twisted shape of that old dead wood really appealed to me here.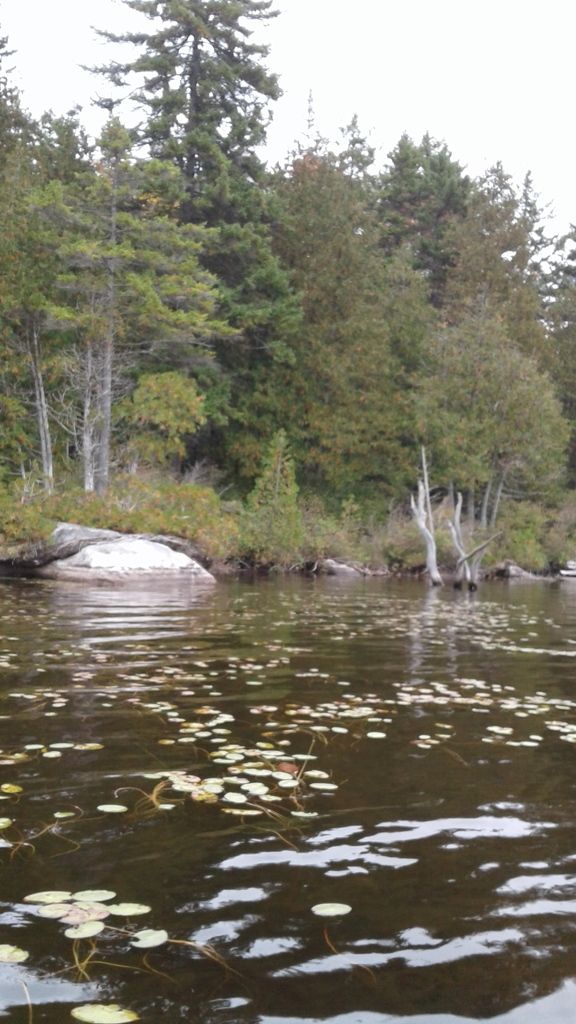 Autumn in miniature. I love that the little vine crawling across the face of this rock has all the colors of autumn on it.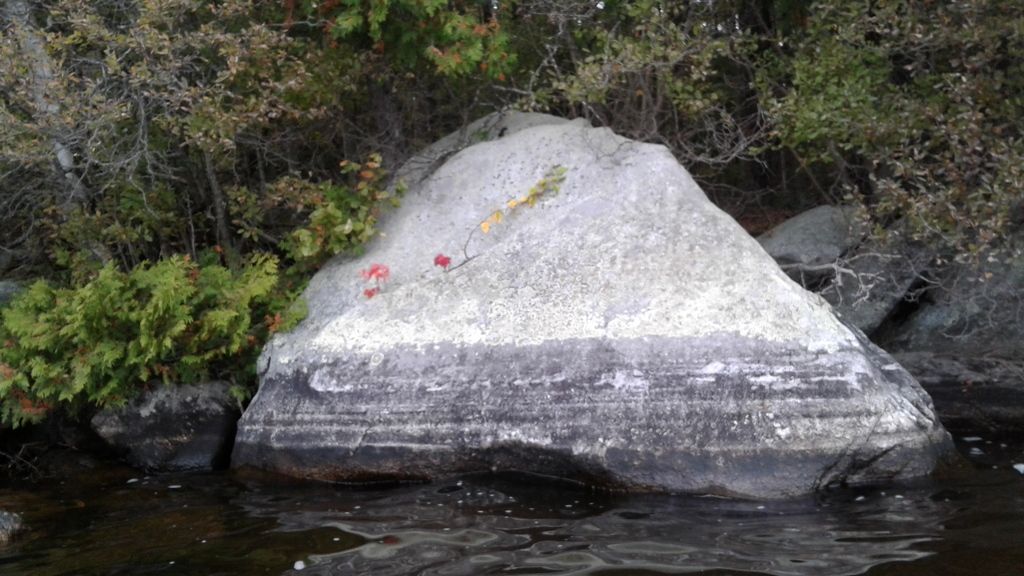 The wide, flat rocks offer ample space for picnicking or just sitting with a book. We'll definitely be back in nicer weather!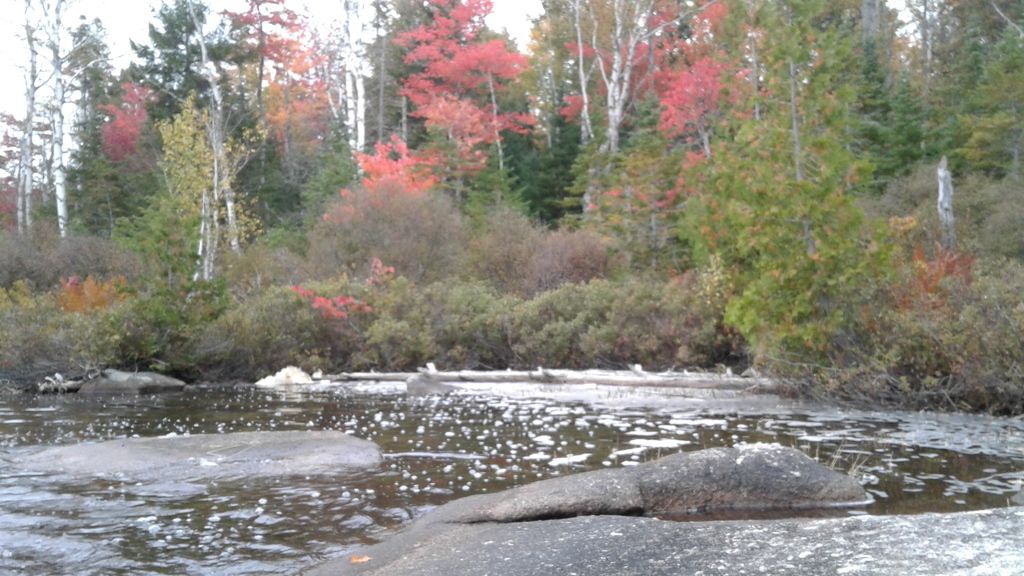 ---
This post was originally posted on Dreamwidth and, using my Felagundish Elf magic, crossposted to LiveJournal. You can comment here or there!
http://dawn-felagund.dreamwidth.org/391443.html