I Snowshoed 10K So You Don't Have To!
First of all, before I post the beautiful pictures garnered from that 10K of snowshoeing, to all who have been asking about Lancie: He is home! He was released last night from the vet hospital but spent the day with my inlaws so that he could be monitored all day today. He is about a foot away from me now. He is doing much better: the vomiting and diarrhea are gone, and he has his appetite back. We need to get his weight back up, which means extra canned dog food, which I don't think he's going to protest.
Okay, now as to the reason I am writing this post!
Bobby has been pestering me for some years now to learn to snowboard. And I'm going to! But I want to wait till after my thesis is done. In any case, we have both snowshoed casually for some years now. But, between my hike halfway up the mountain at Stratton and two glorious days at the Breckenridge Nordic Center, I think I can say that I have Found My Thing, at least as far as snow sports go. (And, yes Bobby, when you read this, I will still let you teach me to snowboard.)
I did 10K (6 miles) over the course of 6.5 hours spread over two days, including (on the second day) part of a black diamond trail.
The first day, I was meeting Bobby for lunch and so only had about 2.5 hours, so the woman in the Nordic Center recommended the Pence Miller trail (intermediate), which linked into the Willow trail (beginner), and I set off. It was about 16F/-9C that day. Within a short while, I was hot and eventually removed my scarf and tied it around my waist.
So we begin on Pence Miller ...
Overlooking Breckenridge. The tops of the mountains are obscured by clouds. It snowed basically nonstop until the day we went home, which was bluebird. This view would have been exceptional then!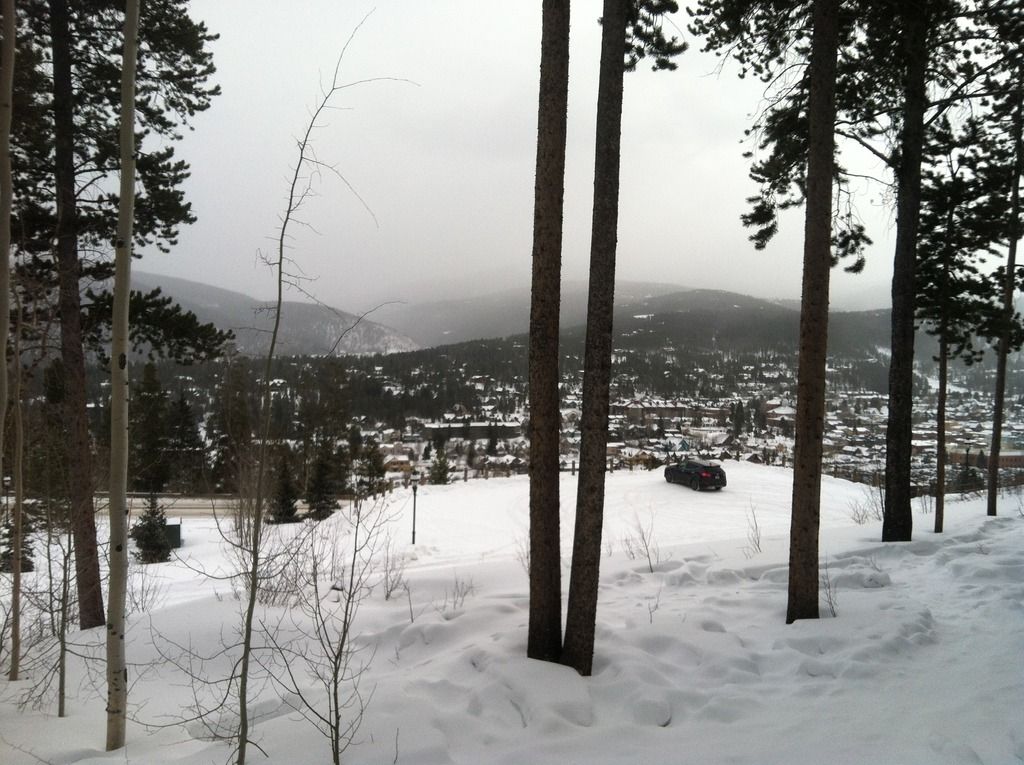 However, I think it is still pretty spectacular, even with the clouds and the gray!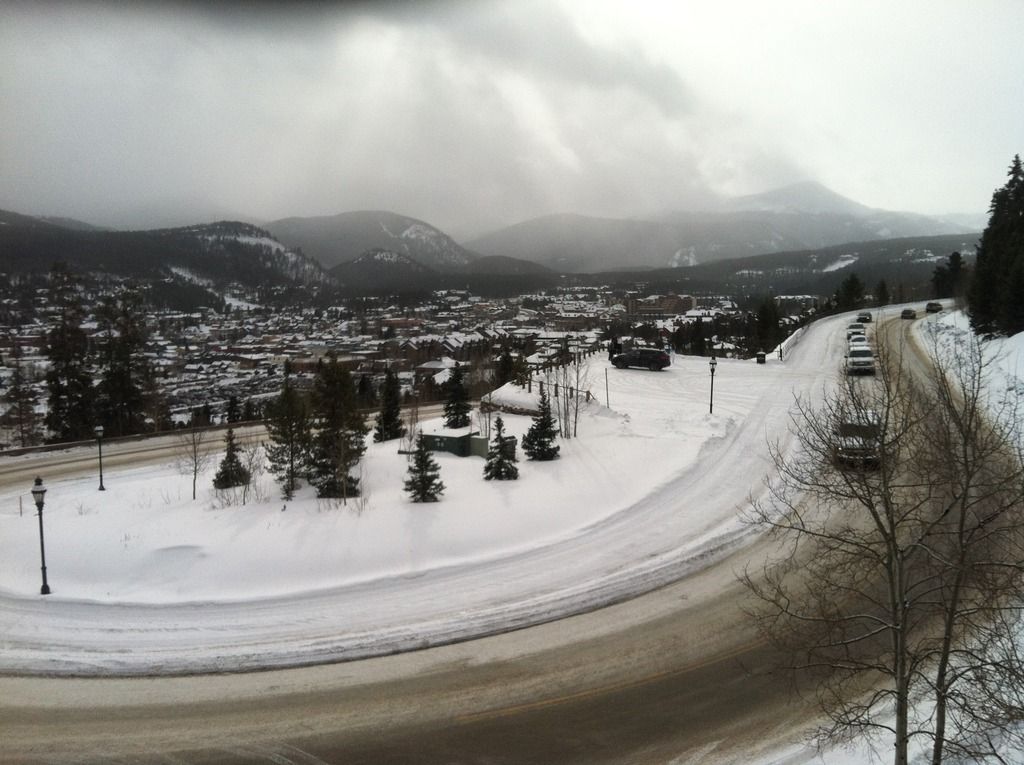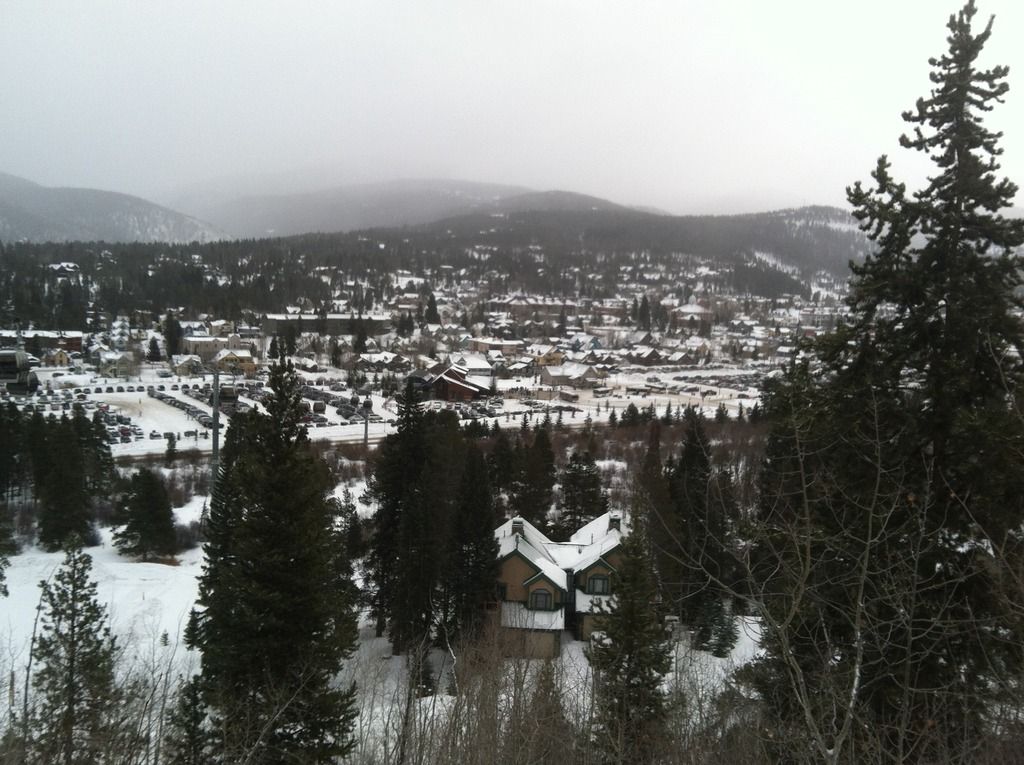 Setting out on Pence Miller across a bridge that crosses the roadway.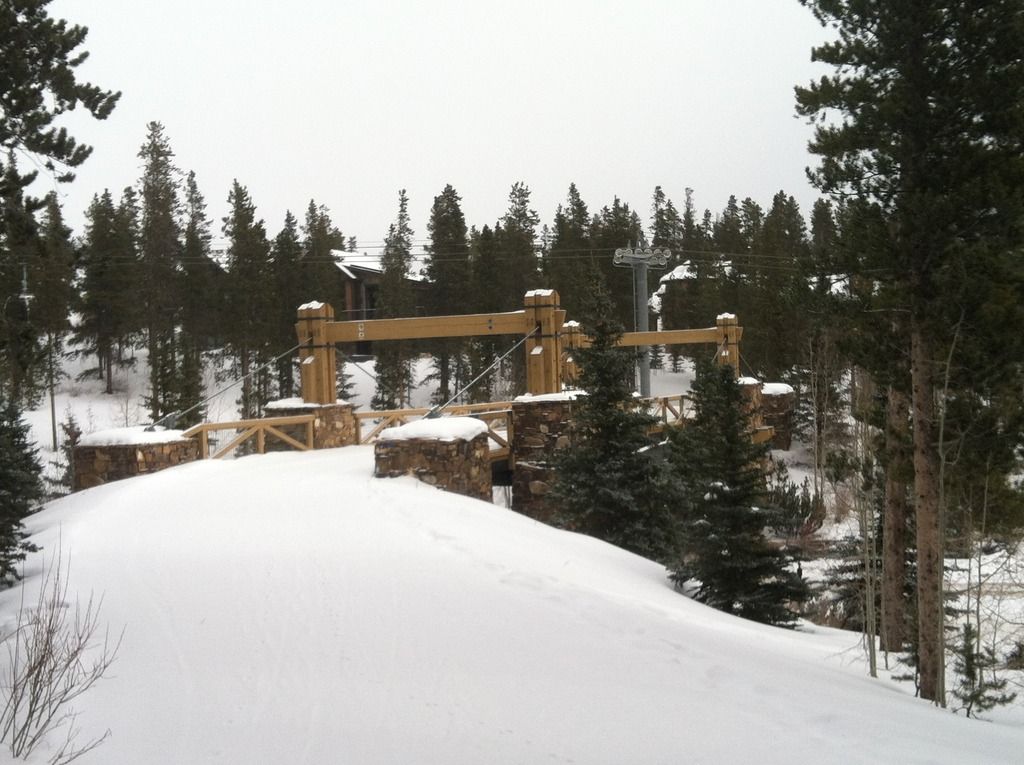 The gondola that leads up from town to the base of Peaks 7 and 8.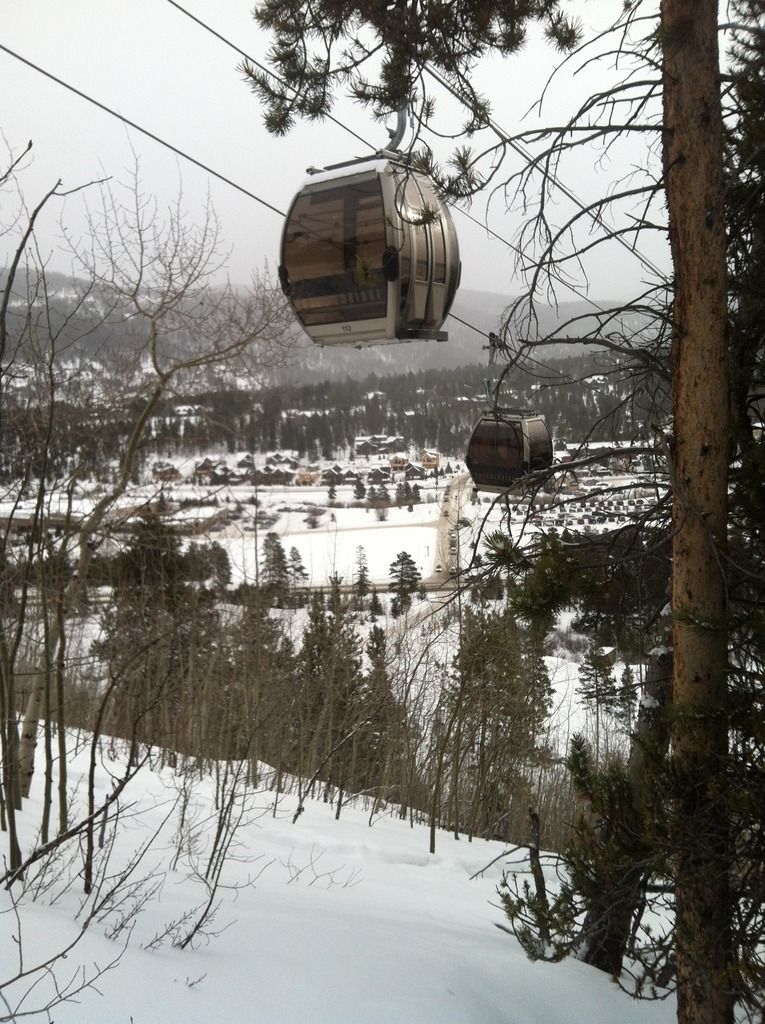 The trails were groomed, and you followed these little colored snowshoers to keep to the correct trail.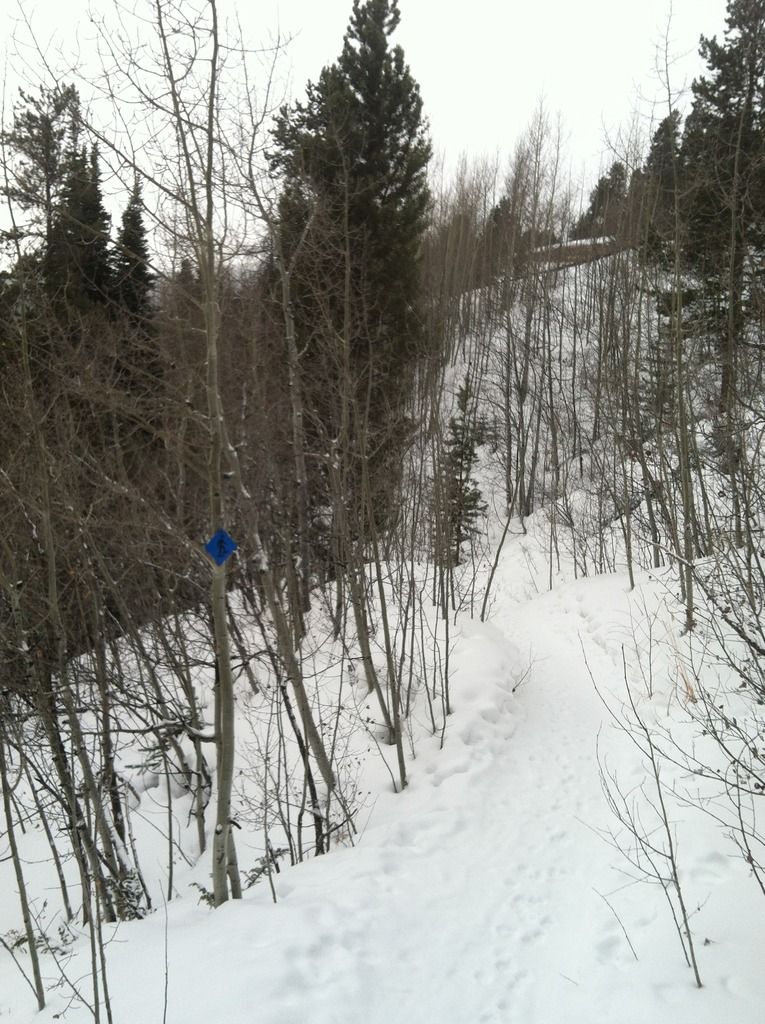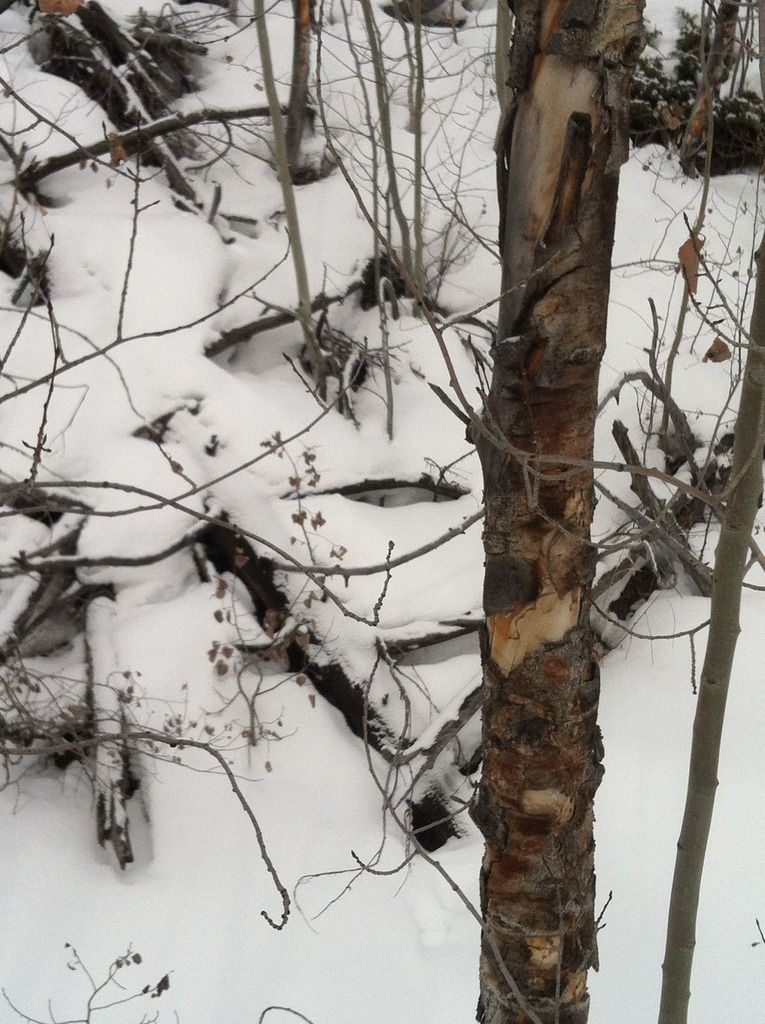 Colorado's famed aspen trees.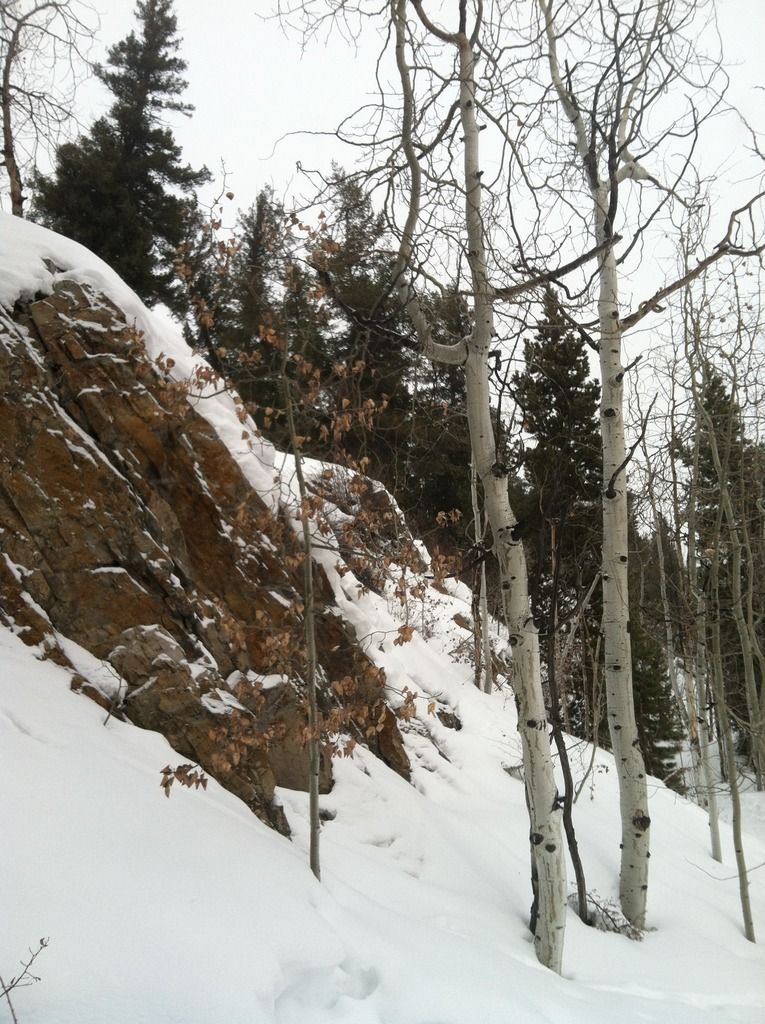 I loved the vivid color of this lichen on the rocks.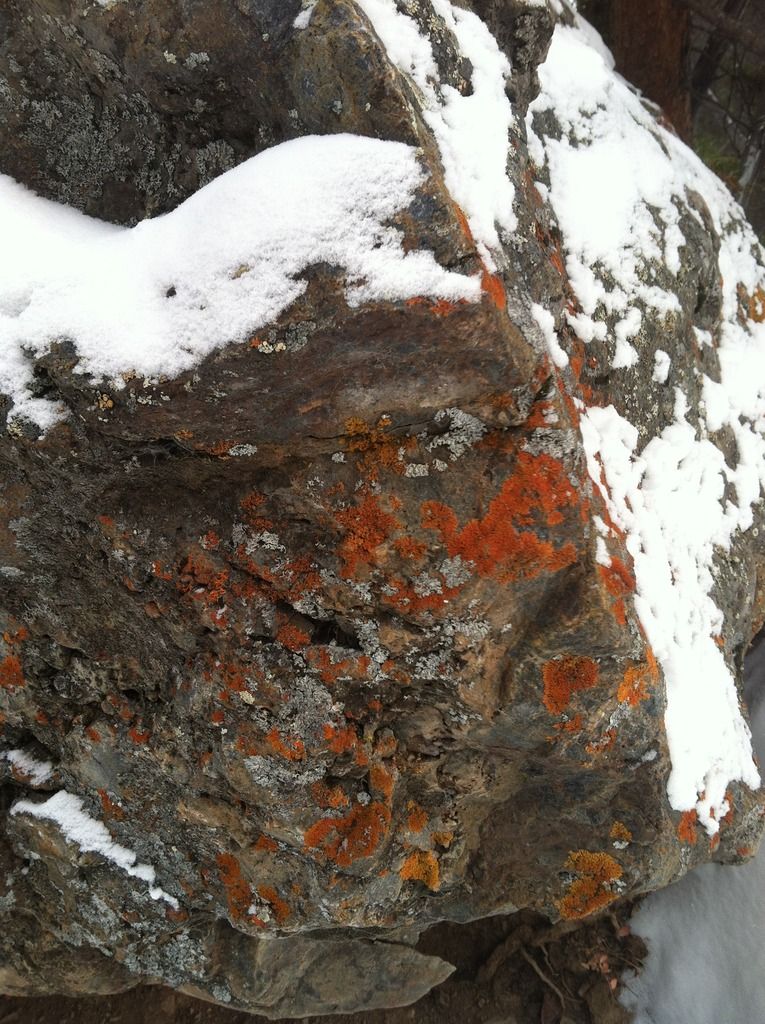 Pence Miller was pretty easy for an intermediate trail. But it was utterly deserted and
so
beautiful.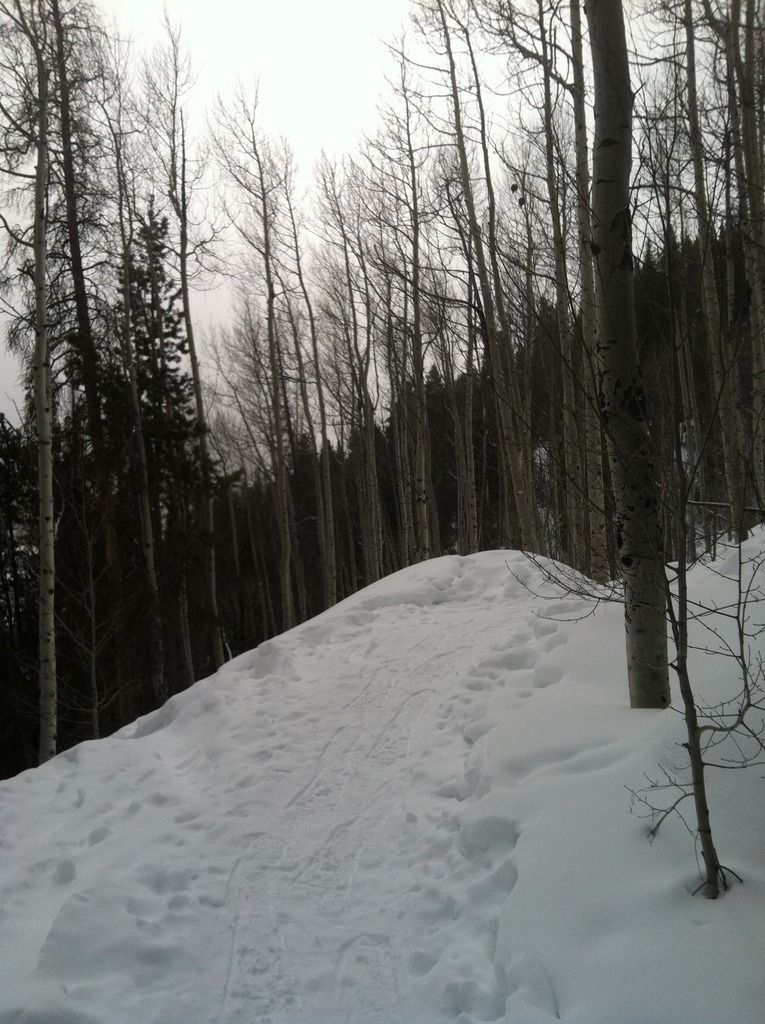 One of the things I love about snowshoeing is that it is very meditative. It is you and your footsteps and the sound of your poles stabbing the snow and your breath and your blood. It is rare when my mind is not churning over something or other, but I fell into this sense of mental quiet that made me keenly aware of the natural world around me. The only word I can use to describe it is numinous.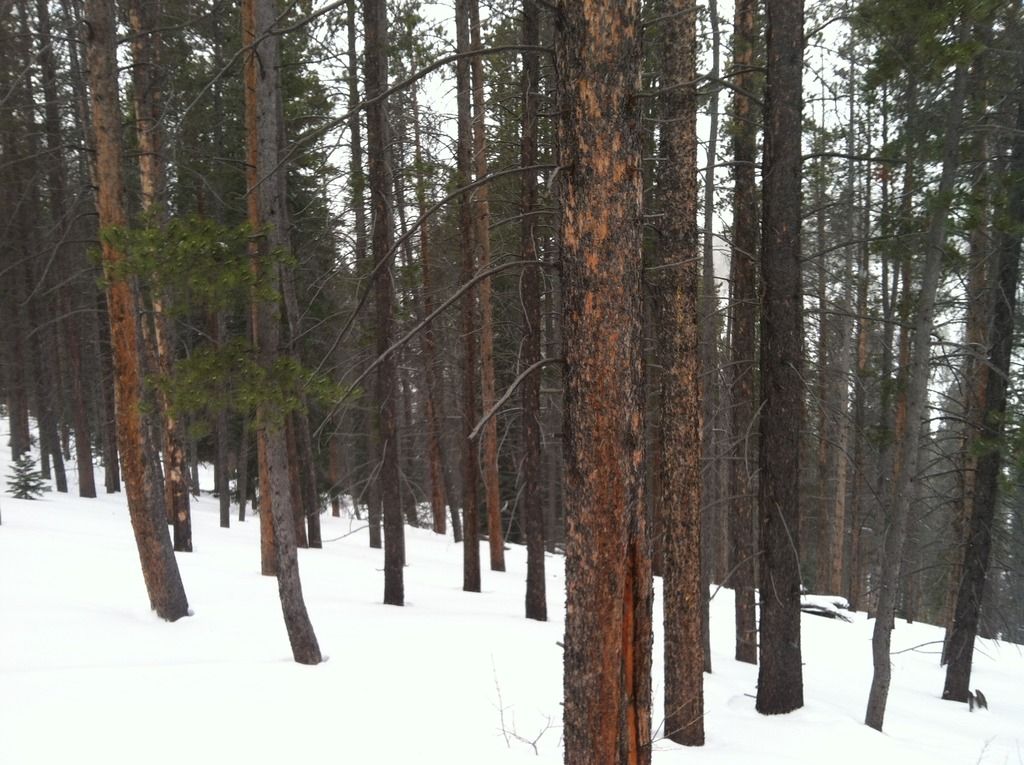 I loved this little guy, growing strong despite the snow.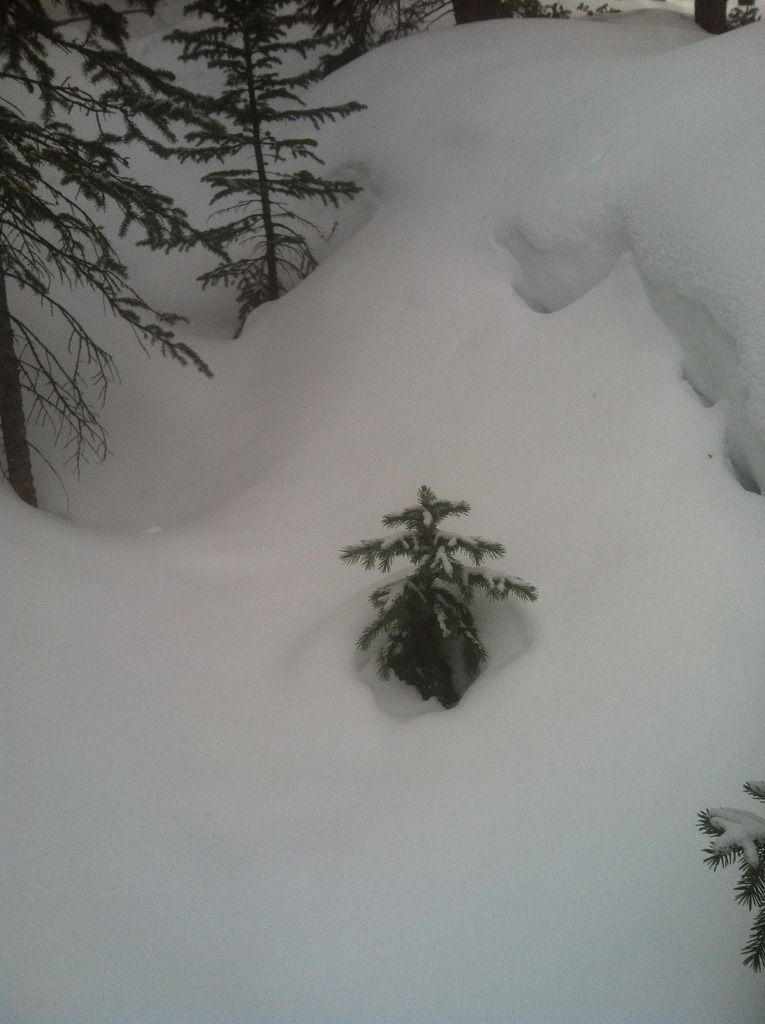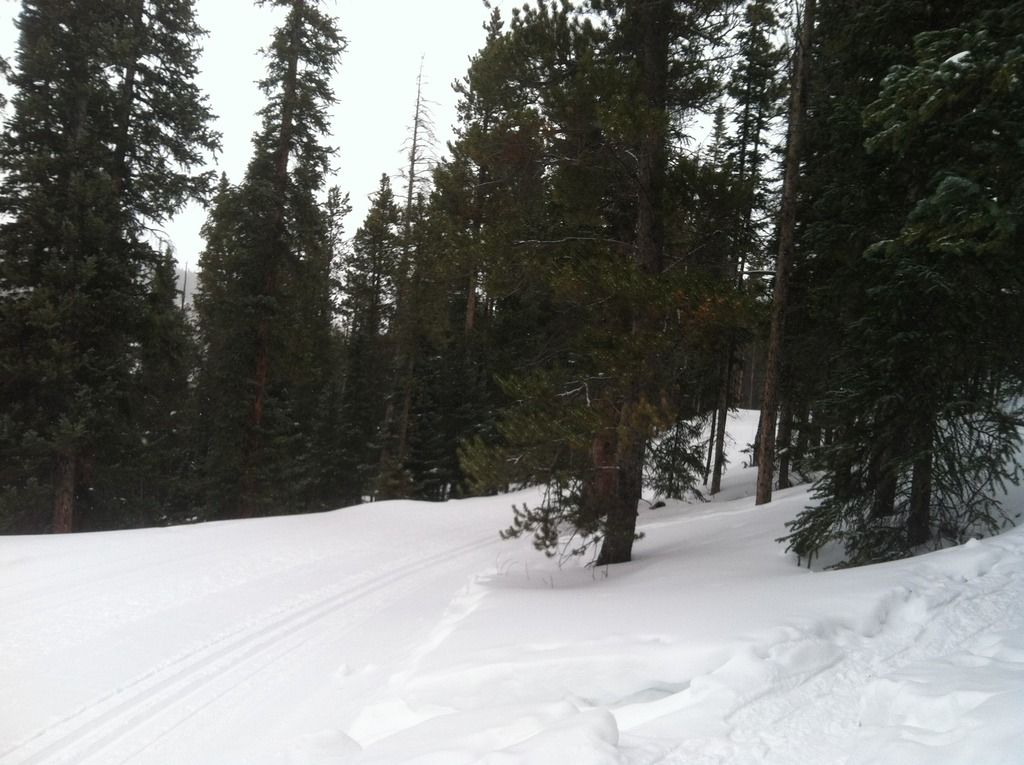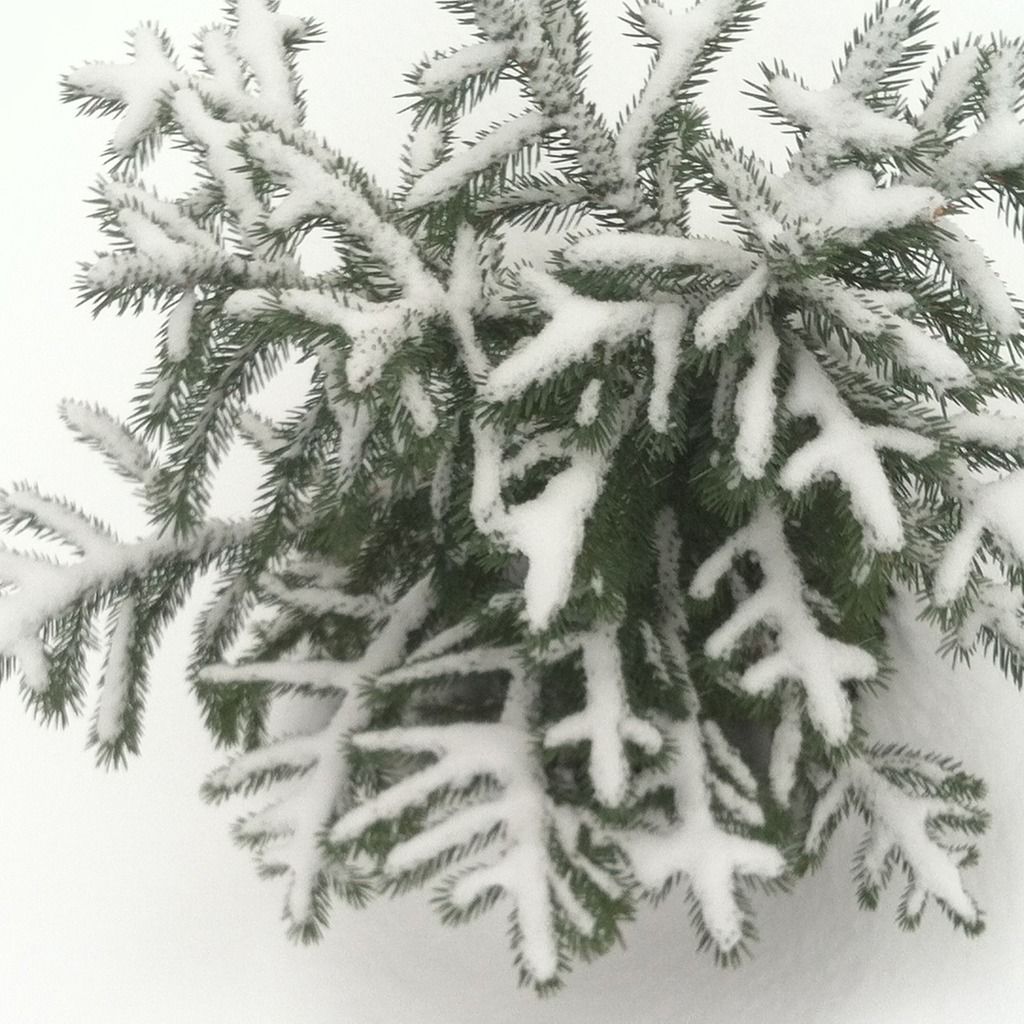 Here, I fell down and the snow made me turn invisible, so I had to take a picture to prove it.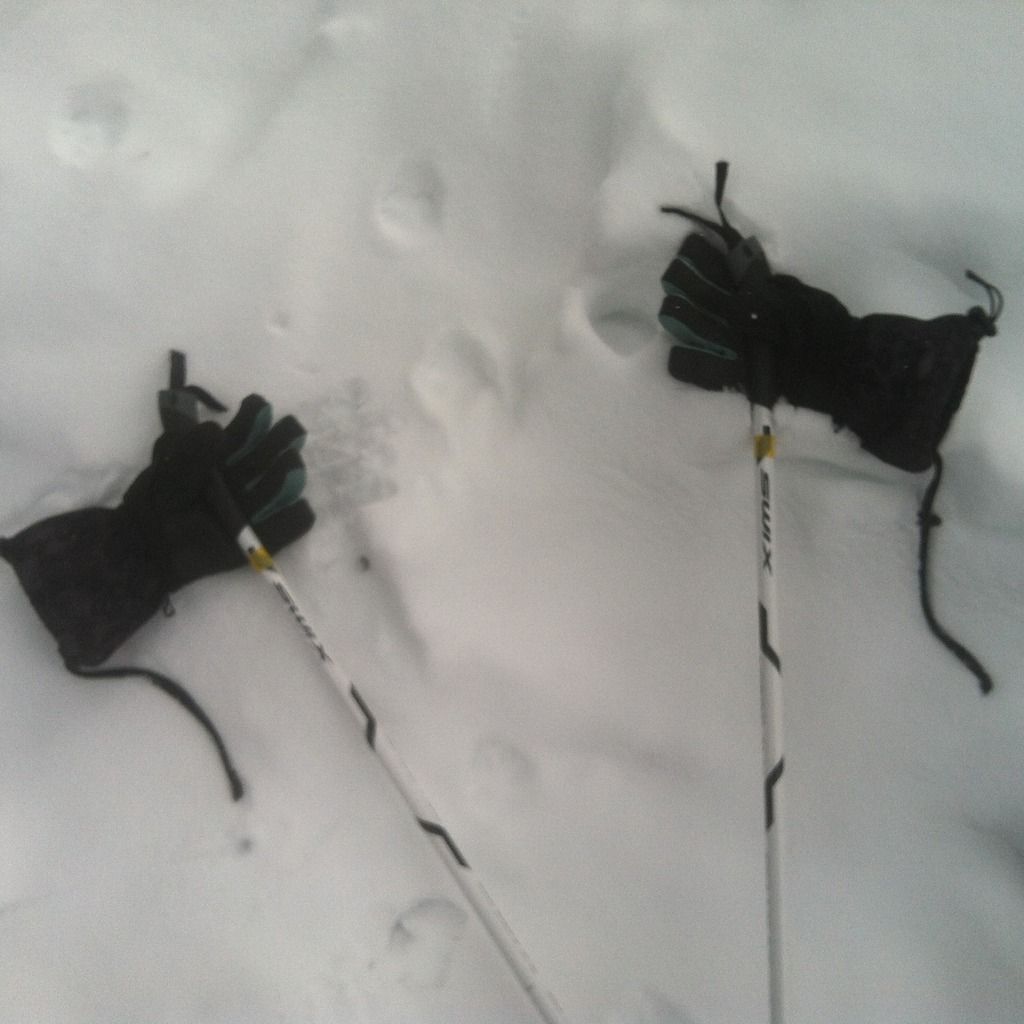 This is where Bobby was while I was trudging through the snow!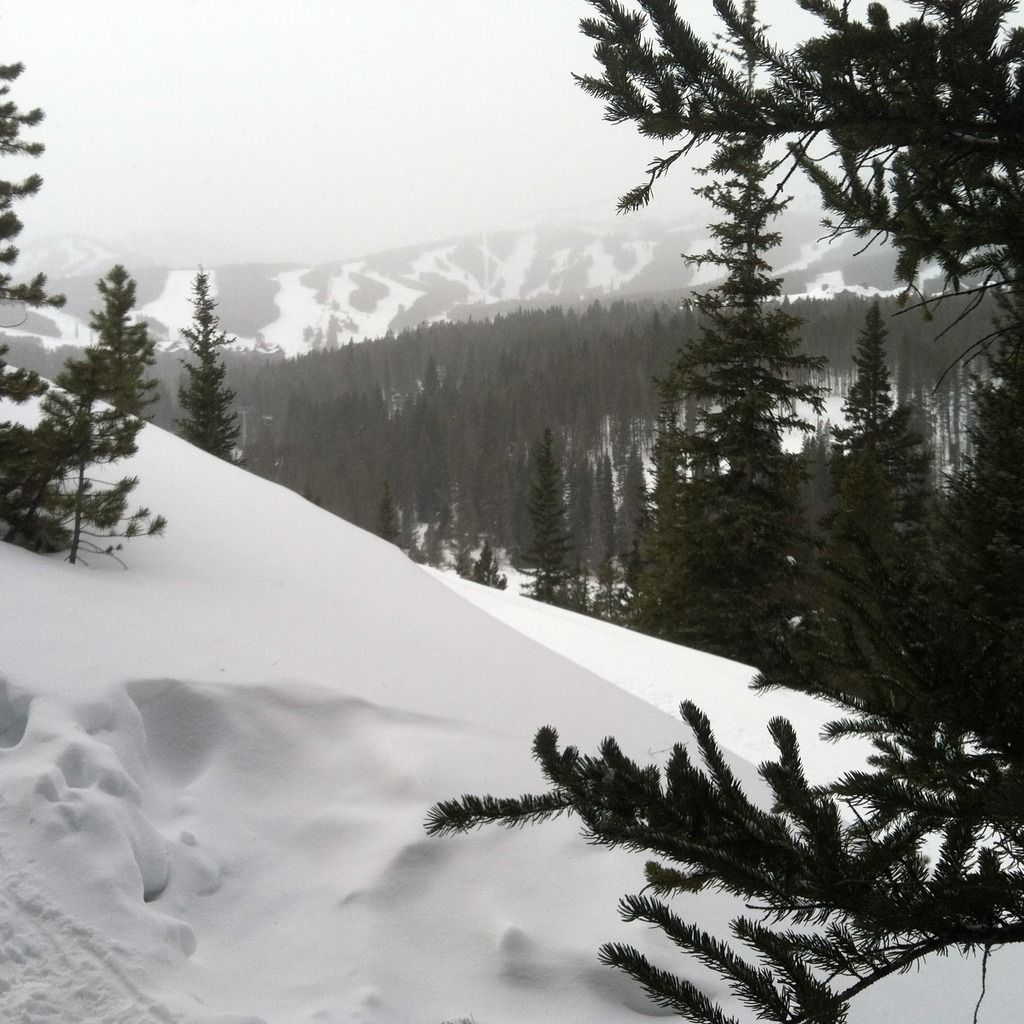 I became visible again!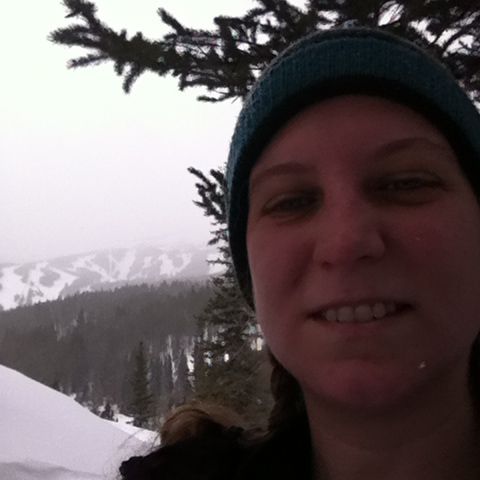 If Bobby and I believed in an afterlife, his heaven would look a lot like this: a seemingly endless march of mountains with trails to ride! (Breck had five peaks open for skiing and riding.)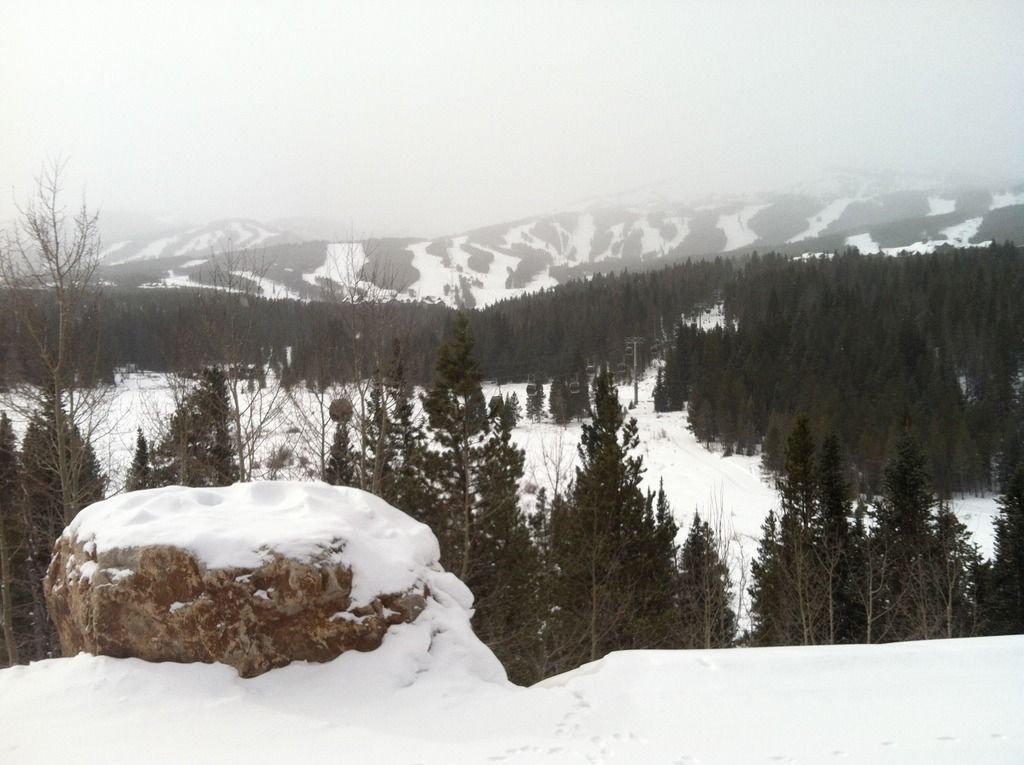 Looking along the gondola toward one of the peaks.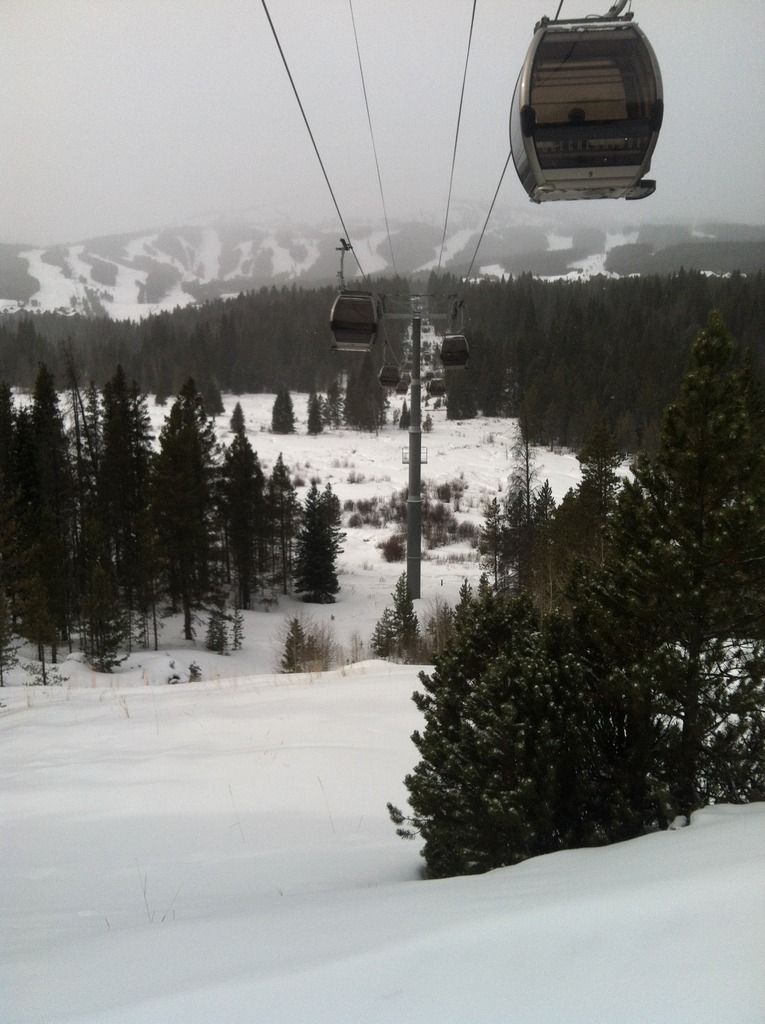 By now I am on the Willow Trail, which circumvents the rare and delicate wetland fen ecosystem called
Cucumber Gulch
.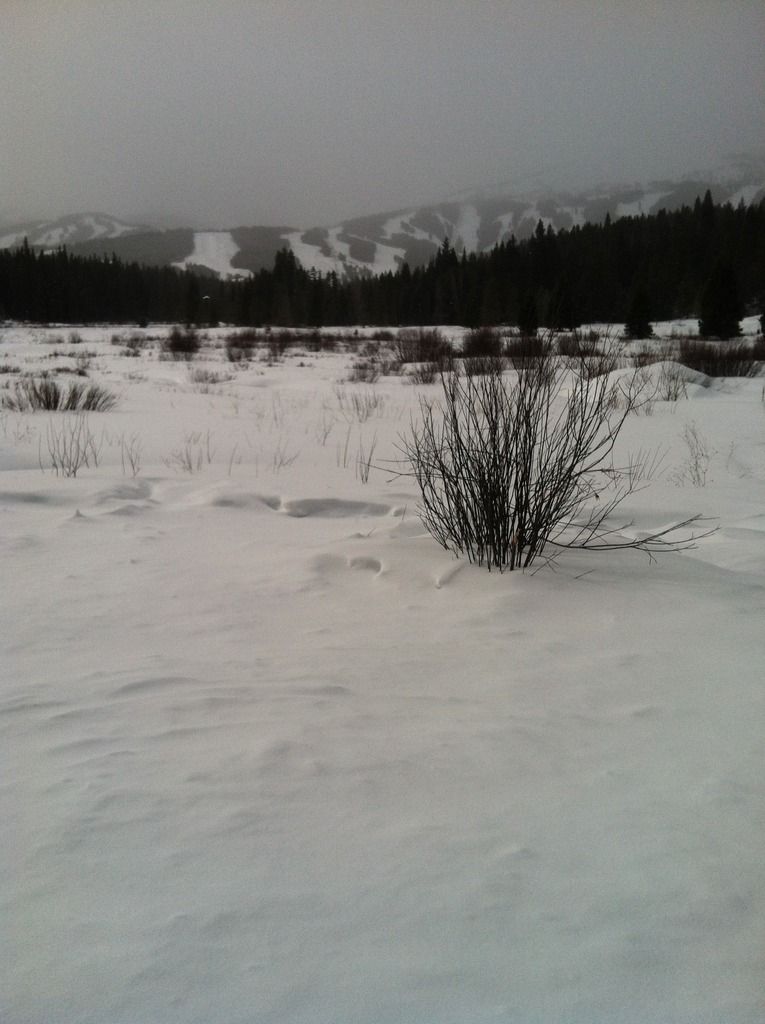 It is open land (and flat!) rather than forest.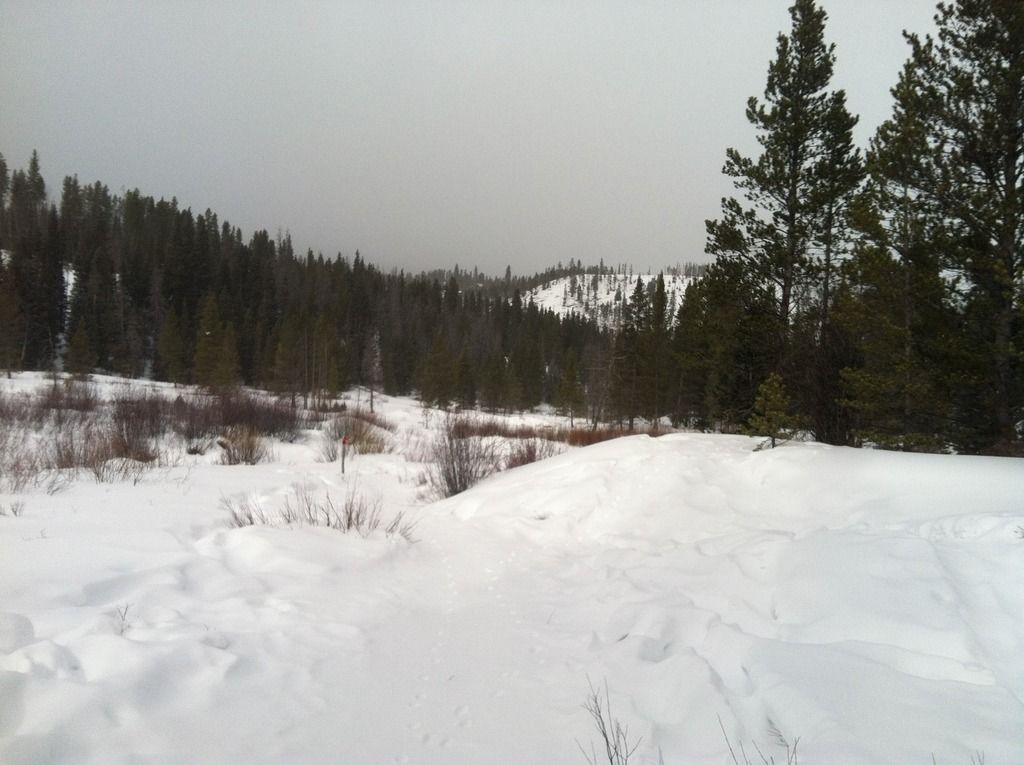 Being a beginner trail, this area was much more heavily traveled. I actually saw other people--lots of them!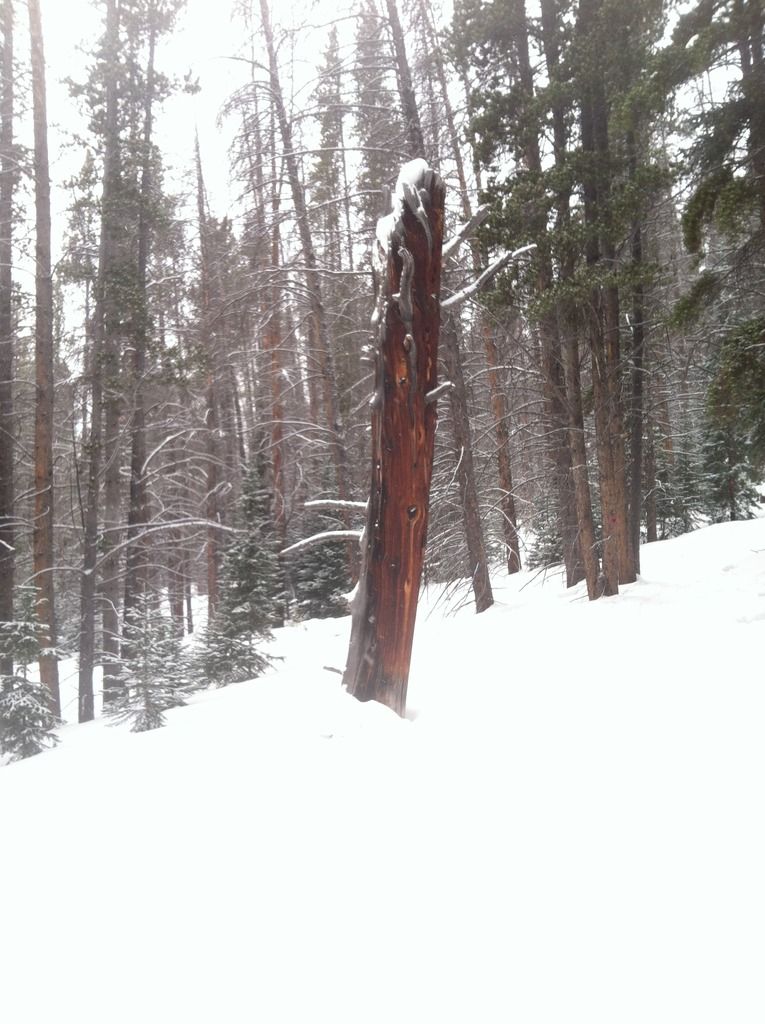 There were a couple of lookout spots over the wetland. The cross-country ski trails ran beneath them. While I was gazing out over this one, a skier asked if I was looking out for the moose. Moose? She'd seen tracks nearby. I didn't see the moose ... today, anyway.
It was snowing pretty hard by this point, which explains the blurriness of the photo.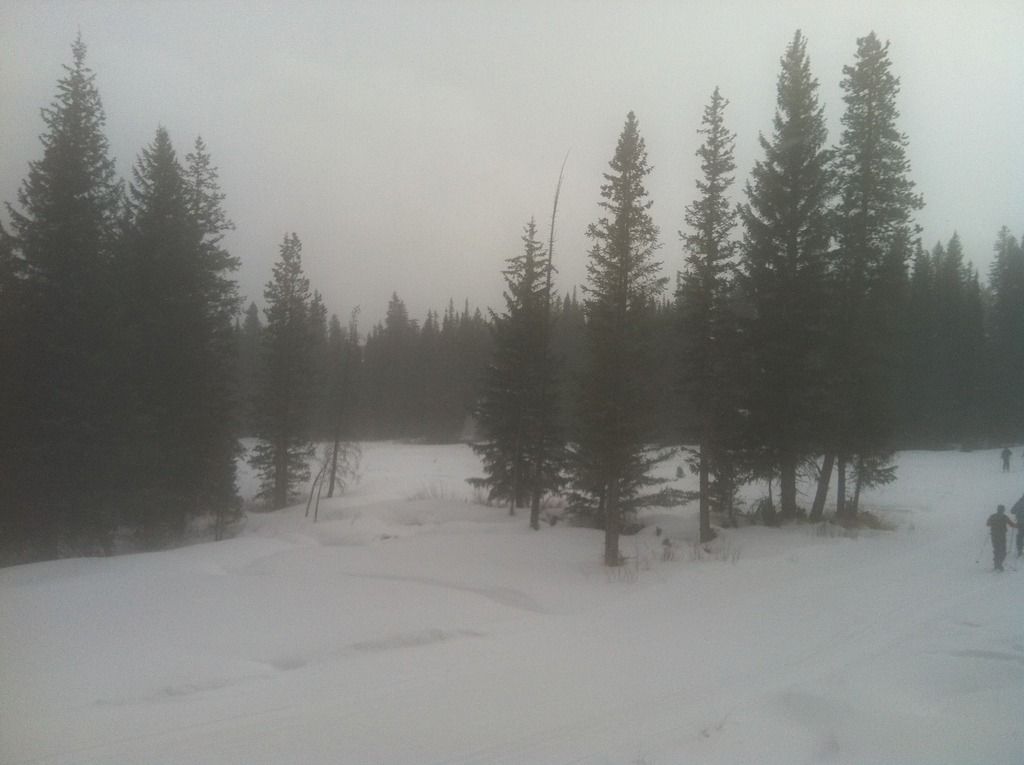 My means of conveyance.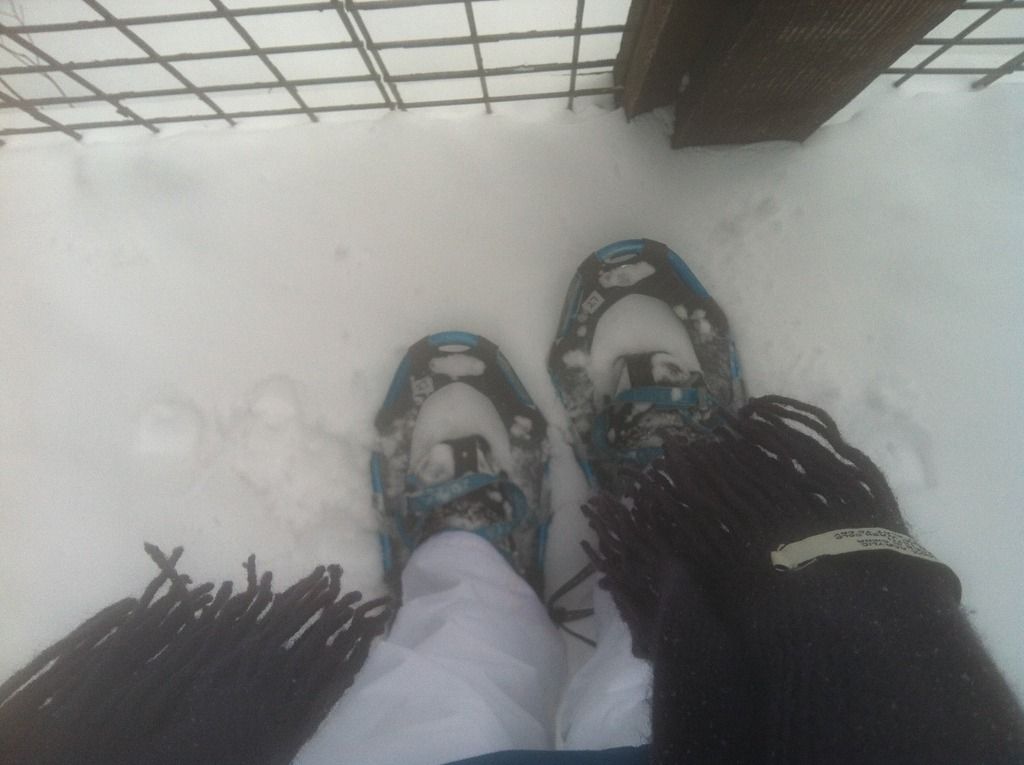 A partly frozen creek. (The creeks here, unlike at Stratton, actually had bridges built across them so I didn't have to lunge across them in my snowshoes! Fancy fancy!)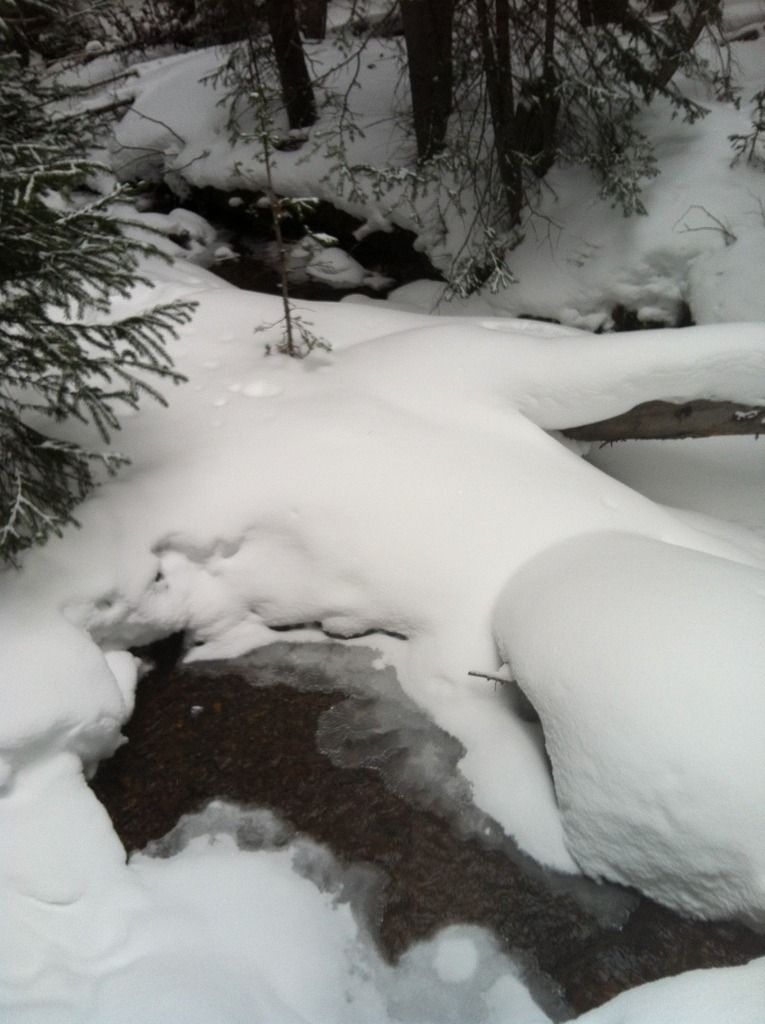 Detail of the ice.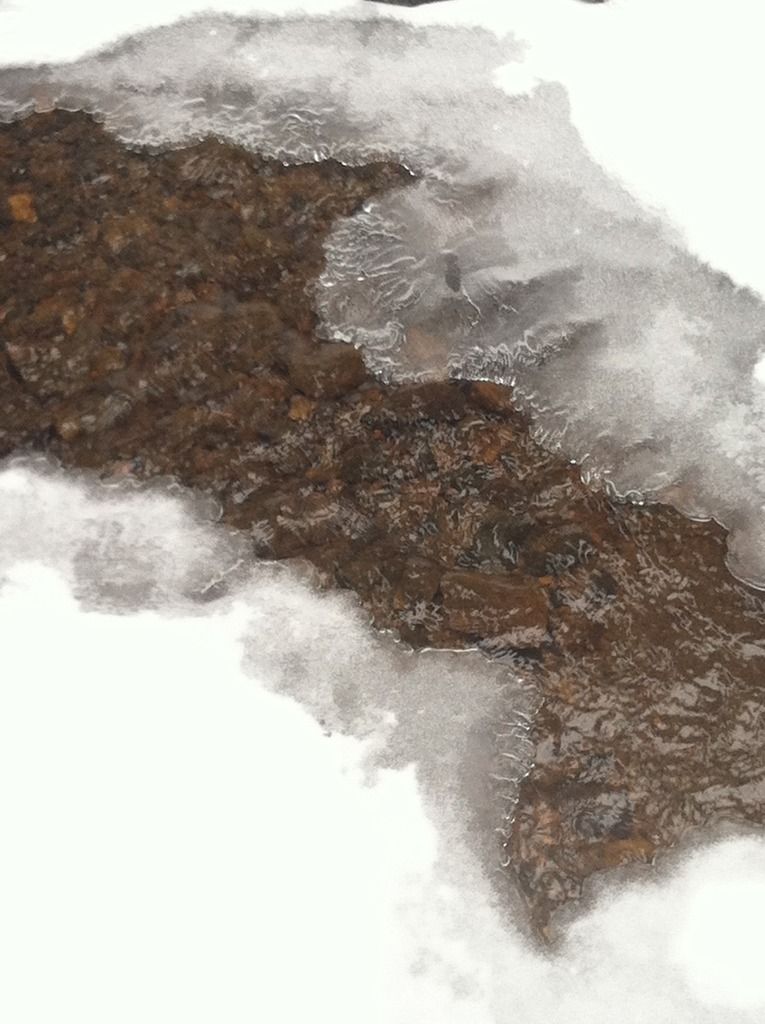 I had such a good time that I decided to go back the next day. Bobby had avalanche training for Ski Patrol, so I had the whole day to myself. I scoped out the trail map and decided, why the hell not, I'll try the Nordic Center's one black diamond snowshoe trail.
It snowed quite a bit overnight, so the trees were dressed in white, and it looked completely different from the day before. It was a perfect calm, so everything stood alabaster and serene.
I had to start out on the Willow Trail to reach the intermediate trail that I'd use to access Robin's Nest, the black diamond. Since I'd walked this trail the day before, I was honestly mostly interested in getting through it quickly to new terrain! I was about two minutes from the Nordic Center and moving at a good clip when I noticed a couple of guys with a camera taking photos. One of them waved me over and asked, "Did you see the moose?"
I would have walked right past it and been none the wiser!
My first moose!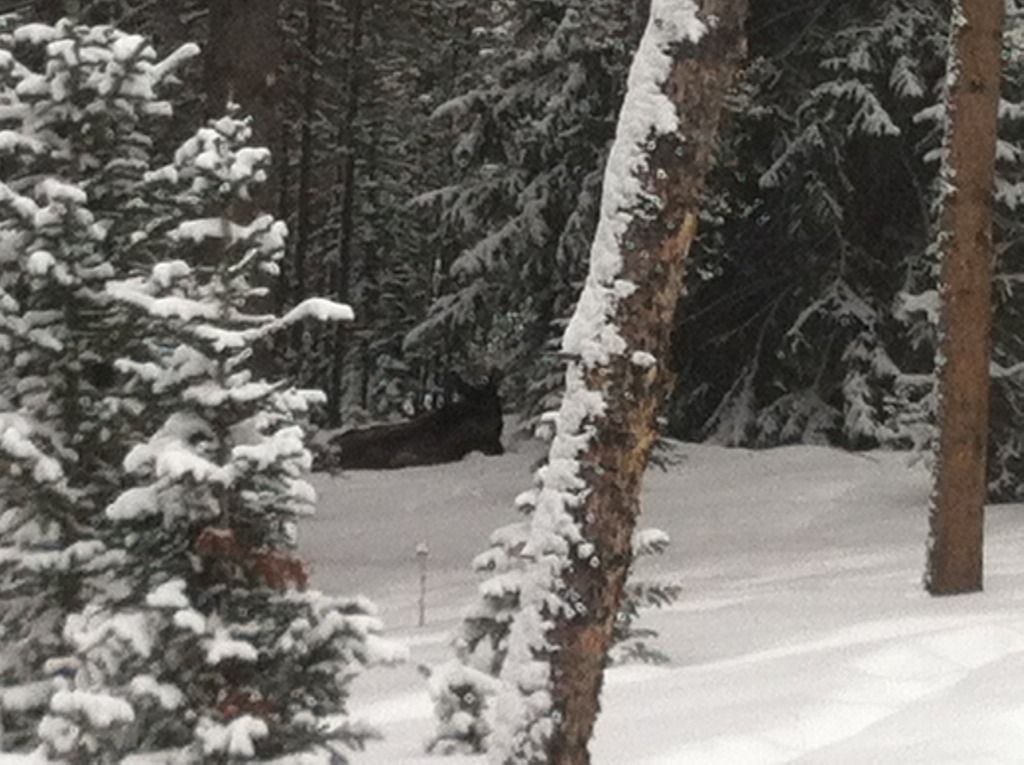 It was a beautiful day and a chilly 10F/-12C. I did not get overwarm this day, despite walking uphill for about 2.5 hours!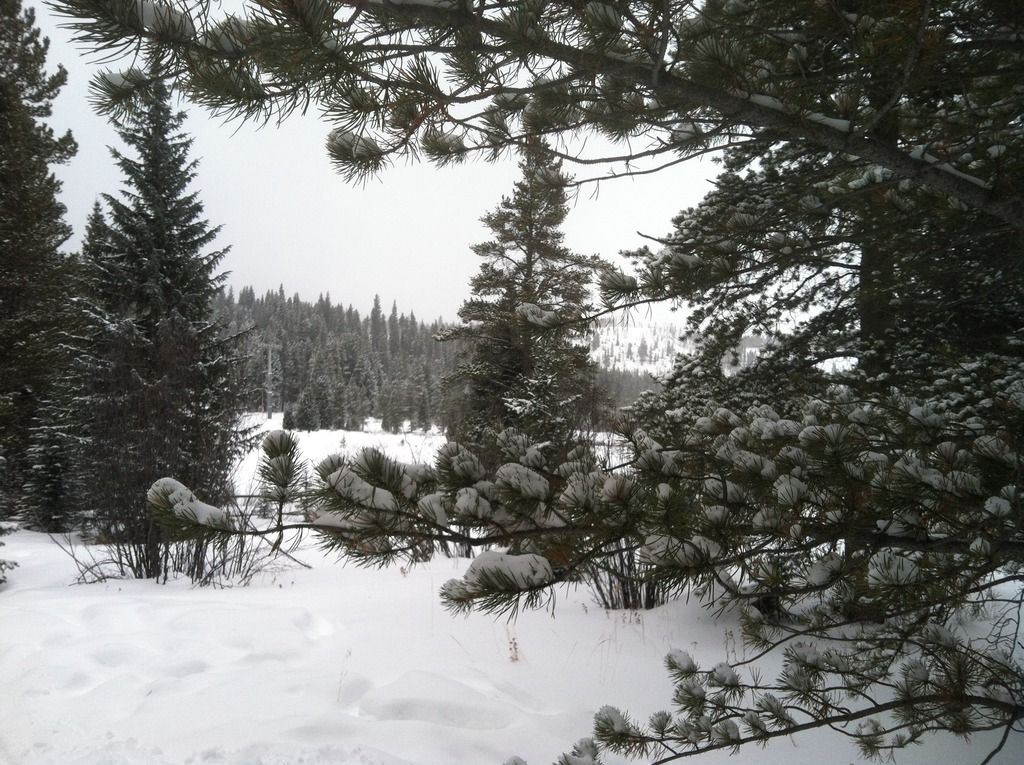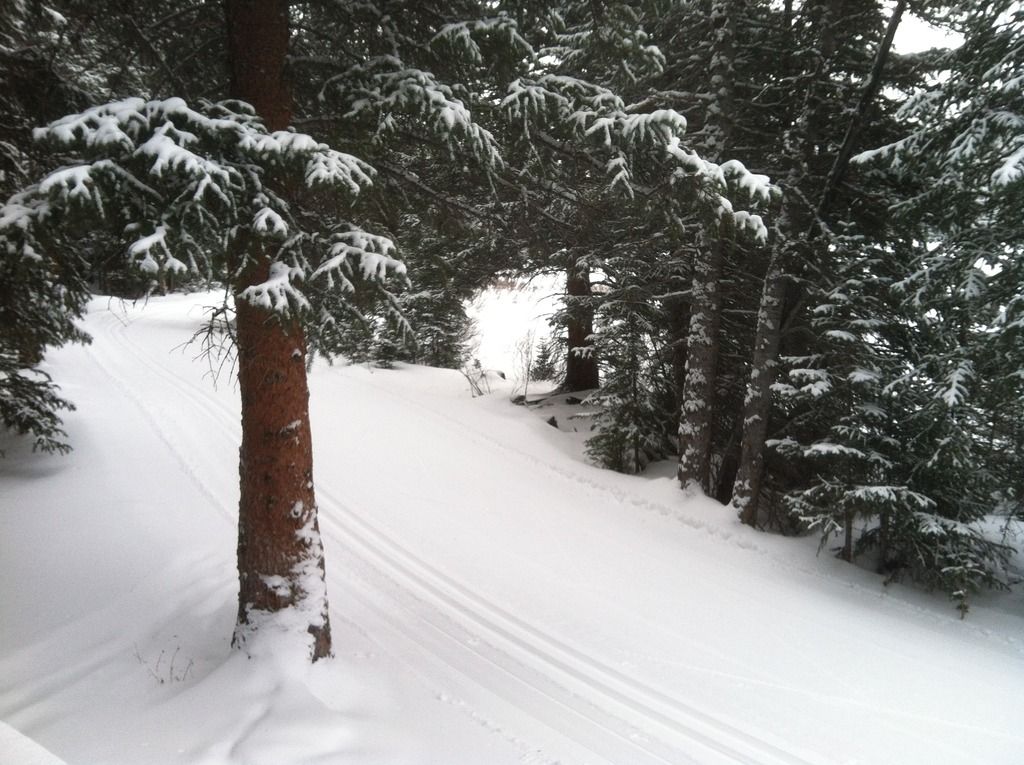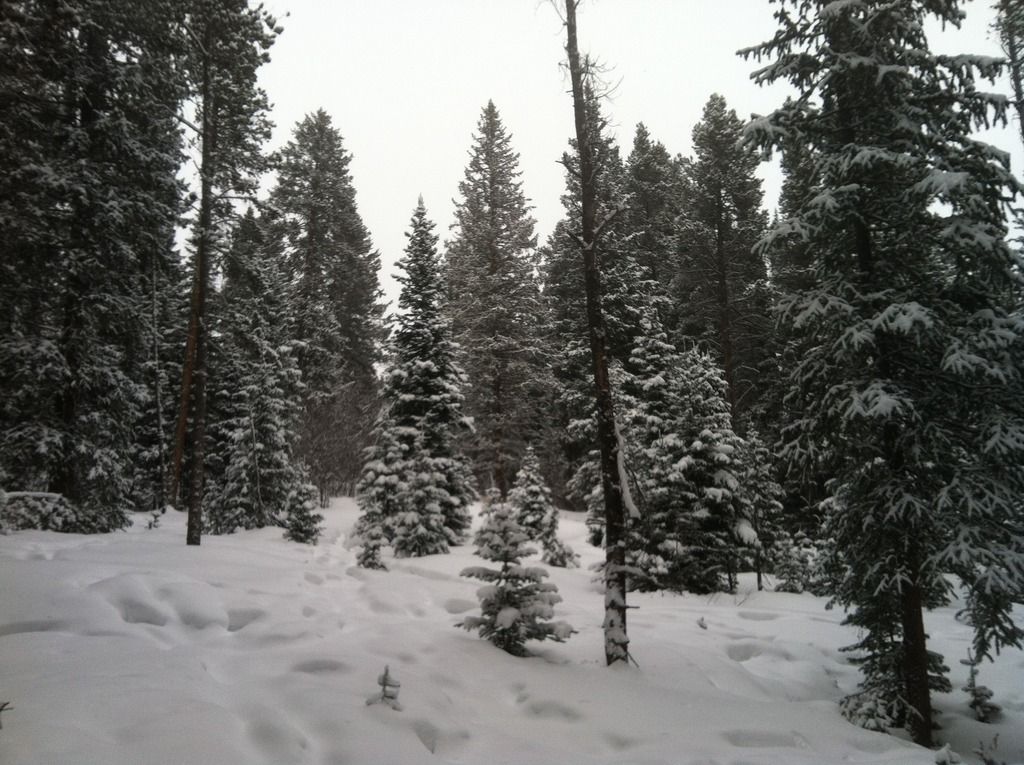 Here I turned off Willow and onto the Engleman trail, another intermediate but quite a bit more challenging than Pence Miller had been the day before.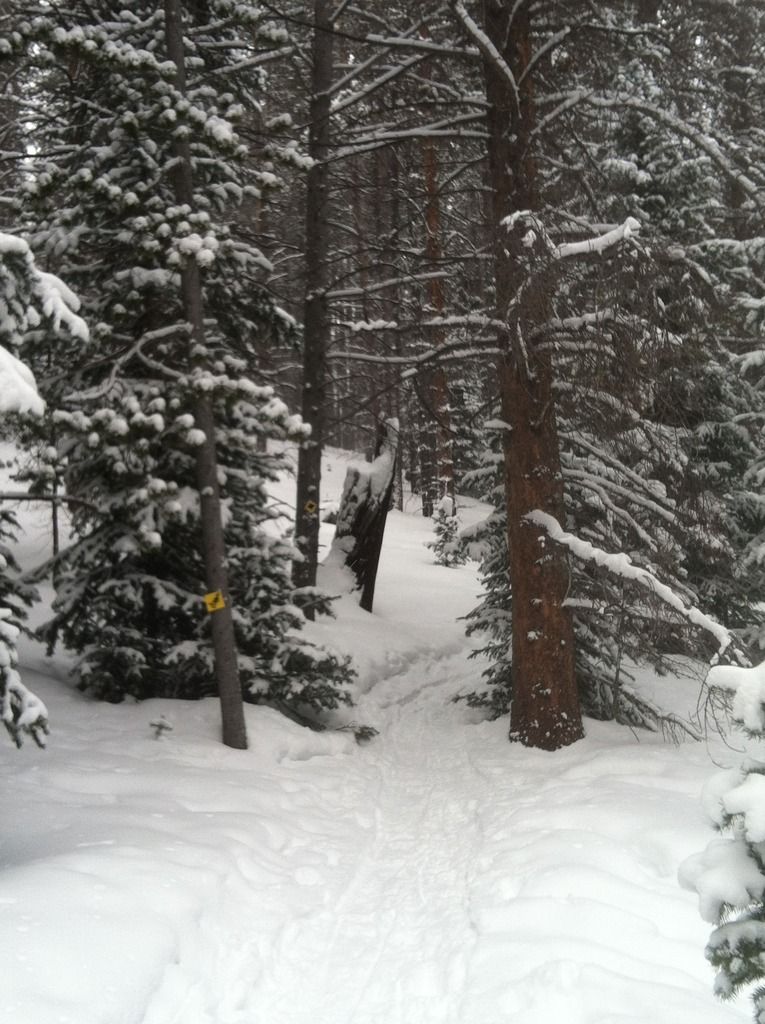 The trees in places were so thick that it was almost impossible to see through them.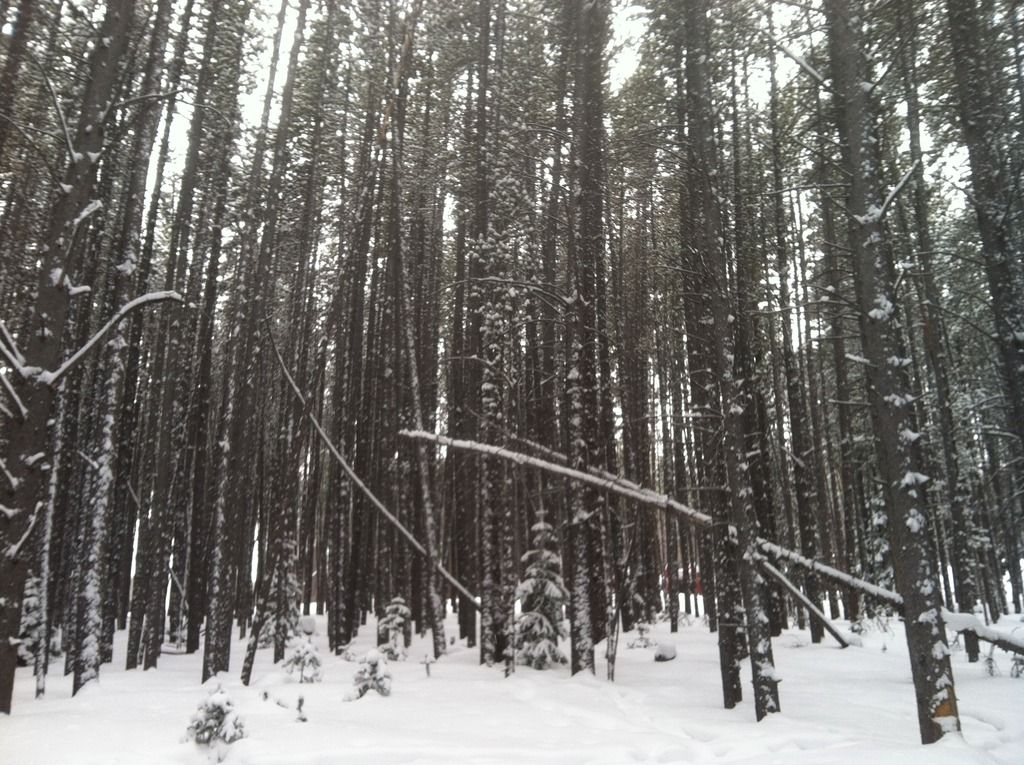 The terrain was quite different than the previous day's: much steeper and rockier with a low, constant uphill climb.
A cabin in the woods.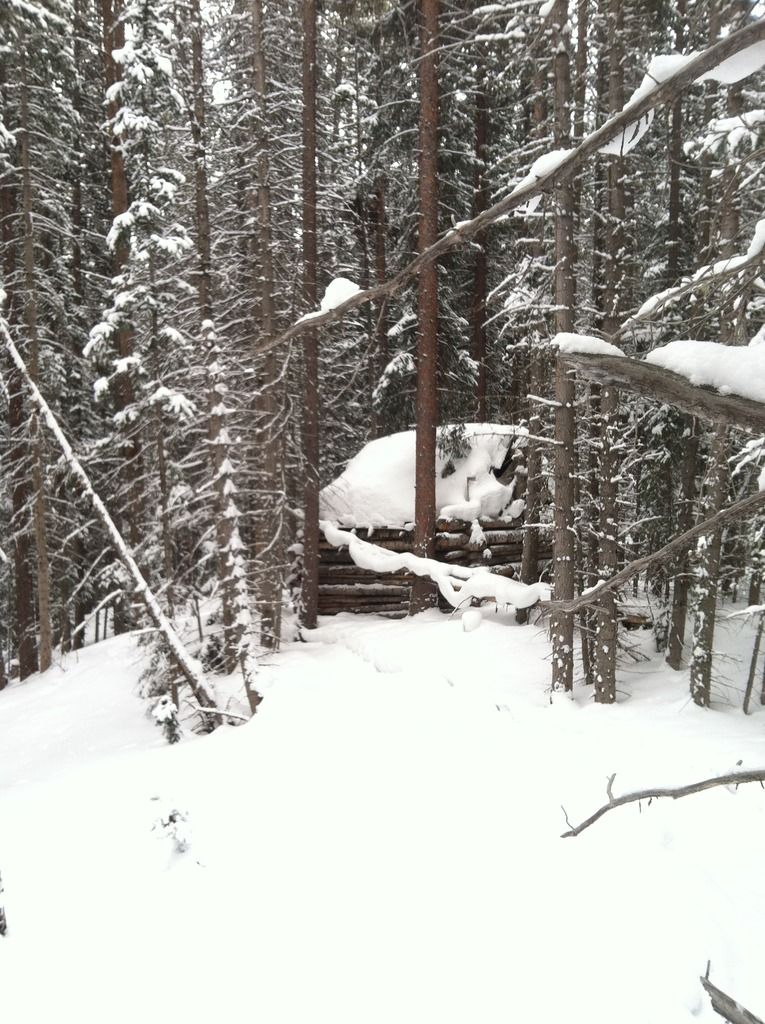 And the entrance to the black diamond trail! I loved how the black diamond icon was bisected by a fierce zigzag that managed to simultaneously suggest rupture, heart attacks, and lightning strike--so many ways to die! Notice also that, since the fresh snowfall, no one has walked this trail.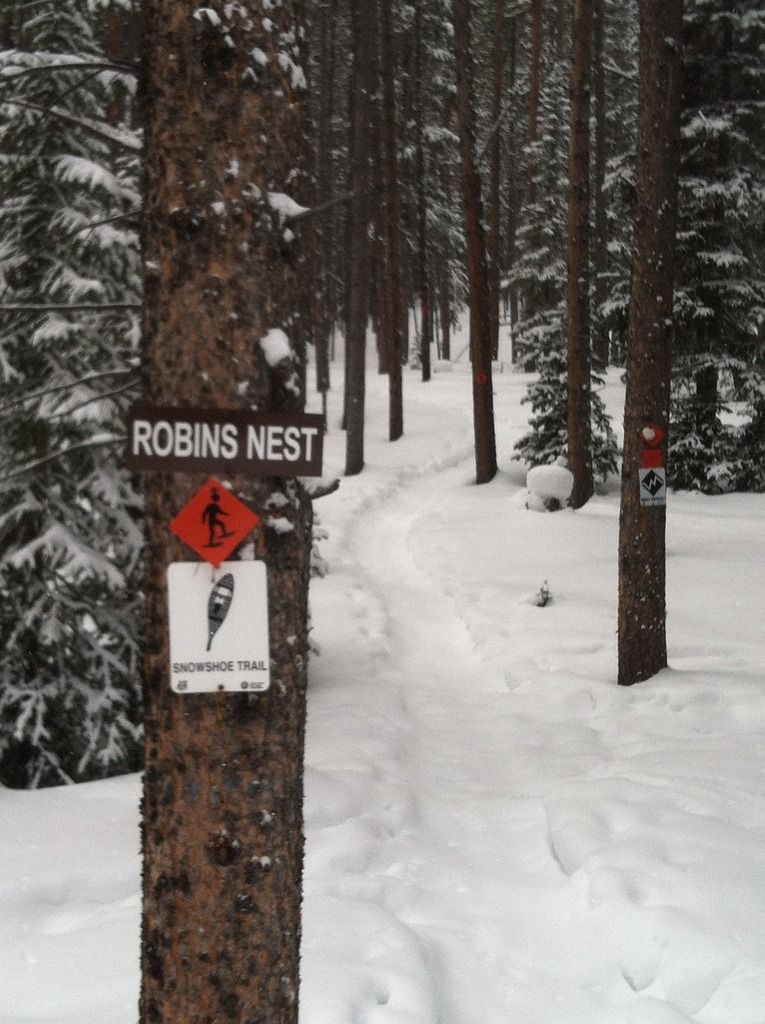 The sign at the beginning stated that it had an 876 foot/267 meter climb. I was quite a bit higher than I'd been the previous day and really felt it. The climb was rough! But the hardest part about the trail was actually all that unspoiled powdery snow.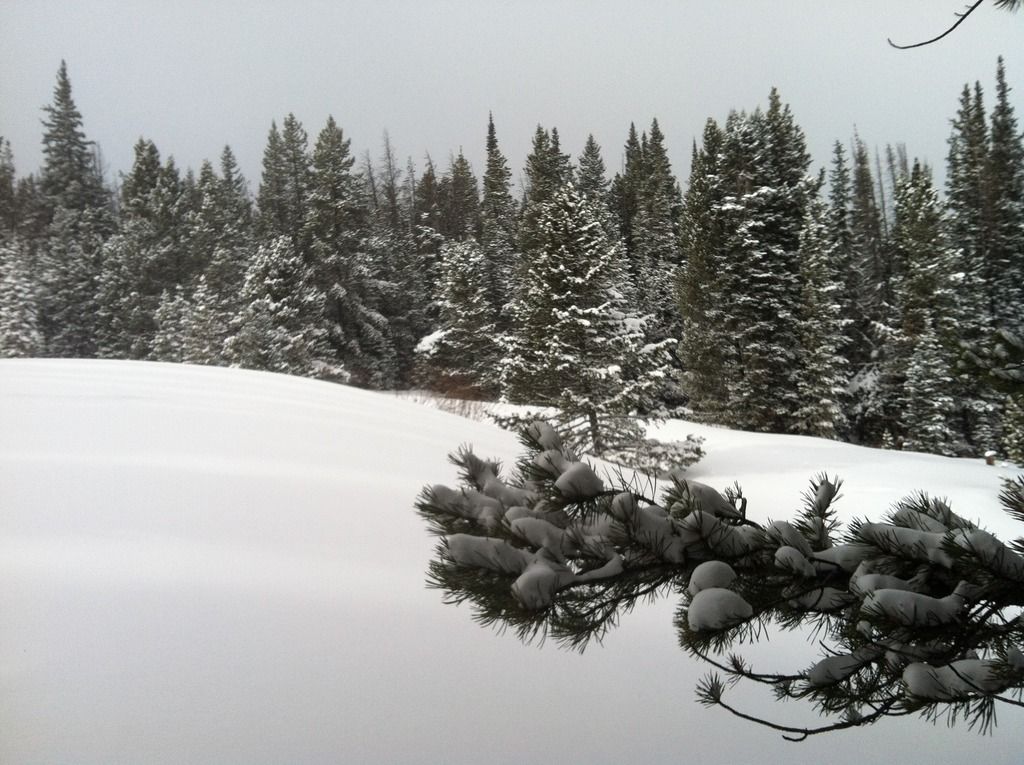 In places, the trail was barely visible, and a foot of snow covered my snowshoes. That was quite a lot to lift with each step. I had to stop often for breaks and made friends with quite a few trees that were located on the groomed trail.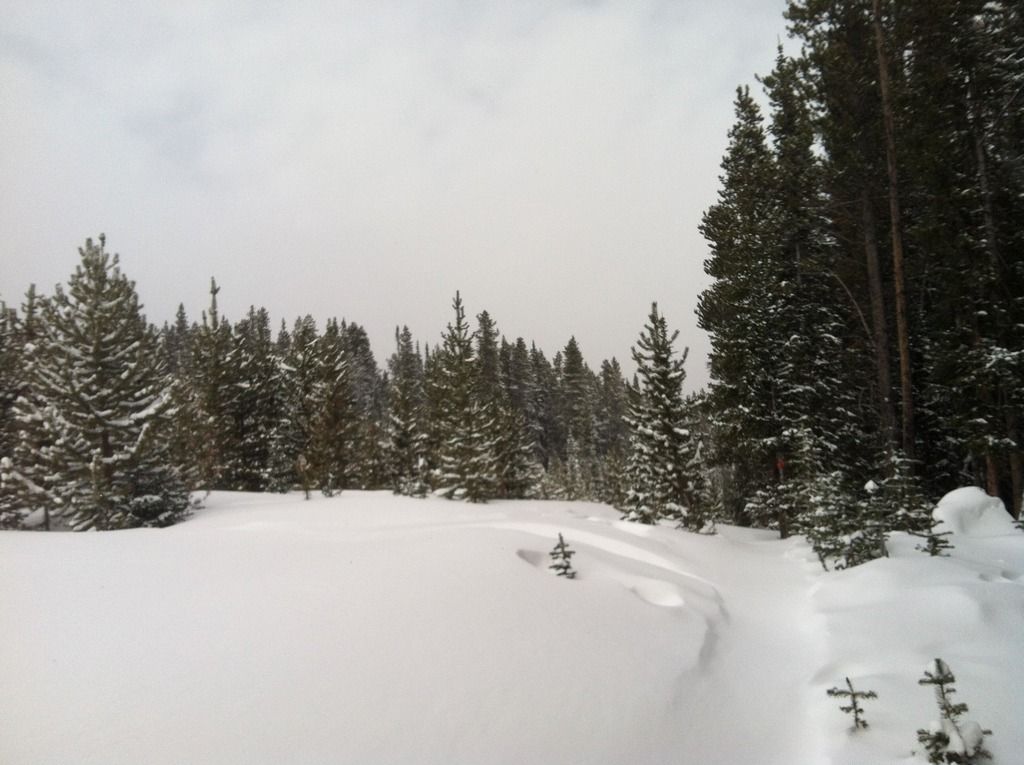 There was a beautiful view of the mountains from this point.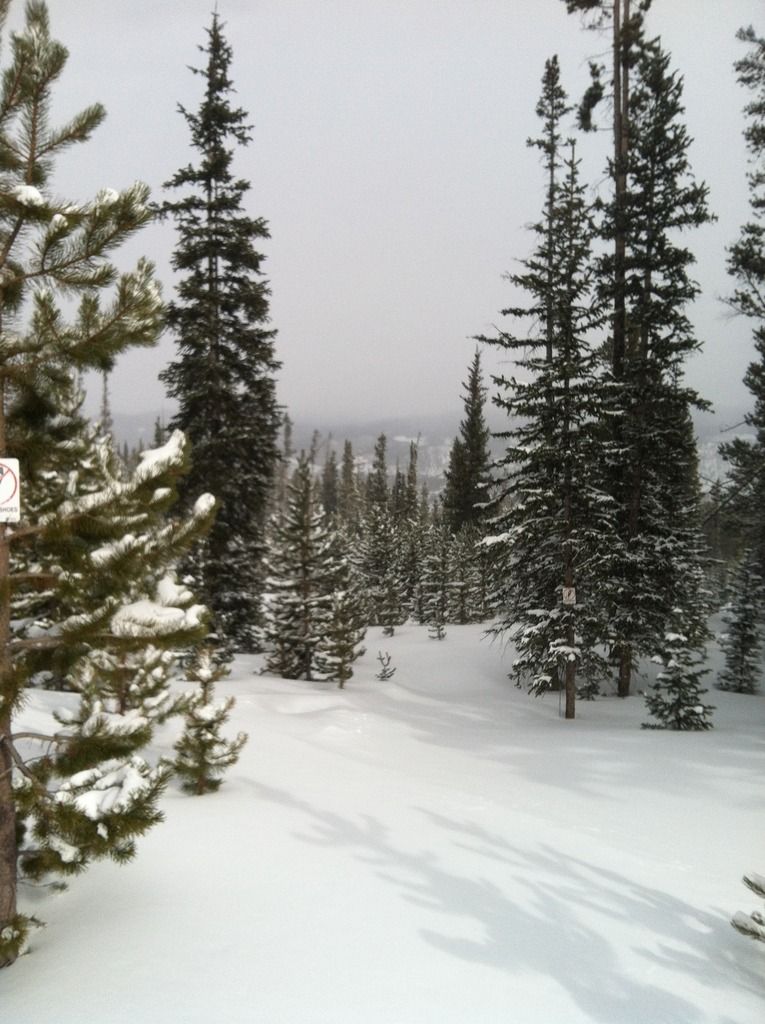 With the elevation, it was also starting to get windy. Those beautiful white-draped boughs began to toss large snowballs at me. At 1:30, I turned back because the Nordic Center closed at 4, and I had at least an hour-and-a-half walk back. I was also beginning to get hungry! Using the map and my compass, I figure I did about a quarter of the trail. Next time, I'll leave earlier, pack some hot tea and an energy bar, and I'll finish the thing!
It's getting late ...
This little guy was so intent on pecking bugs out of the tree that he let me walk right up to him to take his picture.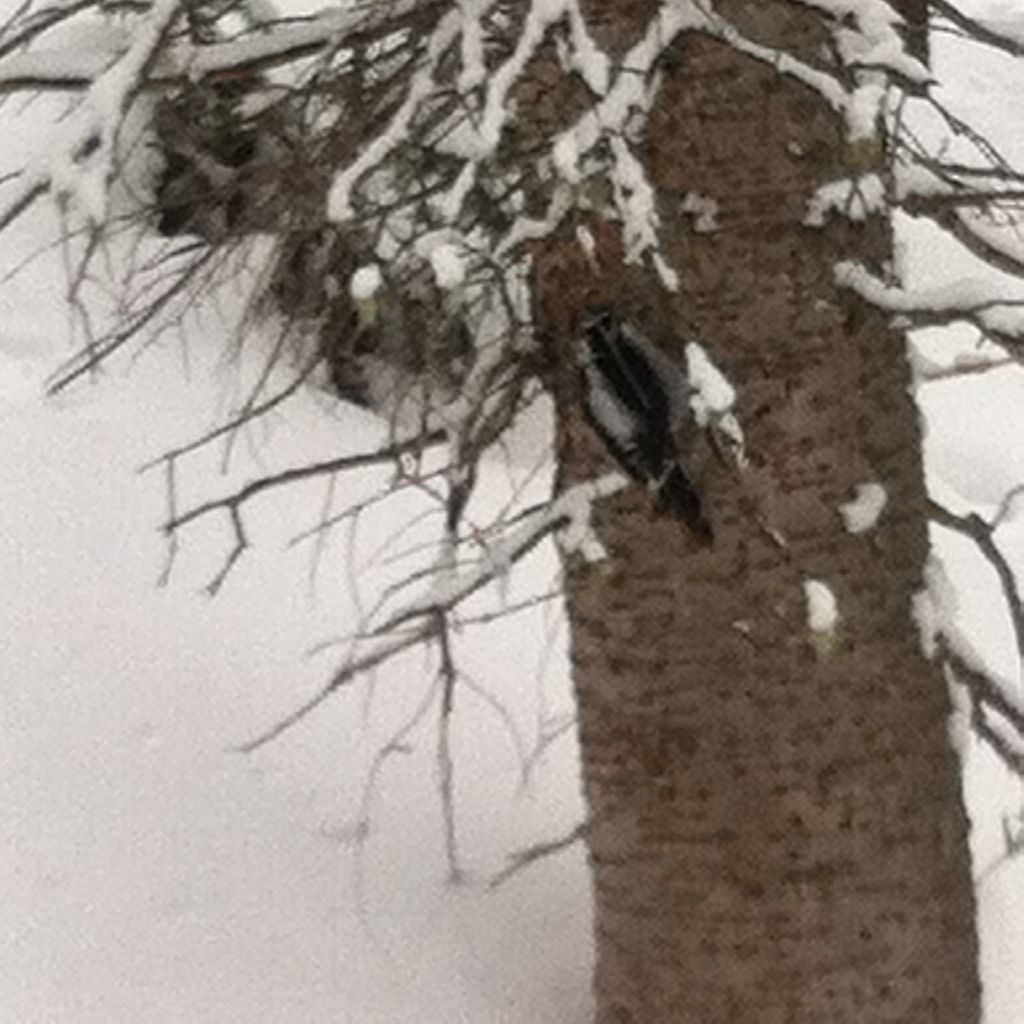 And, nearly back to the Nordic Center. Civilization returns!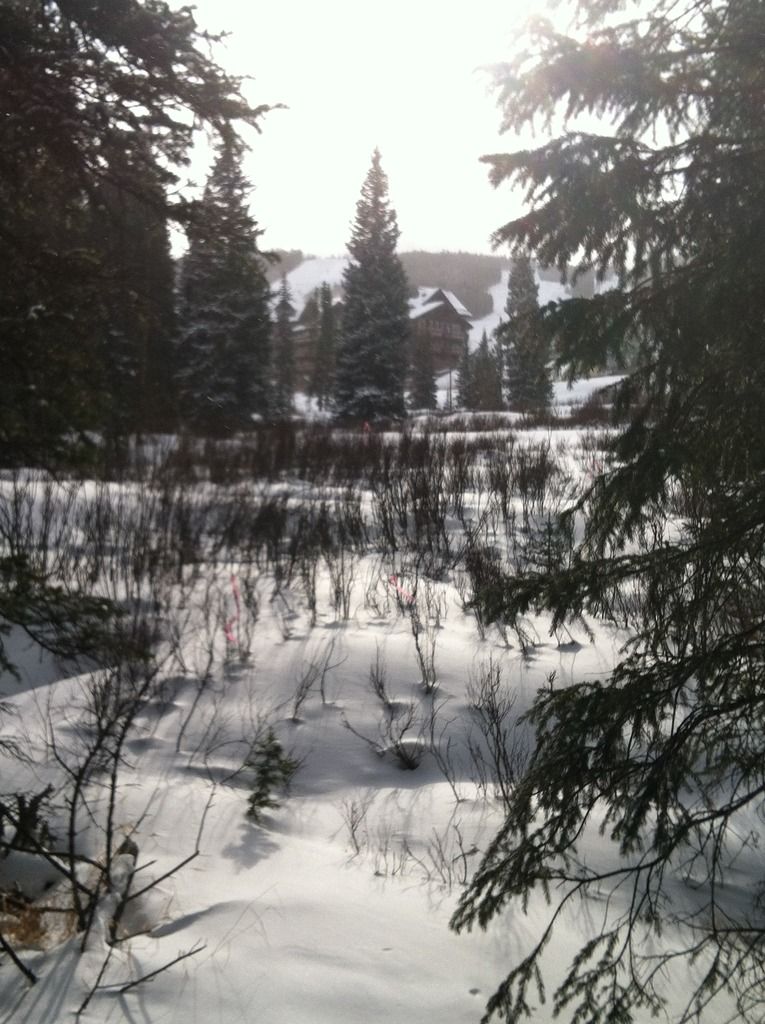 It was an absolutely beautiful, incredible experience. My legs hurt so bad the next day after 2.5 hours of uphill in snowshoes, but it was worth it! I can't wait to do it again.
And that may be sooner rather than later. It seems we brought it back with us. Maybe the Ullr Fest worked! We are due to get as much as three feet (a meter or so) of snow over the weekend and are presently under a blizzard warning for Friday night into Sunday morning. Schools are already closed for tomorrow.
---
This post was originally posted on Dreamwidth and, using my Felagundish Elf magic, crossposted to LiveJournal. You can comment here or there!
http://dawn-felagund.dreamwidth.org/374896.html