Alex Update
After last night's very bleak post, I have some good news.
(You see, I cannot resist for long. For all my grousing and cynicism, in my heart of hearts, I remain an unrepentant pie-eyed optimist.)
Alex is still at the hospital. Bobby and I visited him for about an hour this afternoon. We were expecting that he would be doped up and perhaps immobile and we'd have to visit him in the kennel, but we were put in a room and a tech brought in a blanket, followed by Alex. We were told to take as long as we wanted.
When Bobby spoke to the vet this morning, Alex's red blood count had continued to drop, and they were on the verge of giving him a transfusion if it dropped any further. (During surgery last night, a liter of blood was removed from his abdominal cavity; even the vet expressed surprise that he'd bled so much.) He also hadn't eaten.
Thankfully, his blood count has stabilized, so he still has not required a transfusion. As soon as he came in ... well, he looked rough, but he just endured major abdominal surgery. He was mobile, though, and developed a small spring in his step when he saw us. Bobby hand-fed him some of the bland diet the tech left with us, and Alex ate it, although reluctantly. We took him out for a short walk, and he even cranked up his pace to a light trot. When we got back in, he ate more of his bland diet on his own and drank some water. He laid down and went to sleep while Bobby and I scratched him all over his body.
They had shaved his left foreleg all the way around to accommodate the IV, which meant that they shaved off part of his cowboy fringe! (The long feathers on the backs of his forelegs that look like the fringe on cowboy chaps.) His belly was shaved--they even shaved his penis!--and his incision runs from his groin to midway up his abdomen and is held closed with staples. I asked him what was worse: that they shaved his penis or his cowboy fringe. He was more upset about the cowboy fringe. I pointed out that he sometimes pees on his cowboy fringe. That, he pointed out, was his own choice of how to use his own cowboy fringe. The IV didn't go in the back of his leg, so the cowboy fringe could have been left untouched. Whatever, Alex!
At this point, it is looking like he will be home tomorrow.
As for his long-term prognosis: A sample from the tumor on his spleen will, of course, be sent off for testing. So we will know whether it is malignant (I am almost certain it is) and whether it is the particularly aggressive form of cancer so common to Goldens. (Again: almost certain it is.) BUT--the glimmer of hope since yesterday--Bobby and I have since heard from several people whose dogs were diagnosed with the same cancer, who underwent chemotherapy, and went on to live for several years of
good
life. (Because that is always my caveat: the life must be worth living. I will not keep him sick and suffering because of our inability to let go. But chemo in dogs is apparently not awful like it is in people.) The hospital where he is now also has several oncologists on staff, so we will get a referral to see one of them once the results of the biopsy is back. We have already started talking with the ER vets about setting that up.
(Once again: I am so grateful that we have been paying all these years into good insurance for both Alex and Lance. Bobby called the insurance company this morning, and Alex's surgery and any further oncology treatments he needs will be fully covered. The vet we spoke to this afternoon was relieved to hear that he had insurance and said she wished more pets did. It is sad to think how many animals are put down for reasons of cost who might otherwise survive.)
When we left, he was distressed to see us go. That is the worst part: that you cannot explain to them that you will be back, that they are not being abandoned. They did let him take his orange football back to his kennel with him, so I hope that will be a little reminder of home and that he will be returning there with us, and soon.
Here he is, from our visit today, looking at a little rough but pretty good, all things considered: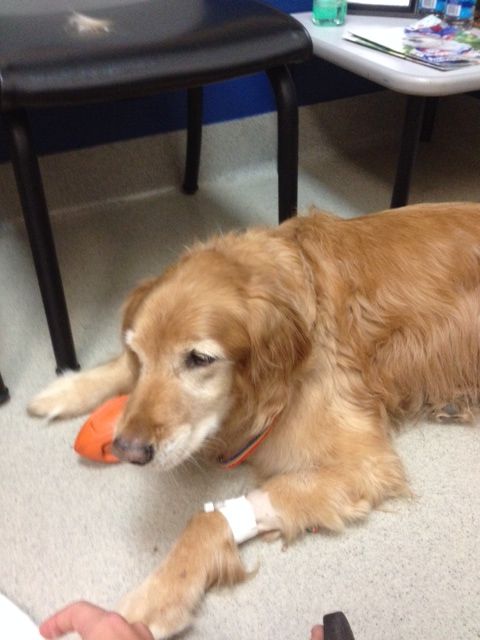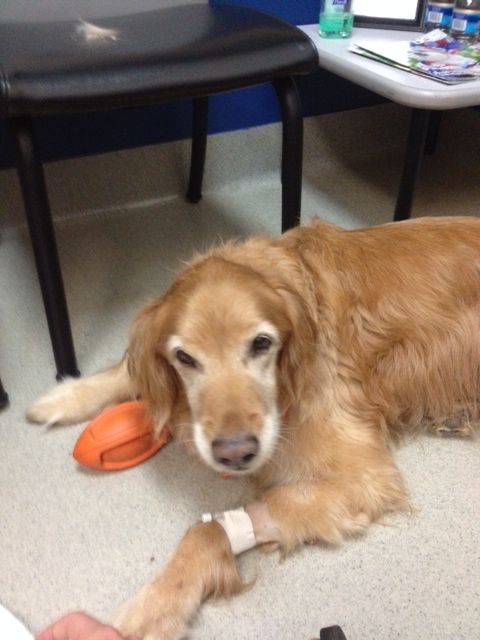 ---
This post was originally posted on Dreamwidth and, using my Felagundish Elf magic, crossposted to LiveJournal. You can comment here or there!
http://dawn-felagund.dreamwidth.org/367409.html