Six Miles, Bobby Eats out of Buckets Now, Fluoride Deodorant, and Less a Luddite Than I Thought
I will start by saying that my angst in the last post over the pictures I thought I took but couldn't find was misplaced. I
did
take them (ha I knew it), but my phone cut out in the middle of the upload to Photobucket, and for some reason, it uploaded the pictures at the beginning and the end first, which gave me the impression that the ones in the middle must not have taken. I'll post them sometime soon; I have more than enough for this post.
It's been a busy two days. I'll try to keep it brief. (Har.)
Yesterday was Easter to most of the U.S. (but that is a holiday that Bobby and I, heathens that we are, do not celebrate), so we weren't sure what would be open and decided to stick with state parks, since we knew they would be. We drove west along the Florida panhandle and made some stops along the way.
Before we head down the highway, here is the view from our balcony in the morning.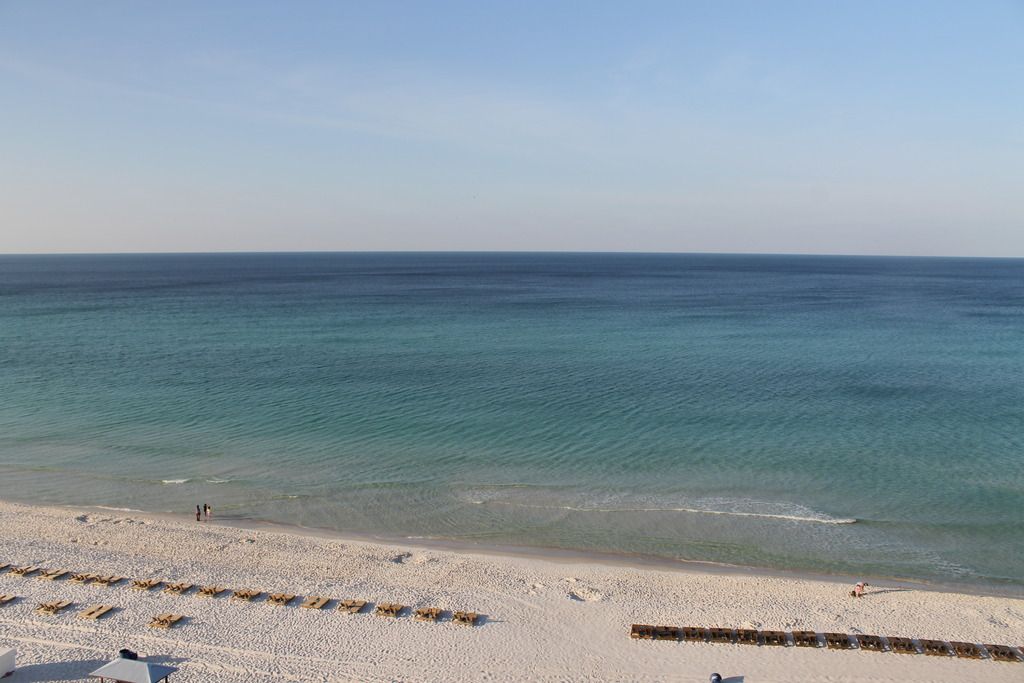 Our first stop was Grayton Beach State Park, which Bobby picked in part because it had a short nature trail that wound through the sand dunes and wetlands. It was a great little walk, a warm-up for the hike today.
First, the trail wound among the sand dunes.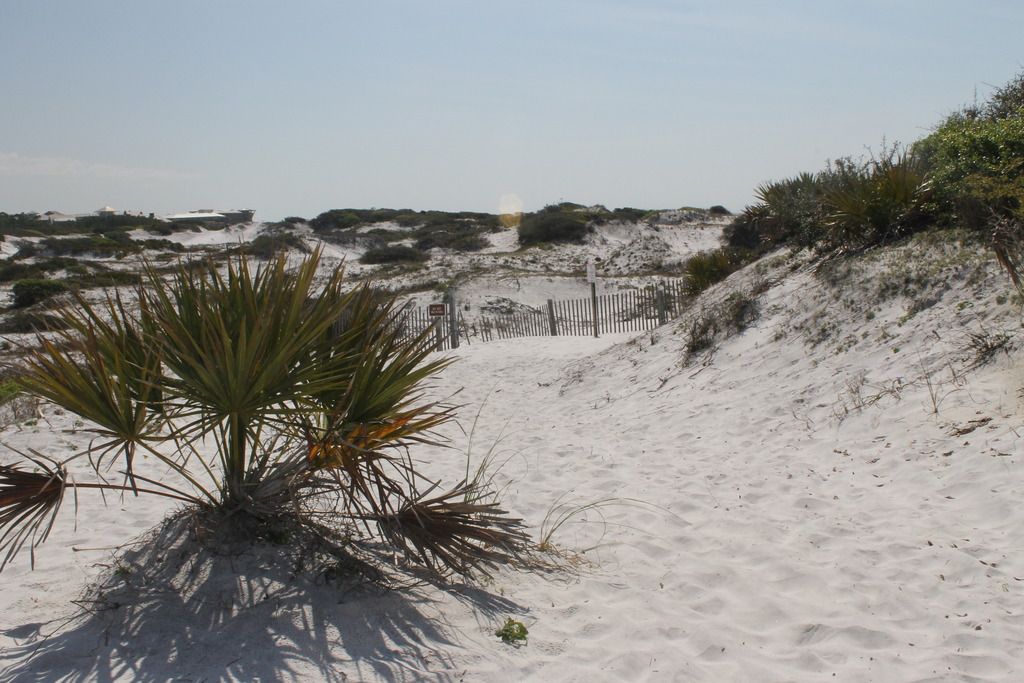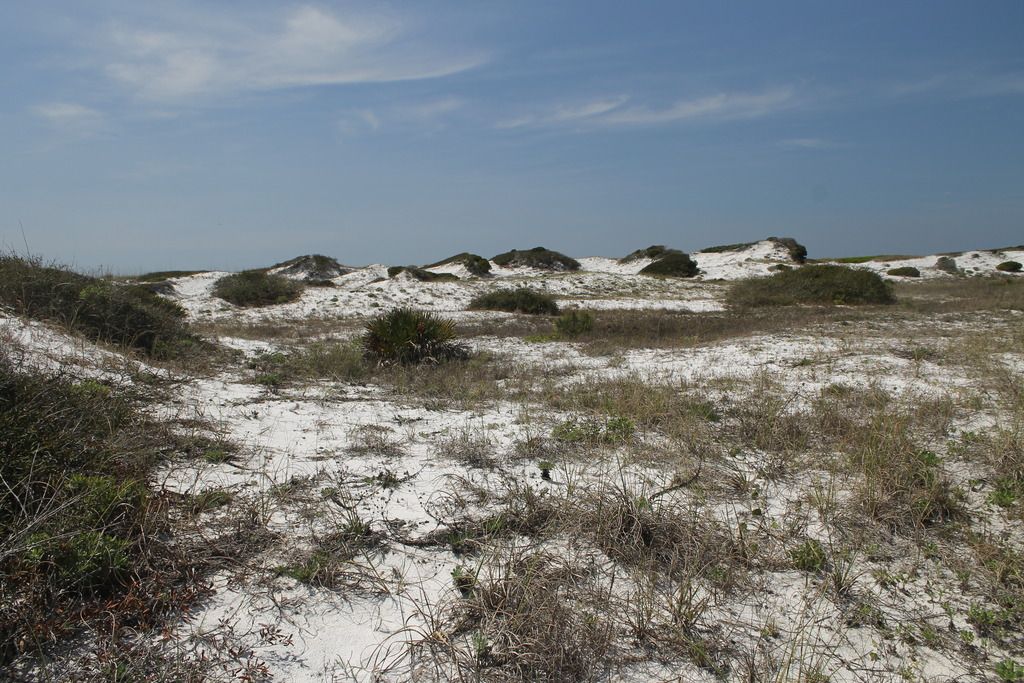 This was the entrance to the trail: ducking under a curved wooden branch into the blissfully cool forest beyond.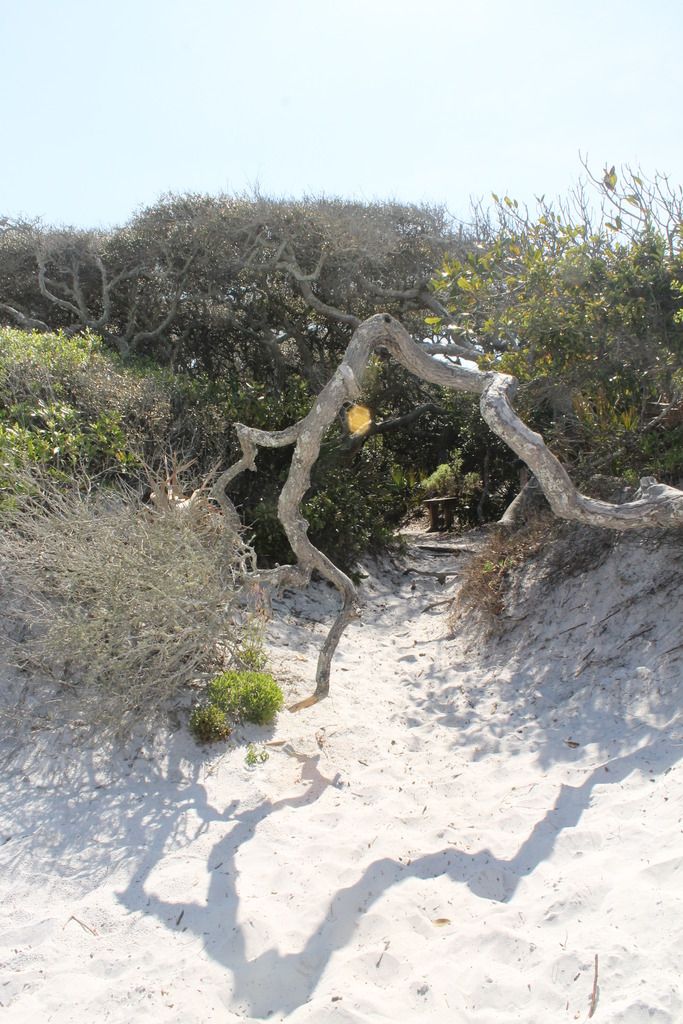 I loved this, especially on heathen Easter.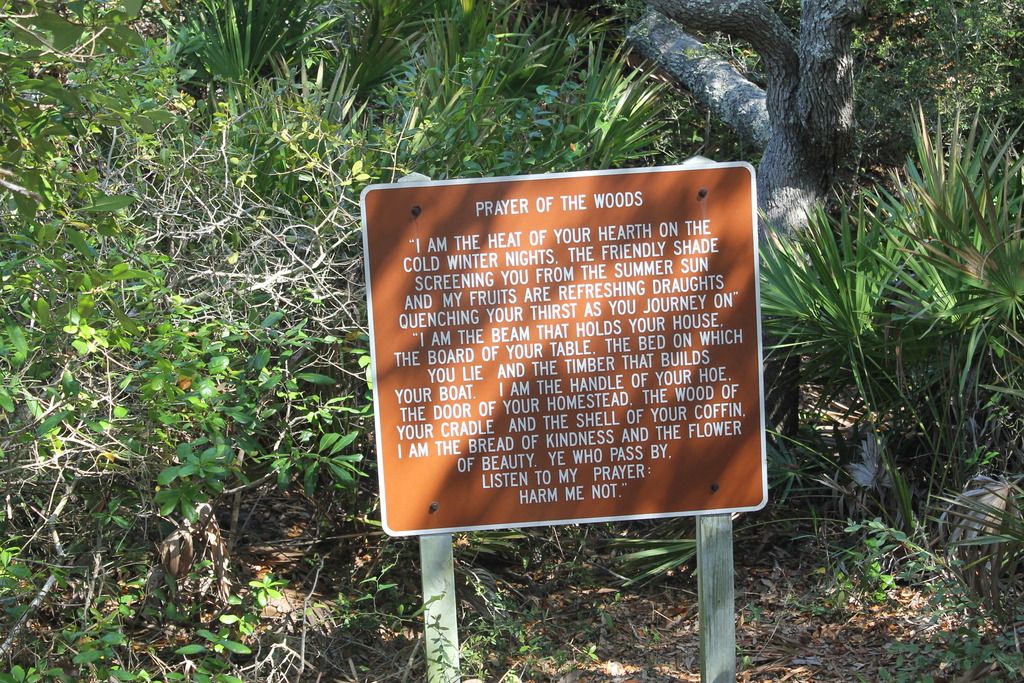 The longleaf pine, one of the common native pine species. There are pine cones
everywhere
in the local forests: round, perfect ones.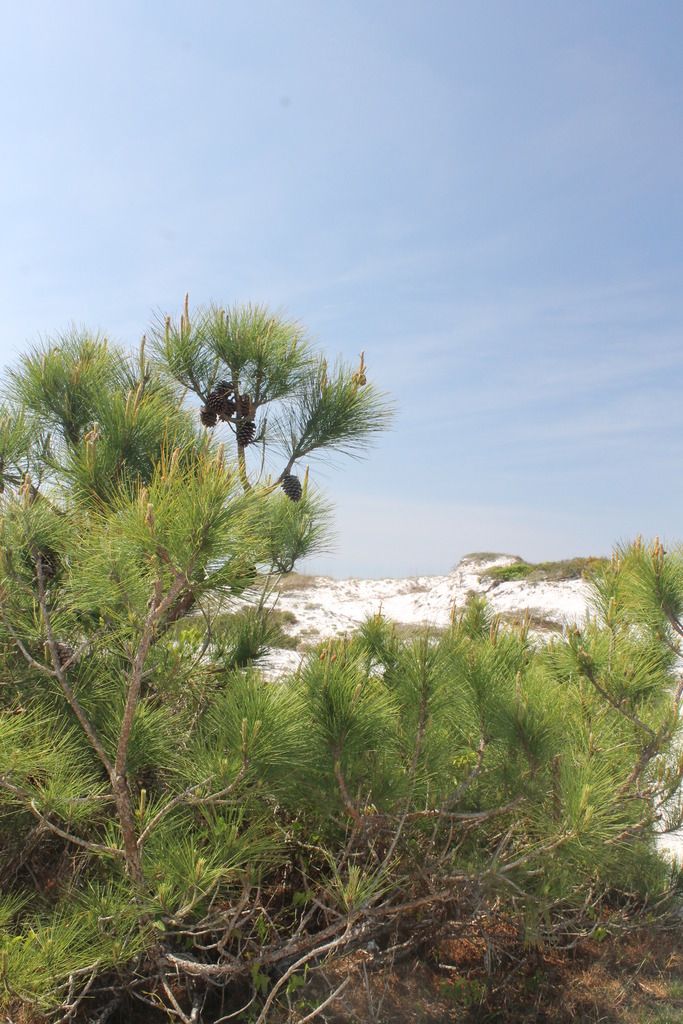 Quintessential beach-fence picture.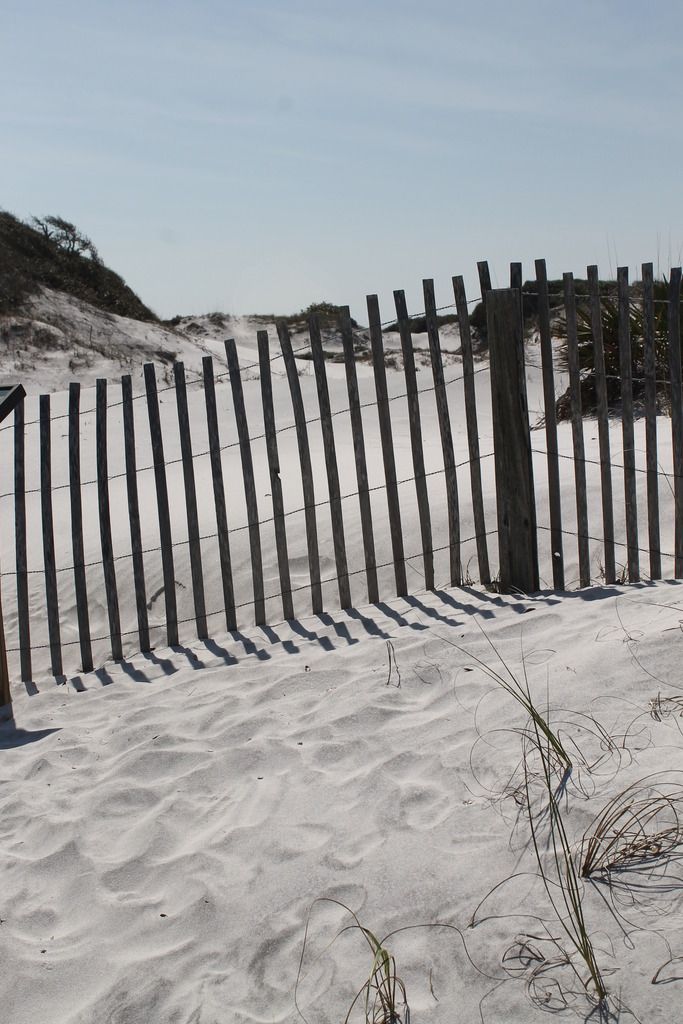 Bobby beside a big-ass palmetto.
Me, hiding. Not well.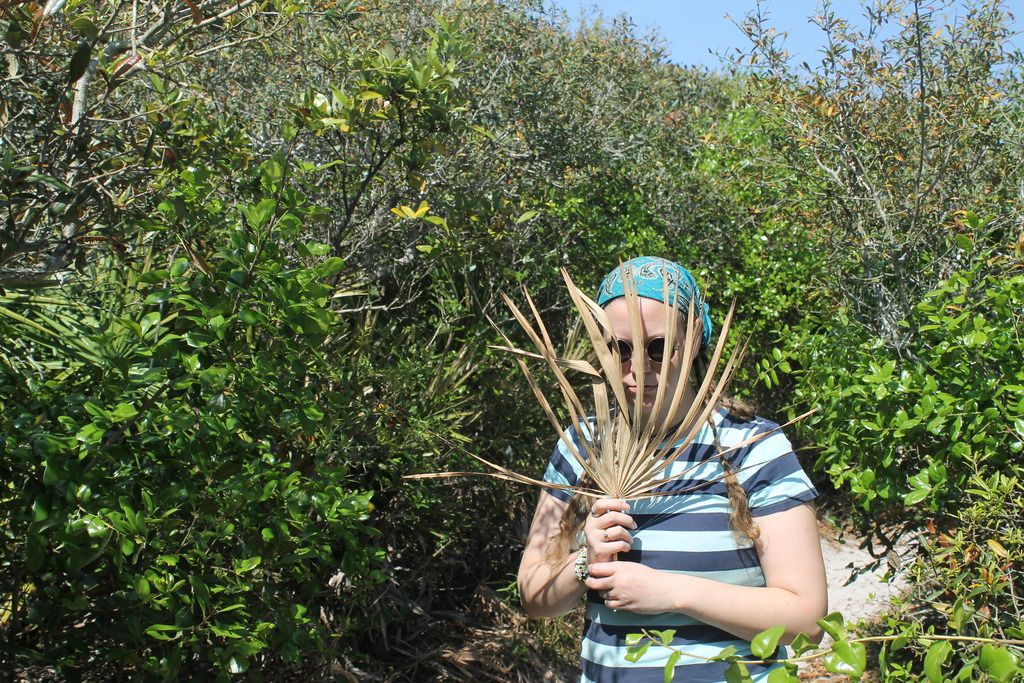 A close-up of a palmetto. I love their shape and the way the light filters through them.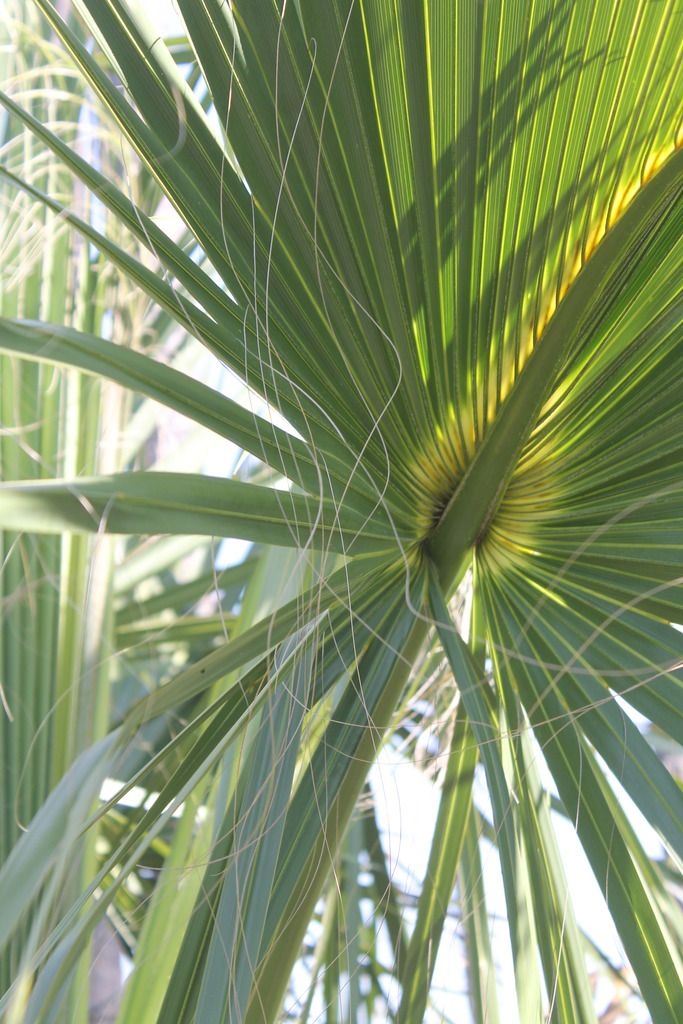 The other native pine species: the slash pine. (The name of which has provoked fandom-related jokes from Bobby.) The slash pine is so named because a large vertical gash is cut in the trunk and the sap collected to make turpentine. They have stick-straight trunks and a tuft of foliage at the top, rather like a normal pine tree and a palm tree produced a love child and called it the slash pine. These contribute as well to the omnipresent large, perfect pinecones laying around everywhere.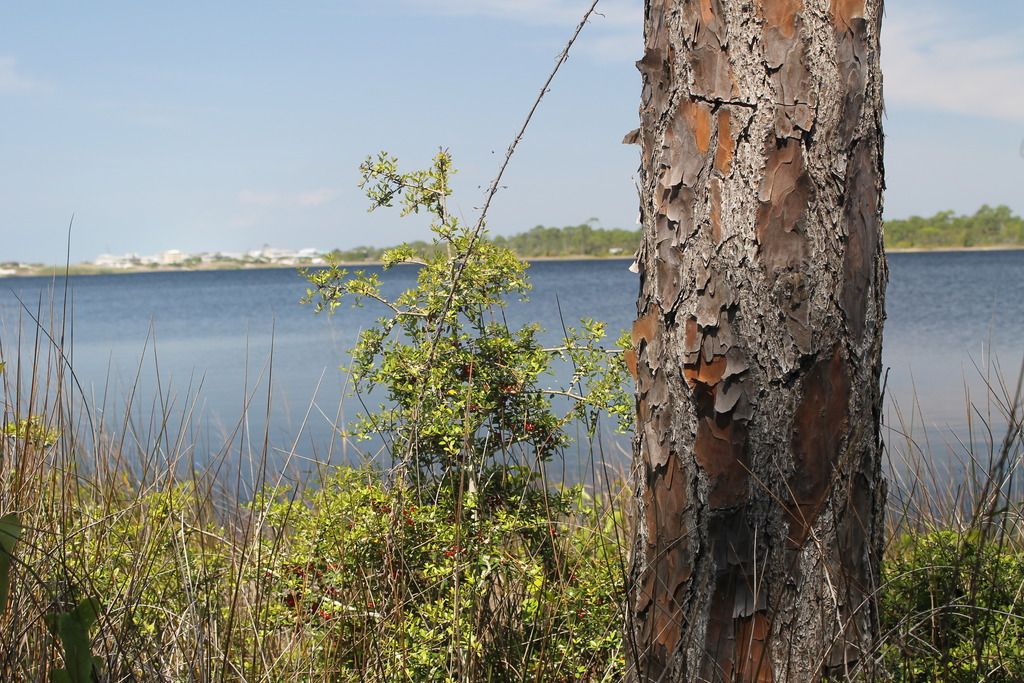 Looking back at the trail through the woods.
Omg, the first glimpse of the water through the dunes.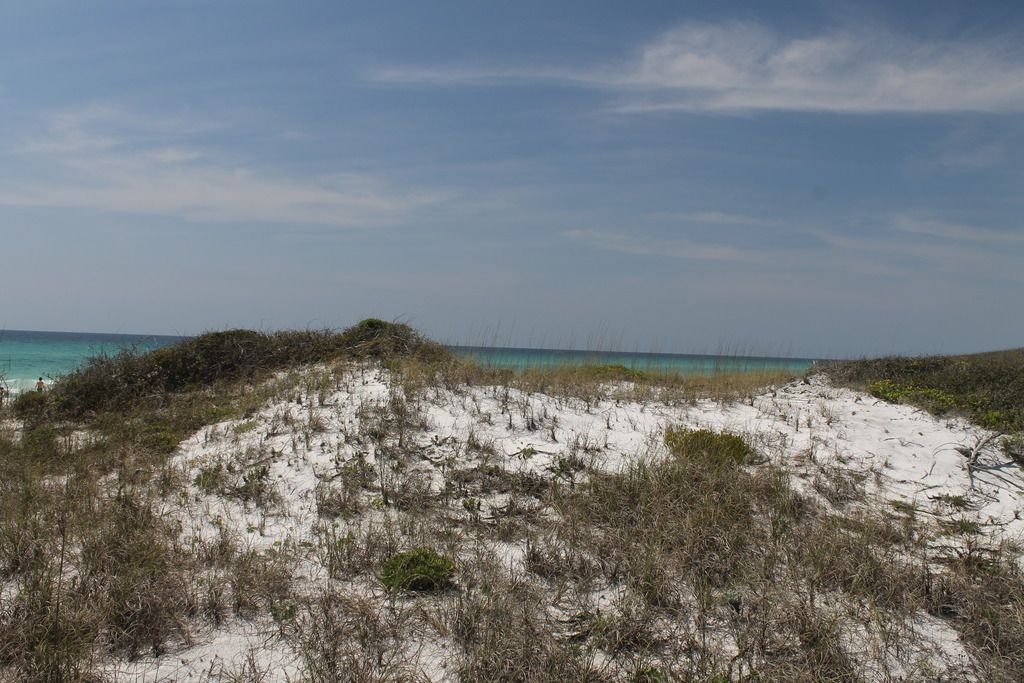 OMG THE WATER.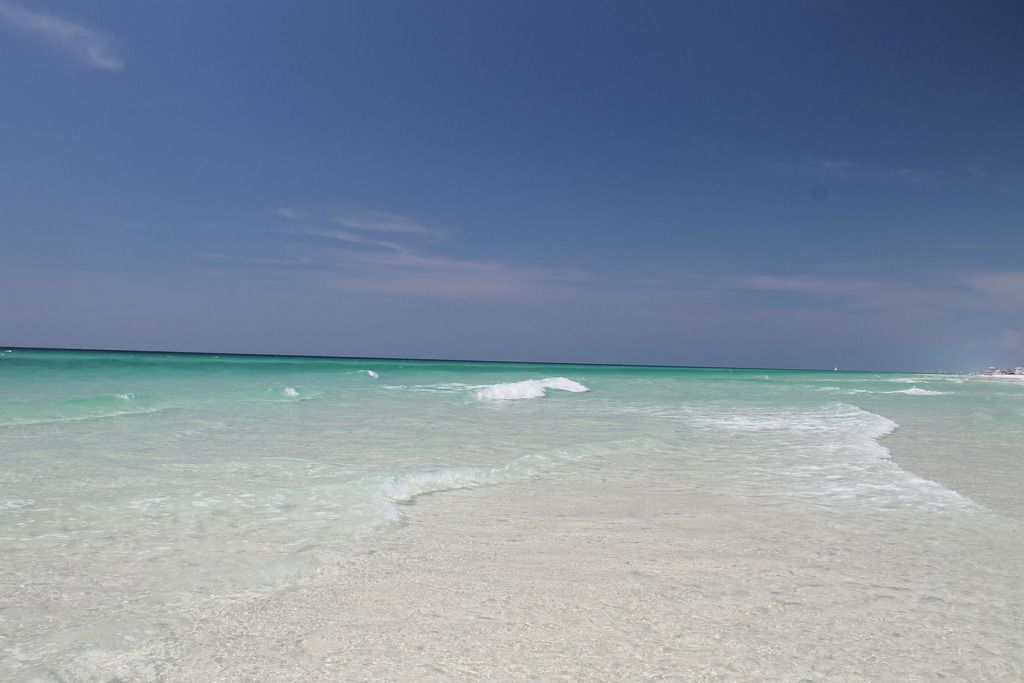 Me in my The Universe swimsuit, standing in the blissful water at Grayton Beach. Appropriate for someone obsessed with cosmogony, eh? We'll pretend it's a primal sea about to be whipped up into Creation, and I'm the Creator in my ill-fitting shorts.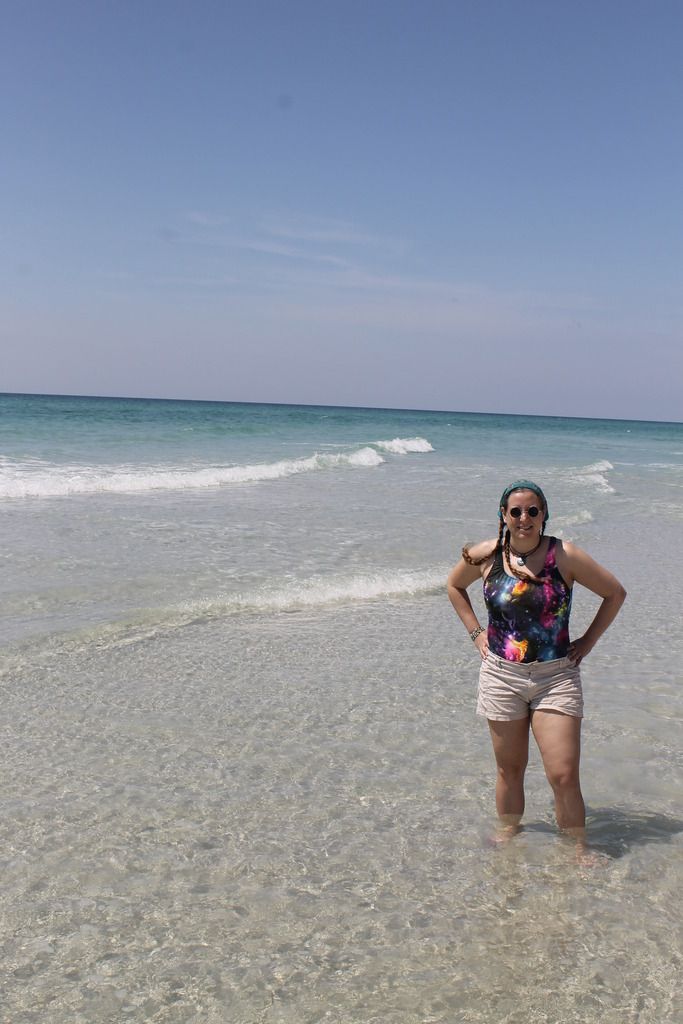 Standing in the water and Grayton Beach, looking back at the dunes.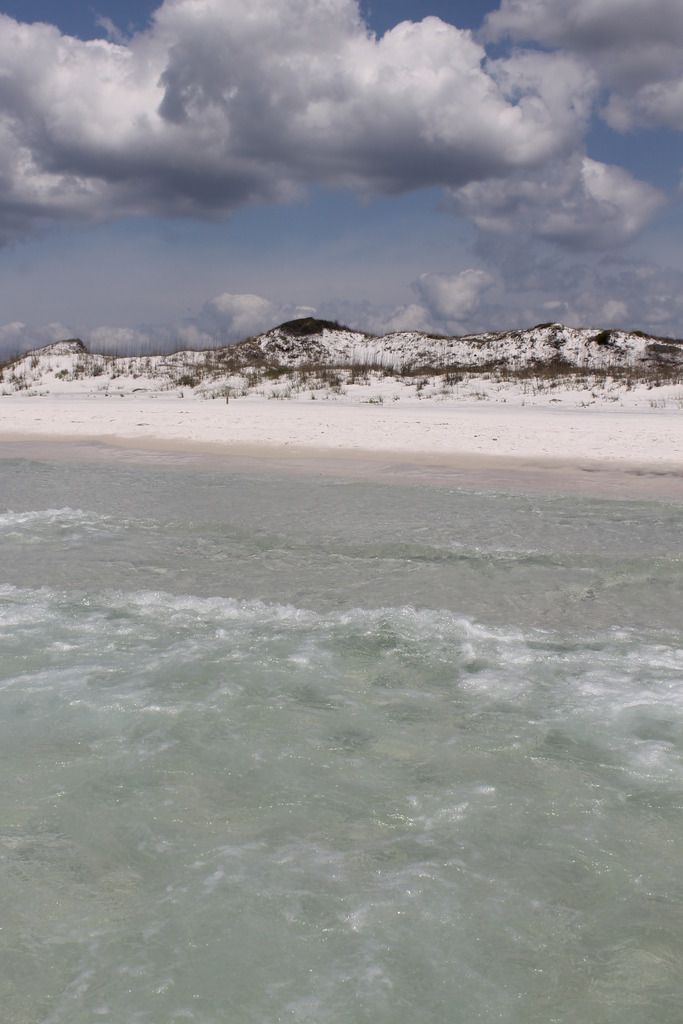 After Grayton, we were both hungry, so we stopped at a highly rated restaurant that Bobby had found in his trip preparations: Stinky's Fish Camp. Don't let the name fool you: It was casual but very nice, with a live folk duo and incredibly delicious food. We shared the buffalo frog legs for an appetizer. That was a new one for me. My Uncle Phil earned the simultaneous admiration and disgust of us kids when I was young because he'd tried frog legs, which he declared, "Taste just like chicken." I didn't think so. Yes, they were mild (I call chicken the pointless meat because most of it has no flavor), but they had a slightly sweeter taste than chicken (which, as I said, generally has NO taste!) and were more tender (whereas chicken generally has a tough, spongy texture ... can you tell that I resent somewhat the ubiquity of "grilled chicken" on effing everything?? :D). The buffalo sauce was homemade and mild but very good. For lunch, Bobby had the fried catfish and I had the fried crawfish, which I
loved
. Bobby teased me and said that was because of my Alabamie roots.
"Yes," I said. "Next thing you know, I'll be eating squirrel. My mom has eaten squirrel."
"That does not surprise me."
"I'd try squirrel, if the opportunity ever arose. I have no problem with eating squirrels. I don't even like squirrels."
I don't ... but I did wubble a bit that one of the fishes of the day was sheepshead. I used to take care of the National Aquarium's ancient sheepshead fish during the year I volunteered there. That bastard was a huge pain in the ass because, whenever you'd feed it (they change sex during their lives and I never bothered to ask it about its preferred pronouns), it would splash out of the water and generally soak you. The last time I went, the old bastard was gone, so I suppose it finally died; when I was still there, it was one of the only fish around from when the aquarium opened. Everyone hated feeding it, but I was still sad to see it gone.
But because of that, I don't think I'll ever be able to eat sheepshead fish.
We finished off a stellar meal with a piece of their deservedly award-winning key lime pie.
After pie, we drove out to the National Seashore on Okaloosa Island and spent some time there. The water was very calm, and we could walk out really far, but I liked Grayton much better.
After driving back to the hotel (and scoping out some interesting places to visit the next day), we were both still stuffed from That Lunch, so we shared a salad and a margherita pizza at a local brick oven pizza joint. It was located on the Pier Walk, which meant we got to watch the ridiculous people walking by. The Pier Walk is like the unholy union of the Ocean City Boardwalk and the Avenue at White Marsh: simultaneously ridiculous and aspiring to be posh.
Today, we had initially planned on visiting the Apalachicola National Forest, since the day was supposed to be overcast with a chance of showers. However, it was a two-hour drive, and on the way back yesterday, we saw a couple other possible sites from where we could explore the local forests without driving four hours round-trip. We decided on the Panama City Beach Conservation Park, which boasted 24 miles of trails through the forest and swamp.
We did Finns again for lunch, and I added to my list of things I've now tried for the first time by having the shrimp ceviche, followed by the blackened shrimp tacos that I adored the other day. Then we headed over to the park, which was a 15-minute drive instead of a two-hour drive. The park had several trails, ranging from just over a mile to almost 10 miles. We decided on the yellow trail, which was 6 miles/10 km and snaked through a variety of terrain.
The forest was mostly slash pines, which appeared to have been deliberately planted, given that they were in perfect rows.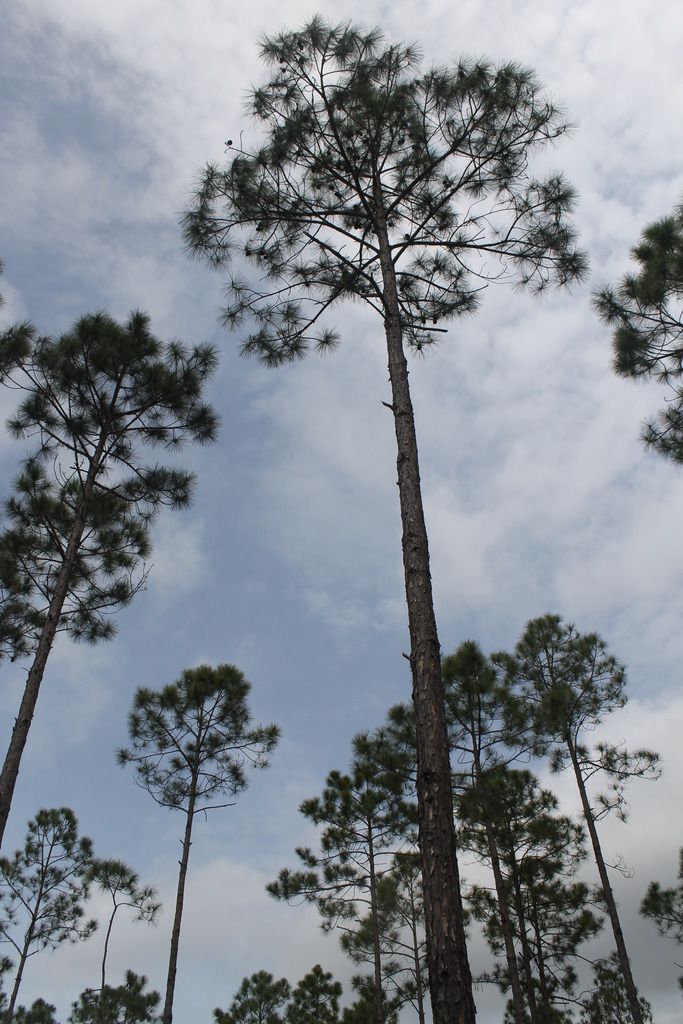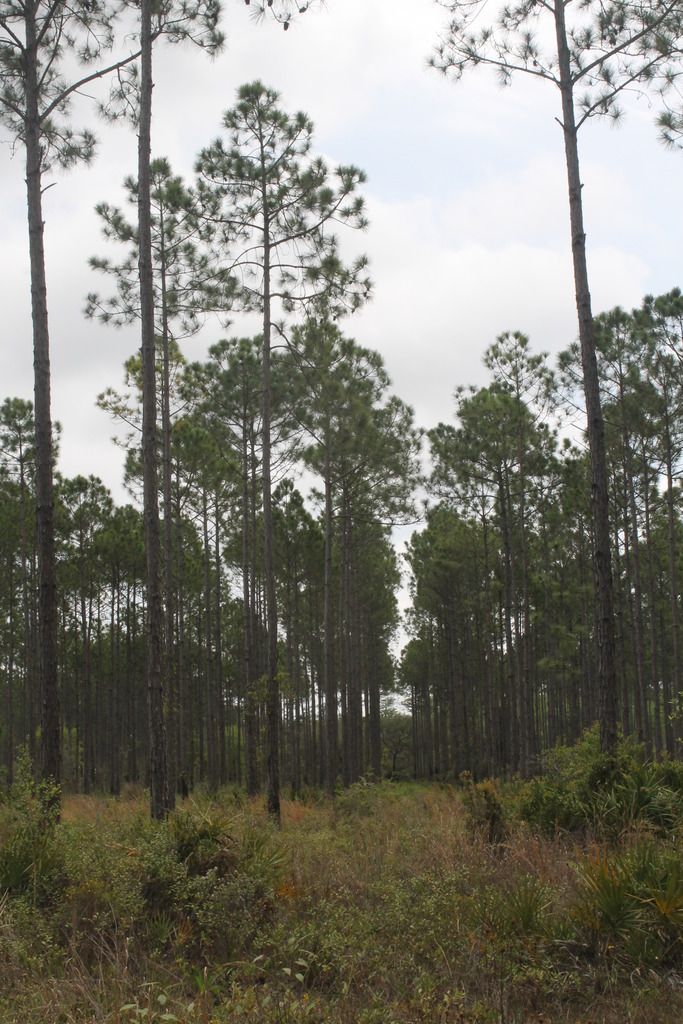 I asked this guy if he could save me 15% or more on my car insurance, but he just skittered down into the swamp.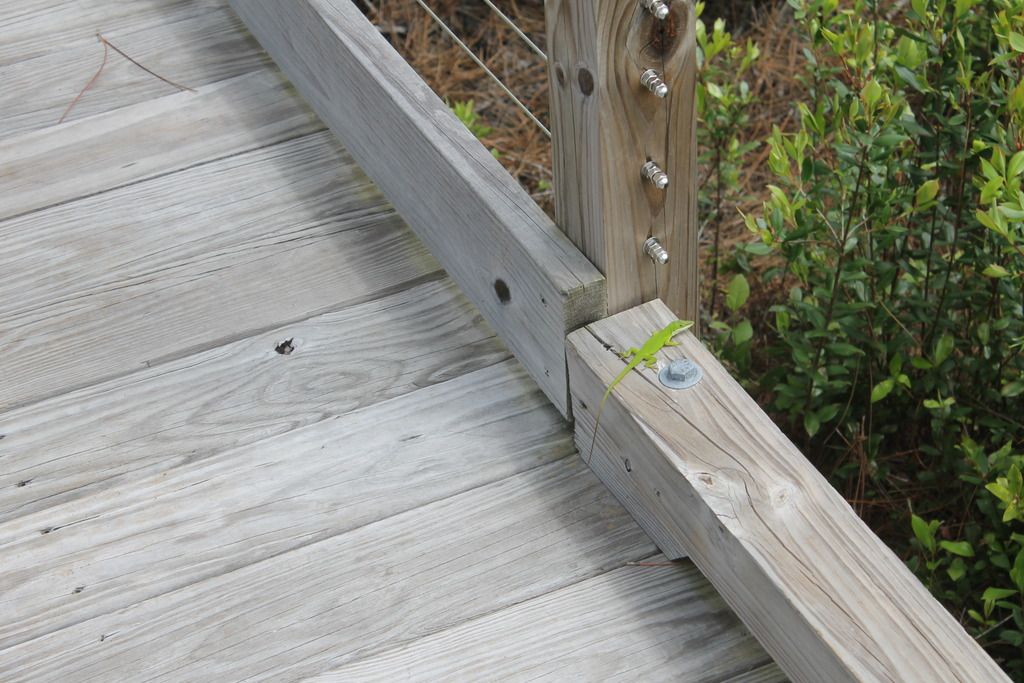 I found THIS guy and brought him home with me.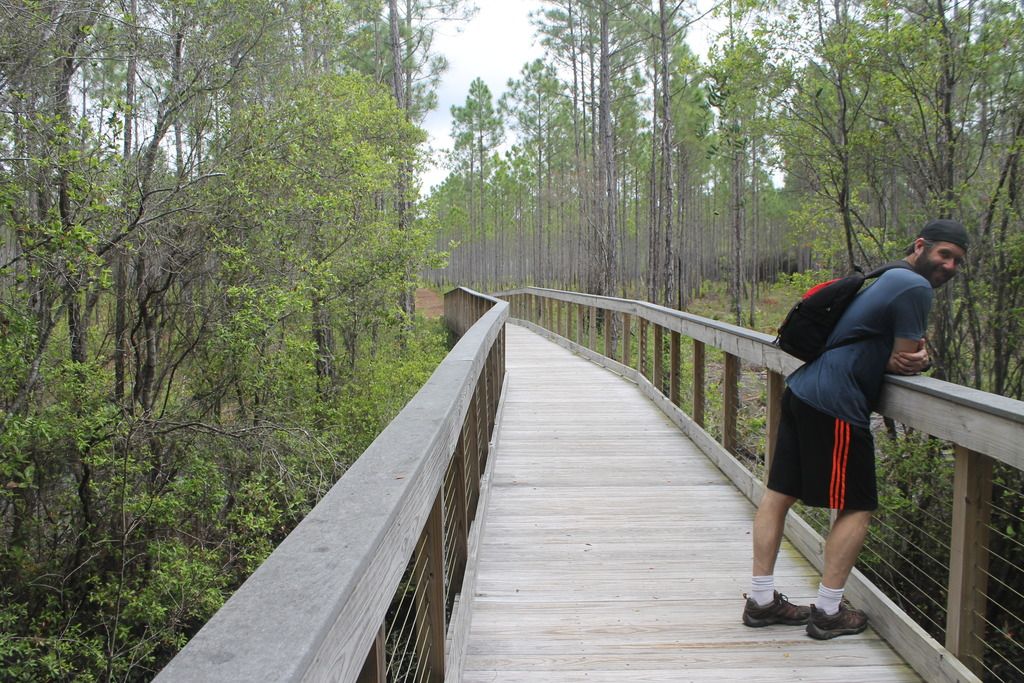 The forest was very obviously burned periodically. In many places, the bottoms of the slash pine trunks were blackened; through one stretch, the burning was recent enough that we could still smell it. At Grayton, we had read about how the native forests are subject to periodic fires, which keeps the invasive species--mostly oaks--under control. In the absence of natural wildfires, the park service burns the land every few years, else the native species will be overtaken.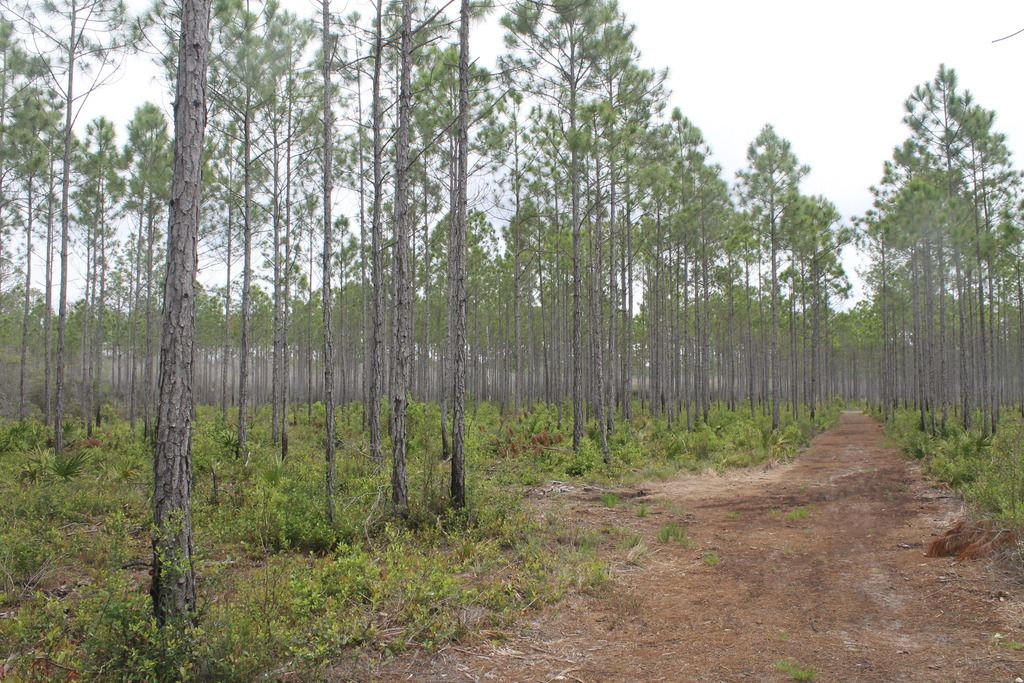 The swamp was fascinating. We both kept an eye out for pitcher plants, which--however rare--do grow in the area, but we didn't see any.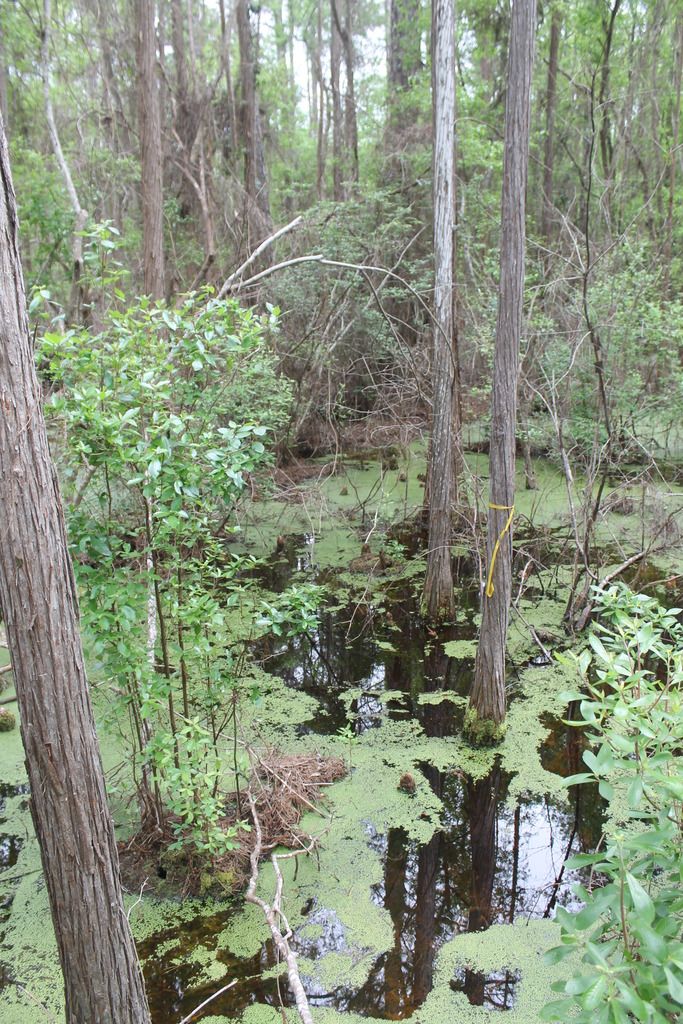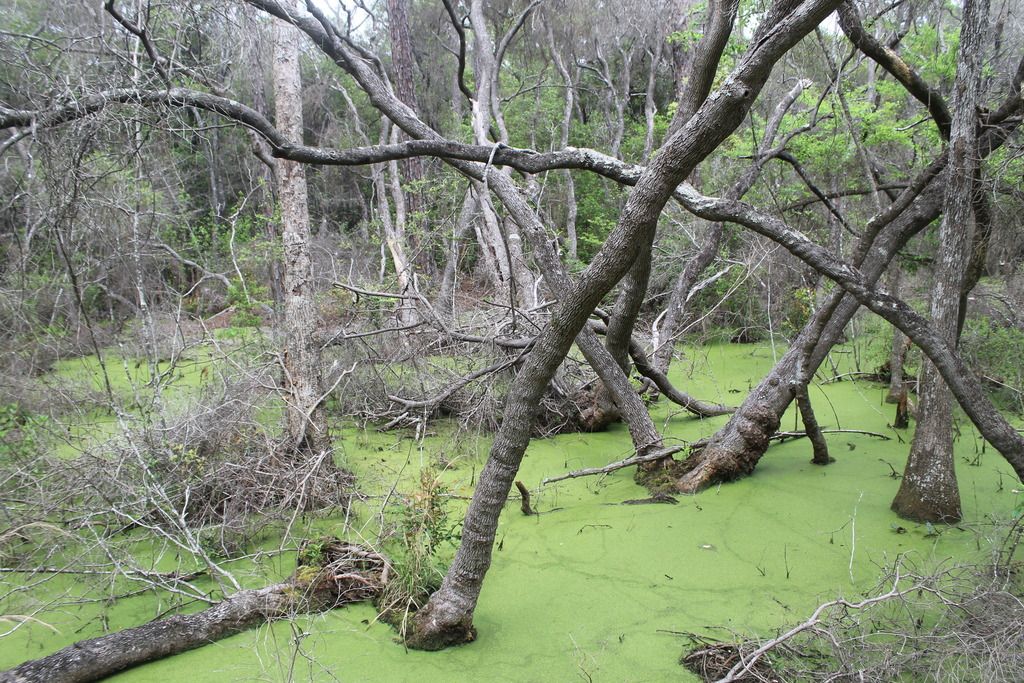 If only photos came with smells! It smelled ... well, like a swamp. Like rotten eggs in places.
Bobby called this the "greenest grass ever, like neon green." I loved how it arose at the base of a part of the forest that was dead for whatever reason. It kept making me think of Walt Whitman, of death leading forth life, being different and luckier than anyone knows, and the uncut hair of graves.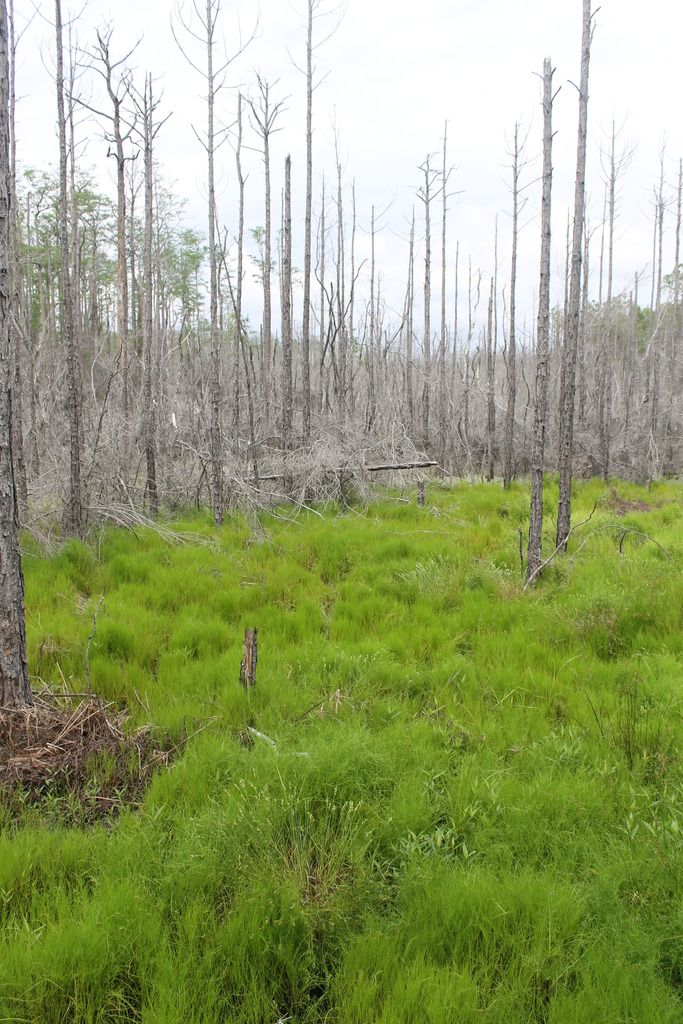 Looking into the forest past that favorite plant of my Florida photographs: the palmetto!
I haven't done a hike (other than short little nature trails like the one yesterday) since finally overcoming my Condition around this time last year. It hurt to walk because the joints in my feet were so swollen, so walking six miles was out. At the end, my feet were sore ... but it was a normal soreness from unaccustomed heavy use. It felt great. My legs have that dull, achy "used" feeling that generally prefaces a good night's sleep. Six miles isn't incredible--I've done
much
longer--but it's a start, and as I told Bobby when I triumphantly made it in one piece, it's like I'm rediscovering what my body can do.
We returned to the hotel, where we were supposed to have two stand-up paddleboards delivered for the afternoon, but the guy we rented them from was having trouble getting in touch with the guy who was supposed to deliver them, so we rescheduled for tomorrow and took the afternoon to lounge on the beach. We rented two [overpriced] beach chairs and an umbrella from a friendly guy who proved to be a complete whackadoodle. When I saw him gathering in the chair pads and umbrellas at 5, I slid down onto the sand so that he didn't have to ask me. He took that as an invitation to strike up conversation when Bobby returned. He was very earnest and friendly and clearly spent too much time on InfoWars. He encouraged us to use Tom's of Maine toothpaste and deodorant because we didn't want fluoride in our deodorant. It shut down the pineal gland and turned people into zombies. Hitler discovered it during WWII. Also, a peace sign is a sign of the Antichrist, and humans have some internal, cross-shaped structure that doctors and scientists have known about for decades (but haven't told anyone about because doctors and scientists.) He said some more whackadoodle things that I've now forgotten. As he wandered off to finish collecting the chair pads and umbrellas, he said something about being inspired by the pattern on my dress. It was a beach cover-up that cost about four bucks off the clearance rack at PacSun. It is bright blue and has ropes and anchors twining across it. I remember liking it because it vaguely reminded me of the kinds of shirts Carmela wears in
The Sopranos,
and I found that amusing. I don't know what he found inspiring about it.
For dinner tonight, we went to a restaurant called Bayou Bill's Crabhouse. Just like Stinky's Fishing Camp, don't let the name fool you. The food was wonderful. We had to wait a little while to get in, but it was worth it. There was a pool with eight alligators in front of the restaurant. For appetizer, we shared the crab dip; there was alligator on the menu, but I couldn't bring myself to order it after leaning on my elbows watching the alligators in the pool outside while waiting for our table to be ready. I still retain some of my vegetarian sentimentality, cf the sheepshead ramble above. Bobby--who has been eating out of buckets a lot lately--got a steamed seafood combo that included clams, oysters, mussels, corn on the cob, potatoes, a sausage, and snow crab legs, all served in a bucket. I made him put on the bib too so that I could take a picture.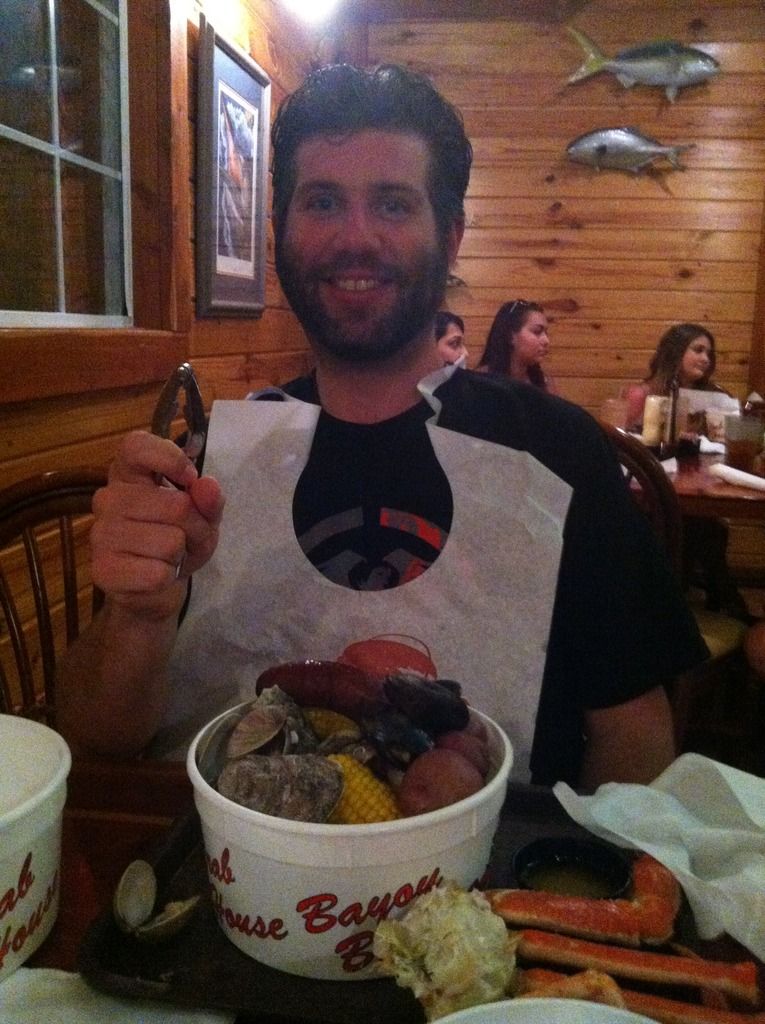 I order the "Orleans" (that was all it was called on the menu), which was grouper topped with spicy cream sauce (it was delicious but wasn't spicy at all) and crawfish tails. OMFG. It was delicious. One of the best things I've eaten in a while. Then we returned to the hotel and soaked the ache from our bones from our day in the hot tub. Tomorrow, we are returning to St. Andrew's and will finally get to try paddleboarding, then we are going on a sunset catamaran cruise at night. Let's hope there's a sunset; aside from the first night, when we got stuck in traffic and watched the sunset from the car, clouds have moved into the west both nights since and there hasn't been much of a sunset to speak of.
---
This post was originally posted on Dreamwidth and, using my Felagundish Elf magic, crossposted to LiveJournal. You can comment here or there!
http://dawn-felagund.dreamwidth.org/363196.html