From Moose to Gators
Last week, we were giggling at the moose warning signs; this week, we have alligator warning signs. (I took a picture of one--or tried to--but have a bad habit of not tapping my phone hard enough when taking pictures, so it didn't actually take.)
We had a 6:30 wakeup this morning to be to the airport for our 10 AM flight to Panama City Beach,* Florida. But that early wakeup was a good thing, since we landed at 11:30 (gaining an hour due to changing timezones). The flight was good; I actually nodded off for a while, which suggests that maybe flying is finally becoming routine enough for me that I might be able to fall asleep on overnight flights to Europe. I always get so unbelievably excited just from being at the airport that I am wide-awake for the entire flight over the Atlantic and exhausted by the time we actually land.
* Which I learned today?
Is not the same as Panama City.
*facepalm*
It was overcast and sprinkling when we arrived but
warm
and with green, growing things and a smell of living things and not just mud and ice, like at home.
It is Spring Break this week, which means that part of PCB is in sheer chaos right now, but Bobby--who would have been an incredible travel agent if he'd been born a few decades earlier--found a hotel not only on the outskirts of PCB but that requires the registering guest to be at least 26 years old, which completely eliminates the Spring Break crowd. So while I guarantee that a few short miles down the road, all hell is breaking loose right now, I am sitting by a window overlooking the Gulf and can actually hear the water and people down in the hot tub (which we just left), and that is it.
We are on the top (7th) floor of our hotel, overlooking the Gulf. Here is the view from our balcony, taken right after we arrived (so while it was still overcast).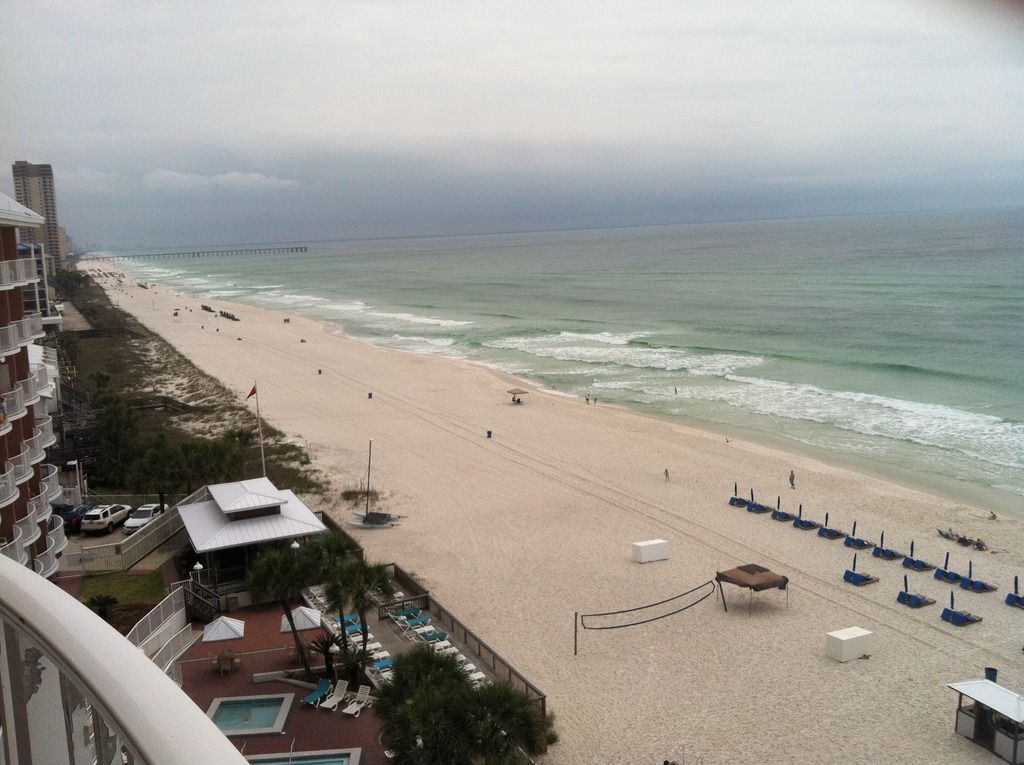 I can live with looking at that every morning for the next few days!
It was lunchtime when we checked in, so we put on our swimsuits and headed through PCB to St. Andrew's State Park, stopping on the way at Finns Island-Style Grub, literally just a food truck with a corrugated tin awning and some picnic tables, for some truly incredible blackened shrimp tacos. (And nachos, which will become important later.) St. Andrew's is considered one of the most beautiful beaches in the country, and it did not disappoint. They say around here that they have "sugar sand," and it is truly almost white--a very pale gray--and incredibly fine, nothing at all like the coarse, beige sand that we have in Ocean City. Because it was overcast, it was a little chilly and the water was straight-up
cold,
but we found a little lagoon where the water wasn't too bad and waded out and poked among the rocks for a good amount of time. The area was loaded with teeny-tiny hermit crabs living in every kind of cast-off shell imaginable.
After that, we found a spot on the beach, and Bobby walked up to the car to get our towels. In the ten minutes or so that he was gone, the clouds broke up and the sun came out, and it turned out to be a beautiful beach day: in the mid-70s F (about 24C) and sunny. We ended up packing in because we didn't adequately prepare for a full-sun day and were both worried about getting burned!
On our way out, we stopped by the Gator Lake in the park.
Talk about beautiful scenery! I took more pictures than I have here but because of my issue taking pictures with my phone, they didn't actually take. I'm annoyed at myself. Well, we're almost certain to go back and will have the SLR when we do.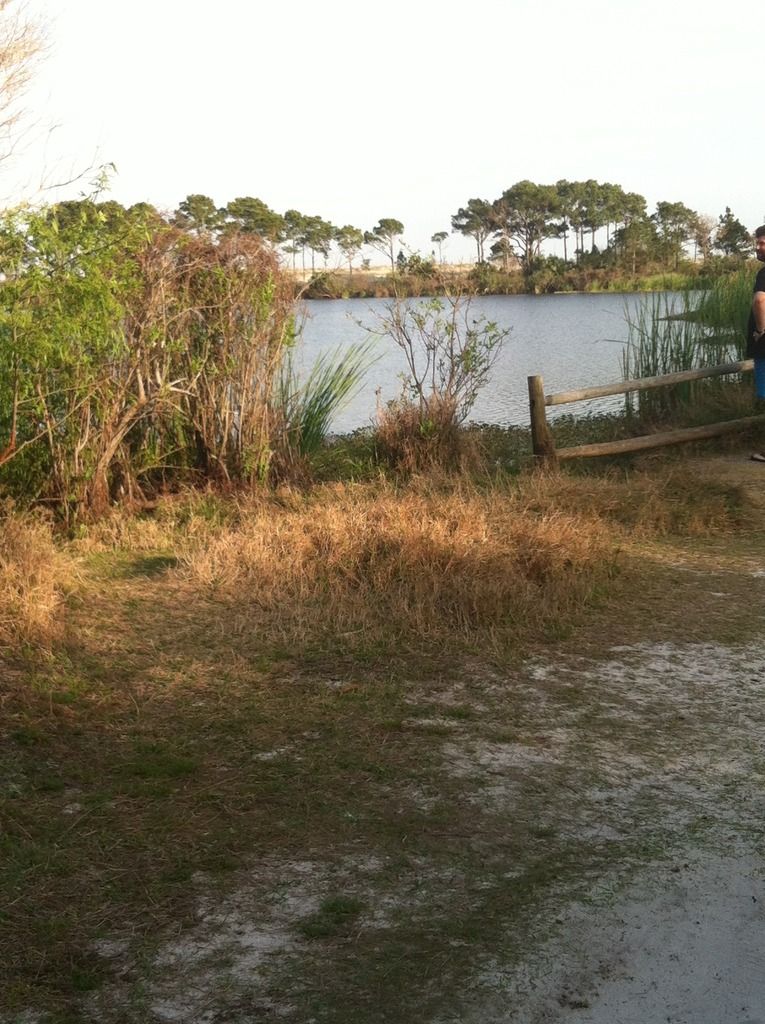 I love the palms and palmettos, and the calls of the birds are creepy and weird and wonderful. Nothing like at home, except for the red-wing blackbirds. The plants at the base of the tree are sawtooth palmettos, very common in the area and a food source for local bees.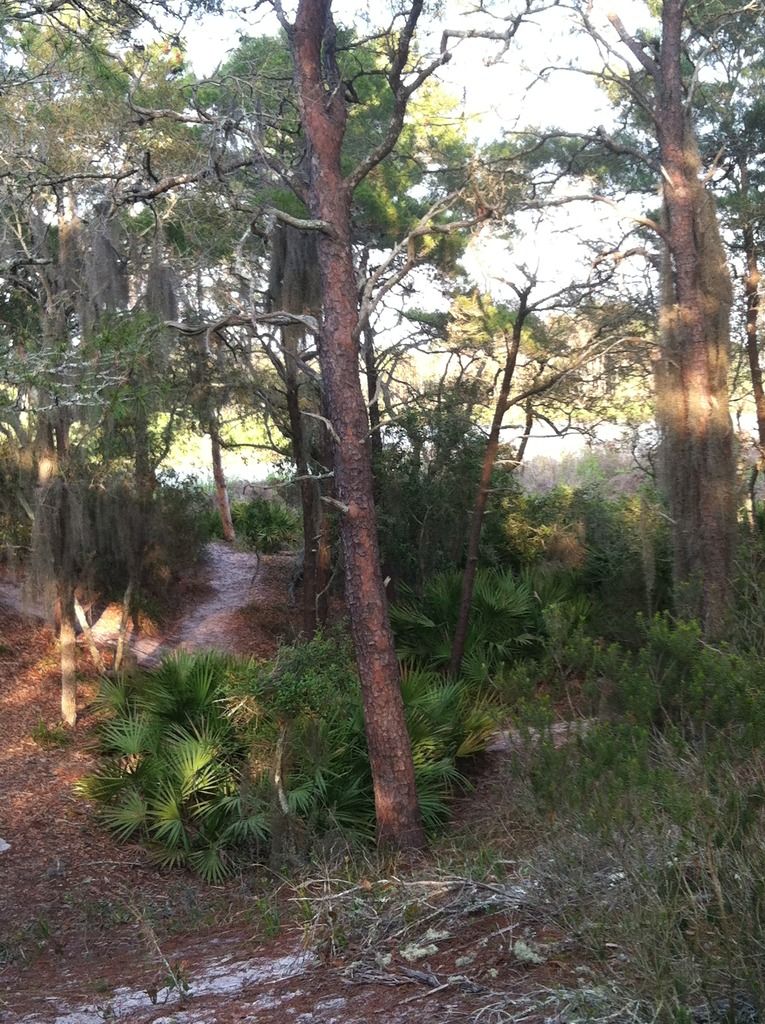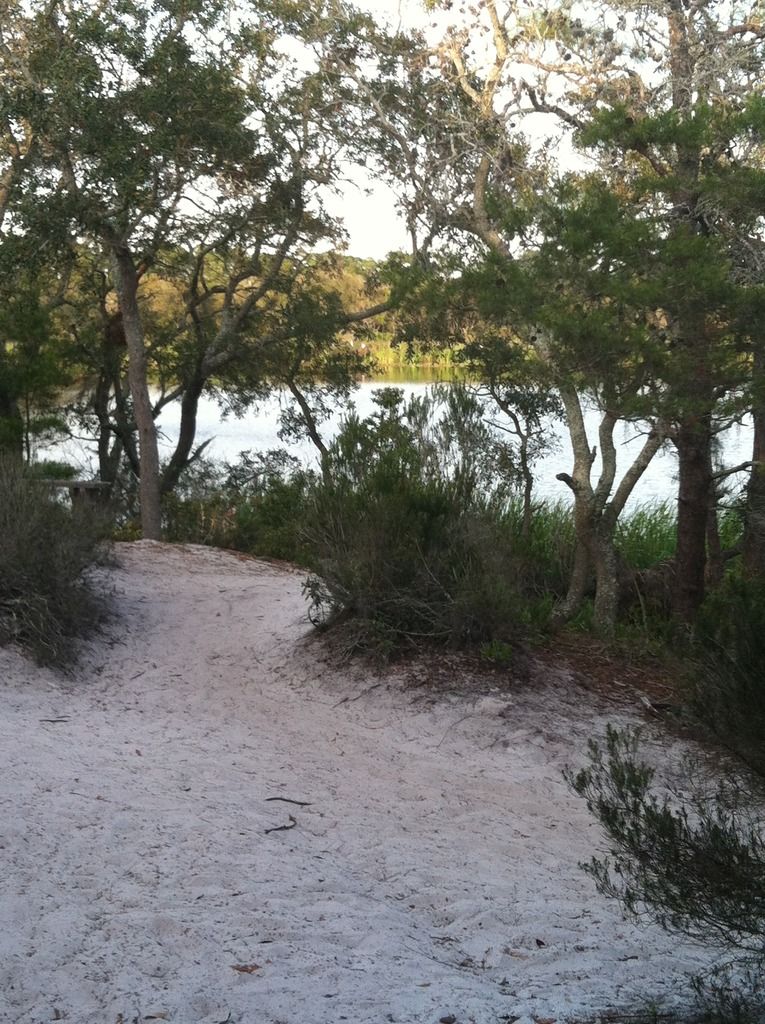 Spanish moss! (I have been wanting to see this my whole life, since reading books set in the swamp when I was a kid.)
Okay, so now it's time for a game of spot the gator. There are two small alligators in the picture below. Keep scrolling for the "answer."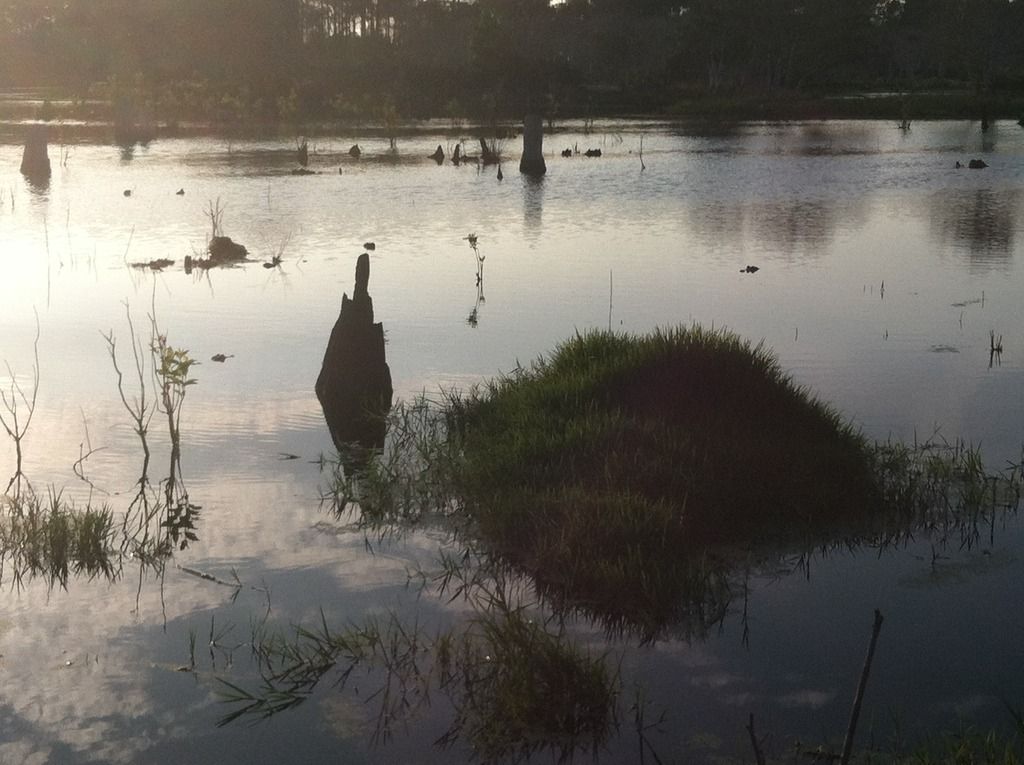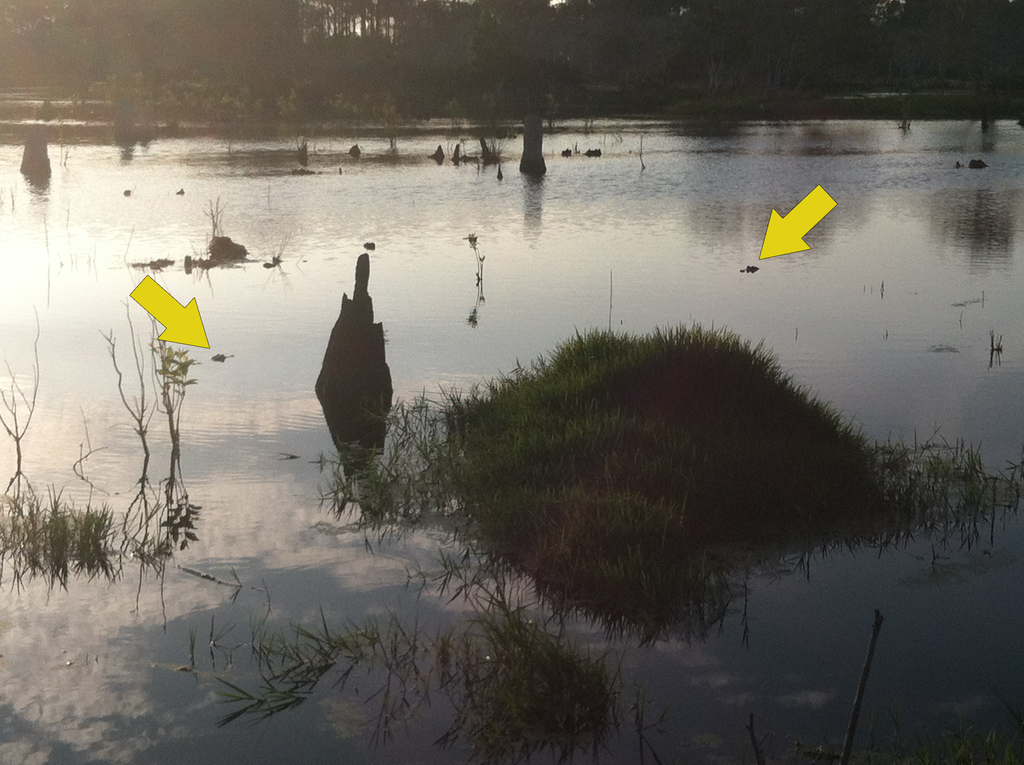 Our drive back through PCB took forever. Well, an hour. We were hoping to catch the sunset from the beach at our hotel but the drive took too long. Not only was traffic heavy, in part due to Spring Break, but the police presence through the midtown was massive on account of a
Spring Break-related shooting
that wounded seven last week. It reminded us of Senior Week last year in Ocean City, which we accidentally ended up present for as well, where the police presence was also ratcheted up because of a stabbing. Jesus Christ. Is it not possible to have fun (even drunken fun?) without attempting to kill people? (That has so
never
been my scene. To be fair, it does make me want to kill people as well, although I clearly resist my misanthropism most times ... well, all times, actually, in the fatal sense. Instead, I just avoid those kinds of scenes altogether.)
Here's the sunset while creeping down Front Beach Drive.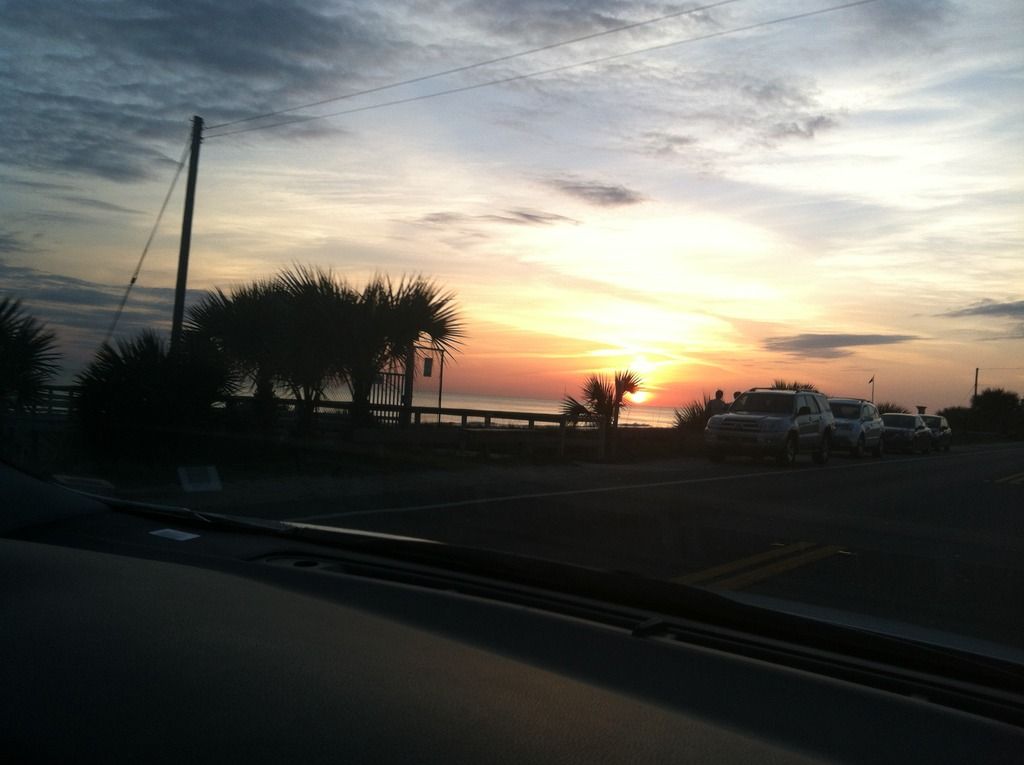 The sun had dropped below the horizon by the time we reached our hotel, but the sky and the Gulf were nonetheless beautiful.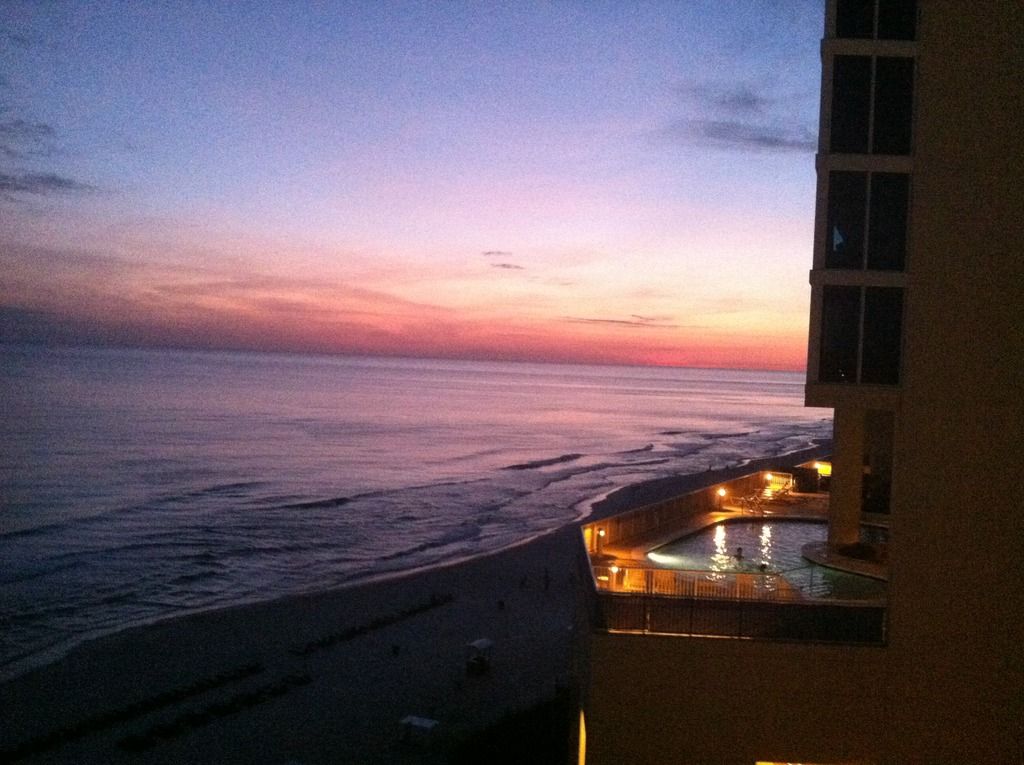 I took this one because, near the top, you can see Eärendil!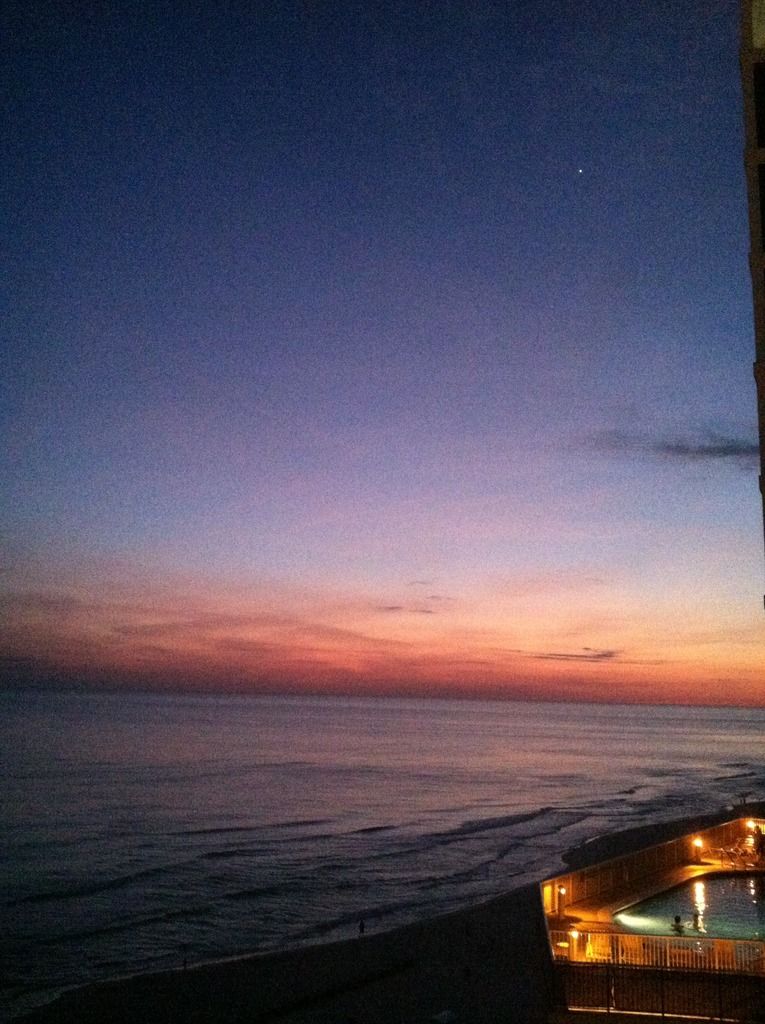 (That's Venus for non-Tolkien nerds.)
We went to dinner not long after, my only request being that it was someplace where we didn't have to drive through the hoopla in town again. So we found a seafood restaurant nearby. We'd had nachos for lunch and had nachos again for dinner. Bobby was like, "WE'RE ON VACATION WE'RE HAVING NACHOS TWICE IN THE SAME DAY," and I approved. We shared coconut shrimp and chargrilled locally caught grouper. We walked around some shops to walk off dinner and then came back to the hotel and took a dip in the pool and hot tub and met some nice people from Kentucky and Illinois. Everyone has such cute accents down here.
Actually, Panama City Beach reminds me a lot of Ocean City, Maryland: the same types of hotels with the same obnoxious-anywhere-but-the-seaside paint jobs, the main drag along the coast, the same kind of dumb souvenir shops, SUNSATIONS!!! (I almost died; I thought this was a disease localized to OC), the little biplanes that fly banners along the beach, miniature golf, "Free Hermit Crab with Purchase of a Cage." The difference? PCB is slightly less built up. OC has the Boardwalk. The water here is glass-green and warmer and much calmer. (They were flying "hazardous conditions" flags on the beach today because of the wind. Bobby and I looked at the waves and were like LOL.) And everyone here rides around on scooters or in golf carts (!!) whereas to do that in OC on Coastal Highway would be straight-up scary. And this is the South, so there's a lot more NRA- and Jeebus-centric rhetoric; also guys riding around in redneck pickups blaring gansta rap, which is weird.
I'm not sure yet what's in store for tomorrow.
---
This post was originally posted on Dreamwidth and, using my Felagundish Elf magic, crossposted to LiveJournal. You can comment here or there!
http://dawn-felagund.dreamwidth.org/362765.html