Mountain Dew Vertical Challenge and Photos from the White Mountains
Bobby ended up placing fifth in his category today at the Mountain Dew Vertical Challenge. This was a
very
impressive result (in my admittedly biased opinion!) There were 36 competitors in his category, which was ages 26-35, so he was also competing against guys significantly younger than him. And it is also worth remembering--and it's easy to forget sometimes because he's come so far so fast--that he has only been doing this for four seasons now, and missed part of two of those seasons due to injury. So I am very, very proud of him. :)
Here are some pictures from yesterday. We were leisurely in our drive back from Bretton Woods. We stopped at all of the scenic pull-offs and then drove around Franconia, the town where we're staying, trying to find Robert Frost's house. If you recall the
Family Circus
comics that would show the progression of the young boy's day by tracing his footprints around his neighborhood, we made a scrawl of Franconia. And never found the Robert Frost place. We didn't have a map and tried to pull it up on Bobby's phone, which was worse than just driving around, so we just drove around.
It snowed throughout the day yesterday and so wasn't very clear.
For the history buffs on my flist who yesterday noticed the name "Bretton Woods" and went all like, "Bzwah?
That
Bretton Woods??" as promised, here is a photo of the Mount Washington Hotel, where, yes,
that
Bretton Woods Conference</em> established the International Monetary Fund and World Bank at the end of World War II. In the background is Mount Washington, New Hampshire's highest peak at 6,289 ft/1,917 m. The top of the mountain is swathed in cloud. If you look to the right, there is a white streak: That is the cog railway, which will take passengers to the top of Mount Washington. It is also possible to drive to the top, and those who do affix a sticker to their car that reads, "This Car Climbed Mount Washington."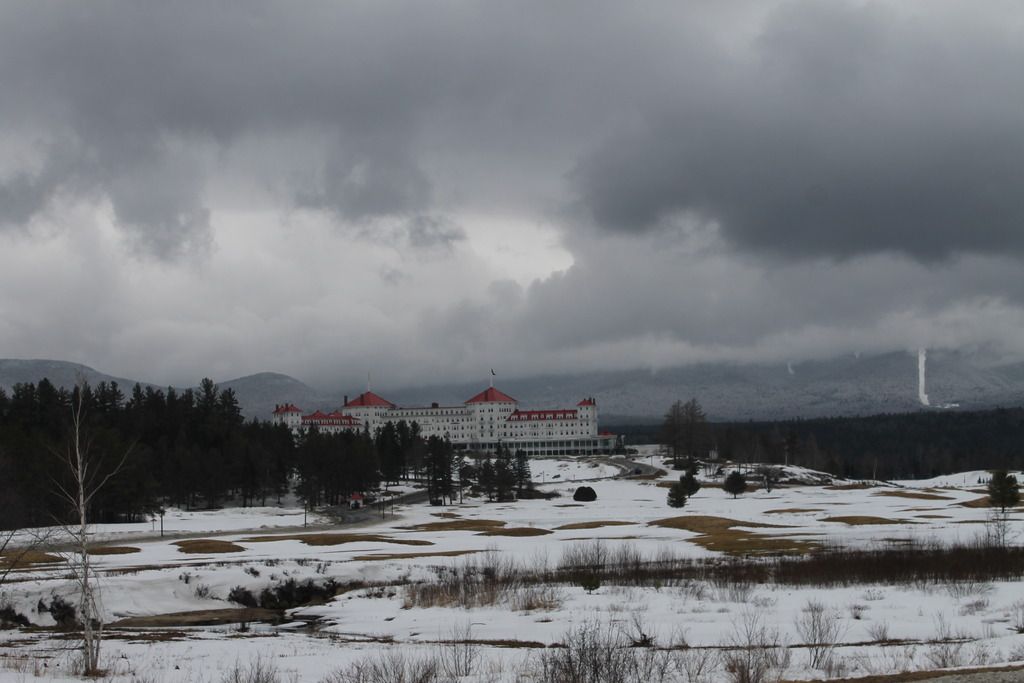 Mount Cleveland. No cool stories about this one; it was just visible from a "Scenic Overlook."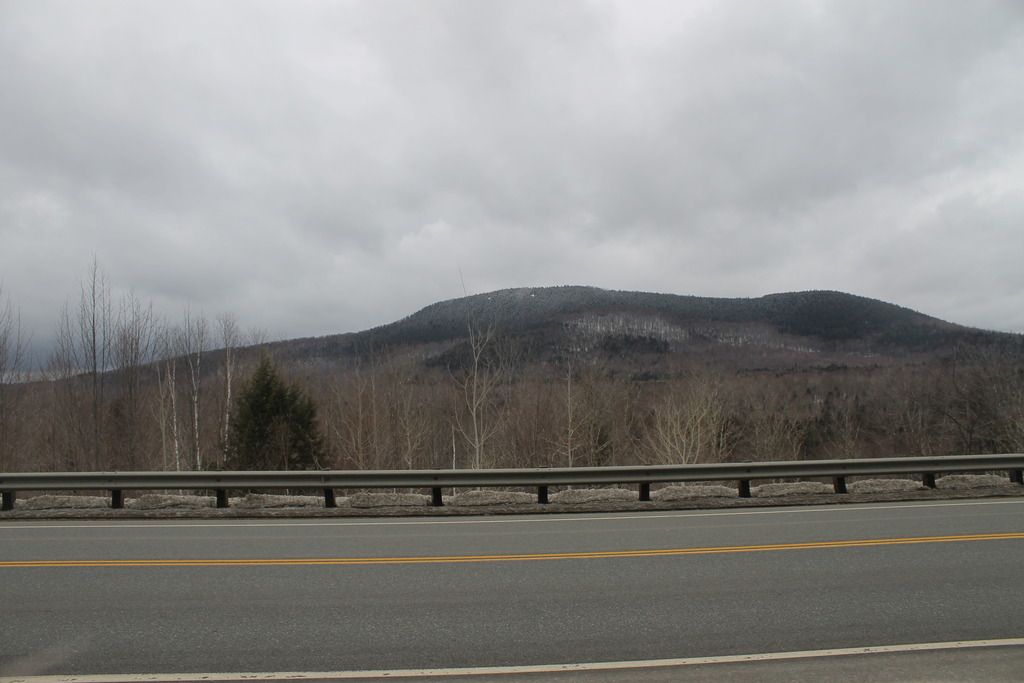 Cannon Mountain, where Bobby would compete the next day.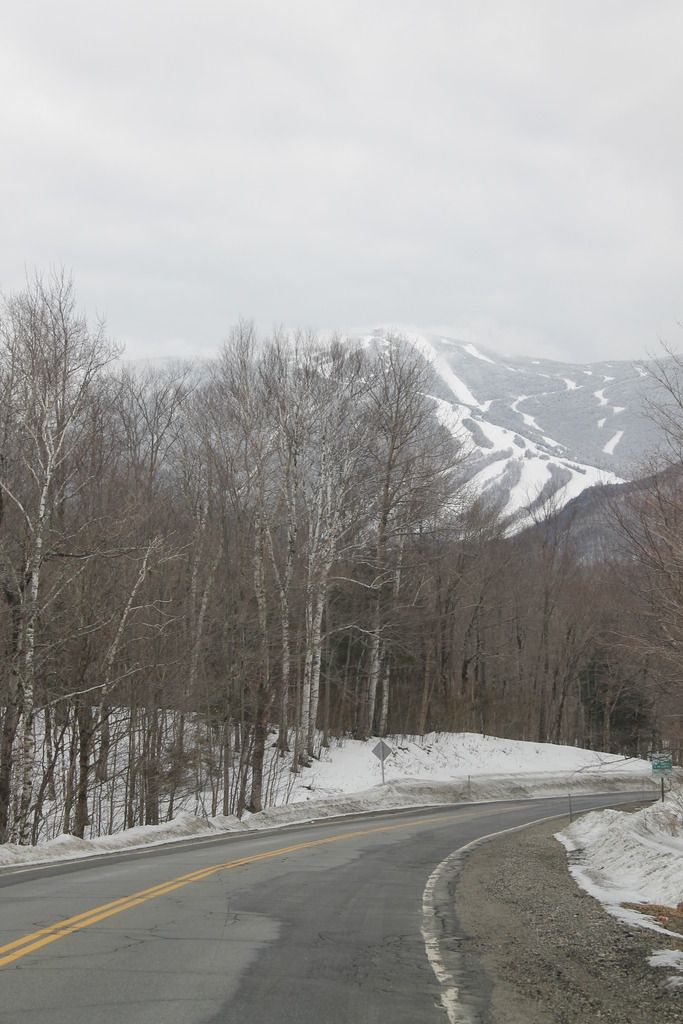 We didn't see any moose, but we did see a lot of
signs
warning us not to run them over if we did. Part of me is like, seriously? You have to tell people to hit the brakes if they see an enormous antlered animal standing in the middle of the road?? Where I live, we have a high population of white-tailed deer, and I know how
they
can destroy a car; I can only imagine what a moose would do!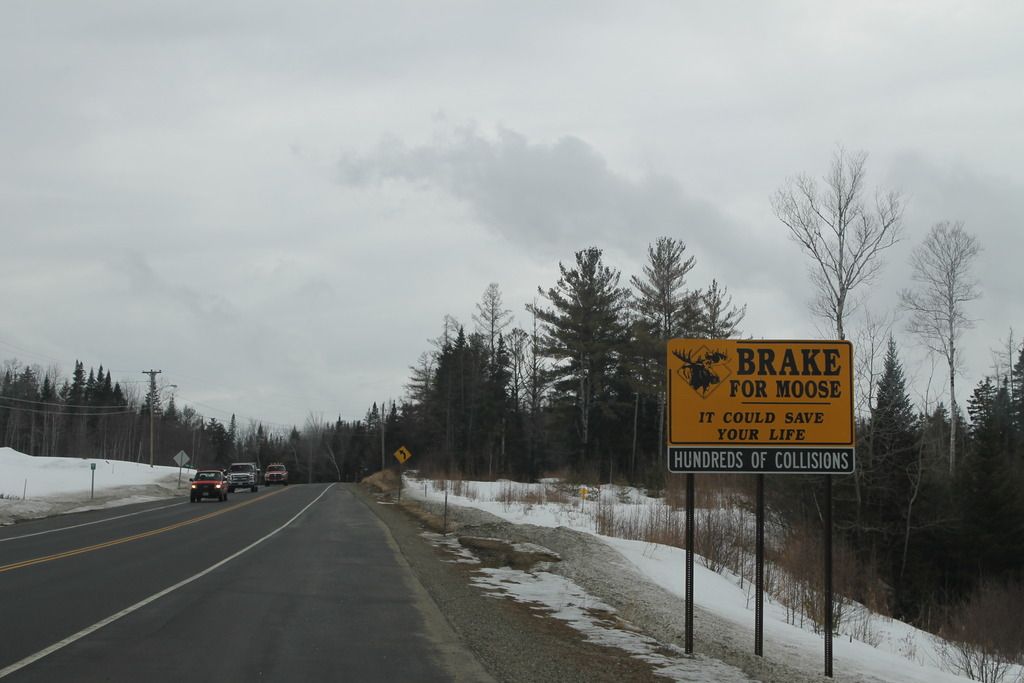 Looking over this rickety one-lane bridge in Franconia that we found while looking for the Frost place. It looked dodgy as all get-out, so of course I goaded Bobby into driving across it. (Spoiler alert: We made it across.)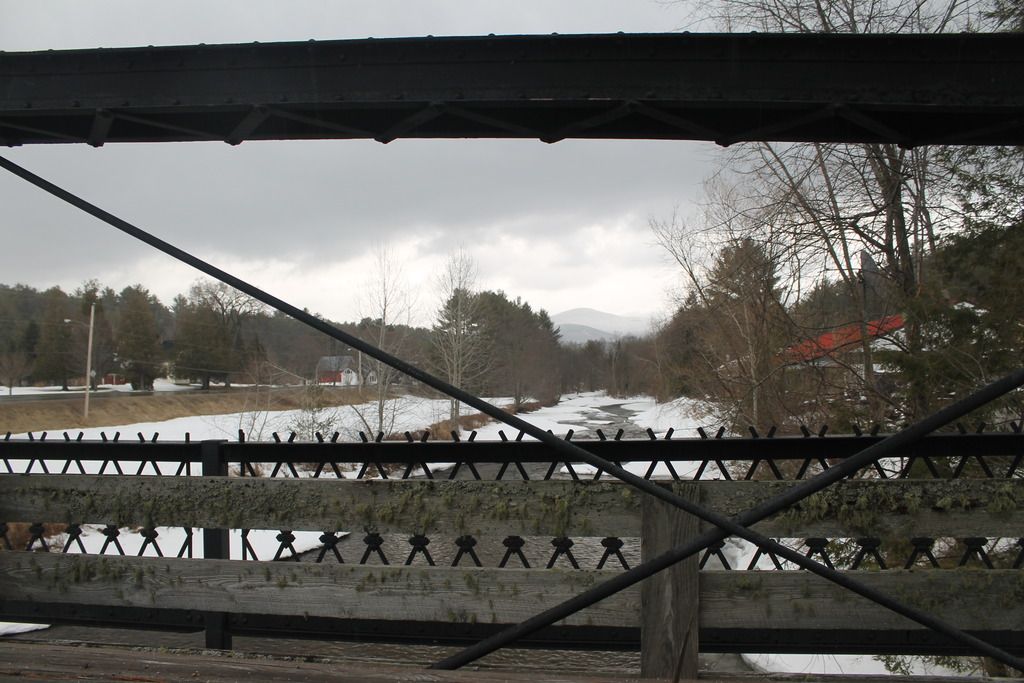 We went to dinner at a cute little restaurant in Franconia called the Dutch Treat. Outside the window is another little restaurant called MoJo's, which had a sign stating, "Give Pizza Chance."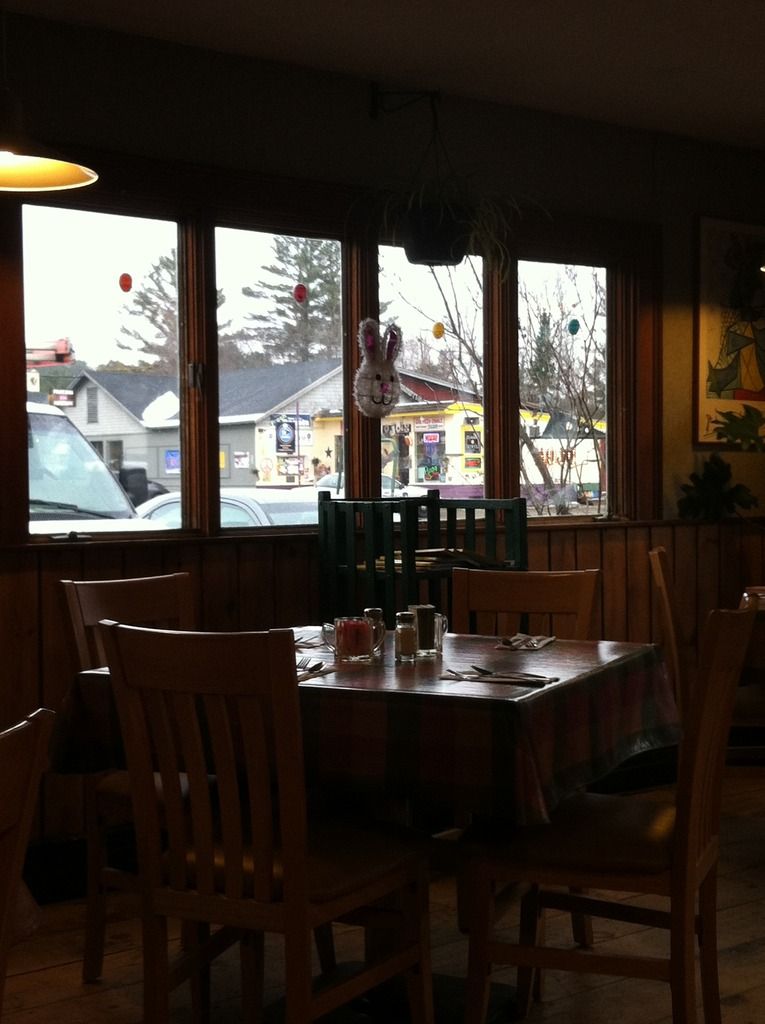 This morning, I woke up to find Bobby on his computer, checking the snow at Cannon. "My season just keeps getting better," he said. Cannon had the most fresh snow this morning of any ski/snowboard resort
in the entire country
: 8 inches/20 cm. He has been in his glory.
The mountains from the parking lot at Cannon. All that lovely fresh snow indeed shows why these are called the White Mountains!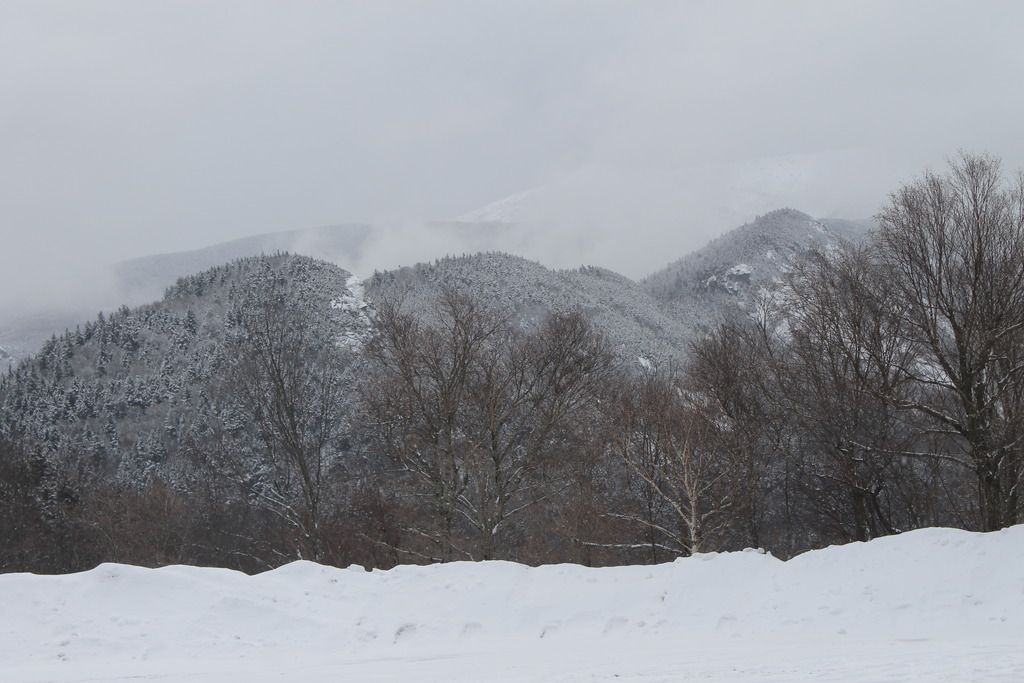 Bobby walking toward the lodge to sign in for the competition.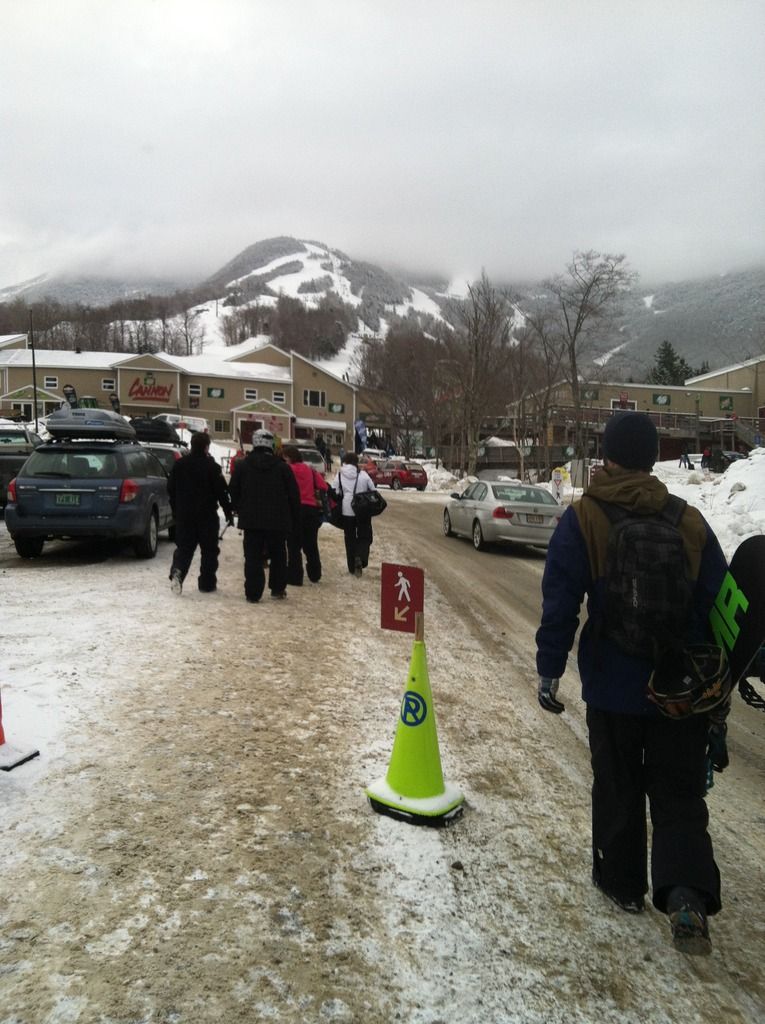 Even though these mountains are part of the Appalachians, just like the ol' home mountains, what I love about these is their relative ruggedness and how they very often seem to be arranged in layers, with the mountains in the back towering over those in the front. This region--Franconia Notch--is some of the most beautiful country I've seen.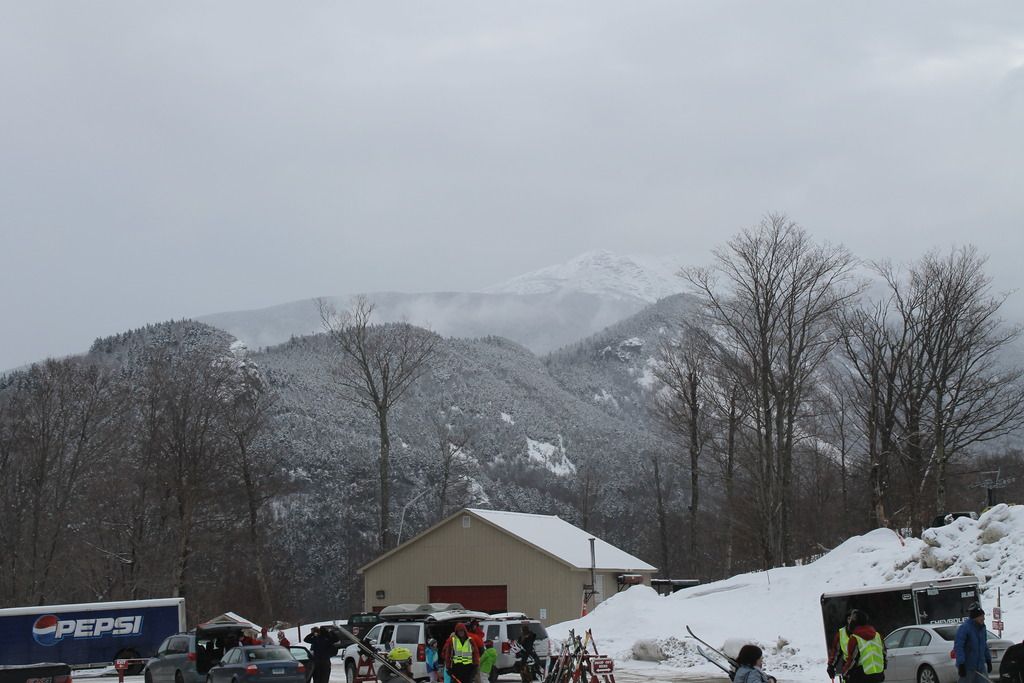 Cannon, all festooned for the competition today.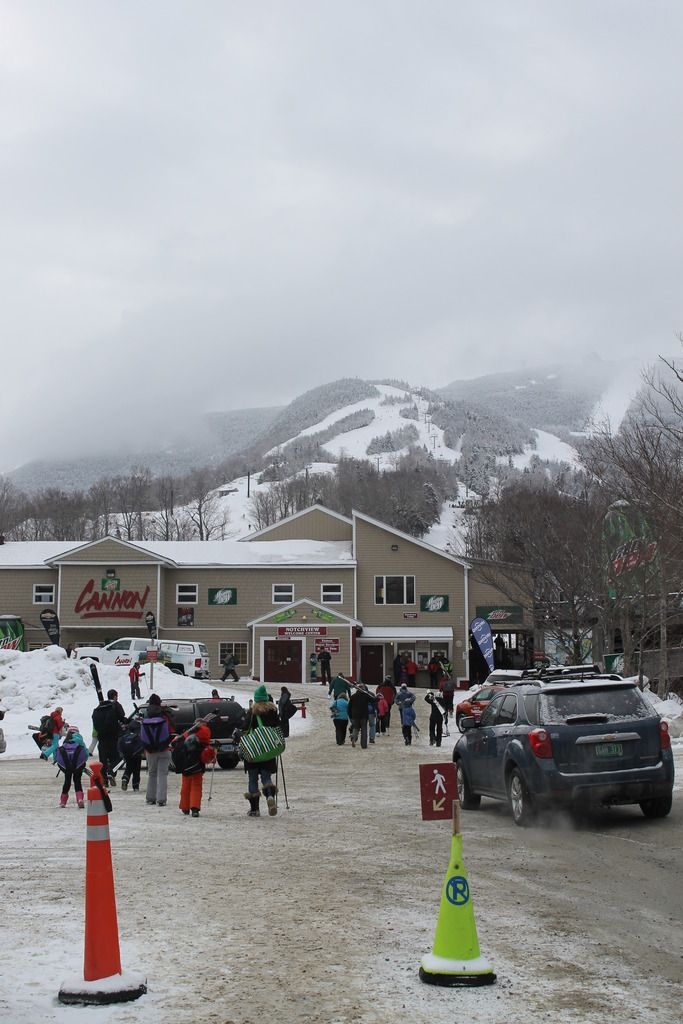 Cannon was
packed
because of the competition. Bobby got signed in while I wandered around and took the photos above, then found a place for me in the lodge at the window, overlooking the mountain. It was a gorgeous view but, unfortunately, just a few yards away from a door, so I froze my ass off most of the morning. And like I said in my last post, the man sitting next to me was very fragrant with the aroma of weed. However, he was a big guy, so he shielded me from the cold draft whenever the door opened, so I rather missed him and my contact high once he finally got up and left.
This was what I was looking out on.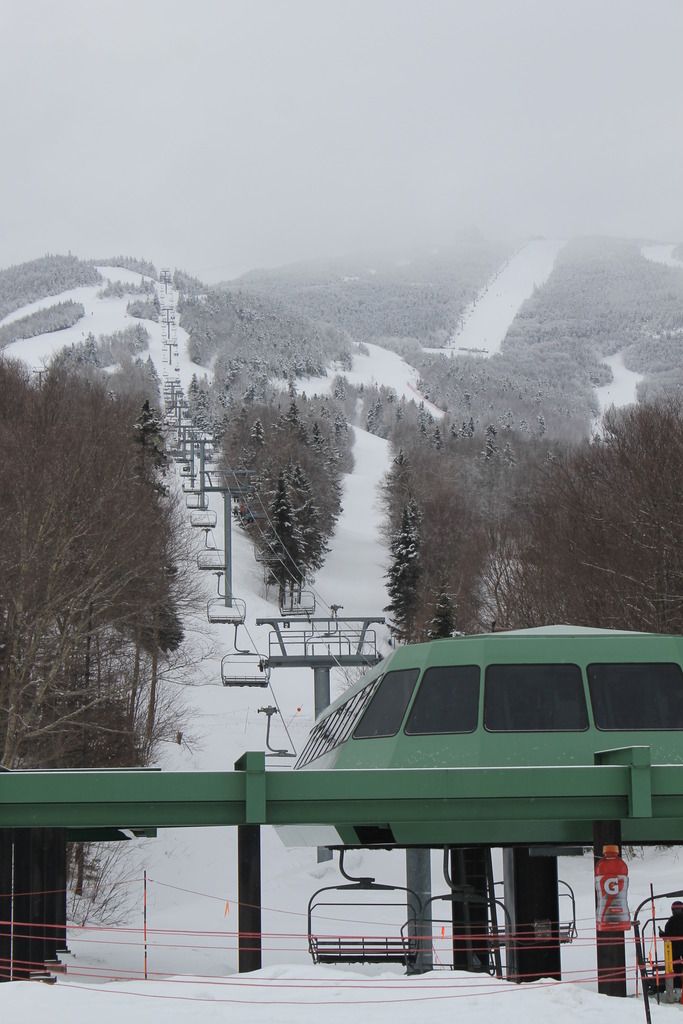 Like I said, the place was packed! This was first thing in the morning; by midday, it was worse than this.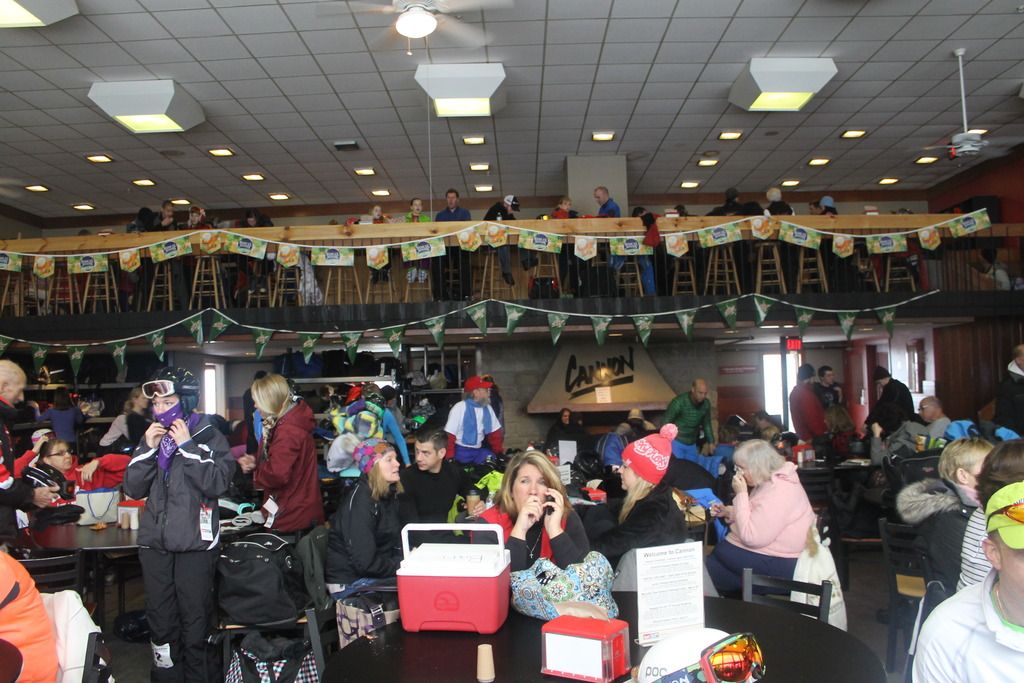 And Bobby, of course, before heading off to take his first runs for the day.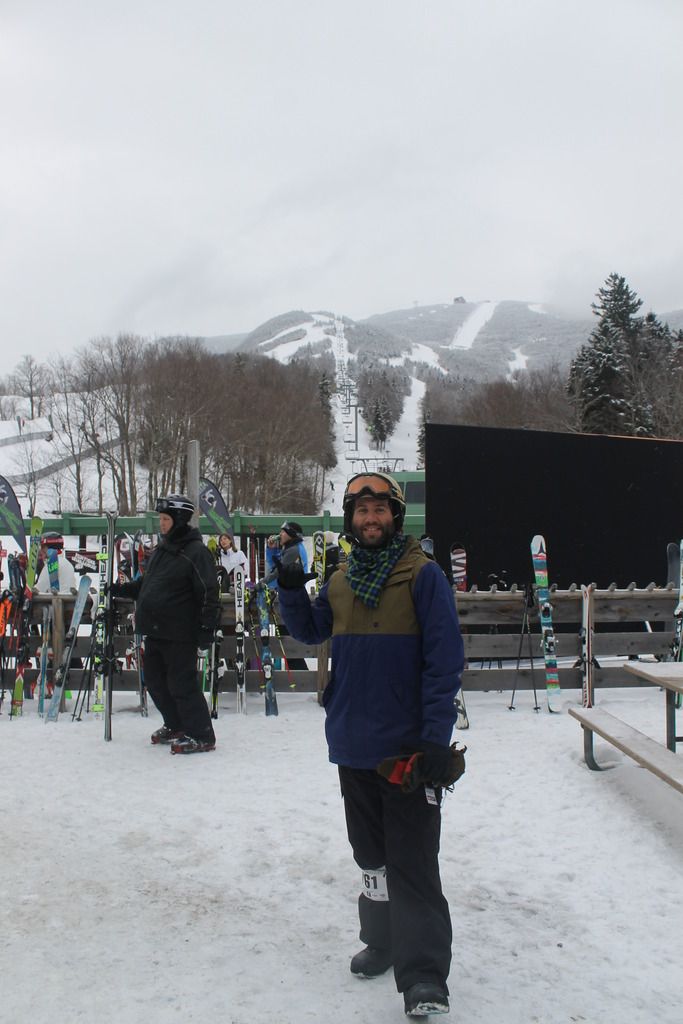 After lunch, I relocated to the lower level of the lodge. It was much warmer but much louder, being a more closed-in space. All morning, the competition announcer had been telling spectators to go to "Corral 2," so at 1:30, I walked out to what I assumed to be Corral 2 to wait for Bobby to come down the hill. I was one of the only people there. A woman standing near me asked a question about the competition, then said, "You are very dedicated!" then complimented my coat (the long hairy) and my outfit (my typical hippie steeze). I must have looked like I didn't belong. But I did think it was sad that almost no one but me came out to Corral 2 for the old-young-man category.
I kept my phone in my hand, but by the time I recognized Bobby coming down the hill, I think I only got about three seconds of video. He hit a patch of ice coming down but recovered well and felt like he did okay ... obviously he was right! By this point, I had pretty much lost feeling in the bottoms of my feet from standing in thin-soled shoes on the snow for so long. Perhaps I am very dedicated!
After the lifts closed for the day and Bobby found out his results, we went back to the hotel to rest and warm up for about an hour, then went out to find the Frost place again, this time with, like,
directions.
And guess what? Wonder of wonders, we found it! So, for my fellow literati, I give you Robert Frost's house in Franconia, New Hampshire.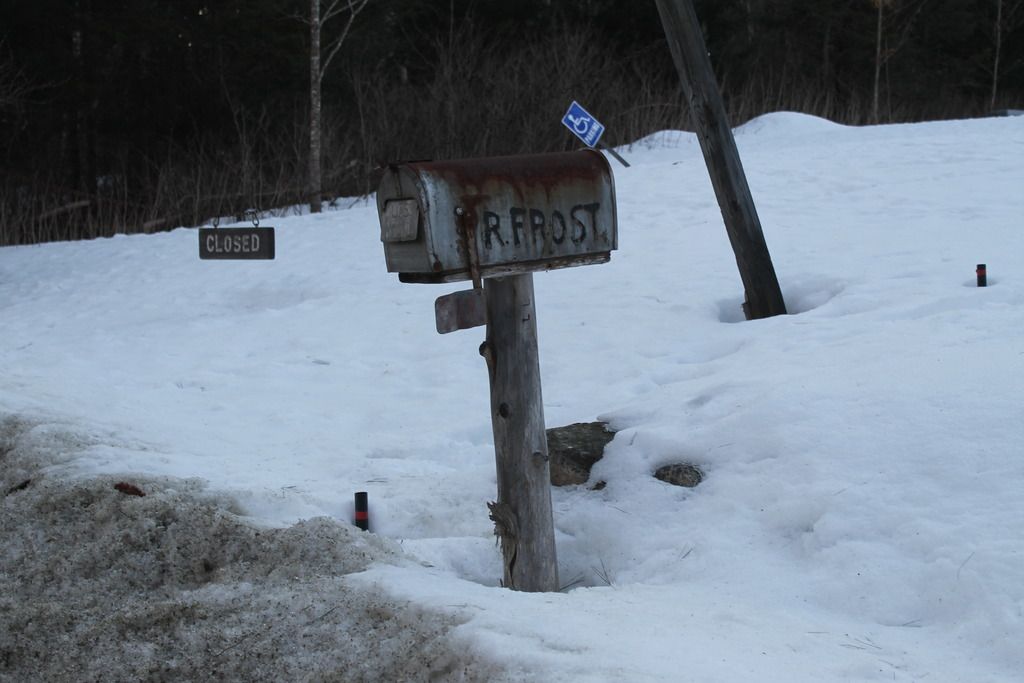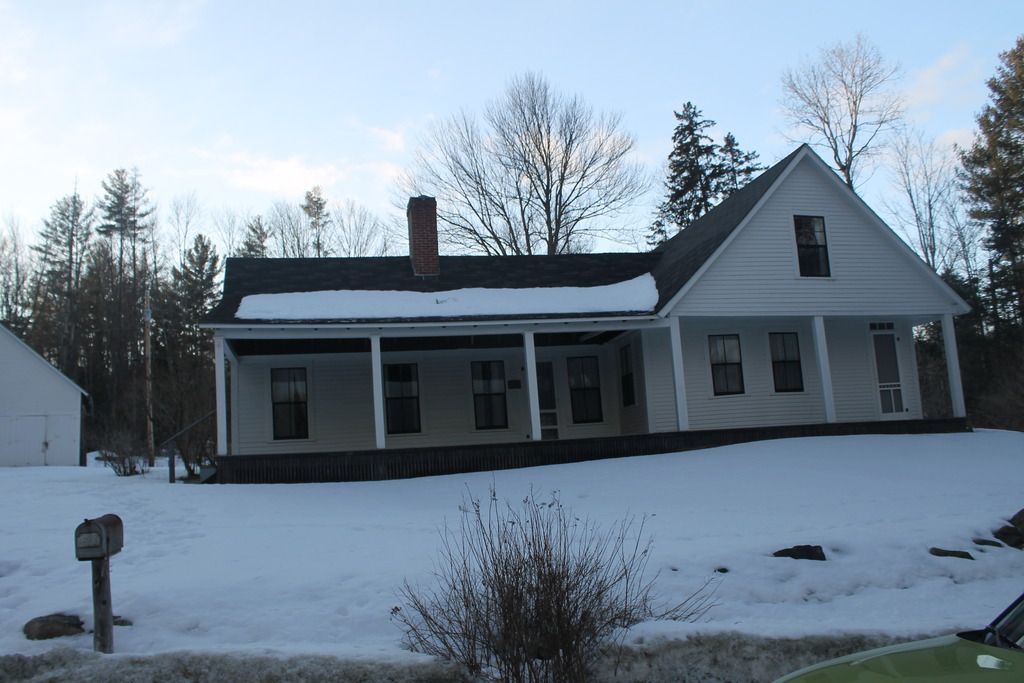 It was finally beginning to clear up, and Ridge Road where the Frost place is located had a gorgeous view of the mountains.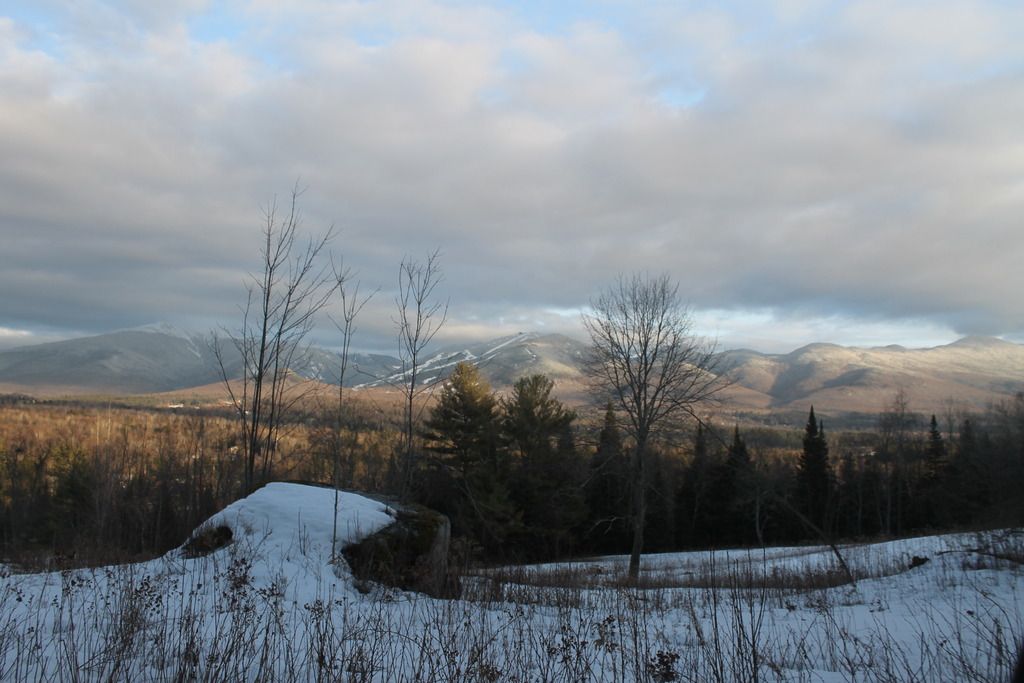 We went to supper at another little restaurant in town, called Above the Notch. Bobby had eggplant parm and I had a most-evil white pizza, and we shared an order of probably the best jalapeño poppers I've ever tasted.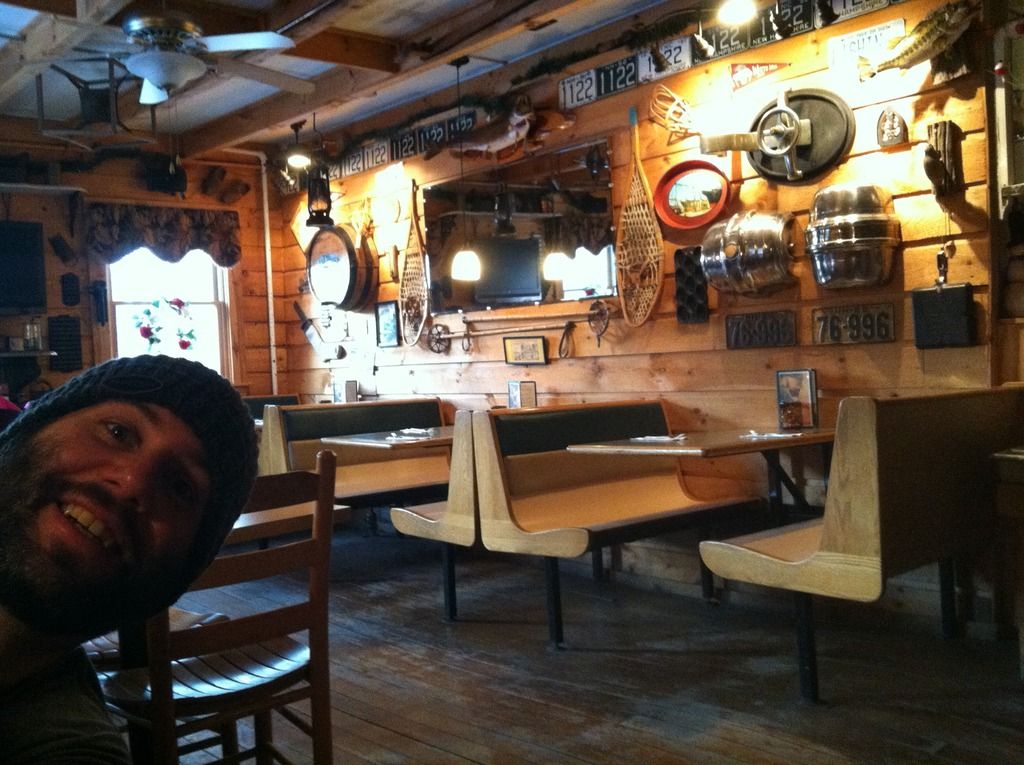 After I coaxed Bobby into doing that (see above), he insisted on taking a picture of me as well.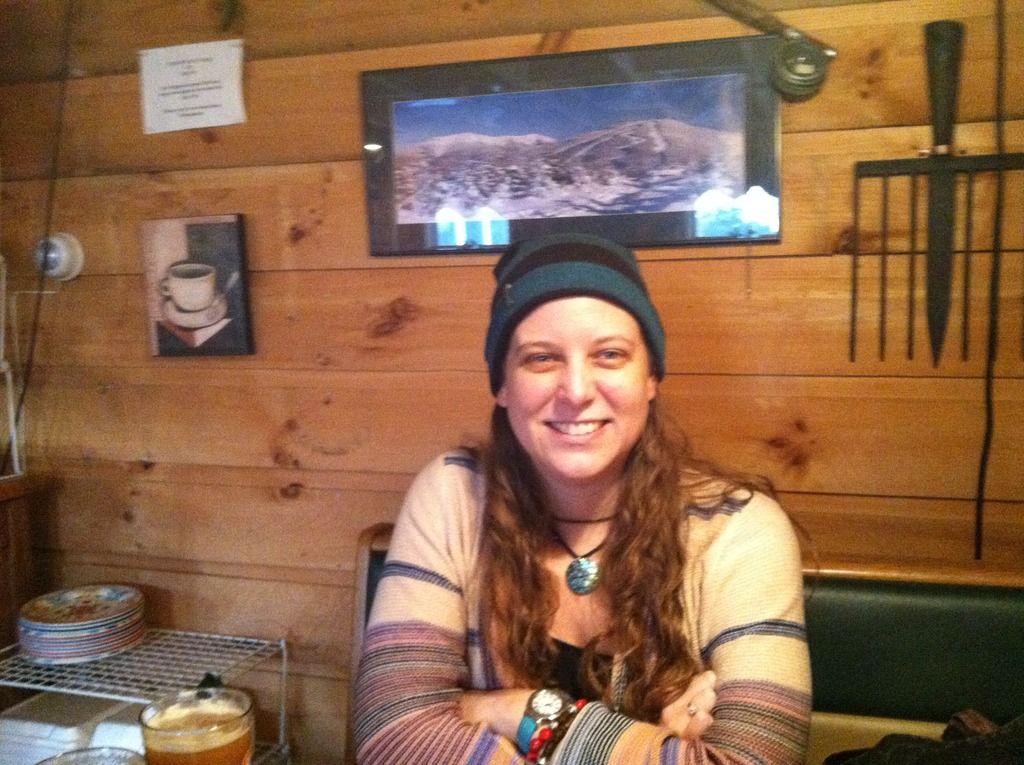 Cannon had a fireworks show to close out the competition, so we rode over to see that. We arrived early and sat in the car listening to music with the heat blasting on my feet. It felt satisfying to have my feet finally warm while at Cannon, like I did win in the end after all. Take that, Cannon, with your cold, drafty lodge! After that, we drove back to the hotel, had a dip in the hot tub, and now I'm here, signing out for the night. Tomorrow, we drive home. It has been, as ever, a great trip.
---
This post was originally posted on Dreamwidth and, using my Felagundish Elf magic, crossposted to LiveJournal. You can comment here or there!
http://dawn-felagund.dreamwidth.org/362485.html