Slaloming with Giants
Last week, when Bobby and I were sitting at the bar in Pie-casso, there was a giant slalom event on the television. I told him that it looked cool. "Oh, that's giant slalom," he said.
"Funny, the people look like they are of ordinary stature to me, not giants at all."
"No, it doesn't mean that giants participate, it just refers to the kind of event it is."
Well, this was timely, as we returned from Vermont to discover that Bobby had a chance to participate in a giant slalom event today at Liberty, the Mountain Dew Vertical Challenge. He wasn't initially sure that employees of the mountain would be allowed, but it was decided they were. He is tall (6'2") but not a giant.
There were 700-some participants overall and 28 in his category (male snowboarders ages 25-35; as he noted, there were some "pretty young dudes" he was up against). He texted me when he was getting into line, and I wrapped up in my cold-weather gear and schlepped out to the end of the course in my inappropriate-for-snow shoes. It was snowing quite hard; we are under a winter storm warning in north-central Maryland today. I arrived right as he was coming down and got to see the end of his run.
This was his first competition, and I don't think either of us knew what to expect, but at 2:30, we stood to hear the winners announced ... and he took bronze in his category! Which means that he is now eligible to race in the finals at the end of March, at Cannon Mountain in New Hampshire. It is a televised event! So it looks like we will be back on the Vermonter and headed northward again sooner rather than later.
Here he is after taking his run.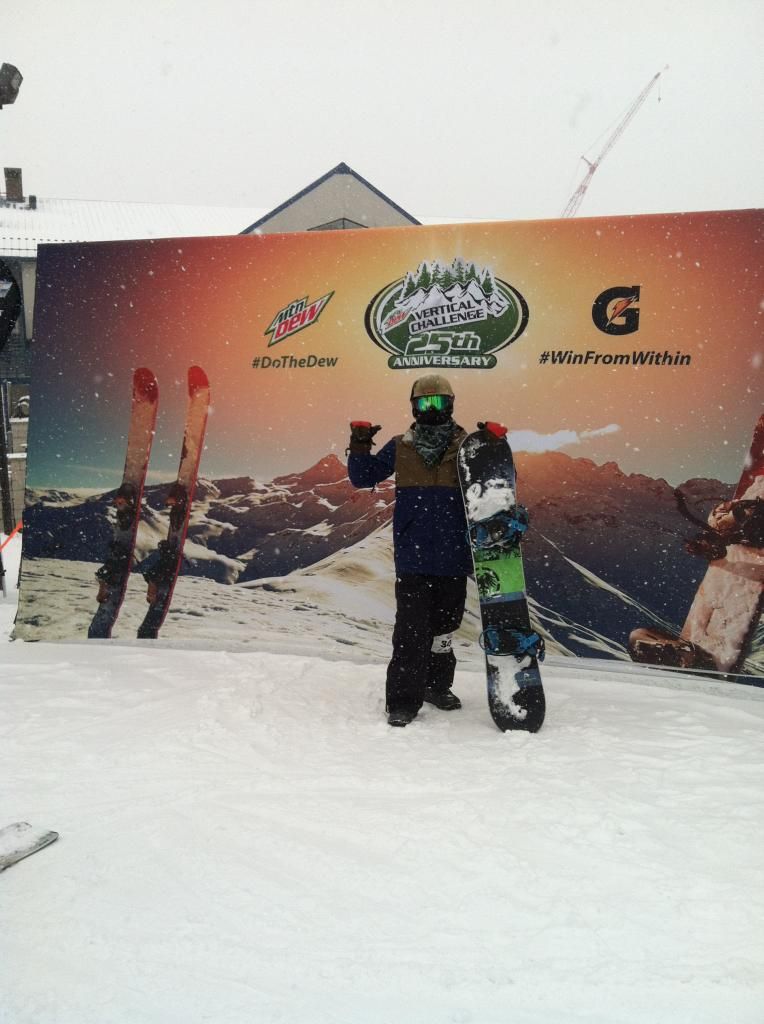 And after getting his medal.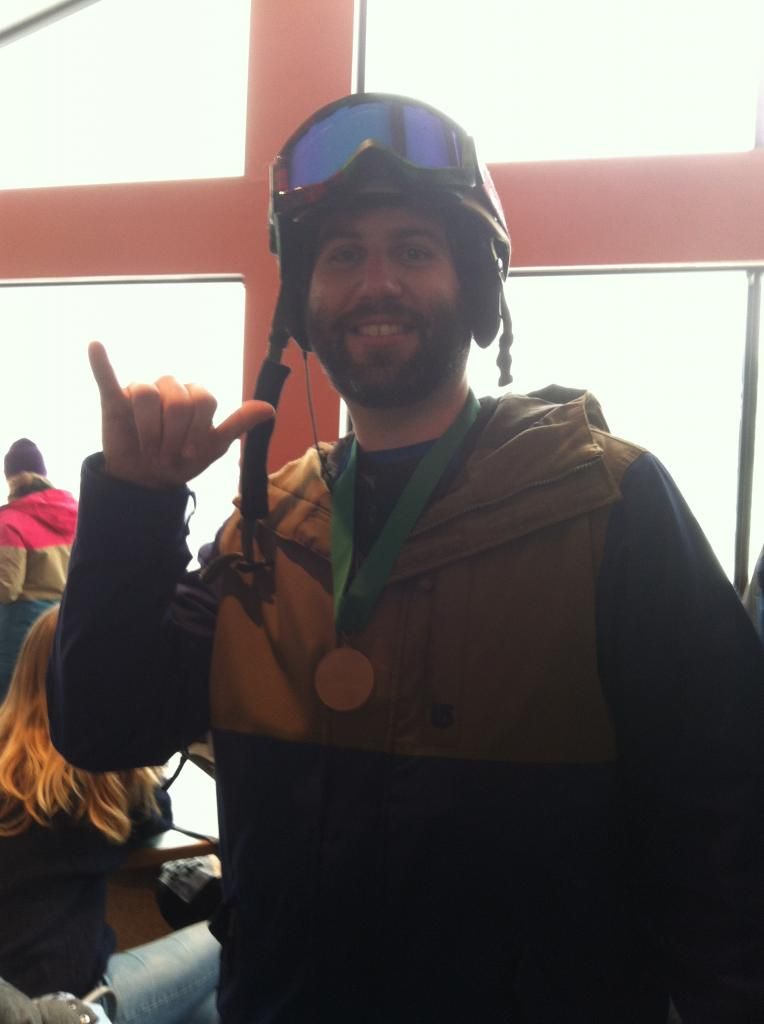 Like I said, we are under a winter storm warning today with as much as 8 inches (20 cm) of snow expected. We took the truck out to Liberty, making arrangements ahead of time to have a friend in town on standby to pick up and keep the Goldens for the night if we had to bail on driving home and get a hotel room for the night. We left Liberty around 3:30. The roads were a mess, but we were all superior about how we were in PA and they don't take care of the roads there as well as we do
in Maryland.
HA. Well, we had to eat a big steaming pile of crow on that one because the roads were snow-covered all the way home--just as bad in Maryland as PA--and it took us about an hour and a half to get home. But we
did
get home! Not without some adventure: We live in the foothills of the mountains, so there is no such thing as flat roads around here. We got to the biggest hill on the drive home, and we were doing great, but about halfway up, two idiots were stopped in the middle of the road, having a conversation! We had to stop and lost all of our momentum, had to turn around, go back down, and try again. I've often said that I am fine driving in the snow and do not mind it except that people around here don't know how to do it and do stupid shit as a result. Like the number of people driving without headlights, in the middle of a snowstorm!
Anyway, we are home now, and it appears we've already received more than the snow that was called for, and it hasn't stopped yet. The Goldens had a great time bounding through it. Here is the requisite snow-covered "let me in please" photo.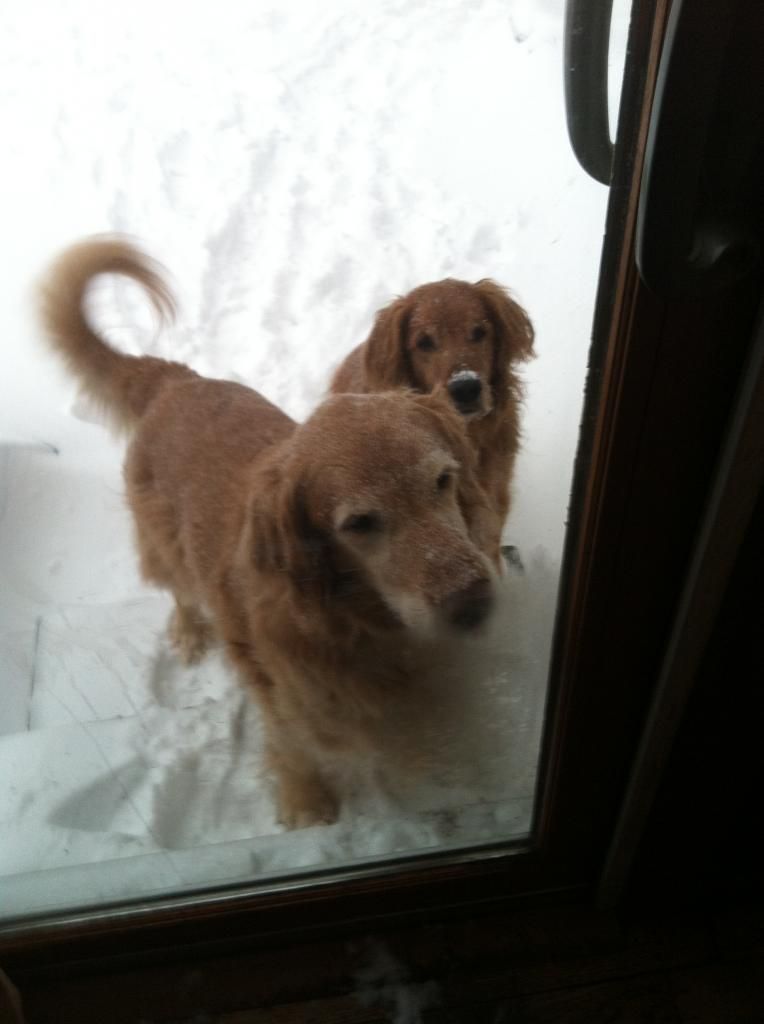 ---
This post was originally posted on Dreamwidth and, using my Felagundish Elf magic, crossposted to LiveJournal. You can comment here or there!
http://dawn-felagund.dreamwidth.org/358838.html