Western Maryland Scenic Railroad
Yesterday, Bobby and I drove the slightly over two hours out west to Cumberland to take a trip on the Western Maryland Scenic Railroad. We've been wanting to do this for a few years now, but it's just far enough away that it requires setting aside a full day more or less, which we very often don't have for setting aside. Cumberland is a small city nestled in the mountains of Allegany County, our next-to-westernmost county in Maryland. We pass by Cumberland all the time on our way out to Deep Creek Lake. From the highway, it looks like a scene from a model railroad with all the old-timey buildings, high church spires, and crisscrossed of course by railroad tracks.
The WMSR takes a 14 mile/22.5 km journey west from Cumberland to Frostburg, making a 1300 ft/400 m climb into the mountains to do so.
The train is pulled by an old steam locomotive ("assisted," as they kindly put it, by a less-old diesel engine).
The trip out west was blissfully uneventful, with no traffic. It was a clear, cold day, 38F/3C with a thin, nearly cloudless blue sky. I am definitely hardened after last year's winter. As we drove out, I watched the thermometer in the car and caught myself thinking, "What a nice day we have! It is sunny and
not that cold
." Not that cold!! It is 38F in mid-November! Whatever. At least it meant that I wasn't miserable.
We arrived at the train depot at around 11 and picked up our tickets with plenty of time for milling around on the platform and taking photos before we departed at 11:30.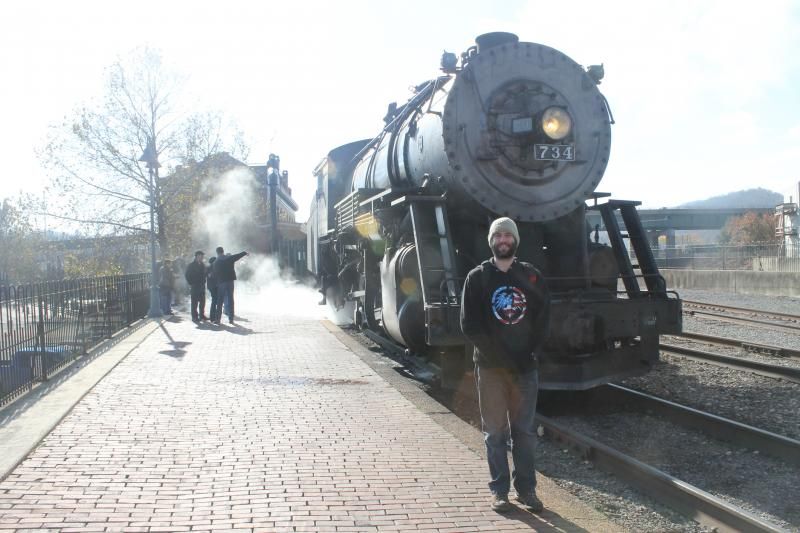 The steam locomotive was built in 1916, so it is almost 100 years old. It used to haul freight in Michigan before it was retired to sit in a train museum. The WMSR purchased it and brought it out of retirement, and it now hauls sightseers up and down the mountainside.
I am always amazed by the copious amounts of steam produced by the engine as it waits at the station. The photos don't do it justice!
The ride out was lovely, although we'd chosen seats on the wrong side of the train because our side was against the mountain while the other side looked down the slope. Ah well. We made up for it on the way back, as you will see! The train went over an old rusty bridge, through a tunnel, around a horseshoe curve, and past many gorgeous mountain vistas. Our car attendant called our attention to an open area at the back of our car that used to be used to hold mail. Since we were on the inferior side of the train, I suggested to Bobby that, on the way back, we stand in the open area and take photographs then; the assent up the mountain could be used for scoping out what we wanted to photograph. He of course agreed.
The car attendant kept making a big deal out of the 88-step climb from the depot into Frostburg, but even on an injured ham, it was easy-peasey. This was my first day of significant walking since I hurt myself. I was fine. It felt good to be moving; I am at the point where most of my pain is now from being too sedentary! I have been given permission from The Husband Figure to go back to walking at Charlotte's Quest and gently riding the stationary bike at the gym and/or walking on the treadmill.
Frostburg is a cute little mountain town. It is also the home of the Maryland university that--at least when I was of an age where such things were of great importance--is known for being Maryland's biggest party school. Well, what else does one do when snowed into the mountains all winter? Allegany and Garrett Counties are mostly forest. We had lunch at a coffee shop
cum
cafe that Bobby had found online: a cup of homemade potato leek soup for both of us, a black bean burger for Bobby, and a Mediterranean flatbread for me. We polished it off with a scoop each of ice cream from our favorite ice cream shop out in Deep Creek Lake: chocolate butter fudge for me and Andes mint chocolate chip for Bobby.
We had kind of hurried to get up the hill to the restaurant, and I'm glad we did, as while we were eating, the cafe really started to fill up with other people from the train. That let us have a more leisurely walk back down, and we arrived in time to see the steam engine being turned around on the turnstile.
It would push us back down the hill while the "assistant" diesel locomotive pulled from the front.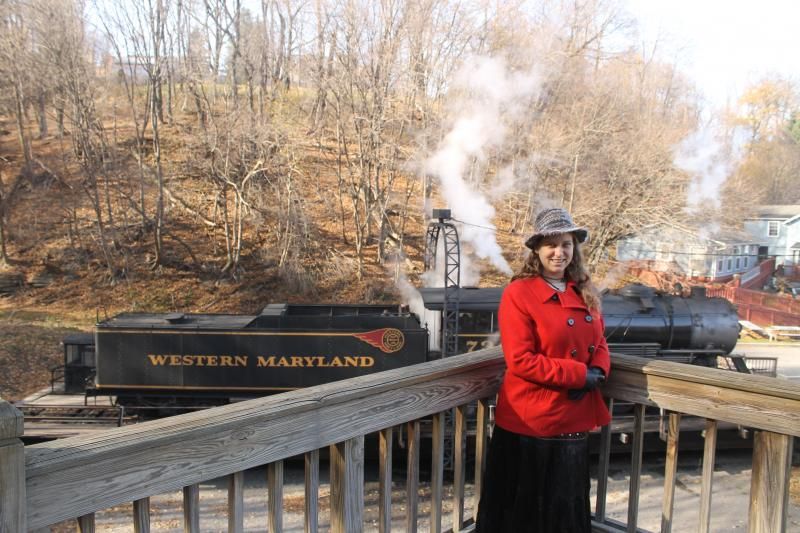 On the ride back, as soon as we were allowed to get up and move around, Bobby and I headed back to the open area. It had big open windows on both sides, so it was cold, loud, and smelly, and you could reach out the window and touch the side of the mountain. We loved it! We stayed out for the full ride back. We both had slightly numb fingers, and I had a touch of windburn in my cheeks, but Bobby got some great photos. People kept coming out, staying for a few minutes, and going back in because of the cold, but we stuck it out for the full hour.
Here is the diesel "assistant" pulling us back down the mountain to Cumberland.
The town of Mount Savage. I love the church in the middle of the town that looks like a castle.
Scenery.
More scenery.
If you looked closely in the "more scenery" picture above, you might have noticed something near the top of the mountain that looked suspiciously like ... the White House?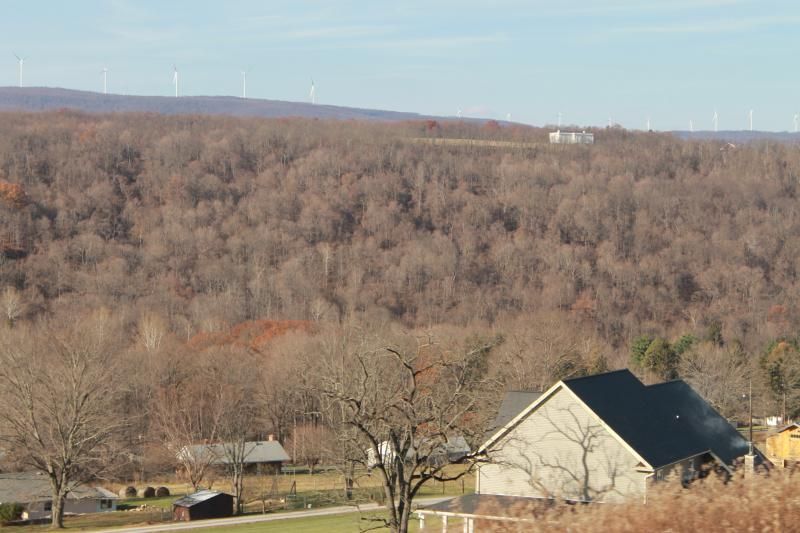 Yes, a local doctor built a scale replica of the White House on the mountain.
At the horseshoe curve, the steam locomotive pushing the train from behind.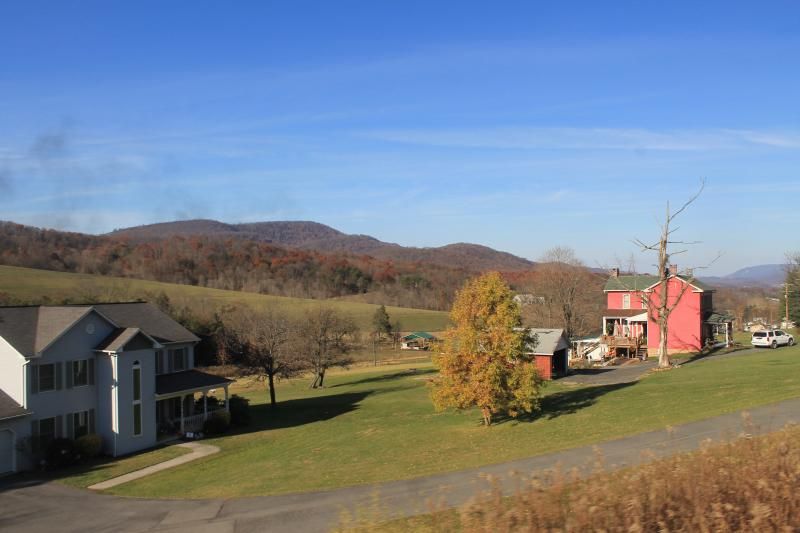 The old rusty bridge. I told Bobby that this was my favorite photo in the series and would have been
perfect
if not for the guy's elbow in it. Bah.
Almost back in Cumberland, these cliffs are named Lover's Leap. There is, of course,
a tragic legend associated with it
.
Most of the trees have lost their leaves by now, but this patch on the mountainside just outside Cumberland was still colorful.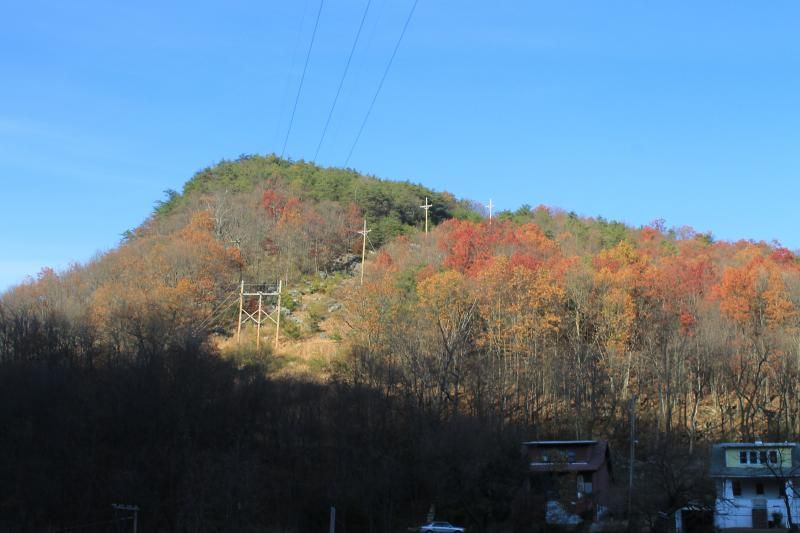 And back in Cumberland.
We had a really great day followed by an uneventful drive back east. It was rather funny because we assumed, since we still had snow on the ground when we left that morning, that we'd see snow out in Western Maryland. In Frostburg--it's called
Frost
burg, for pity's sake!--there was a light dusting clinging here and there to some low-lying plants but that was it. So we came home to more snow in our yard than we'd seen combined on the whole trip out west.
Even though we'd only had lunch a few hours earlier, we were both starving by the time we were home, so we stopped long enough to let the Goldens out and then went back out for sushi. (Seafood sushi being a first for me! A first I am eager to repeat!) We came home and rented
Tinker Tailor Soldier Spy,
which we have wanted to see since seeing
A Most Wanted Man
(Phillip Seymour Hoffman's last movie), both of which were based on books by the same author. I didn't like TTSS as much, since it wasn't as character-focused, but I also kept falling asleep halfway through and couldn't keep up with the complicated plot. However, note that I managed to wake up to drink Scotch and watch the Bill Maher HBO special with Bobby after TTSS. After such a day, we were in bed before 11:30, but what an awesome day it was!
---
This post was originally posted on Dreamwidth and, using my Felagundish Elf magic, crossposted to LiveJournal. You can comment here or there!
http://dawn-felagund.dreamwidth.org/350759.html