Okay. Uncle. (Or Dawn Complains about the Weather, Part Godonlyknowswhat)
It has been pouring rain all weekend, miserable and nasty. Throughout it all, my refrain has been, "At least it's not snow!" Lol. *cry*
About 45 minutes ago, Bobby and I left to go to the gym. It was pouring rain with a little sleet mixed in. The temperature was 38F/3C. Forty-five minutes later, this is our front yard.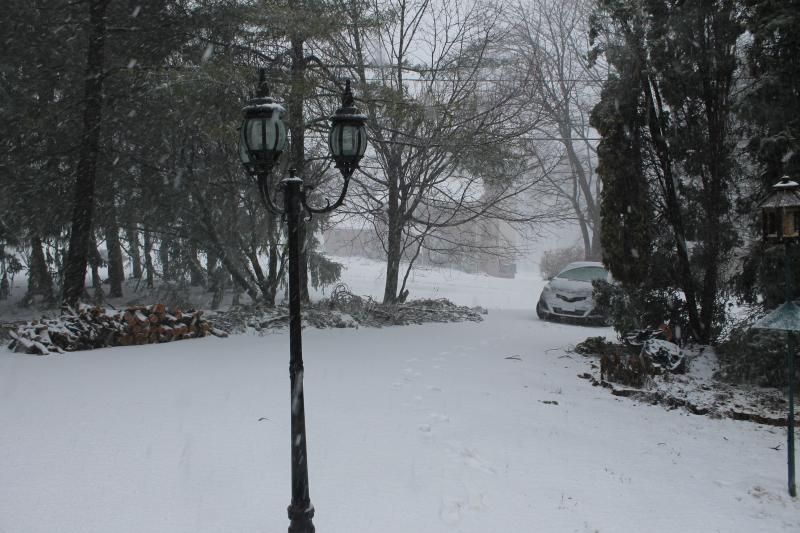 Yes, the grass is again completely covered, as are the roads, since no one saw this coming and the roads were not treated.
We bought pansies yesterday while at Bowman's buying our chicks for this year.
You can see that we've got about an inch (2.5 cm) of snow in just a little over a half-hour. ETA ... The National Weather Service had us at 1/2 inch max for the whole day. Lol. So Bobby sent them a Facebook message with his spotter number (we are both certified weather spotters) and our zip code, and they almost immediately revised their snowfall predictions for our area. Yay, Bobby! He is talking on Facebook now with our friends who live in Westminster and also got caught out in this mess.
And it is 33F/1C outside currently.
It was a hair-raising drive home, to say the least. We live at the top of a big hill, just a short jaunt down the street from the highest point in the county. When I give people directions, I say, "Keep driving uphill and when you're just about to the top, you're at our house." Our little Yaris is not equipped for driving up steep hills in the snow.
We got stuck at the bottom of the hill after a freak freeze
once since living here and had to walk home. Thankfully, we made it up the hill this time, although the Yaris, perhaps having had enough by the time we reached home, couldn't make it up the driveway, so we parked at the bottom.
Did I miss something? Are we skipping spring this year??
---
This post was originally posted on Dreamwidth and, using my Felagundish Elf magic, crossposted to LiveJournal. You can comment here or there!
http://dawn-felagund.dreamwidth.org/334928.html