They Didn't Lie This Time! (Snow!!!)
For the past two years, every time some sort of winter weather is forecast, either 1) nothing happens or 2) the temperature is
just shy
of freezing and all we get is dumb rain. This time, they actually got it right--in fact, we got more snow than predicted! When Bobby went out around sunset, he measured 9 inches (27 cm). That's the most we've had in a couple of years.
We went out to Westminster this morning at around 8:30 because we had a couple of things that we needed pre-storm. We had four quick stops and then planned to get breakfast while we were out. When we pulled into Goodwill to drop off a bag of donations, it was snowing lightly. Three minutes later, it was starting to stick to the road. We decided to skip breakfast, and it's a good thing we did, because by the time we were back to Manchester (about a 12-minute drive), the roads were coated in snow, and it was difficult to get up the hill to our street.
The storm is supposed to continue tonight, with sleet and freezing rain; since the winter storm warning is in effect until 10 AM tomorrow, I think it's very likely we won't have school tomorrow. In fact, my cousin (also a teacher in this family of pedagogues!) just posted to Facebook that her district just closed. Bobby's dream is that 1) schools will be closed tomorrow, 2) Liberty will be
open
, and 3) we will be able to get out by late morning/early afternoon so that he can go snowboarding. He's been up there several times so far, but only for work or for training.
Okay, so I was about to write about the [lack of] salting and plowing in Carroll County today, but who cares about that crap, right? Bobby took an adorable picture of the Goldens early in the snowstorm, when the flakes were light and fluffy and easily stuck to their hair. Now
that's
the kind of content that matters!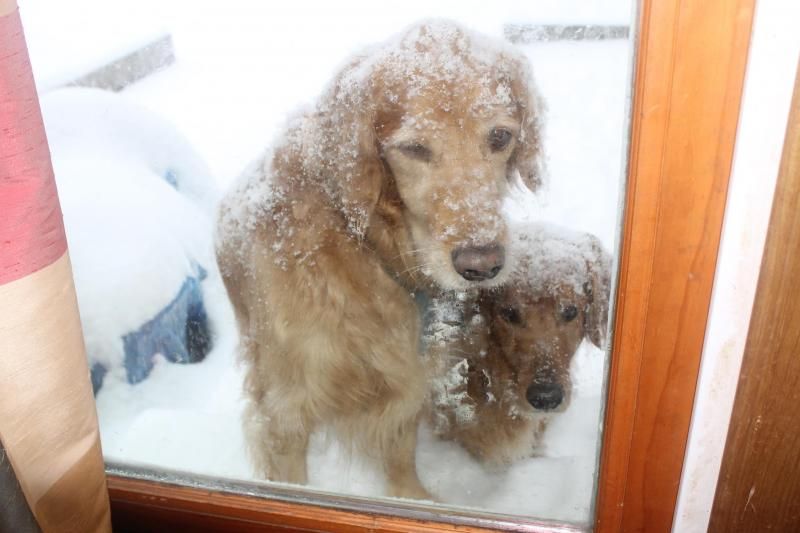 You can tell we've had a dearth of snow these past two years by the amount of time I've spent talking about it.
---
This post was originally posted on Dreamwidth and, using my Felagundish Elf magic, crossposted to LiveJournal. You can comment here or there!
http://dawn-felagund.dreamwidth.org/326648.html