Red Rock (Yeah Yeah) Canyon
Monday, April 1, the day after the Grand Canyon trip, was pretty low-key. Luxor had just opened a Titanic exhibit that Bobby and I went to see in the afternoon. Okay, okay, go ahead and laugh:
Titanic
was possibly my first fandom, unless one counts playing
Hey Dude
with my sister when we were kids. The
Titanic
movie came out when I was sixteen, and while my classmates were mooning over Jack and Rose, I became fascinated by the history, which spurred a spate of book purchases and the construction of a website (that never made it to the web) in Microsoft Front Page ... so yeah, sixteen-year-old me is a lot like current me it seems.
The Titanic exhibit was really good: a display of various artifacts brought up from the ship, coupled with, of course, a description of the ship's brief life and profiles of various passengers. It was informative without verging into being pedantic and blended the various threads of the story very well to keep it interesting. The exhibit had reconstructions of parts of the ship (including the grand staircase that pretty much anyone who's seen the movie remembers) that were really cool for a one-time nerd about this stuff like me. There was a poignant irony in the survival of so many delicate things--porcelain cups, letters, clothing, delicate jewelry--brought up from the deep after a hundred years, in a disaster where so many people died. The showpiece was the "Big Piece," a large section from the side of the ship. I hadn't realized that the ship is decaying so quickly now that no trace of it may remain in as few as a couple of decades.
Photos weren't allowed, so you don't get pictures of all of this stuff!
Luxor is the Egyptian-themed hotel-casino. The decor was very cool, but the people were very pushy and annoying. We discovered, as we journeyed in and out of the various hotel-casinos, that some of them have legions of employees devoted to trying to convince you to go to "free" shows and meals--I put "free" in quotes because I'm not so dumb to think that there isn't a gimmick, especially in Vegas--and it's nothing to be accosted by one of these people every few minutes while strolling around or heading to a particular place. It had the effect of making Bobby and me not want to go back, if we could help it; Bobby was going to go play over at Luxor, since it was basically across the street from the Tropicana, but decided against it because of the pushiness of the people there.
Here it is.
That night, we went back to Mandalay Bay (not pushy! loved it there!) to dinner at a Mexican restaurant called the Border Grill for dinner. OMG. It was amazing. They had a Meatless Monday special, which Bobby and I both got and which included a selection of vegetarian appetizers, choice of a vegetarian entree, and a dessert. Bobby ordered the roasted potato rajas relleno and I ordered the seasonal vegetable enchilada, we each had half, and then we switched plates. We have been easing my parents into more adventurous food, and they're now to the point where they have "safe" Mexican foods that they know they like, but Border Grill was a stretch for them. But they both enjoyed it as well; it ended up being my mom's favorite place that we ate.
We saw Cirque du Soleil's Zumanity show that night. Yes, Zumanity is the adult-rated show, so yes, I have now fallen to going to an adult-rated show with my parents. It's really no wonder I turned out weird. The show was really good, as Cirque shows always are; it was more acrobatic than
One
but still with more attention to the stage setting and theme than the tent shows I've been to.
The next day, we went to Red Rock Canyon, which is about fifteen minutes outside of Vegas. It had a driving tour, so we figured it would be a good one for my parents.
They had a desert tortoise sanctuary.
More opportunity to use the panoramic setting! The red rock is sandstone; the white rock is limestone. The white rock is the older layer, so its frequent appearance on top of the red layer attests to the seismic activity in the area. The area has apparently been under the sea for much of its history, and it's not uncommon to find shell fossils.

Flowers with plastic cup in the background. It always astounds me that people come to a natural area and then litter. Is it that hard to connect the beauty of the area to the fact that such squalid reminders of daily life aren't present there??
Yucca in bloom. The native peoples used yucca for ... well, just about everything: food, fiber, and medicine.
Me.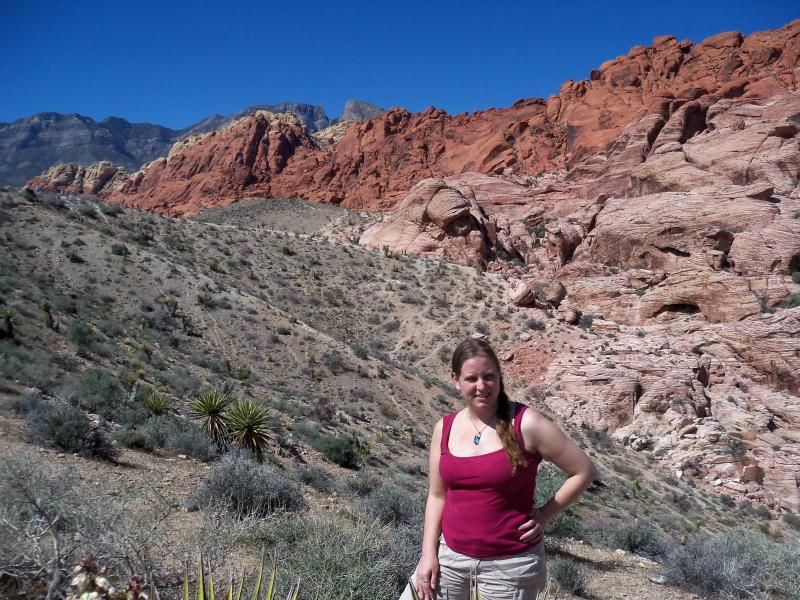 Bobby.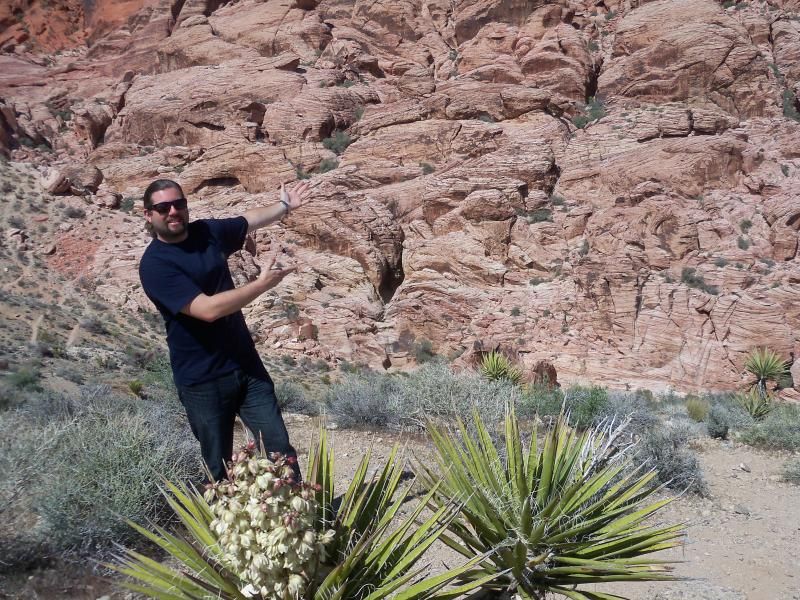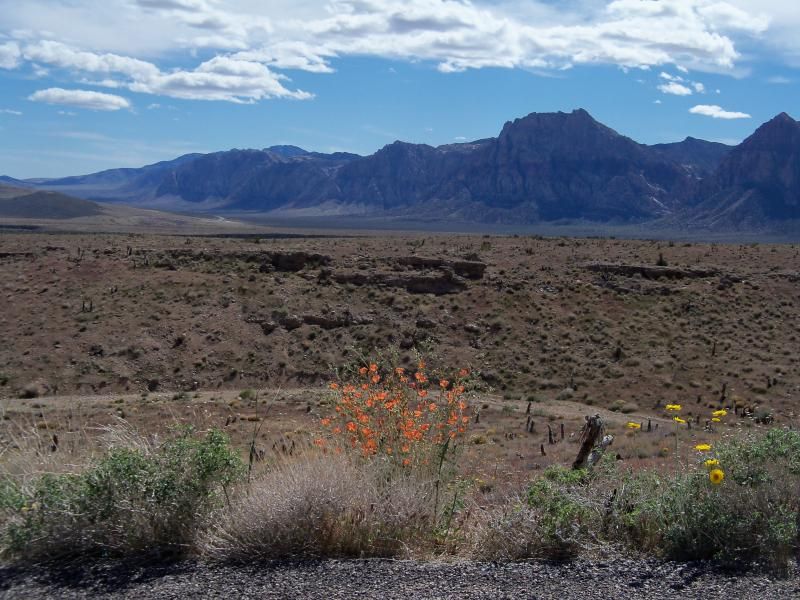 I did have my sunglasses in the car; I don't know why I'm never wearing them!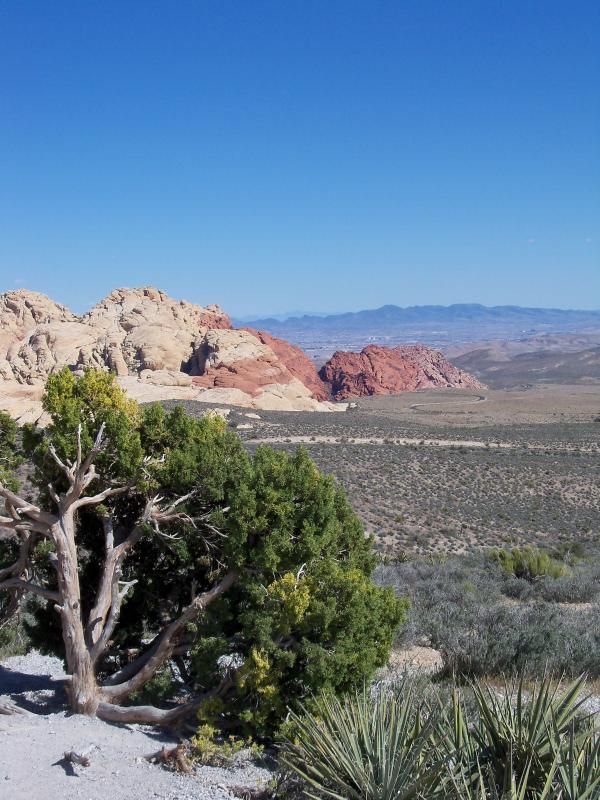 The teensy little road in the foreground provides some clue as to the immensity of the scenery out there.
One of the rocks contained petroglyphs several thousand years old. Find the sign. Look up at the shadowy place above it. Along the top of the shadowy place is a row of handprints.
There was an interpretive sign with a scale replica of one of the handprints, which was almost the exact size as mine.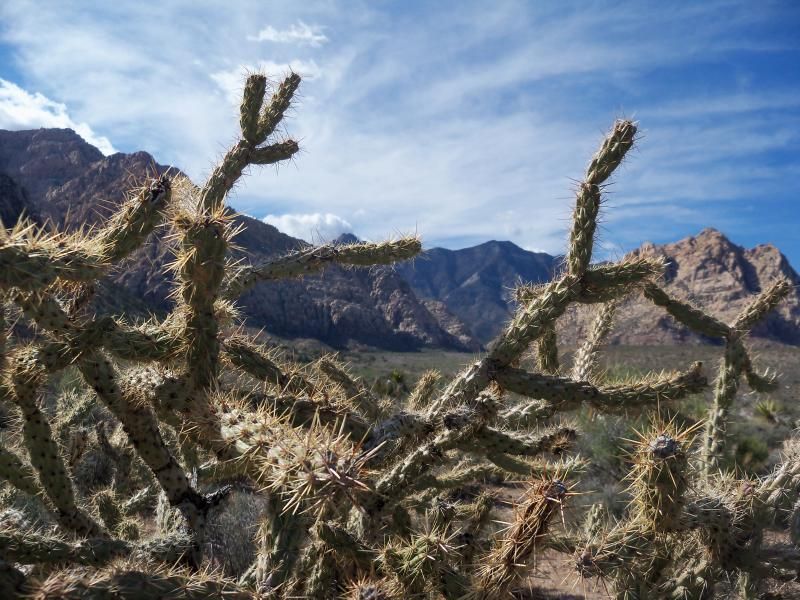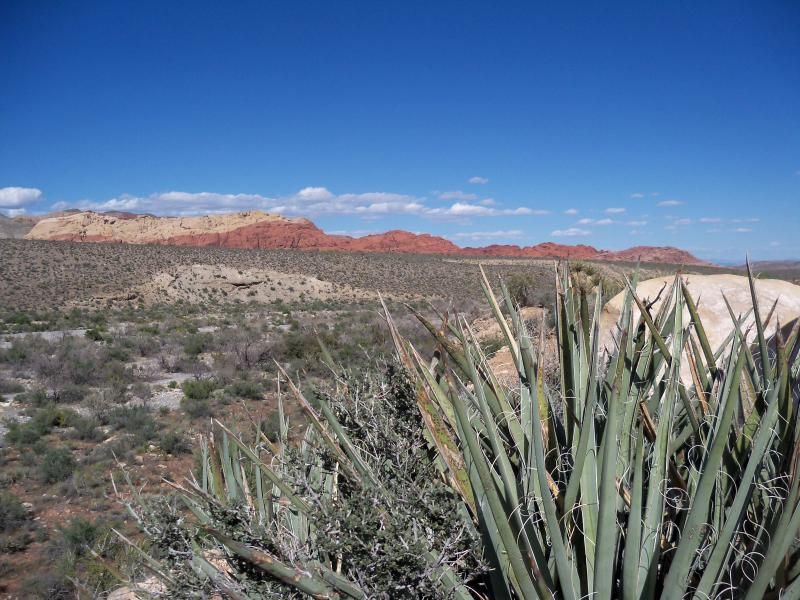 Joshua trees!
More Joshua trees!

When I was a kid, I was fascinated by the desert. The first story I remember writing was called "Desert Challenge" and was about a horse in the desert. That was about it; even then, I didn't write plot. The horse's name was
Challenge
; my fourth-grade teacher praised my use of very specific names for the different cacti. Even then, I wrote purple prose. The story was 13 pages long, the longest in my class. Even then, I was long-winded.
That night, we had supper at a very nice Italian restaurant called The Verandah; it was hard to decide if I liked it or Border Grill more. We saw the David Copperfield show that night; my mom was a huge fan when I was a kid, and our time in Vegas happened to overlap with his. It was a good show but my least favorite of the three we saw, mostly because dance and acrobatics are much more to my liking, since I practiced/practice those arts to a very limited extent myself, so I appreciate them more. And his humor fell a little flat to me; it felt like he'd been doing such shows for decades, which he has, and is now just kinda going through the motions.
Oh, I guess I should address the question of whether I ever gambled since I was in Vegas, after all! First of all, I come from a long line of misers, so putting money into a machine is not to my liking, and slot games themselves are not satisfying to me. I feel like a pigeon in a Skinner box pecking a key, only instead of a food pellet, I might get a gently sonorous jingle of digital coinage. Every casino we were in--which was a lot, since you always have to walk through the casino to get anywhere in the building--had the controversial
Lord of the Rings
slot machines. (In case anyone ends up here who is not Tolkien-fannish, they are controversial because they are very much opposed by his estate. Tolkien was a devout Catholic, and I don't imagine he would have taken kindly to having his characters used in a gambling game. At least, his estate hasn't taken kindly.) I should also note that I am patently unlucky. In Atlantic City once, Bobby and I found a vampire-themed slot machine called Count Money. He put in five bucks and got about fifteen minutes of play before letting me have a turn. I put five bucks into the same machine and was dry in about two minutes.
So one night, I did consent to put $20 in one of the LotR slot machines. There were two side-by-side, so Bobby played one, and I played the other. He'd won a decent amount on them earlier in the day. Yeaaaah. That $20 lasted about five minutes. His was jingling and racking up money and bonus rounds, and I received two measly bonus rounds, one of which amounted to nothing. Peh.
That was the only gambling I did. I don't care for it, and it sure doesn't seem to care for me! Bobby, however, was pretty lucky, and among his various exploits among the slots and roulette, came home with an extra $300 or so.
---
This post was originally posted on Dreamwidth and, using my Felagundish Elf magic, crossposted to LiveJournal. You can comment here or there!
http://dawn-felagund.dreamwidth.org/313481.html