I Can't Go to Bed Yet, So Y'all Get Pictures NOW!
Wow, what a night. What a game. My heart was pounding for most of the night. Bobby and I hosted the party for this one, and we had a great time. Pictures below the jump!
This was a big weekend for me in terms of schoolwork, so I didn't offer much help, admittedly, in getting ready for the party. Bobby, however, was imaginative to come up with a centerpiece incorporating my stuffed crab, Crab Pants (hey, I've had Crab Pants since I was 1 year old, so I can't defend the name!) and a Natty-Boh helmet.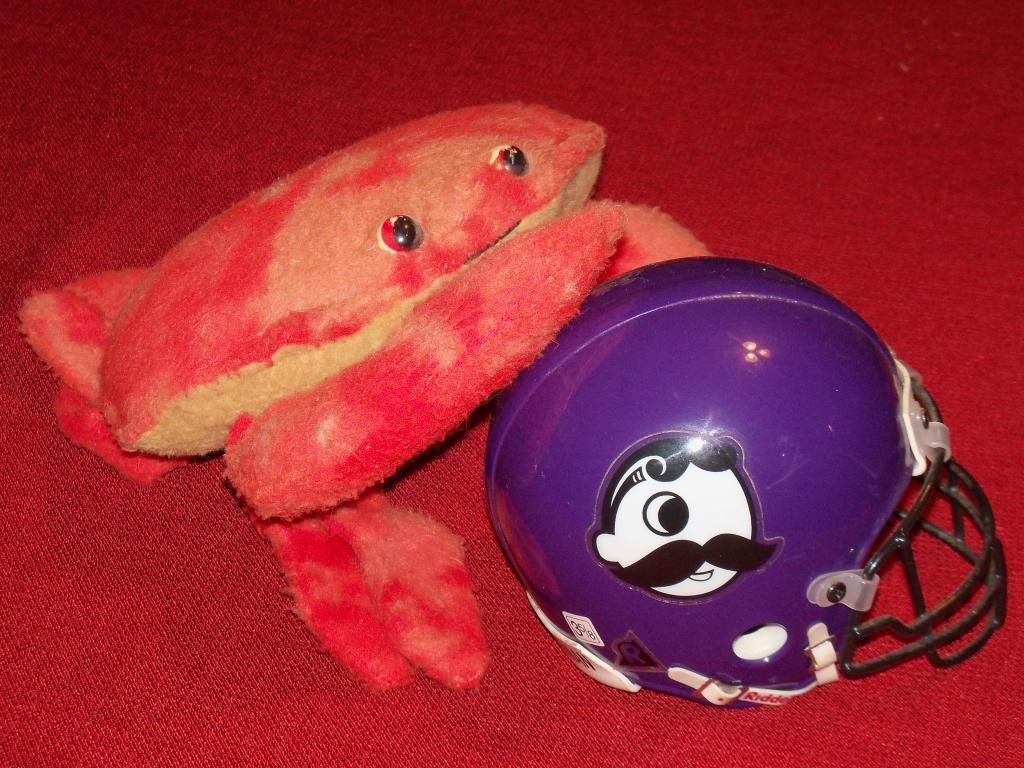 Dad made us a pair of banners!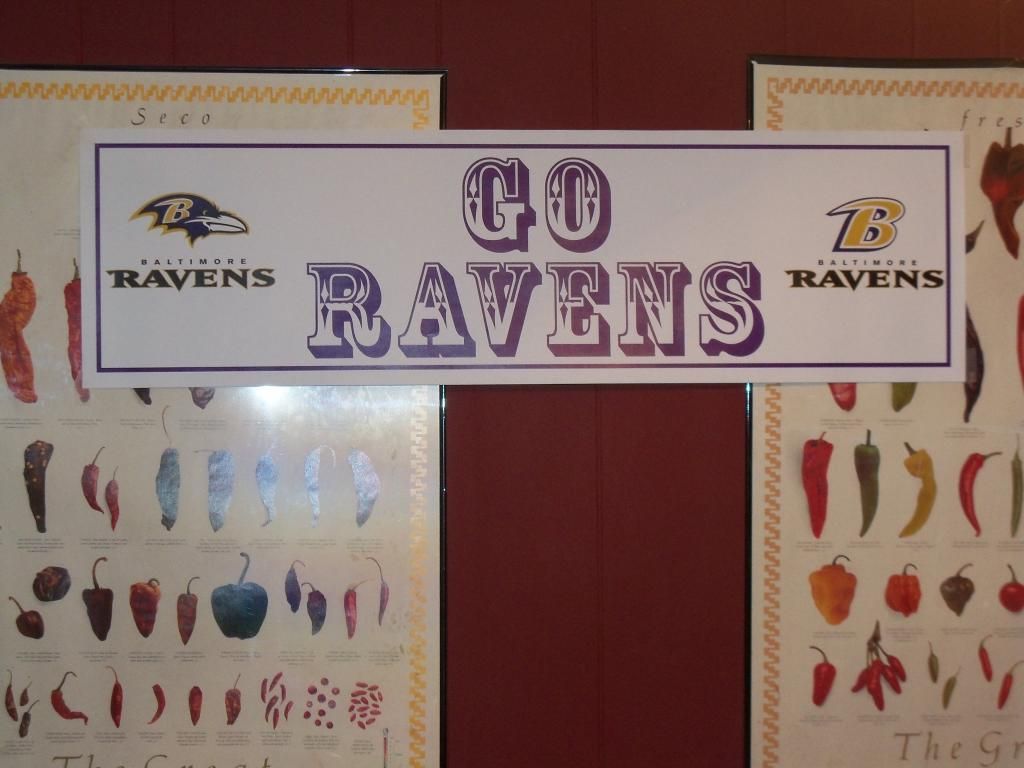 The Ravens were
not
favored in this game. We never are! Jesus Christ himself could get drafted to play for us, and somehow, according to the "experts," the other team would do one better. We came out strong in the first half, which is always a little nerve-wracking, since these tend to be the games we lose. Here is the crowd during the first half, while I
knew
we had reason to be happy and properly celebratory.
We had a minor technical difficulty (a hint of things to come, it seems ... O.O) when the satellite lost connection for about five minutes. Of all nights! But it was kinda awesome, at the same time, to leave the game with the Ravens in the red zone, then come back with the Ravens in the red zone again. We missed Ed Reed's interception that made that happen. We went out of the first half the clearly dominant team. (Poo on the "experts"!)
But second half, we came on strong again, and Kapaernik looked like ... well, a rookie quarterback playing his tenth career start in the effing
Super Bowl
. Don't worry, Kapaernik, I've no doubt you'll get your ring, probably sometime soon. You do, indeed, seem to be all that and a bag of chips, like everyone says. But tonight, there was definitely a deer-in-the-headlights look about him. Then ... the lights went out. For thirty-five minutes, essentially giving a struggling QB a second halftime. When the power was fully restored, the momentum had shifted. Many dry remarks were made along the lines of seeing a guy in a suit outside the stadium with a pair of wire cutters ... it really didn't look like we were going to win it.
There were dogs too: Alex, Phil Parker (Lancelot), and my inlaws' dog Bella. Dogs at football parties are annoying! There is food and noise, and the dogs, therefore, do nothing but pace around the whole time and annoy people. I offered Alex a deal at one point: "Please lay down, and if you do, I'll let you have a little bit of my beer."
Alex looked at me, then jumped up on the couch and laid down.
So I made good on my promise.
The result: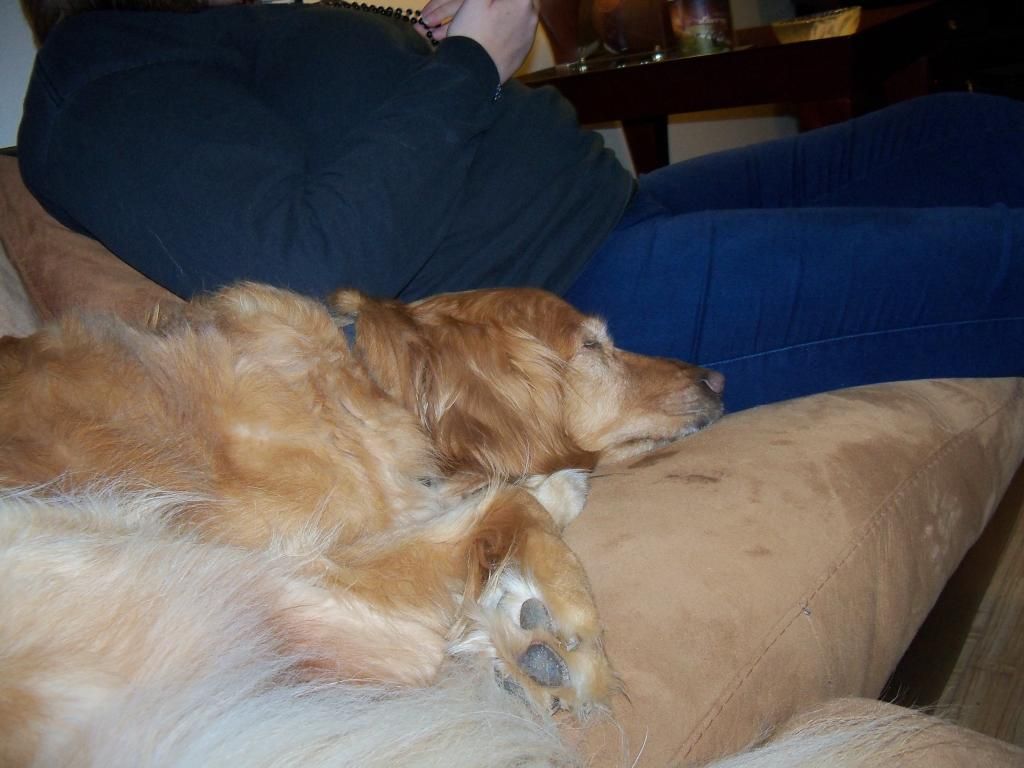 Bella wasn't too bad. She managed to squeeze her big-ass self onto the one scrap of soft surface remaining: our moose hearth rug.
Phil Parker is terrified of noise. It isn't hard to imagine that he doesn't enjoy football parties, yet he insists on being present. He spent a good bit of time in my mom's lap. He's not really lap dog material.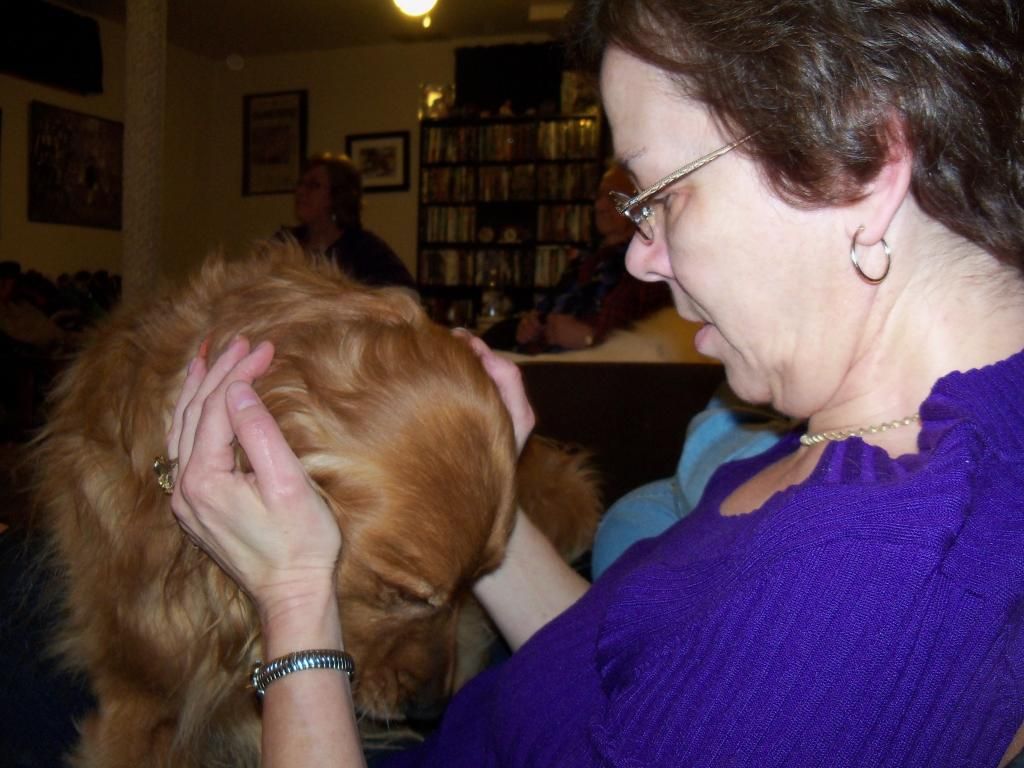 We had fabulous food at the party: nachos! And hot dogs, but I'm not a fan of the tube steak, personally. But we had nachos! My favorite food!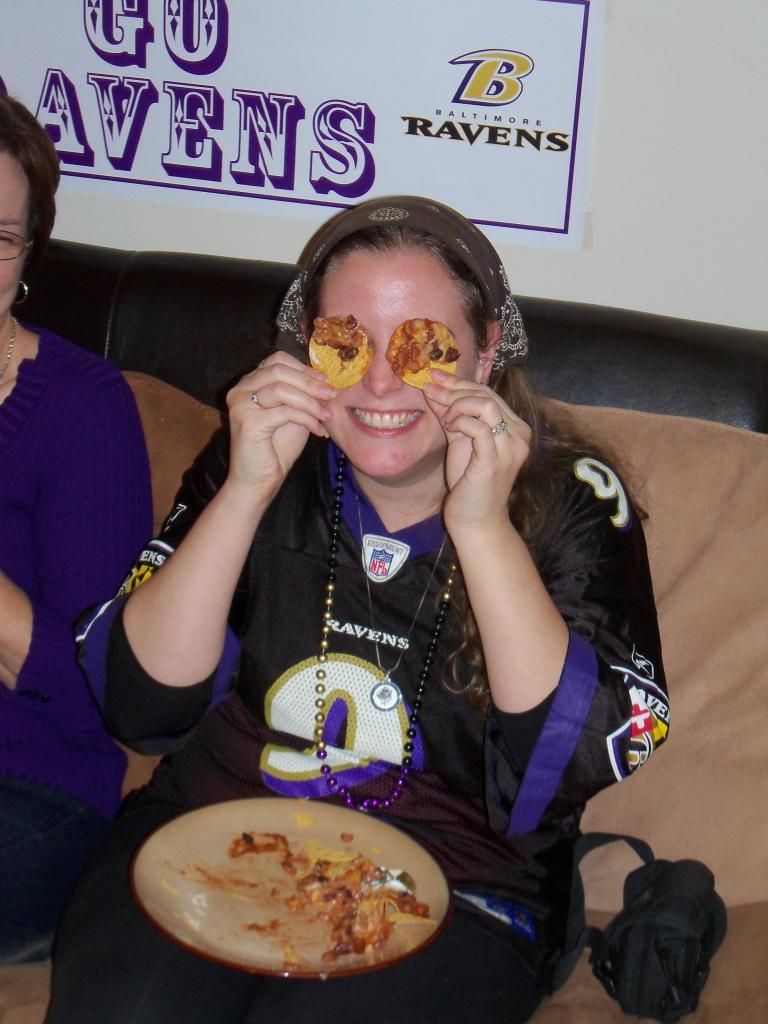 The second half was tense. For all the chatter, cheers, and laughter of the first half, the second half sounded like a tomb here in the basement in Nargothrond.
Feet.
It seems appropriate that the game came down to a goal line stand with the defense having to hold for four downs. It always seems to come down to these moments for us. But Ray and his defense held strong, then there was a weird play that involved the kicker Koch basically running and hiding in the corner of the endzone to shave eight seconds off the clock and taking a safety, leaving five seconds on the clock. We punted the ball away, and when we tackled the punt returner, we were Super Bowl champs!
Cue celebration!
In Baltimore, they were shooting off guns (it's Baltimore after all), but here in Carroll County, we went outside and hollered a bit and could hear people shooting off fireworks.
What a game. Ray Lewis retires on a Super Bowl win, after a game-winning goal line stand. Ed Reed (who might also be retiring) gets his first Super Bowl ring. We held the lead for the whole game--remember, we were supposed to lose this one! We hung on tooth and claw and pulled it off. Joe Flacco won the Super Bowl MVP; maybe people will finally stop talking smack about him. After they rearranged the offensive line before the start of the post-season, Flacco is better protected and *gasp!* more consistent as a result. I hope he is taken seriously now.
Ghost!Steve brought us luck yet again! My homage to him.
Now we are watching the local news, all the hons celebrating downtown in Federal Hill and those who managed to make it to New Orleans. Wow! All the Bal'more accents! We were well represented in N'Awlins. (Did you hear the "O" during the national anthem?? Lots of purple in the crowd tonight, and did you hear the Seven Nation Army song after we scored?)
Tomorrow, thankfully, we are doing monthly breakfast, so we'll get a later start to the day, then I get to rub it in to the kids who were insisting the Ravens didn't have a snowball's chance. I should really head to bed; 6:15 will come early tomorrow!
Go Ravens!! :D
---
This post was originally posted on Dreamwidth and, using my Felagundish Elf magic, crossposted to LiveJournal. You can comment here or there!
http://dawn-felagund.dreamwidth.org/310840.html