Weekend in Deep Creek Lake
Bobby and I decided to take an impromptu trip to Deep Creek Lake this weekend. We're on our second summer break this week from school, and we weren't originally going to go anywhere, but we both know ourselves well enough to know that we will spend any time at home working. So the best solution? To spend some time away from home.
We took a half-day at work on Friday. (The kids' last day was Tuesday.) Around noon, we said goodbye to that bastion of summer stress and team spirit training and hit the road. It's about a three-hour drive to Deep Creek Lake from Baltimore. A cold front was rolling in, so it was overcast and gloomy, but we thankfully missed the worst of the rain.
We arrived in DCL around 4 PM. Usually, we rent a cabin for a week, but since it was just the two of us and we were only staying for the weekend, Bobby found a bed and breakfast for us instead called
Haley Farm
. It was award-winning and highly rated on Internet sites like TripAdvisor, and we were not disappointed. It was raining lightly when we arrived, but we've never been scared off by a little rain, so we took a walk around the farm and took some pictures.
There were two adorable little cats--very friendly!--on the farm, a little orange tabby and a little calico.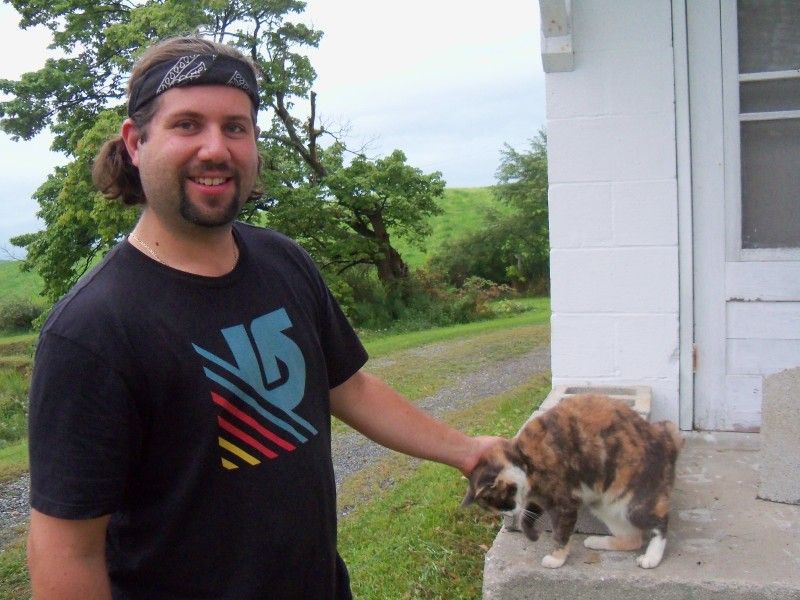 Various shots of the farm.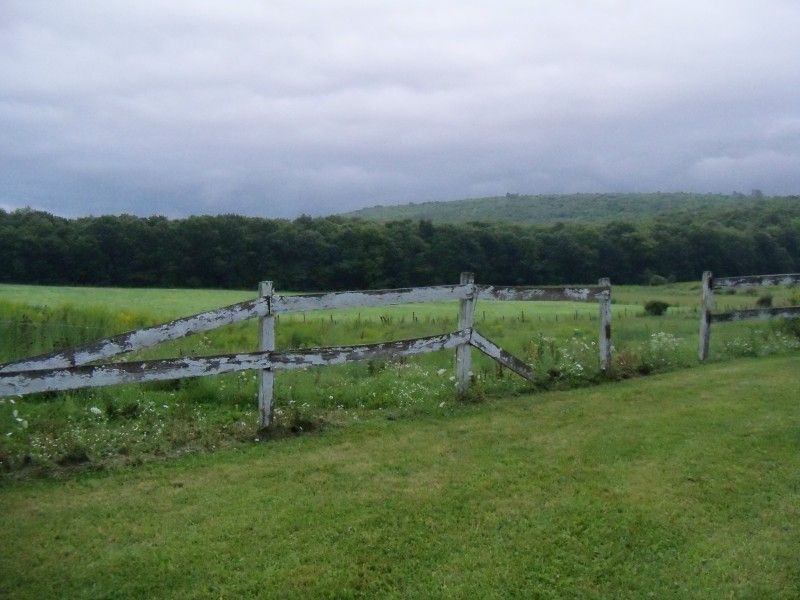 Our room had a two-person jacuzzi and was very nice--much nicer than the run-of-the-mill hotel room with bad drapes and a rock-hard mattress! (The mattress was actually very comfortable, which was a good thing, as when we went to Ocean City for our first summer break, the mattress was so awful that I would wake up barely able to move.)
That night, we went to dinner at one of our favorite DCL restaurants, the
Sante Fe Grill
. We retired pretty early that night. After a summer of sleep deprivation (for various reasons, not least of all my lack of willpower in wanting to stay up late during the summer!), I'm a bit embarrassed about how much I slept on this trip.
The B&B serves an amazing, homemade breakfast each morning, so the next morning, we enjoyed our first of those. It was family-style, which made me turtle up a bit--I was not mustering the energy to be sociable this trip--but the other two couples we ended up seated with the first morning were all very nice, and breakfast was pleasant. Bobby and I went to
Swallow Falls State Park
for a walk. It's one of our favorites, and we visit every time we come to DCL. We brought out sketchbooks and did a bit of drawing; landscapes are Bobby's specialty and
so not
mine, so I ended up writing all over my white pine sketch. We didn't take many pictures; we've been to Swallow Falls SP so many times now. (Click on the
deep creek lake
tag to see pictures, including Maryland's tallest waterfall! Don't I sound like such a little tour guide!) Just me in the same stump I climbed into for a photo last year.
Same pose. Different shirt. Different bandana.
And some as-yet-unidentified wildflowers.
After that, we got an ice cream and went up to Wisp Ski Resort. They have a mountain rollercoaster; the last time we rode it was in the middle of winter, and all I remember of the experience was being in pain because it was so cold. It was much more fun this time. We also took a scenic chairlift ride that gave Bobby the added advantage of getting to check out some of the slopes. We left the camera in the car, so you just have to imagine with me the lake from the chairlift.
We went to one of our favorite pizza places, Brenda's, for dinner. That night, we were seeing Hoots & Hellmouth in concert at the
Purple Fiddle
, a little dive we found last year in Thomas, West Virginia. The Purple Fiddle is a great place, very atmospheric and fun. Hoots are amazing live--full of energy--and the Purple Fiddle was the perfect venue for them. Bobby and I danced most of the time. By the end, you couldn't get close to the stage for all the people dancing and singing along. We were close enough to touch the band. The place had an old wood floor that shook with the force of so many people jumping around and dancing. Rob, the mandolin player, took a picture of us because Bobby was wearing a T-shirt by the same artist who does a lot of their album art. It's not every concert the band wants a picture of you!
Oh, and the drive out to Thomas--about 45 minutes out of Deep Creek Lake--was gorgeous. The sunset was golden with the aptly named Blue Ridge Mountains marching off into the distance in progressively softer shades of blue.
The next day was our day of departure, but we lived it to the fullest. After breakfast and check-out, we went horseback riding. Last year's horseback riding experience was ... interesting. Poor Erin ended up with this half-dead horse--I felt awful for the poor horse--that barely made it back and hacked and wheezed the whole time. So we didn't go back to that place. (Although another couple at breakfast that morning had gone riding there the day before, and what they described sounded much the same as what we'd experienced.) The stable we went to this time was like night and day to where we went last year. As hasty and slapdash as last year's experience was, this year's was conscientious and clearly careful of the horses' (and riders'!) well-being. Here are Bobby and I on our horses, Charlie and Rebel, respectively.
The view from the ride:
We know where we will be riding in DCL from now on!
We did our shopping before leaving--the snowboard pro shop, Candyland (with 900 different varieties of candy! our students mostly benefited from that one), and the kettle corn place (students benefited there too)--and then grabbed lunch at the
Mountain State Brewing Company
, which was a new place for us that we enjoyed a lot. Then it was time to head home, as we had to pick up the Goldens from my inlaws and start to get the house together because--more awesomeness!--
hrymfaxe
is coming to stay with us for a few days! She and her boyfriend should be en route from DC to Manchester as I type this. So the house is really, really clean right now. It won't stay that way for long. The next few days should be a lot of fun, though.
Bobby just brought in the first apples we got off of our tree. A whole four this year! :D Well, you gotta start somewhere. Those four apples are big and beautiful, though.
---
This post was originally posted on Dreamwidth and, using my Felagundish Elf magic, crossposted to LiveJournal. You can comment here or there!
http://dawn-felagund.dreamwidth.org/301100.html