We Won't Be Beet!
Pictures and account from the ocean are forthcoming! Tomorrow, I hope.
The first of the summer harvest is coming in. We got our first eggplant (from a variety of plant called Littlefingers--so, naturally, we've named the plant Petyr Baelish), lots of peas, and seemingly endless greens. The first tomatoes and peppers are getting ready to ripen, the popcorn's getting tall, and we have our first female squash blossom.
And we have beets.
Bobby made a separate root vegetable garden this year. We haven't grown beets in the past for the simple reason of not having enough room for them when we have several good local sources for them. This year, we had the room so ...
Now we have beets.
Seriously, the one looks like those giant turnips you used to throw at the enemies in Mario Bros. 2 for the NES. Only it's a beet, of course.
I've no idea how a beet this large will taste. Some veggies go down in quality if they get too big. Luckily, our harvest included plenty of normal-sized beets as well.
Bobby posted these pictures on Facebook too, where he notes that these were grown organically, so no chemical fertilizers: just a springtime application of blood meal, compost, and grass clipping mulch.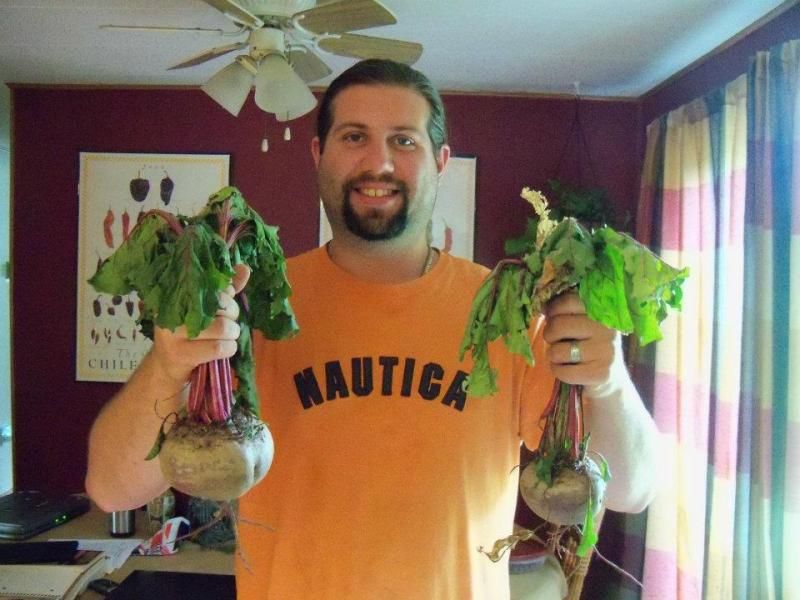 ---
This post was originally posted on Dreamwidth and, using my Felagundish Elf magic, crossposted to LiveJournal. You can comment here or there!
http://dawn-felagund.dreamwidth.org/299156.html