Shameless Self-Promotion! "The Poet's Creed" Illumination and Namo Mandos Character Biography
It's been so long since I've had something to creative share that I've almost forgotten how to do it! First, the SWG's fabulous biography writer
heartofoshun
took the month off for the holidays, so I got to step into her very-hard-to-fill shoes. I've authored character biographies before, but they've always been emergency OMG-less-than-a-day's-notice! affairs. (In fact, I'd written about Námo before, so this one is building on that early and very inadequate version.) It was nice to get to spend the time on this one and run down some avenues of inquiry that I wouldn't have had time to pursue otherwise. The bio is loooong--I guess I figured that if I hardly ever get to do this, then I better make it count--but I hope it is useful and maybe a little bit interesting to other nerds who like thinking about these things.
Námo Mandos's biography can be found on the SWG here.
Because newsletters like to grab my life by the scruff of the neck and thresh it violently from side to side, I was
also
responsible for the Barony of Bright Hills' newsletter this month (long story ... I was supposed to step down as deputy three years ago and didn't and this is what I get), and of course, it was
also
due on the first of the month. (It was
also
a day late--ha!) Anyway, despite pleading with some other artistic types for help with cover art, I didn't get any replies and had an almost-finished illumination of my own. So I finished that and used it. The upside to having spent almost all of my waking moments for the past day working on newsletters is that
I actually got an illumination finished.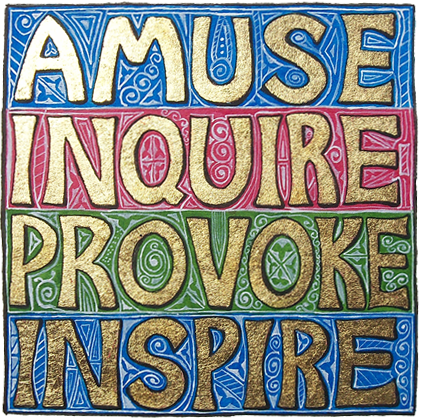 This piece is called "The Poet's Creed" and uses a lettering style found in the 15th-century Bible of Borso d'Este. It is ink, acrylic, and gold leaf on Bristol board.
Back when I first became interested in illumination, Tristan (my laurel and also friend) used to bring illumination books to Friday night SCA practices, and I would look through them. Once, I saw a scrap of text done in the same style, only it was all blue with gold letters and the same delicate whitework. I fell in love ... but we both forgot what book it was in. When I rediscovered the style in one of
my
books, I made up my mind not to let it escape again.
Tristan and I were doing a demo at the Walter's Art Museum last year, and I was demonstrating gilding using honey, which would have been used in the medieval period to adhere the gold leaf to the vellum. I needed a piece that was easy to draw in a hurry, used a good amount of gold leaf, and that I wouldn't mind being inevitably ruined as it was handled. I chose this style and, sort of off the cuff, came up with "amuse, inquire, provoke, inspire" as, what I said at the time, were my goals as a writer. The piece was indeed ruined from being handled so much at the demo--honey takes a lot longer to set than modern size does!--but I really liked how it was turning out before gold and honey got smeared all over the page, so I redid it with modern size and finished it.
In my classroom, I have a wall for "Poetry of the People," and it is destined to hang there as soon as I can get a cheap frame for it and bother Tristan to help me mat it.
---
This post was originally posted on Dreamwidth and, using my Felagundish Elf magic, crossposted to LiveJournal. You can comment here or there!
http://dawn-felagund.dreamwidth.org/288567.html