Yule & Christmas, Part 1
Bobby and I celebrated Yule on the solstice. Last year, we started a new tradition of making each other a gift for Yule; this year, Bobby painted a landscape for me, and I wrote him a collection of poems related to the green man. I'll post them both later.
Christmas Eve, we drove up to El Rodeo for lunch, then Bobby made cookies while I prepared the various components of the German chocolate ice cream pie that I make every year for Christmas. Christmas is my parents' holiday, so we were going to their house. Bobby and I always have pizza for supper on Christmas Eve; this goes back to my childhood, when my dad always made a pizza, if not for supper, then later in the night. Bobby and I have continued observing that through the entirety of our marriage. We wrapped gifts, which is a bit more of an endeavor since, last year, we decided to do away with wrapping paper and now wrap our gifts in cloth that has to be stitched closed with yarn. It takes a bit more time at the wrapping stage than using paper, but it saves a lot of time in cleanup and, of course, quite a bit of waste. We always watch a holiday movie on Christmas Eve; this year's was
A Christmas Story,
but I fell asleep before the end due to the rum-spiked eggnog!
Here's the tree:
Christmas morning, we exchanged our gifts. Bobby got a Kindle Fire, which he ordered for himself and gave to me for safekeeping, but I surprised him with a French cookbook, various art supplies, a Kindle version of LotR, and some candy, including one kind that we've only ever been able to find at the organic market near where I used to work when I was still with the WAU; I took my break at work one day to drive down there (and barely made it back in time!)
From Bobby, I received two T-shirts from Northern Sun (one says "Give Bees a Chance" and the other says "Make Compost, Not War") and a pair of black yoga pants to wear when skating. My current skating pants I've had for about ten years; they were part of a costume one year, and they are thoroughly worn out. I can only wear black underwear with them because there is a little rip in the crotch that would be very obvious were I to do certain spins or spirals. He got me various other clothing accessories: some fingerless gloves, colorful knee-high socks, and some hair stuff. In books, I received
Tomatoland,
a book about the influence of language and myth on Tolkien's writings, and a first-edition copy of
The Silmarillion
. (That means that there are now four
Silmarillions
in our house, not counting my unofficial e-copy.) Finally, he found a beautiful necklace called a Feanorian lamp: a pale blue stone in a copper setting. Apparently, he starts each shopping season by searching for "feanor" on various websites! :D
The Goldens got a back of treats, a bone, some canned food, and two new toys: a stuffed shark and a giant plastic cookie.
Phil
Lance with his cookie: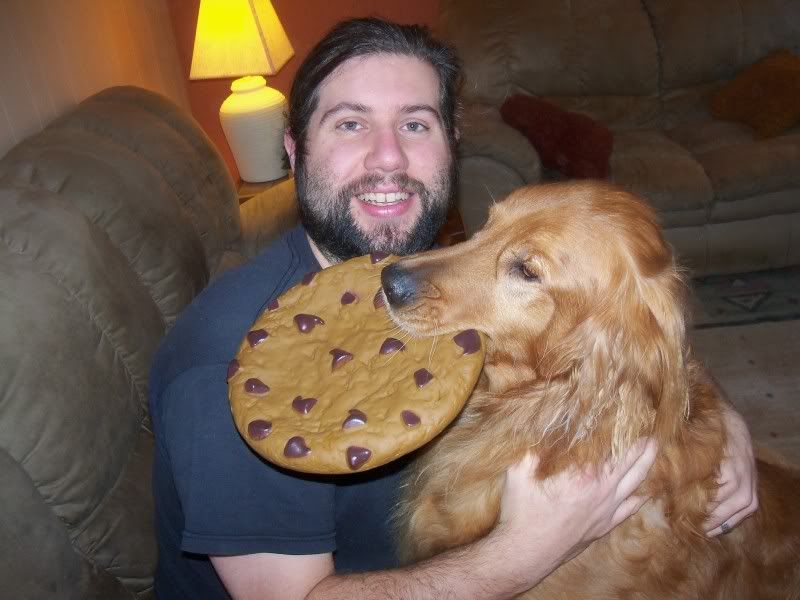 And Alex careening around the corner with his shark. Alex is hard to photograph with new toys because he always spends the first five minutes racing back and forth to the back door because he wants to take the toy outside where (in his mind, anyway) Lancelot won't be able to get it from him.
How well we can concentrate as soon as treats are involved!
Golden Retriever bliss: chewing on a nasty old bone, surrounded by toys.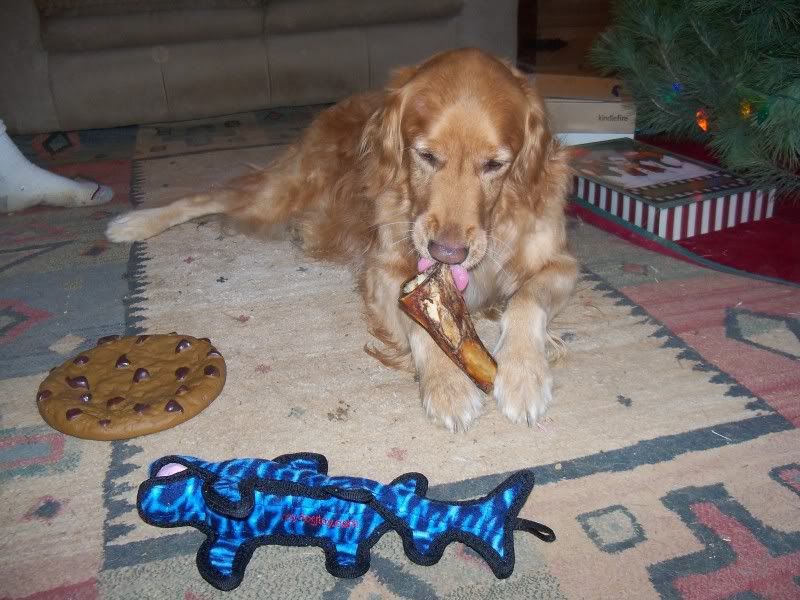 After opening gifts, Bobby put his new cookbook to good use and made for breakfast crepes stuffed with fresh whipped cream and blackberry jam, scrambled eggs, and potatoes fried with herbs de provence. We always crack open one of our precious jars of canned peaches for Christmas morning breakfast.
Then it was time to pack up ourselves and the Goldens to head over to my parents' house. The celebration was rather small this year, with just my family and Bobby's. Amiah didn't join us until later in the evening. Dinner was delicious. We forgot our camera, so I'll post pictures as soon as Dad sends them to me.
---
This post was originally posted on Dreamwidth and, using my Felagundish Elf magic, crossposted to LiveJournal. You can comment here or there!
http://dawn-felagund.dreamwidth.org/287713.html