We're Queen-Right!
We've been in our bees a few times since the
successful install
two weeks ago. We checked on the queen about four days after the install, and her nurse bees had almost completely eaten their way out of the candy plug in her cage; there was an opening large enough to allow worker bees in and out, but since the queen is larger than the workers, she was still trapped inside. We do our weekly check and maintenance on the weekend; by the time we went back into the hive on Saturday, she was out.
That was our first hurdle overcome. Next up: making sure that she's laying eggs or "queen-right." The frustrating thing about the bees is that I can stand in front of the hive and watch them zip out and back in with their pollen baskets loaded with different-colored pollen, and I can
guess
that means something right is going on inside, but it's impossible to actually
know
without opening the hive, which is something you don't want to do every day. (I would gladly open the hive every day, if it didn't set them back in their work to do so. I don't think I'll ever get tired of going into my bees.)
The question for this weekend, then, was if we were queen-right. As new beekeepers, we also had to ask if we'd actually be able to accurately spot if there were eggs or larvae in the comb.
As it turns out, that was easier than I'd thought it would be. We opened the hive and checked the end frames first to see if we'd need to add a second super. Supers are the boxes that contain the frames where the bees build comb and store brood and honey. Once the bees have built comb on seven of the eight frames, it's time to add another super because, otherwise, they'll start feeling overcrowded, and overcrowded bees will breed a new queen and swarm.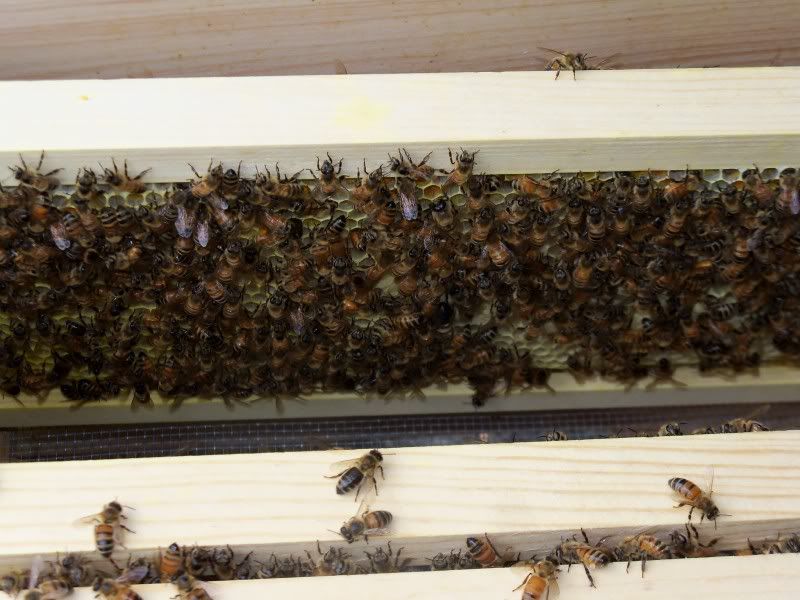 Ours had comb completed on 6.5 of the eight frames, so we'll likely be adding a new super next week.
Then it was time to inspect the comb itself for eggs and brood. The queen lays a single egg inside each honeycomb. The eggs are tiny and very hard to see. They look like miniature grains of rice sitting upright in the bottom of the comb. There are many eggs visible in this comb.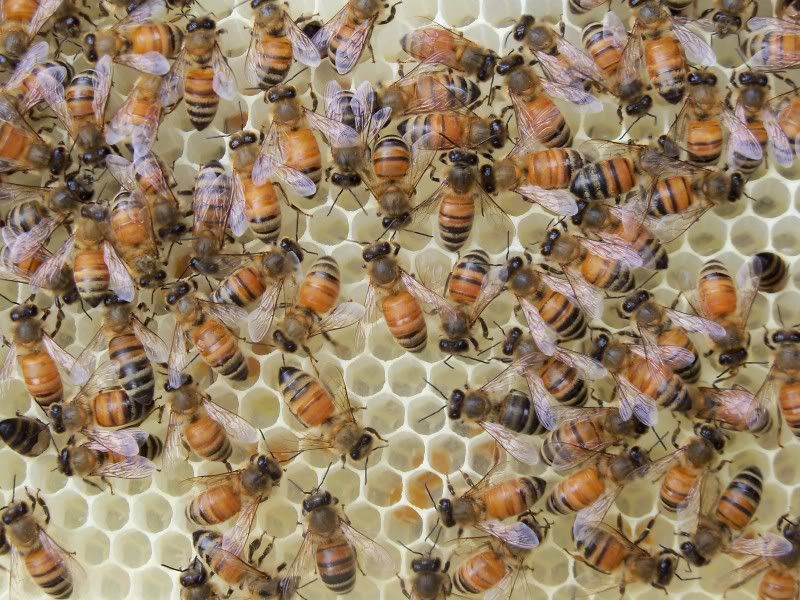 The next frame over was teeming with bees. Inspecting this one, we saw immediately that it was further along than the first frame: There were larvae in all stages of development. Two big dark drones (male bees) were wandering around on this frame; every now and then, you'd see a worker bee butt poking out of a comb. She was feeding the larva inside.
You can see the larvae inside some of the combs as pale crescents curled along the wall of the honeycomb.
While we were ogling and squeeing over the larvae, we also spotted the queen moseying along the side of the frame. We plunked the frame back into the hive; losing the queen is
not
something we want to deal with!
And The Beekeepers, kindly photographed by Neighbor Bob, who wandered over to check out the action ... but kept his distance. (You can tell by my beekeeping wardrobe compared to Bobby that I don't have that much sense.)
Bobby and I have done many exciting things in our almost-four years here up in North Carroll. It sometimes seems impossible to imagine how much I've learned in our four years here ... or to contemplate how ignorant I was when we chose this house four years ago because we liked the size of the yard for Alex and the maple grove out back! But of all the things we've done, the bees are by far my favorite.
---
This post was originally posted on Dreamwidth and, using my Felagundish Elf magic, crossposted to LiveJournal. You can comment here or there!
http://dawn-felagund.dreamwidth.org/269163.html