Vacation Days 1 & 2: Yorktown
Yesterday morning, about ten o'clock, we headed south to Williamsburg. OME.
Traffic through Northern Virginia was horrible.
We had seven o'clock reservations at Christiana Campbell's (Christiana Watermelon's in House of Felagund parlance) for supper and were at the point where we were wondering if we were going to make it. It should have taken four hours; we pulled into our hotel just before six. (We did stop for about an hour for lunch at Cracker Barrel.)
So we did make it to Christiana Watermelon's. When we were down here last year, we tried to get reservations and couldn't, so we made the reservations weeks early this time. Christiana Watermelon's is a historic tavern in Williamsburg; all of the staff go in garb. The food is supposed to be fantastic. (It was.)
I had Molly's Macaroni and Parmesan Cream, which was a pasta dish with fresh vegetables in a light parmesan cream sauce. First, Dad insisted on giving me some of his salad, which was also excellent. Then, everyone received a small cabbage salad. Then we had rolls and pumpkin muffins. Then the main course, which also came with spoon bread, a cross between corn pone and quiche, if one can imagine that. After all of that (on top of a Cracker Barrel lunch during which all of the food my family couldn't eat they shoveled onto my plate--I teased that I had thirteen bowls of okra), I was not in the mood for dessert.
While we were eating, "Molly Campbell" came by our table and told me that I needed "sleeves on my gown," and a roving musician came through and played and sang tunes on guitar and alto recorder. It was very, very nice, and the food was delicious.
After supper, while keeping my mom company while she smoked outside, I found the coolest critter! Unfortunately, s/he was an ex-critter. It was the biggest beetle I've ever seen in our area. However, because s/he was an ex-critter, that meant that I could take him/her back in with me and try to scare Bobby. Didn't work. He's become inured to bugs after four summers in the country. We played Uno with teams; it was Bobby and Dad on one team, and Mom, Beetle, and me on another team. Our team won. Beetle, although acting only in advisory capacity to keep the teams even, really had a lot of skills as an Uno player. Think what s/he could have accomplished while still living!
This morning, we staged some photos in which I pretended to be frightened of Beetle. (Clearly a farce!)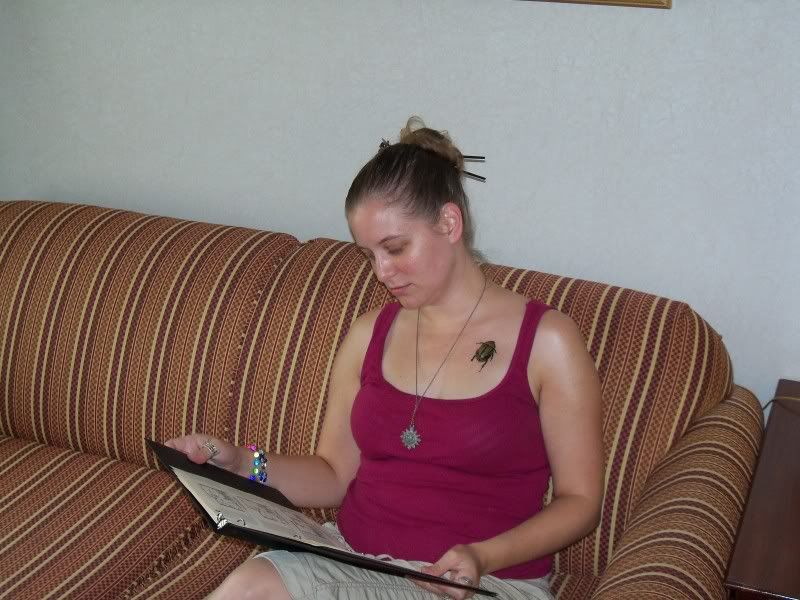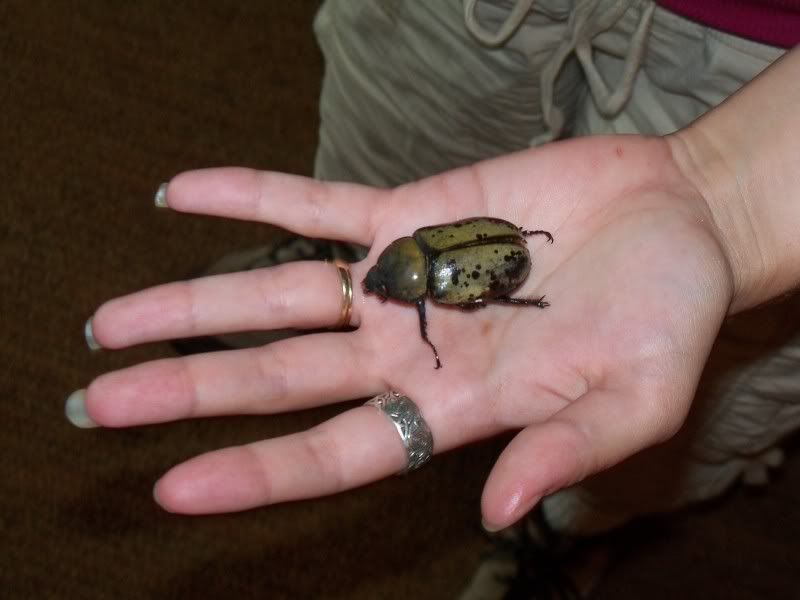 And then I returned Beetle to the garden out front.
Today, we went to Yorktown for the day. We started out at the Victory Center, which is a museum and living history exhibit. Yorktown was the site of a decisive American victory during the Revolutionary War. George Washington & Troops, with the help of the French, sieged and defeated General Cornwallis and the Brits in Yorktown.
We went first to an artillery demonstration in the living history military encampment. It was very hot today, and the camera lens fogged up after the air-conditioned museum, but here is a fellow loading a musket.
Then they did a cannon-firing demonstration. They recruited people from the audience to serve in various roles. The fellow leading the demo said that they needed a captain who was loud and good at giving orders. He said that the best captains were usually wives, mothers, and teachers. Bobby looked at me. (I'm a wife and
almost
a teacher, but only a mother to the Goldens ... yet anyone who has ever heard me yell at them ...) Well, guess who he chose? (I later found out that my mom was pointing to me because
she
didn't want to be chosen but knew I wouldn't care.)
So I got to give orders to the cannon crew and wave a sword around.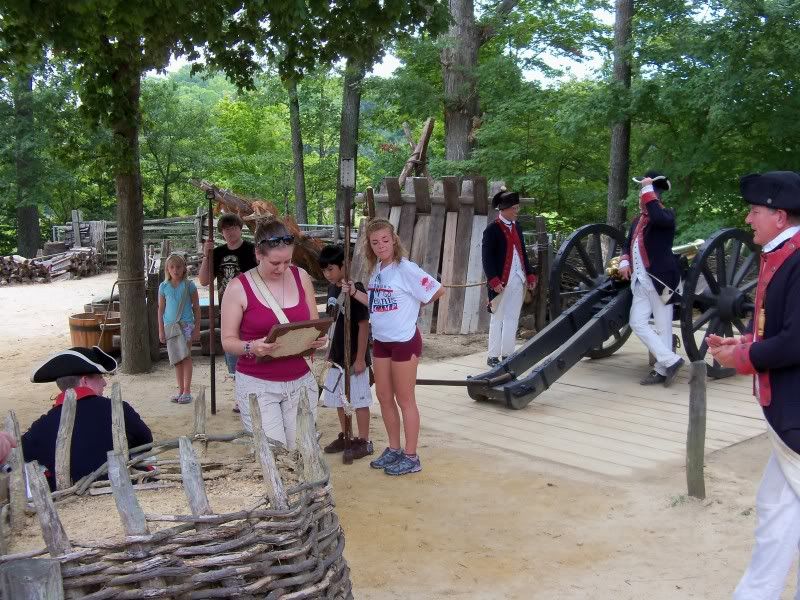 Some other pictures from the encampment: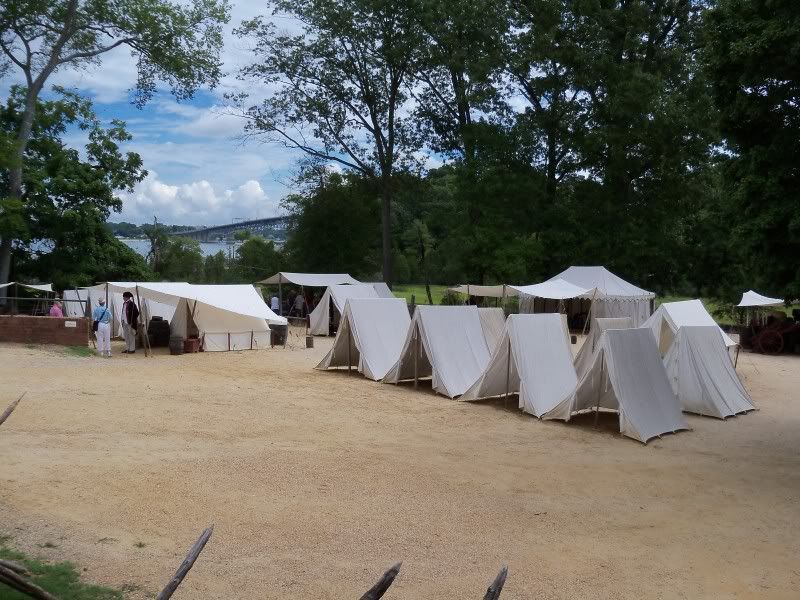 The camp surgeon giving a presentation on Revolutionary-era medicine: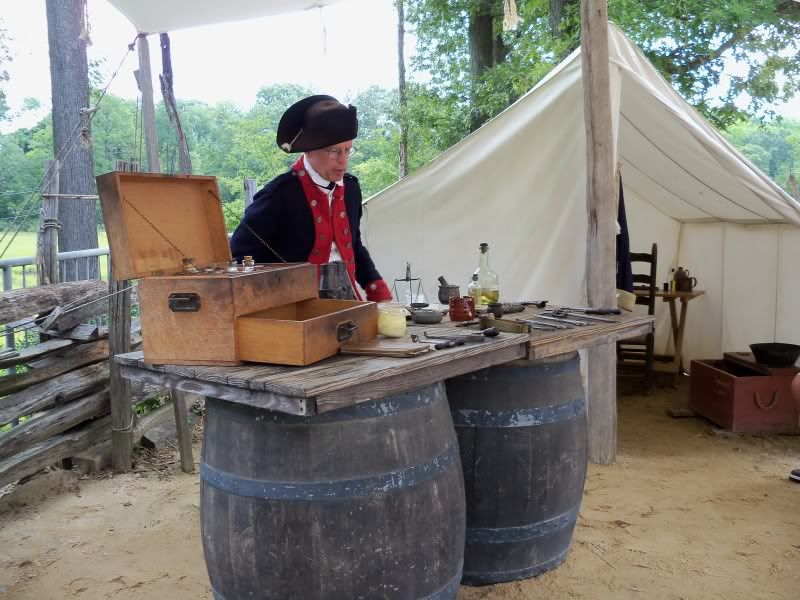 Then we went through the museum and saw the movie, which Mom fell asleep during. From there, it was out to the living history farm. Bobby and I always geek a bit here and look for ideas for our own garden. We are growing our squash on a fence this year after seeing squash grown on a fence last year in Williamsburg!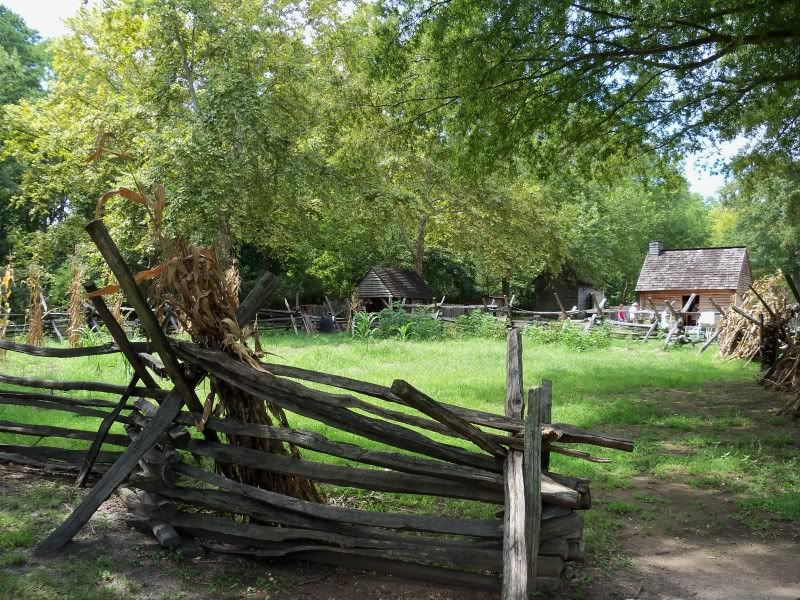 The smokehouse: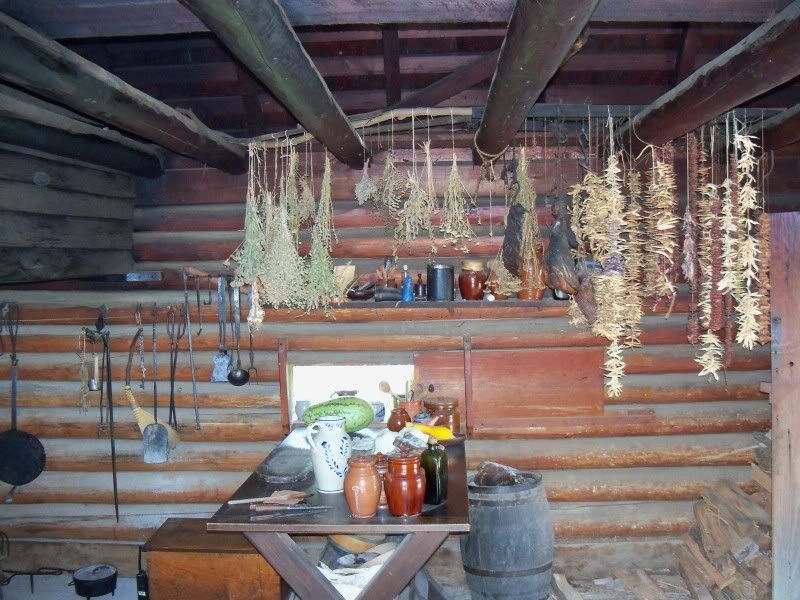 The house: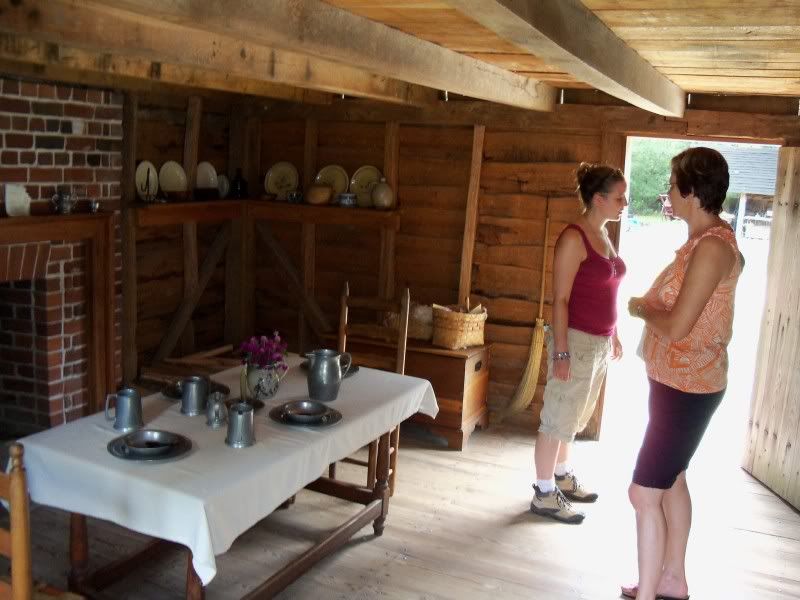 The garden: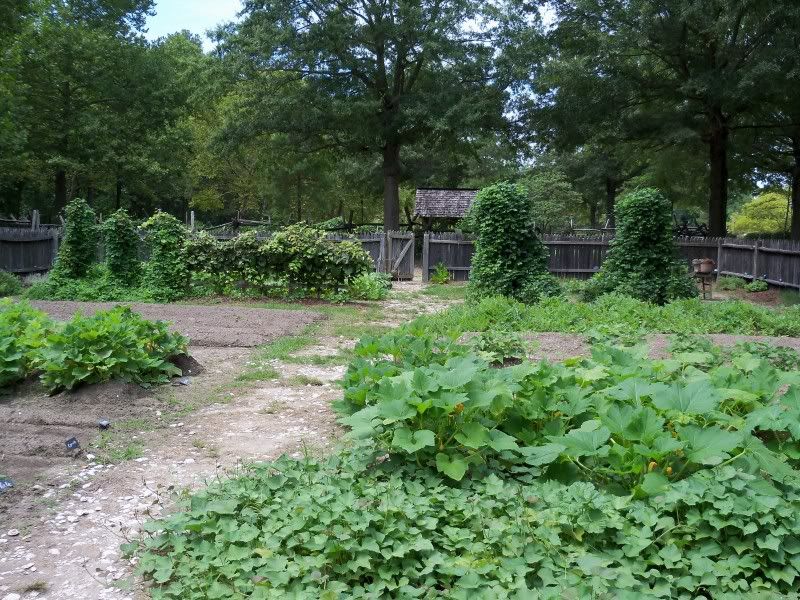 By now, it was about lunchtime. We headed into Yorktown and ended up at the pub because the first place we tried had nothing vegetarian, and the second place had closed four minutes before we got there. As it was, circumstance was kind to us, because the lunch was delicious! The place was old and a bit of a dive--kind of what you'd expect of a beachside restaurant--but the food was excellent.
Reenergized, we headed next to the Yorktown Battlefield, where Dad was offered (and purchased--or, rather, Bobby purchased for Dad, having gotten his wallet out faster while Dad was fumbling with his ID) an Old Man's Park Pass. They don't call it
that,
but what it amounts to is that Dad and three guests can now get into any national park for
free
because he is of a "certain age." Which is
awesome.
We watched another movie. Mom stayed awake this time. Bobby and I traipsed around the park a bit, and I now know far more than I ever thought I would about Revolutionary artillery tactics!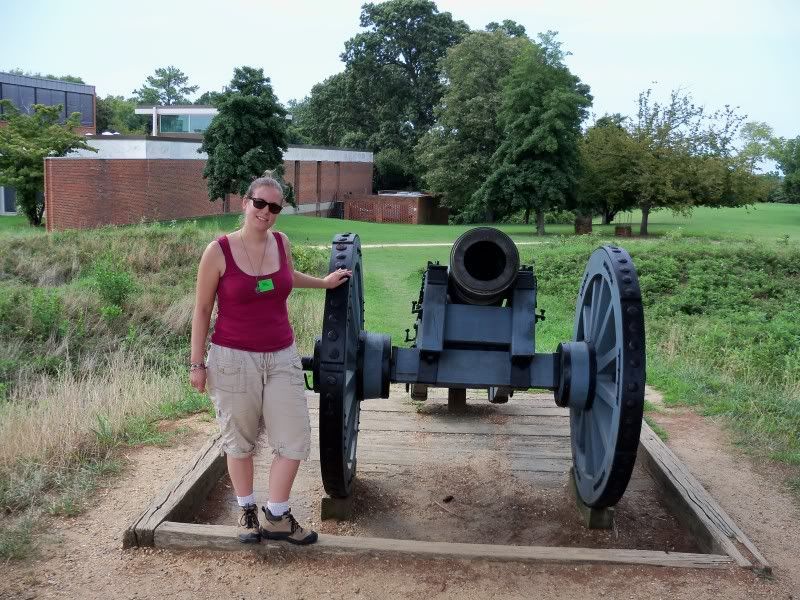 These structures, filled with earth, formed barricades that stopped cannon fire.
We did part of the auto tour--it was 16 miles!--and saw Surrender Field, where Cornwallis surrendered to Washington, and Redoubts 9 and 10 where the Americans and French really turned the tide of the battle.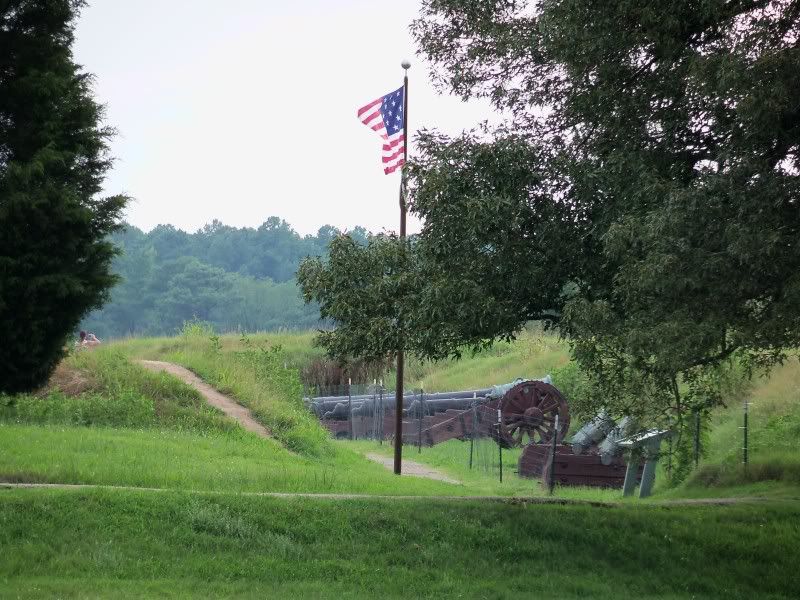 On the way back to the hotel, we stopped along the York River because the view was gorgeous.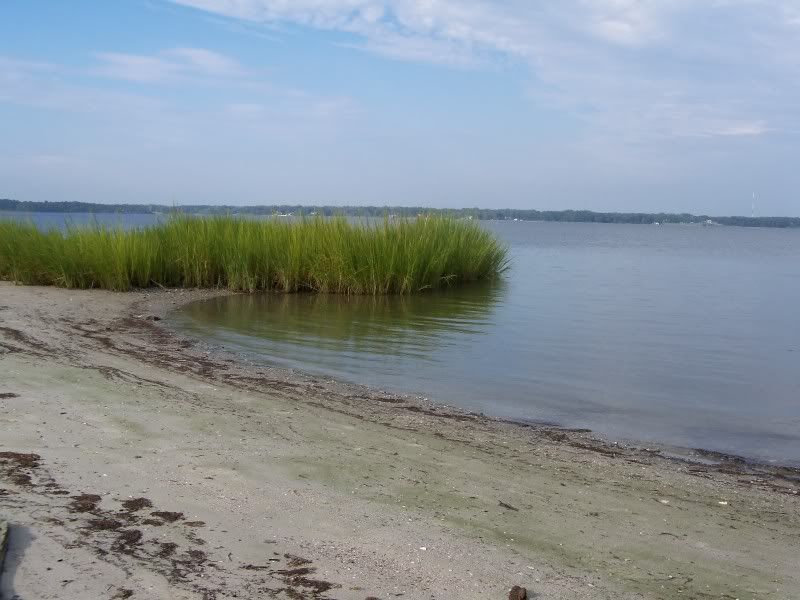 Oddly enough, there were
cacti
on both the battlefield and along the river. I'm assuming they aren't native species. I want to look them up to see what (if any) information there is about how they got there, if they're invasive species, et cetera.
Tonight, we went out for Italian for dinner, and it was really, really good. After dinner, we hit some of the shops we wanted to see. Dad has a coffee cup at home that he loves named Cuppy; seriously, everyone is afraid to even go near Cuppy because we fear for our lives if we would break it! (Him. Sorry.) Anyway, he wanted to get a similar-to-Cuppy coffee cup that he saw last year at the General Store. We also went to the Christmas Mouse. Williamsburg is full of Christmas shops. This one has all kinds of cool ornaments.
We came back, and Bobby and I got in the pool. Well, sort of. The water was cold (to me--but I have high sensitivity to cold), so I only got in to 3.5 feet. And that took like twenty minutes! We played Uno again after that, and even without Beetle, Mom and I won, though with a less commanding lead than the first night.
Tomorrow, we are going to a local winery and taking a cruise on the river in the evening, then having pizza for dinner.
---
This post was originally posted on Dreamwidth and, using my Felagundish Elf magic, crossposted to LiveJournal. You can comment here or there!
http://dawn-felagund.dreamwidth.org/250007.html