Dirty Joke
While I'm posting pictures, what the hey.
The famblies came up on Sunday for steamed crabs. And we played a wee joke on them.
Every week, Bobby buys an extra dozen ears of sweet corn, cooks it, takes an ear or two for himself (weirdo that I am, I don't tend to like sweet foods very much, including sweet corn--considering that I also don't eat steamed crabs for reason being a vegetarian, I'm surprised that I have not been banished from the state yet), and de-kernelizes the rest for freezing so that we can have it during the winter. This generates a big ol' pile of corncobs that get carried out to compost every week. One day, as Bobby was de-kernelizing the corn and building his pile of corncobs, I walked past and said, "Oh, good--you've replenished the
toilet paper
!" Which made us giggle because one can never be too old to appreciate the notion of using old corncobs as toilet paper.
Well, one thing led to another, and in the shared stew that is the collective Felagund Family brain, we thought that, hey, one day we should invite a whole bunch of people over and pile up some corncobs on the back of the toilet as a joke! We decided on our families because they are 1) most likely to get it and 2) most likely to fall for it.
Because, in truth, I feel sorry for our families sometimes. It can't always be fun to share the gene pool with a pair of eco-nuts, and they take our idiosyncrasies in good humor (like the chickens in the basement). It seems that every time we see them, one or both of us isn't eating this anymore or isn't doing that anymore. Trash disposal is a source of anxiety. I see people standing at our counter, trying to decide if this goes in recycling, compost, or trash, knowing that if they choose wrongly, one of us will in short order be picking through the trash to right the mistake. They've stopped bringing paper plates, and they know that they have to bring their own sodas. They take everything in stride, and we appreciate that.
So we decided to try out the corncob trick on them to see what would happen. While prepping the bathroom for company on Sunday (which involves putting away the jewelry, underwear, and hairbrushes that end up scattered across the counter when we are left to our own devices), I set up our hoax.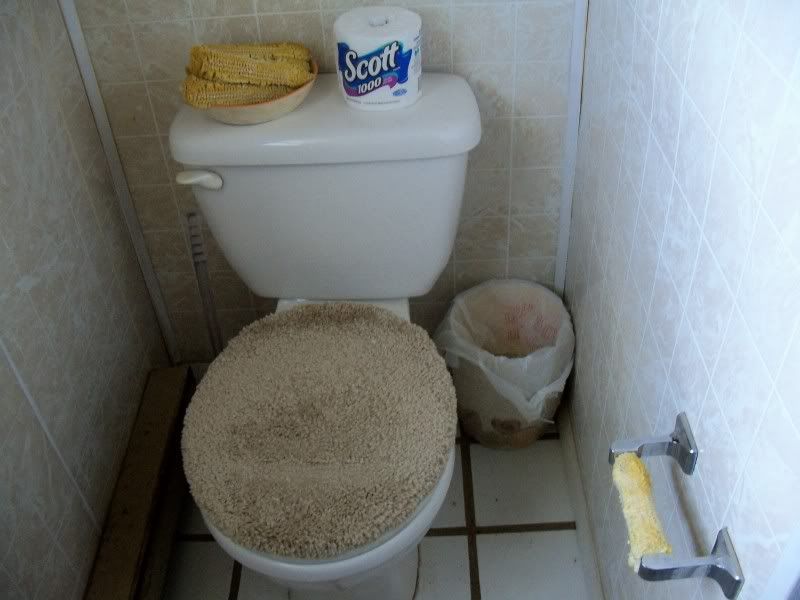 I even put up the toilet paper currently on the roll to give the impression that we had broken our a fresh, new roll just for them. (I thought about putting out no toilet paper at all but worried that I might strand someone on the toilet or, worse, cause someone to actually use one of the corncobs.)
However, I made sure to have one ready for use, for the stouthearted!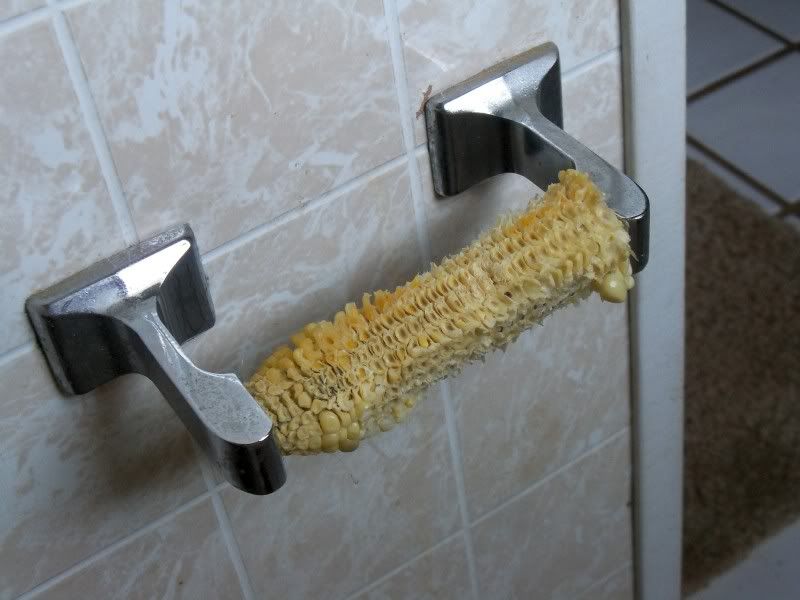 The evening wore on and
no one said anything,
despite the fact that several people went into and used the bathroom. I nudged Bobby after a few hours and remarked on this. Okay, we're either so far gone that our families think
nothing odd
about the fact that we appear to be using corncobs for toilet paper, or they are very,
very
oblivious. Finally, Mom-Mom came out of the bathroom around desert time. Bobby and I must have been staring at her pie-eyed with expectation because she said, "Dawn, let me ask you something--why do you have a bowl of corncobs on the back of the toilet?"
To which Bobby and I tried to reply with a straight face, "Oh, we use them as toilet paper--do you
know
how bad toilet paper is for the environment??" and to which the rest of the family chimed in that they'd been wondering the same thing and were afraid to ask! My father-in-law said that he was going to stop on the way home and buy us a pack of toilet paper because he thought that we'd run out and started using corncobs!
Those who hadn't been into the bathroom, of course, had to go and check out the setup. The corncob bathroom proved quite the hit!
Of course, I joke about this ... Bobby and I
do
use toilet paper, but as part of
No Impact Man's
quest to have zero negative impact on the environment for one year, his family
did
give up toilet paper. The documentary about the project doesn't go into much detail about what they used instead or if de-kernelizing sweet corn was an essential part of their weekly routine ...
Next joke: humanure.