Day Six: Dawn and Bobby Go to Church
1 July
Today, Bobby and I went to see the Dublin Hodgepodge: those myriad things that we wanted to see and, often, had intended to see in passing to other things but had missed or simply run out of time for.
We started with the Book of Kells.
Now, the Book of Kells was top of my list, not surprisingly, given the whole scribal apprentice gig that I sometimes find time for. For those who don't know, the Book of Kells is a 7th-century manuscript and the finest example of the Celtic style of illumination. It is an illustrated copy of the four gospels. The fine detail is simply amazing; the whole of it breathtaking.
Now I beg pardon for going off on a scribal cant for just a moment here. Before I joined the SCA, I was a miniatures painter; that's how I learned to paint: fitting five or six colors into a checker square 2mm by 2mm; painting faces (down to glinting eyes) on faces a half-centimeter high. Detail is my strong point as a painter. As an illuminator, I work with all modern materials. I use acrylic paints and detail brushes and a daylight lamp that lets me work in detail no matter the time of day or weather.
I
don't know if I could manage the level of detail on some of the pages in the Book of Kells. And these artists didn't have the advantage of popping down to Michael's to squint at detail brushes to find the perfect one, or picking up a new tube of ultramarine when theirs ran out, or erasing darkness and shadow in their workspace with the click of a switch.
Given that, I am awed by the Book of Kells. I was prepared to possibly drool on the glass case where it is kept; I managed
not
to do that, but my appreciation for it is enhanced all the more--if that is even possible--after having seen it.
The presentation leading up to it was nice as well. It discussed the materials and techniques of the early scribal arts; my only complaint was that it was crowded, and there was no clear scheme for people to file through the exhibit, so everyone was pushing and squeezing helter-skelter, and as an outgoing introvert, that was not the most comfortable situation for me since I err on the side of ridiculous politeness and won't fight for a place in line even when (in the crowd to actually see the book) it is rather necessary. Bobby pressed through and held a space for me and I
still
got butted out of the way. (Yes, I know how pathetic this makes me sound. Meh.) Well, when I made it to the fore, I took my merry time ogling, thankee very much.
Next, we headed west to Dublin Castle. Dublin Castle was originally a medieval castle, but it burned down and very little of the original structure remains. It currently serves as a government building. And I thought working for the government out of a ramshackle old house was weird!
Because it is a popular attraction, we signed up for a tour time later in the day and headed off to Christ's Church, which is not far down the road. Christ's Church was started in the 11th century. We wandered there a while and then headed back to Dublin Castle for our scheduled tour.
Like the majority of castles we've toured, Dublin Castle is post-medieval and so had gilded ceilings and portrait galleries and the like; all very nice, but I think the best bit for Bobby and me was getting to go into the undercroft and see the original medieval walls and moat. Oh, and the old cathedral that is used in
The Tudors
. Whee!
After this (are your feet hurting yet?) we went down to St. Audoen's church, which we had passed while en route to the Guinness Storehouse two days prior and thought looked cool (read: medieval). The whole front of the church is an enormous untamed and very colorful garden. Since I miss my herb and veggie gardens back home, it was nice to walk through it.
The big attractions are cool because they have usually gotten to be big for a reason, but there is something wonderful about the small, off-the-beaten-path sights, and that is that, rather than queuing and purchasing admission from an indifferent employee, when you walk through the door of the smaller places, the people there really do care that you're there and are usually thrilled to share everything they know about the place where they're fortunate enough to work. As in Kilkenny and St. Canice's, when the man behind the counter at St. Audoen's offered us a tour, he walked around the counter to deliver it on the spot. Others straggled in as we made our way around the medieval church which, by and large, still looked
very
medieval. It was wonderful, as always, to get to talk to and learn from someone with such a passionate interest in a site.
From there, we went down to St. Patrick's Cathedral, which was as splendid as expected. It is 12th century and supposedly constructed on the site of the well where St. Patrick baptized the first Irish in the 5th century. An old Irishman offered to take our photo in the park and, after he figured out our camera (which took a while), rambled on to us for ten minutes with his very frank feelings on the British. When we managed to disengage ourselves, it was getting late and we were tired and very hungry, so we started the walk back, and it seemed only appropriate--after the sort of day we'd had--to have supper at a restaurant and pub called The Church that, yes, is constructed inside of an old church.
"I can't believe I'm drinking a pint. In a church," said Bobby, but then we'd also found Jesus at the Merry Ploughboy pub a few days earlier (he was on the wall, behind Marie) and then there was the medieval abbey in the middle of the Smithwick's brewery, so perhaps we should not be particularly surprised that the Irish--known for their drinking and their religion--sometimes see fit to commingle the two.
I think we earned a break after all of that, so we went back to the room for a bit of relaxation and then out to the pub later for a couple of pints (and a Bulmer's pear cider for Bobby; he's drinking it while he can since he's not sure we'll be able to get it at home).
I have to say that for a pair of agnostics, we sure spent a helluva a lot of time in church today!
Dublin Castle
One of the remaining medieval towers; at one time, there was one at each corner.
Not medieval. But cool-looking.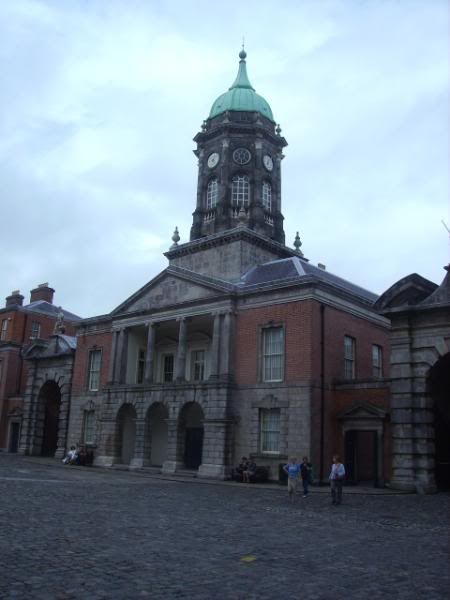 This cathedral on the grounds of Dublin Castle features in
The Tudors
! *squee!*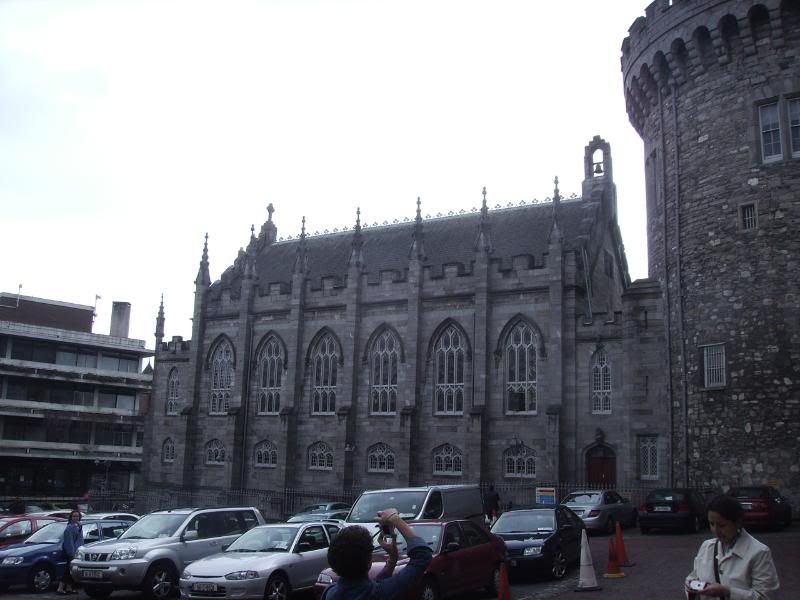 Christ's Church Cathedral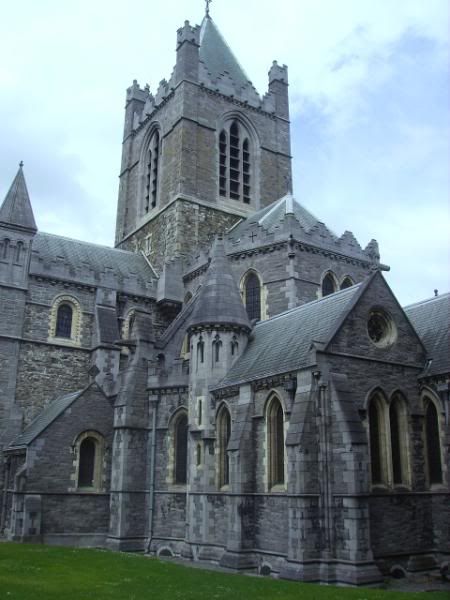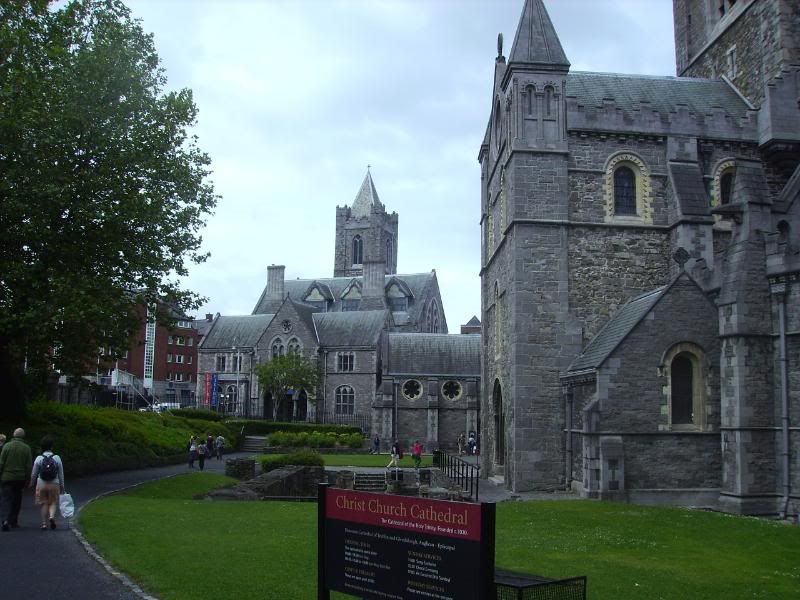 Strongbow, the Norman sent by King Henry II of England to conquer Ireland in 1169, is buried in Christ's Church. When the roof collapsed, his tomb was destroyed, but a new one was built in its place, and it is believed that the wee Strongbow beside it was part of the original tomb.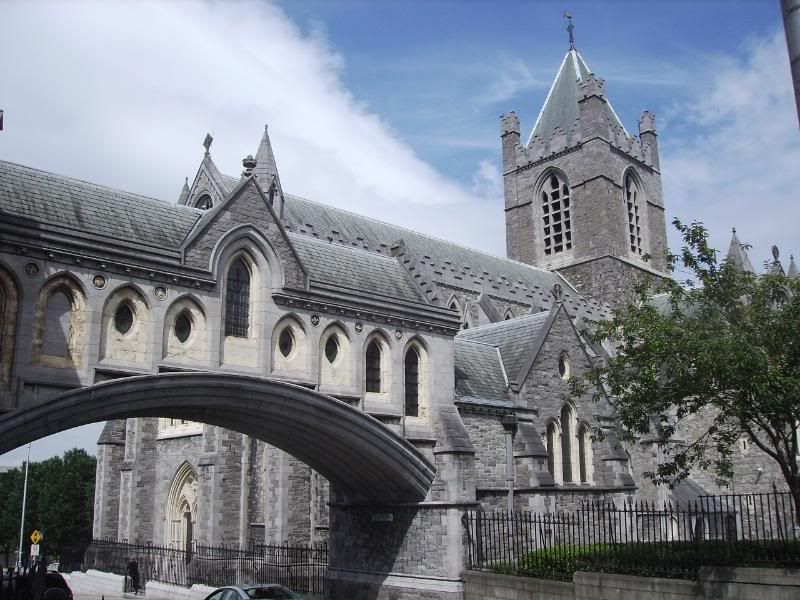 St. Audoen's Church
A wee doorway with the 'gund to provide some perspective. I am of average height for a woman (5'7'' or 1.7 m).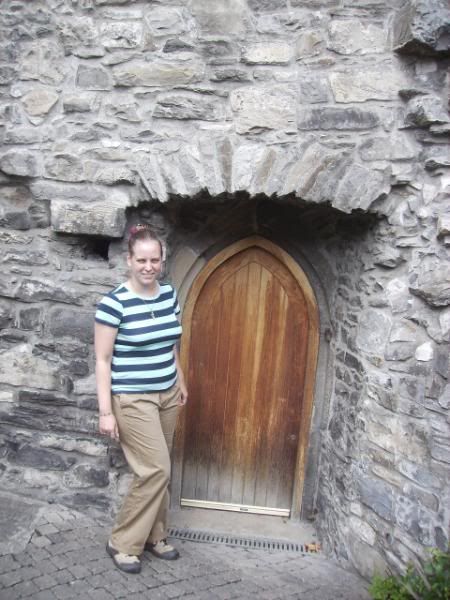 This stone is (surprise!) believed to be lucky. I have come to believe that every other stone in Ireland must be lucky; hopefully, a bit will follow us home!
There are a whole host of stories and legends associated with the lucky stone; because it was lucky, theft attempts were frequent. It initially sat outside the church, beside a public well to protect the water since ... well, sanitary conditions weren't always top-notch in the Middle Ages. Apparently, as one tries to carry it away from St. Audoen's, it grows heavier and heavier until it cannot be carried or, if taken by cart, the wheels of the cart fall off. When successfully moved, it managed to find its way back every time because it shrieks when an attempt it made to damage it.
Perhaps it is my rebellious streak or my innate skepticism that I would have liked to have tried to take it, just to see what would happen. As it is, I just touched it, as is tradition, and we'll see if I have good luck.
(Though I suppose that could also have come from hugging St. Kevin's cross ... rats, my scientific inquiry into the lucky stones of Ireland is all botched up now!)
St. Patrick's Cathedral
Allegedly, this stone marked the well where St. Patrick baptized the first Irish converts.
And here is the supposed location of the well itself.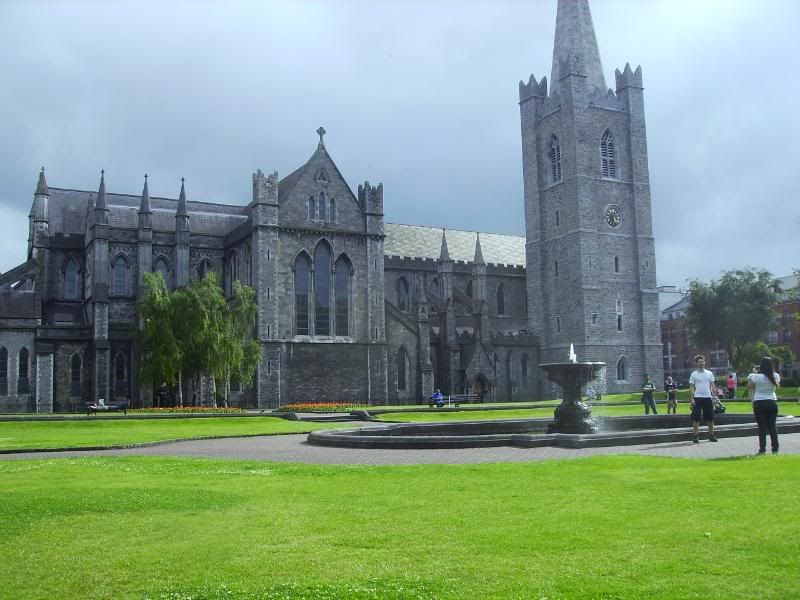 Using my magic powers to make the church tip in the background.
Bobby has no such powers and he looks angry about it!
Our friendly Irishman took this one.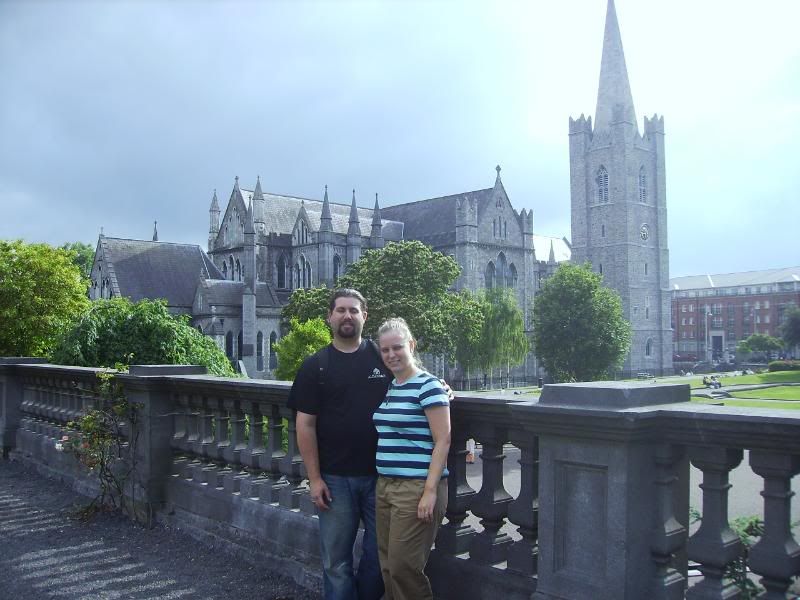 ETA:
Looking through these posts, I am realizing how many of our pictures have in them people taking pictures. It's like we were at popular tourist sites or something! ;)