Day Four: Dublin
Administrative notes: As evidenced by my scanty posting and silence on comments so far, the Internet at our B&B is
not
good at all. During the day, I am lucky if I can remain on the Internet for a few minutes straight without losing the signal and having to reconnect. This, of course, makes uploading photos impossible except for late at night, when the Internet mysteriously works almost well. It must be a nightowl, like me. :)
Anyway, I'm doing my best to catch up with posts before leaving Ireland, but I will answer comments when I get home.
Secondly, I sent out postcards today, so if you asked me for one, it's now up to the Irish post office and your home country's post office to come through for us. I have my fingers crossed.
Now, back to our regularly scheduled journal entry. :)
29 June
Today was Marie's last day with us. :(
Because of this, we had planned to get an early start, since we had a rather ambitious agenda for the day: the Guinness Storehouse, the Dublinia Museum, St. Patrick's Cathedral, Christ Church Cathedral, and possibly St. Aidoen's church as well, if we could fit it in passing.
But because we had a rather late night the evening prior, I think we were all pretty whipped. First, we walked up to Dublinia, but since it wasn't open yet, we carried on past to Guinness. It was, to start, a pretty long walk--enough that the Guinness Storehouse hovers on the edge of my Walkabout Dublin map--and the signage wasn't fabulous, so there was definitely some clueless ambling before a kind woman, probably figuring that three young people wandering about southwest Dublin at that hour of the morning were probably looking for a free pint, hollered across the street to us, "Looking for Guinness?" and got us going in the right direction.
The Guinness Storehouse tour is all about how Guinness is made. Now, at home, Guinness is my favorite mass-distributed (i.e., non-microbrew beer) and one of the few beers I will actually drink. For a long time, I thought I disliked beer--the equivalent of clanging a leper's bell among young people in the U.S.--until I figured out that I liked
dark
beer, just not what I have termed "before-and-after beer," i.e., it looks the same before and after drinking it. And I like tours about how food is made. And I've already graduated once from Budweiser Beer School at Busch Gardens (despite loathing their beer, yes), so I viewed this as continuing education.
The tour is set up in the old brewery. It is pretty impressive, set up around a huge "pint" glass and coiling around seven floors to the Gravity Bar at the top. As for the content ... well, it was good and bad. For one, it is always amusing when companies attempt to tell you how to make a product without actually telling you how to make the product. The Guinness Tour told, basically, how beer is made and then described the "fifth ingredient" that makes Guinness Guinness as the skill, passion, and--yes--secret recipes of its brewers, handed down generation to generation from Arthur Guinness to today's brewers.
As part of Atlantian University in SCA, I took Sorcha's two-hour Brewing 101 course, so I knew how beer was made already, though the Guinness tour certainly did a wonderful job of turning this millennia-old recipe into a sensory experience. There were walls of water and the smell of hops and a swimming-pool-sized vat of barley to run our hands through (and roasted barley to taste--yum!). It was, as noted, very sensory. Then there were exhibits on everything from how barrells were made to how transportation changed over the years. We sat and watched a looping video on the latter not--as Marie pointed out--because it was all that interesting but because our feet were tired.
What
was
interesting was that up until the mid-20th century, ingredients were moved around the Guinness plant on tiny little trains. The tracks are still visible in the streets.
Then there was the obligatory exhibit on drinking responsibly. We did try to watch some of the videos, but all the kiosks we tried were broken except one. I suppose this isn't a popular floor.
And, finally, perhaps my favorite exhibit of all was the vintage Guinness advertisements. Guinness has and continues to have some brilliant adverts. In years past, Guinness had been marketed (and used) as a curative: for restoring energy (because of the high carbohydrate content) and, yes, it was recommended for pregnant and nursing women and, according to our tour guide in Kilkenny, still is in Africa. Also, I had no idea that the Guinness Book of World Records was related to the brewing company. Apparently, it originated as a reference book to aid bartenders in resolving the sorts of disputes that tend to arise at bars. The inaugral dispute that inspired Arthur Guinness to introduce the Guinness Book of Records concerned which game fowl flew the fastest.
In the midst of all of this, Bobby and I learned to "pour the perfect pint" of Guinness. All visitors get a free pint, so this used up ours. Pouring Guinness has a certain mystique to it, since there is a
right way
and one is led to believe that people will
know
if you do it wrong. The Guinness company itself lends to this with its oft-repeated instruction to wait 119.5 seconds between the two pouring stages. It really wasn't that hard, though. However, it was much more illustrative than Budweiser Beer School had been, which was basically a sampling of Budweiser beers while hearing how beer is made.
We ended up on the seventh-floor Gravity Bar, where Marie donated her free pint to Bobby and we all enjoyed a panoramic view of Dublin. Unfortunately, a tour bus group arrived just before us, so there were many fanny packs and cameras around necks lounging in the seats with their proudly sported tour-group badges, when I think all three of us would have liked to have sat for a few minutes before walking back to Dublinia. Alas, if wishes were horses then beggars would ride. The view was still stunning.
Dublinia is a museum on life in Viking and medieval Dublin. Our Wicklow guide had promised that it replicated Viking and medieval Dublin right down to the smells. He was wrong on the latter, thankfully. It was a fun museum and, I thought, did a commendable job of presenting history in a way that was entertaining and interesting. The mannequin using a medieval toilet (with a look of profound relief as he did so) and the opportunity to learn why a criminal was in the stockades by hitting him in the nose with a ball earned some chuckles. And there was a tower to climb at the end: 111 stairs, a man proudly informed us at the bottom. I always like climbing towers.
Somehow, between those two activities, the day was gone. Marie had to be at the airport bus stop around five, so we had time enough for supper and a short jaunt to a very cool bookstore we'd passed that morning, just down from our B&B. We had Indian for supper. I think all of us were relieved to have the chance to sit for an extended period, and the food was very good.
Then came the inevitable parting. Bobby and I have already planned next year's trip to be to Denmark to visit Marie, but it is still always hard to say goodbye to a friend, especially when the most hopeful salutation you can manage is, "See you next year?"
Bobby and I went back to the bookstore, which was a dangerous place, as it had marked-down books on history, mythology, and literature and a whole floor of secondhand books. We browsed until, quite literally, my feet hurt to the point that I couldn't take it anymore. I'd not recovered my sleep deficit yet and had spent almost the whole of the trip either walking or standing. So we went back to the room for a bit before deciding to head down to Temple Bar for a late snack, since we'd had supper rather early.
We went to Elephant and Castle, which is quite humorously marketed as an American restaurant, although half of their menu items you'd never find in a mainstream U.S. restaurant, and funnier yet, we have a U.S. version of Elephant and Castle (not the same company) that is marketed as a British restaurant.
We had an early train to catch the next morning to Kilkenny and so planned to turn in early, but the difference in daylight between Dublin and Baltimore is still disarming. At 10 pm, it looks like 7 pm at home. We walked back to our B&B in twilight, and it was 11 pm. Again, so much for an early night, but I've always been good at sleeping on trains.
Guinness Storehouse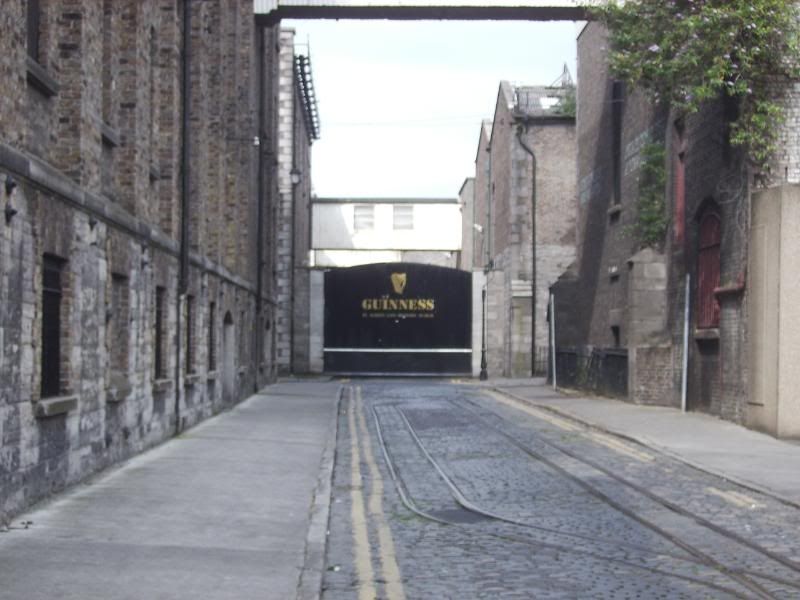 Arthur Guinness signed a 9000-year lease on the property at St. Jame's Gate.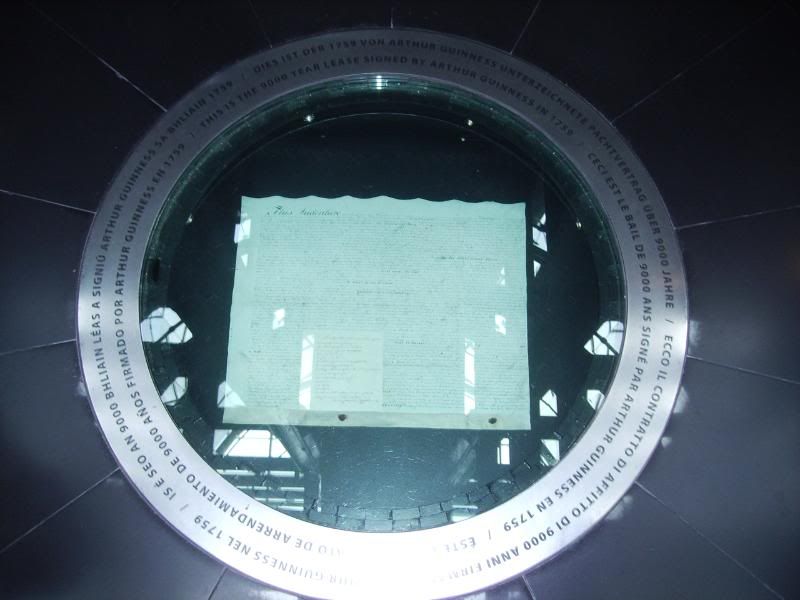 Vintage Guinness bottles.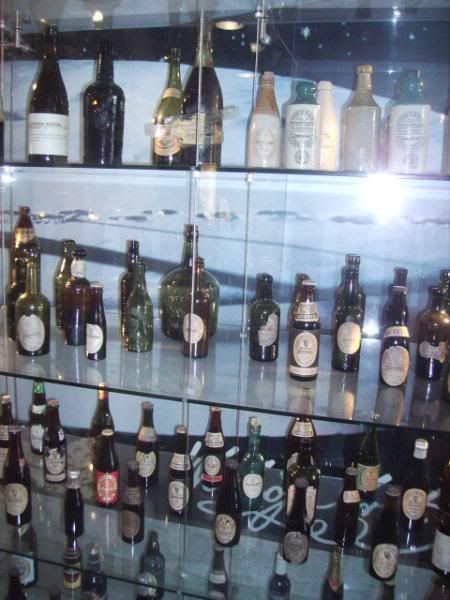 An advert spoofing the Bayeaux Tapestries.
Oh, the proud moment of having poured the perfect pint!
The Stiffy by the Liffey as seen from the Guinness Gravity Bar.
Bobby and his
second
pint before noon.
Dublinia Museum
A medieval knight made out of pewter ... impressive!
Christ's Church Cathedral from the tower at the Dublinia museum.
Random!
An important conversation between me and two statues.
Looking west down the Liffey.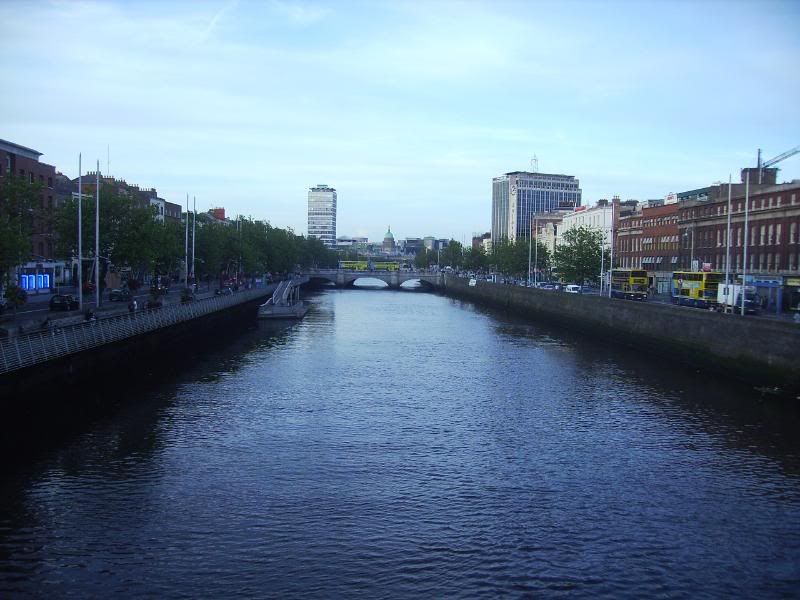 And east.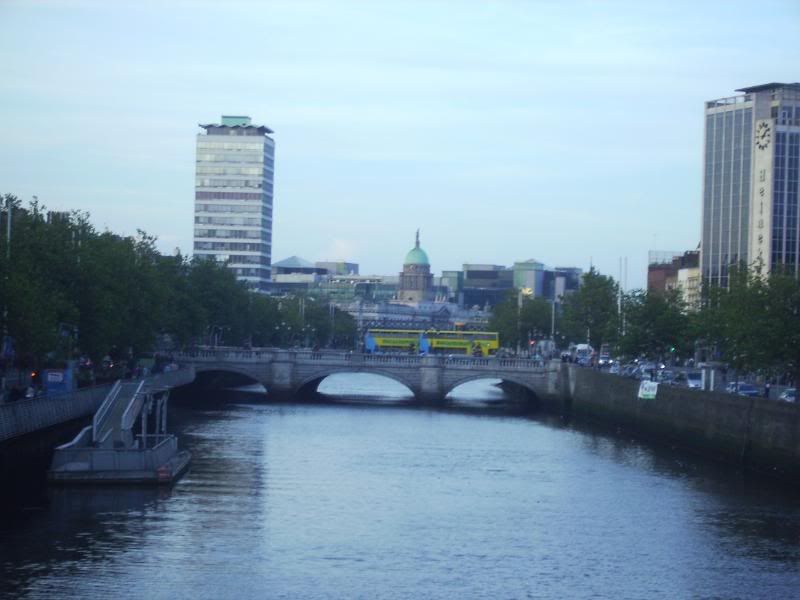 And west again.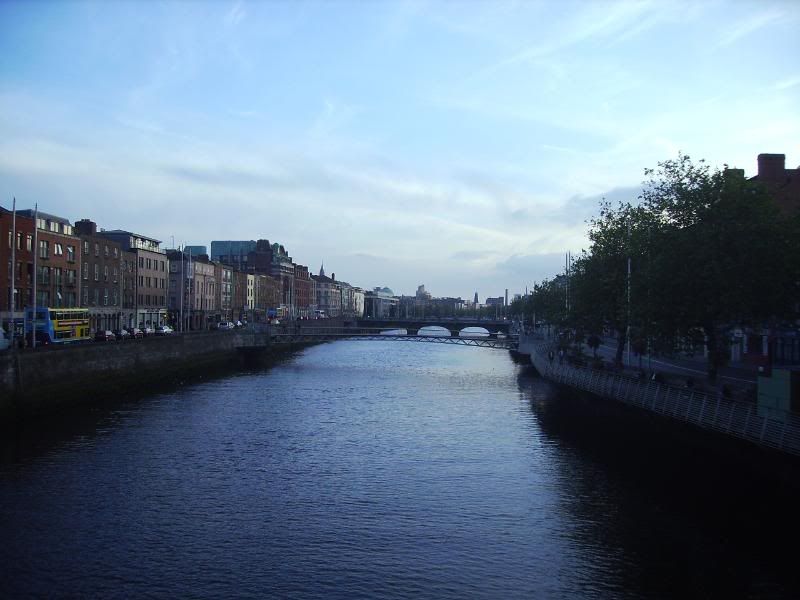 And east again. If I set this to music and recorded it, this could be one of those organized dances that are so popular at weddings.