Writing about Writing (Instead of Writing?)--2007 NaNoWriMo Progress
Well, I've survived (again) the first week of NaNoWriMo. And instead of writing, here I am writing about writing because, I find, more than even a great excuse to make mad progress on a single piece, NaNoWriMo has taught me a lot about myself as a writer.
This year, instead of writing a carefully nurtured idea as I'd intended--and as I'd done in years past--I embarked on a story barely conceptualized that I dreamed up while watching a family fantasy movie one afternoon. Aside from a month spent visualizing scenes to the music of Celtic Legend and
Pan's Labyrinth,
I did no pre-writing, no characterization exercises, and didn't even sketch a map until Day One. I suppose this is NaNo in its rawest--and perhaps intended--form, and in the past, I've been very much a spontaneous writer who'd sooner just
do it
then waste my time (and impetus) on a lot of that other crap.
It's been going ... okay. I've been getting a steady word count each day with a mean average of 2263 words per day. But at the same time, the story isn't coming as easily or as quickly as usual. Every word feels very deliberate; every scene carefully contrived. And I didn't do any pre-writing?!
I've noticed that I tend to write in three styles. There are the stories created with reckless abandon: When I start them, I have no idea where they will end or how they will get there. These usually start with characters rather than plots; personalities that stand out boldly in my mind so that tossing them together in a scenario feels more like getting to sit back and watch what happens than doing any work. Not surprisingly,
Another Man's Cage
was one such story. The characters of AMC were clearer in my mind than any other aspect of the story upon starting it.
Then there are the stories that center on a mood, theme, or feeling of some sort.
Cirque Sanguine
(flocked) was one of these;
Return to Me
is a fanfic example of the same. I had in mind the feeling I wanted to create in my readers. Usually, writing these sorts of stories requires very deep concentration from me and absolute immersion into the story. Usually, these stories are written in one or two sittings in manic bursts of word count. It's quite an intense experience. (But not one particularly conducive to novel-writing.)
Finally, there are those that are more carefully planned plot-wise, where I know what is going to happen even if in a vague sense. Last year, I described this as "feeling like I am crossing a river by leaping rock to rock. Though I do still occasionally stop to play in the water," and I think this conveys the experience well. And whereas the character- and mood-driven stories often feel like they just
happen,
these more careful, plotted stories happen very deliberately and take a lot of thought. I'm often reluctant to indulge in too many flights because I don't know how this will affect where I end up or how it might mar the pacing.
I think I'm safe in saying that the last kind of stories tend to be the most draining for me. I won't even say "the least fun" because the
Green Knight Story
(flocked) certainly fit this bill, and I had a great time with it. (Of course, a lot of this was because of the style and the language, which a wordsmith like me can't help but love. An excuse to put together complex, archaic sentences without worry about being labeled overwrought or purplish? That doesn't happen every day!)
And the current story--despite being largely unplanned--is proceeding in a similar manner as well. It's probably been the toughest story I've written as of yet. And I keep asking: why? This idea seized me from the start and I still love it, but it's not coming as naturally as most of my stories have in the past.
(And part of me always wonders: can readers feel the difference in my writing? I worry that they can. But at the same time, writing in a flight has its problems too--authorial indulgence, if you will--and tends to result in long non sequiturs that delight me as an author while totally destroying the pacing (or utterly boring) the reader. Perhaps, then, this method of writing--while more difficult and, yes, largely less fun for me as an author--results in better stories for my readers.)
I have my theories on why this one is so difficult. First of all, to recap the summary: Once upon a time, William lost himself in the joys of writing fantasy ... and nearly lost everything else due to his obsession. With reluctance, he abandoned his world. But, sixteen years later, the world has come back to him in the form of two characters who deliver the message that their world is in peril, and they have been sent to William to devise a solution. As he becomes immersed again in fantasy, the messengers find themselves struggling in a modern world that they cannot understand, where conflicts take a vastly different shape than those that can be solved at the point of a sword.
This story, then, involves half a modern-life component and half a fantasy world component. The fantasy world component has been great fun for me so far. It's the modern-life that's difficult. I am reminded of why I stopped writing mainstream fiction in favor of speculative fiction. For me, writing is an escape from beltway traffic and political headlines and all that rot ... and this story embraces these aspects of modern life, to a degree, from the point-of-view of characters for whom our world is a fantasy land. It's not that I feel challenged as a writer to describe our world but just that I have very little motivation to do so. Of course, it's essential to the storyline that I do so.
Secondly, because the two stories occur simultaneously, side-by-side, I
do
have to be careful not to go on any lengthy flights that would cause one half to become very far ahead of the other. And since I lack an outline, I'm pacing this in my mind and weighing each chapter against the other as to what has happened, what needs to happen, and how the story will evolve in parallel from there. It's an experiment of sorts: outline-writing without the outline!
Lastly--and perhaps silliest of all--I prefer to write in present-tense first person. This story is in past-tense third-person limited. And I find this challenging, to get into the minds of my characters the way I can when the story feels immediate, like a scene unfolding before me (versus a scene
unfolded,
remembered, and now written down as an outside observer).
But all of these things are challenges. And while I've gotten comfortable with experimenting with different voices over the last year, I need to get more comfortable with different tenses and PoVs as well. I've long recognized my weakness as a writer that I tend to write
only
in present-tense first person. And this works fine for most of my stories, but won't work for all. So I count this as an experiment that--even if not successful--will at least serve as a good opportunity to practice.
Here's the graph for Week One (words written per day) with the pink line representing the mean average for the week: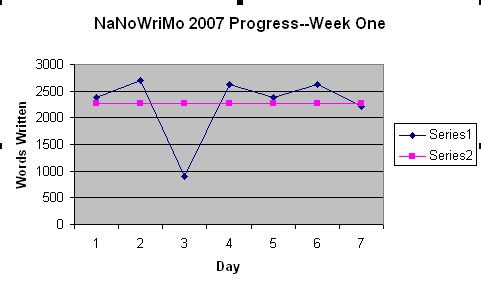 Week Two is going to look more jagged since I didn't get any words Saturday or Sunday on account of social engagements.
Last year's graph for Weeks One and Two is
here
.