Dawn's Nerdy Round-up
Last weekend, Mom and I went about making my Elfy costume for the Maryland Renaissance Festival. I've been wanting an Elf costume for about three years now, but Ren Fest season always comes with a myriad of excuses to postpone it for yet another year. Last year was scuba training, for example. But
this
year, Mom and I were determined that I would have my costume. So, through much rigmarole, we acquired a pattern and material suitable for an Elf costume. I already had the ears from last year, though I needed a bit more specialized makeup to make them look authentic.
All that was left was to sew together the costume. It was a
huge
costume, consisting of roughly 6.5 yd/m of fabric. On top of that, the pattern was wonky and required a major adjustment halfway through when we discovered that the top of the dress had about a 5 inch/12.5 cm gap in the back. Mom and I worked steadily for two days last weekend, then she finished it up this week. Aside from a bag I made in middle-school home economics class, it was the biggest sewing project I'd undertaken yet, but I had a lot of fun, and the dress turned out great.
So ... off to the Ren Fest we went this weekend! Of course, I made Bobby take pictures of the costume before we departed and I got sweaty/dirty/droopy-looking.
The dress, plain, without much in the way of adornment.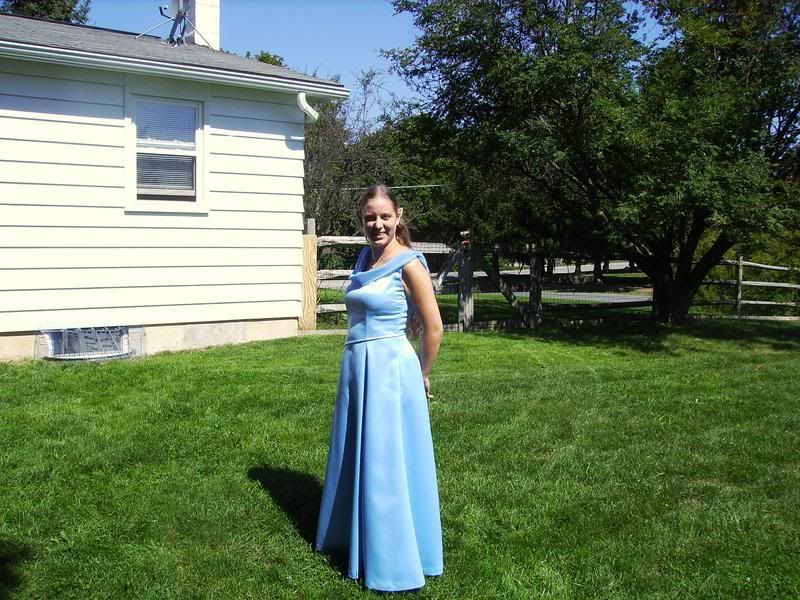 Yes, the ears are a pain in the ass. They are prosthetic ear tips that fit over the tops of my ears. But they're much too pale, and I'm pretty damned pale, so they had to be painted first with costume makeup so that they sort of matched my skin. Then they had to be stuck to the tops of my ears with adhesive. Then the seams had to be hidden with flesh latex. And finally, the flesh latex had to be covered to match my skin/ears. It took about a half-hour, total, though I expect I'll get better at it with time.
Now, the dress with the red cloak that I got at last year's Ren Fest. This cloak was a source of angst for poor Mom, who had to listen to me worry over each fabric we considered as to whether it would "go with the cloak." Green materials were lamented for the possibility of making me "look too much like Christmas" while blues held the possibility of "looking like an American flag." We chose this material largely because it went well with The Cloak™.
A better picture of the ears and a 'gund-like silly smile.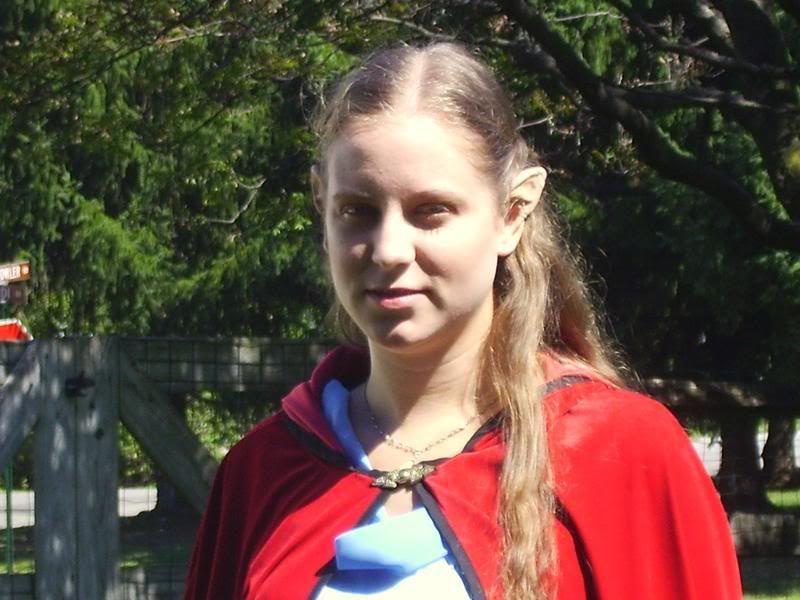 My ears were a hit at the Festival. Only once before--and this was during the heyday of the
Lord of the Rings
movies--have I seen other Elves at the Renaissance Festival. At the Johnny Fox sword-swallowing show, a little girl gazed curiously at me, then appeared struck by a great epiphany. "They're over her regular ears!" she said with awe. I got a lot of compliments on the ears, which was nice, considering that I thought they looked pretty bad myself. I will do a better job of the adhesive stage since flesh latex isn't quite the miracle makeup I'd hoped for.
Anyway, the Festival was a blast besides that. Last year's was all but ruined by the Psychotic Cindy, who insisted on going into
every blessed shop.
Argh! Now the Ren Fest has some great shops, but spending a half-hour at the printmaker's or listening to Psychotic Cindy arguing with the poor leathersmith's son for twenty minutes while jousts and cool shows and much Scottish music is played ... that makes the 'gund very sad in pants. :(
Because it seems silly to make a separate entry for just two photos, I will also post pictures of the rather creepy spider that lives beside our sliding-glass door. I'm pretty sure s/he is of the genus
Mangora,
though the actual species eludes me, and after spending a half-hour staring at spider pictures on the Internet, I can't bring myself to care too much anymore. Once upon a time, a bad experience in Girl Scout camp turned me into a diagnosable arachnophobic for a few years, but I've since gotten over that ... or so I tell myself and anyone who wants to peg me as a girl scared of creepy-crawlies. Yet pages full of spider pictures still give me crawling sensations up and down my back. Totally irrational, yes, but I tell myself: also therapeutic.
Anyway, here is Mr. (or Ms.) Mangora. It is rather geeky to use one's very cool underwater camera for taking pictures of odd spiders, right? So these pictures aren't too out-of-place here in Dawn's Nerdy Round-up.
Every day, I walk outside and see the big creepy web just waiting for the big creepy spider to crawl into it and await its prey and think,
Dawn, it would only take a broom and a second of your time to sweep that away.
But no, I have a policy that outside critters have the right to be outside, undisturbed, unless they prove to be a hazard, and as big and creepy as my
Mangora
friend is, I don't think s/he is a hazard.
(By the way, the spider is
not
as large as portrayed in the photo. The abdomen is about the size of my thumbnail, which is big enough.)
Finally, for all you former (and current) D&D players, behold
The DM of the Rings
, a very funny comic where the characters from the
Lord of the Rings
movies are recast as a bunch of hapless and clueless role-players working their way through a D&D adventure. If you've ever played--and especially if you've ever DMed--it is
hilarious.
I laughed loud enough that I began to worry Bobby, and after putting up with me for eleven years now, that is a feat.
Finally (finally), those who are awaiting the Green Knight story, I think I finished it tonight, so now it's on to a much-needed revise/rewrite. My goal is to start posting it by Wednesday, 12 September. If I set a deadline, then I am more likely to actually work on revising it versus procrastinating and hoping for a helpful brownie to do it for me. It will be friend-locked for its own protection, so if there are any lurkers out there dying to read Dawn's non-canonical version of
Sir Gawain and the Green Knight,
now is the time to let me know so that I may add you.