Pic Spam!
And now for something completely different ...
Pic Spam!!!
Following are the pictures we've taken over the past month or so. They're on all topics, organized under various LJ cuts. There's about fifty of them, so dial-up beware.
Before we really got underway with packing up the apartment, I took pictures of all the rooms, for sentimental value and also so that we could one day laugh at the egregious amount of clutter that we have. What follows is a truly frightening amount of mess. I did not clean up before taking these pictures. The apartment is much neater now ... because about 33% of it is packed into cardboard boxes. Whee!
We begin in the living room. Our living room is charmingly done in "eclectic Southwest," "Southwest" for the theme of the decor and "eclectic" because not a single type of wood used in the furniture matches any of the others. Okay, I'm lying: the endtables and coffee table match (both having come from my grandmother) and the CD/DVD/component shelves all come in Ikea Yellow. The wood atop the component shelf that keeps the aquarium from falling through and crushing the components, however, does not match, being of Home Depot Yellow rather than Ikea Yellow.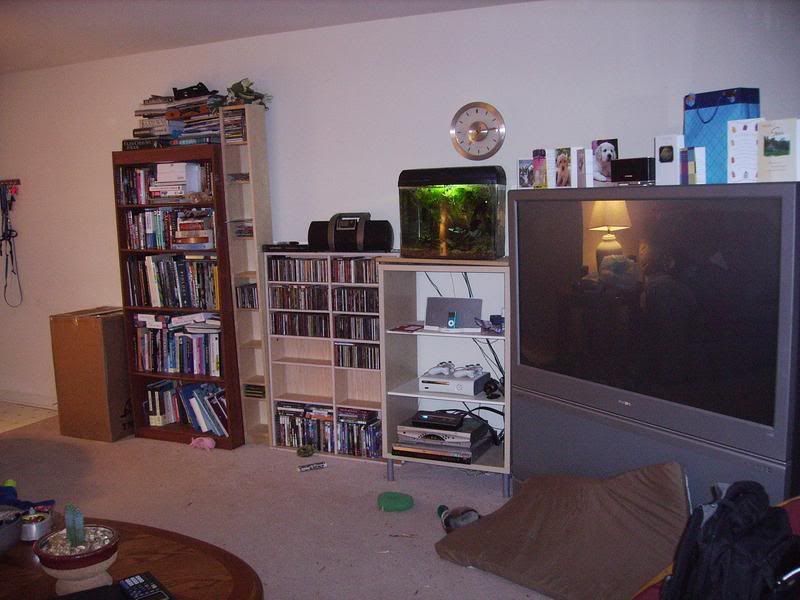 Unfortunately, we forgot that we wanted to take pictures until we'd already packed away most of the CDs and DVDs. That big box next to the bookshelf? Yeah. It's filled with CDs and DVDs. Not that we're movie people or anything ...
Now, we angle slightly to show the front door (right) and the hallway to the bedroom (left). Pengolodh Lord of Gondolin (a.k.a. my laptop) is on the love seat. Bobby is reading aloud from
My Pet Goat
on the couch.
I have no idea why there is a pink plastic tablecloth on the back of the love seat. *turns around* Yep, it's still there. Still don't know why it's there.
Another slight tilt. Bobby about to sneeze and, behind him, the Southwestern picture that we practically had to fly to Mexico to take ourselves. Southwestern paintings/pictures are very hard to find, for some reason, at least around here. Ocean Gallery, as usual, came through for us on this one.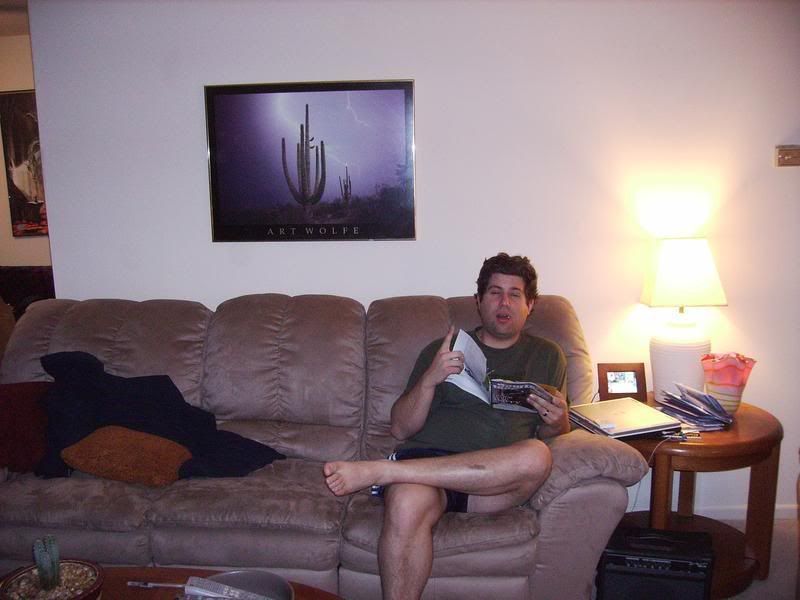 This one was taken from the bedroom hallway, looking towards the balcony. The daemon with glowing eyes is Alex. The shadow beside him is Bobby.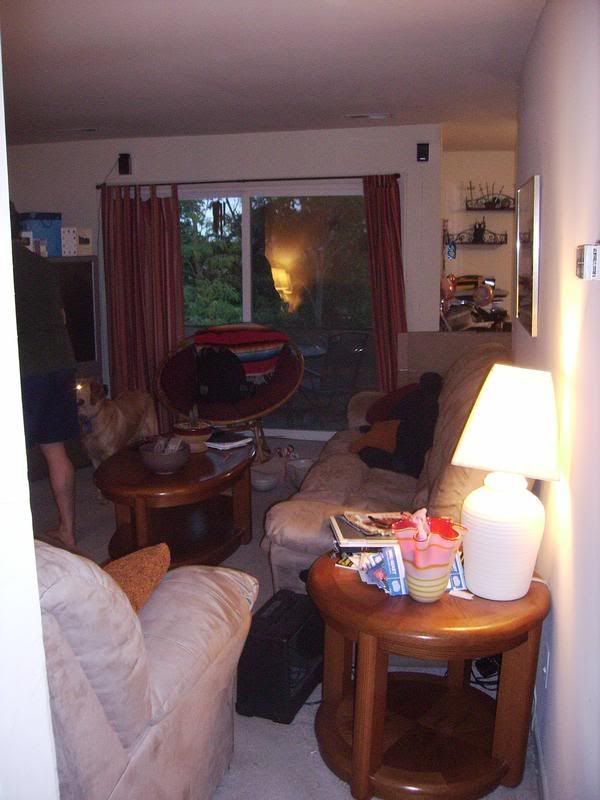 The mess to the right is the study, so let's go next to ...
... the study!
First of all, the desk:
LMAO!! Yes, I am supposed to work here! This is my art space as well as my computer desk. When this picture was taken, it was home to all of our computer accessories (except for the computers themselves, thank Eru), all of my miniatures-painting supplies, all of my photography equipment, and a good amount of other random junk. The shelves behind the desk hold my finished miniatures, but they are so miniature that they're hard to see in the photo, as well as our other geeky knickknacks. On the bulletin board are Alex's baby collars ... awwwww.
The other half of the study is not much better.
The futon is home to Bobby's hockey equipment and our hiking stuff. The bookshelf, aside from books, is used to hold all of Alex's stuff and my D&D books and notes. The bottom shelf, which cannot be seen because the corner is used for all of the musical equipment, is used to store ... yes, still more miniatures! Keep in mind that I have an entire huge box of miniatures in my closet too. I'm going to be painting miniatures until I'm an old lady.
Now for the kitchen, the one-time home of Nelyo's Custom Confections. Nelyo's Custom Confections is going through a slow spell because
I have no bloody room to make confections!
If you don't believe me: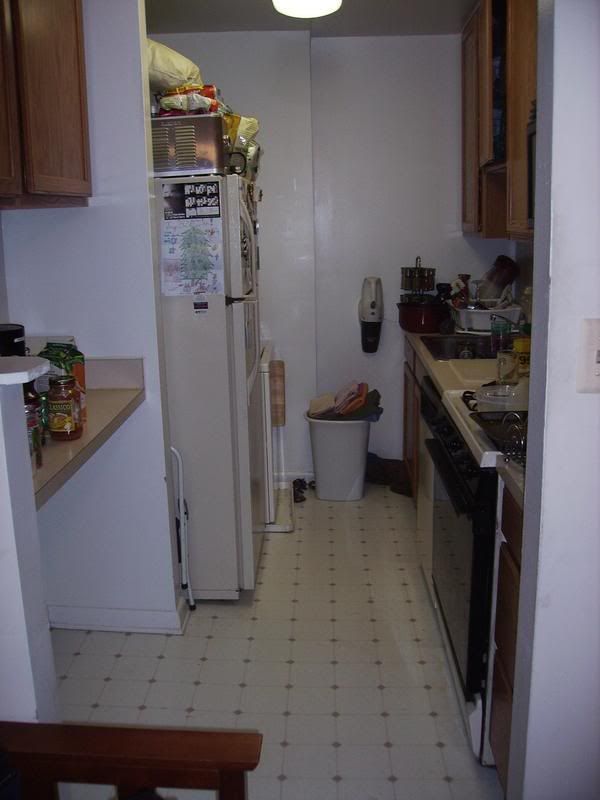 Not even a square foot of counter space.
On top of the fridge, that big metal box-like thing is my ice cream maker, which is also moldering from lack of use. But unearthing it from beneath the napkins, paper towels, and potato chips is like an archaeological expedition! And it weighs 40 lb/18 kg, so moving it is no small feat to begin with, and I take my life in my hands if I try to do it without Bobby's help.
The bathroom. Not much to say here; it's probably the tidiest room in the apartment. Yes, that is my underwear hanging on the shower because I don't have an effing laundry room to dry it in. Oh, the scandal of Dawn's underroos on LJ!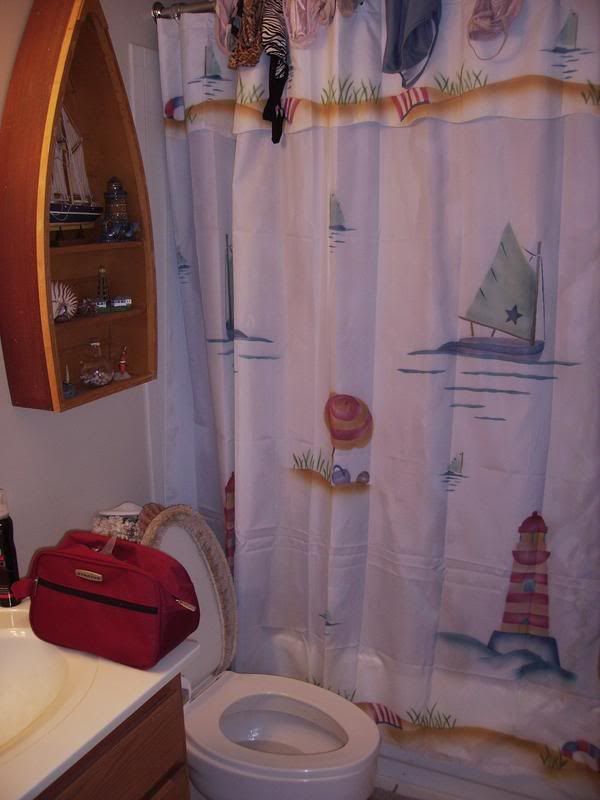 The bedroom, beginning with our very silly entertainment center. And honestly, we don't even need an entertainment center in our bedroom. In almost three years, the TV has been on a whopping
zero times
. We're nixing the TV in our bedroom on Bart Simpson Road.
Looking the other way, more clutter, mess, books, and laundry. And my stuffed unicorn Nelyo.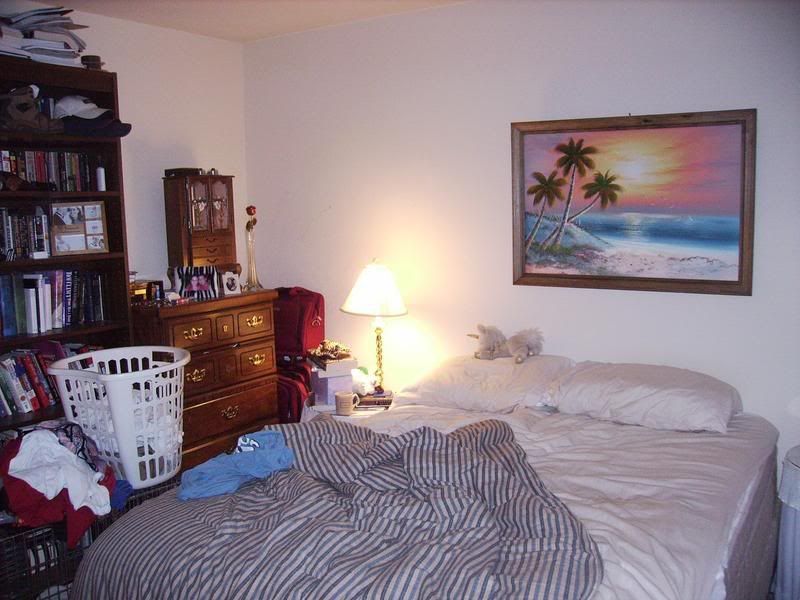 The painting is the original oil that we got at Ocean Gallery for just $39. We
adore
Ocean Gallery, and this might be the best of our many great finds there. We're designing our new bedroom around this painting (and moving the jungle stuff into the guest room since we'll actually
have
a guest room now!)
And the last one: looking towards the window/aquarium.
The aquarium clearly needed water at the time. o.O (And yes,
rhapsody11
, the fishies are all doing great! I'll try to give a better update the next time I do a life-in-points post. ;)
That's our scuba stuff stacked under the window. It used to live in the study, under the desk, but we moved it for no good reason. The baby gates block off the tree because Alex likes to eat the mulch in the pot. Alex flops around a lot in his sleep, and he has knocked over both the baby gates and the scuba gear in the middle of the night before, scaring the tar out of himself.
And now, we move onto the baby birds.
Last year, we had a
nest of house finches
on our balcony, in our hanging flower basket. We got another pair this year; I don't know if it's the same pair or a different one, but they're house finches again. The babies left a few days ago; I tried to take pictures every few days to show their growth.
The Day They Hatched | Day One, Morning.
You can see three babies and one egg. There is a fifth egg buried under them somewhere.
Now
you can get a glimpse of the fifth egg between them because the photographer may have poked the nest to make them open their mouths and chirp. *guilty*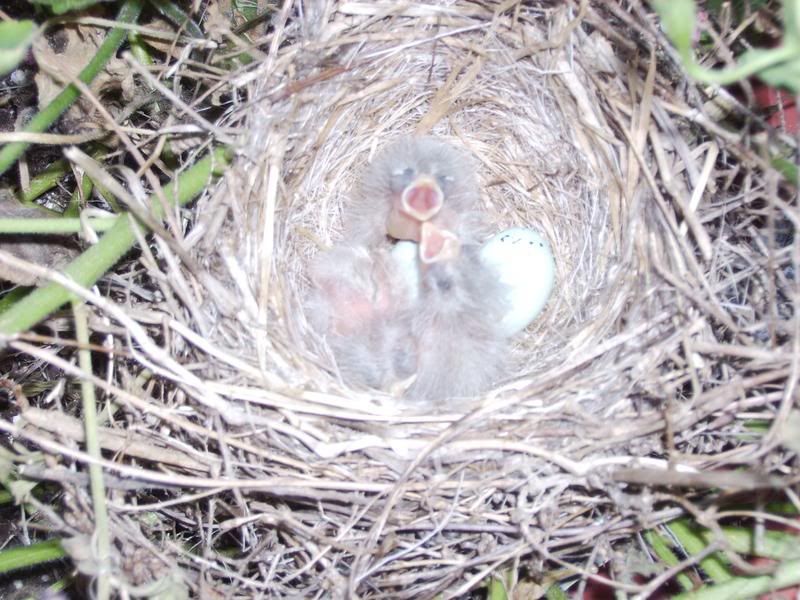 Day One, Evening.
Now, all five have hatched over the course of the day. Baby birds are terribly ugly ... yet they're also kind of cute at the same time. It's hard to explain.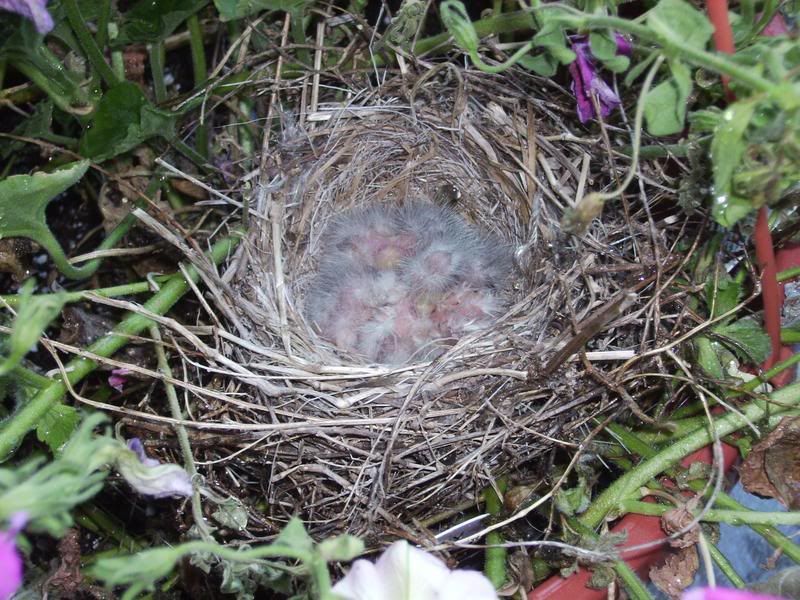 Day Three.
The babies sleeping in the nest. Not much exciting going on here except that they've gotten a bit bigger; they're still ugly.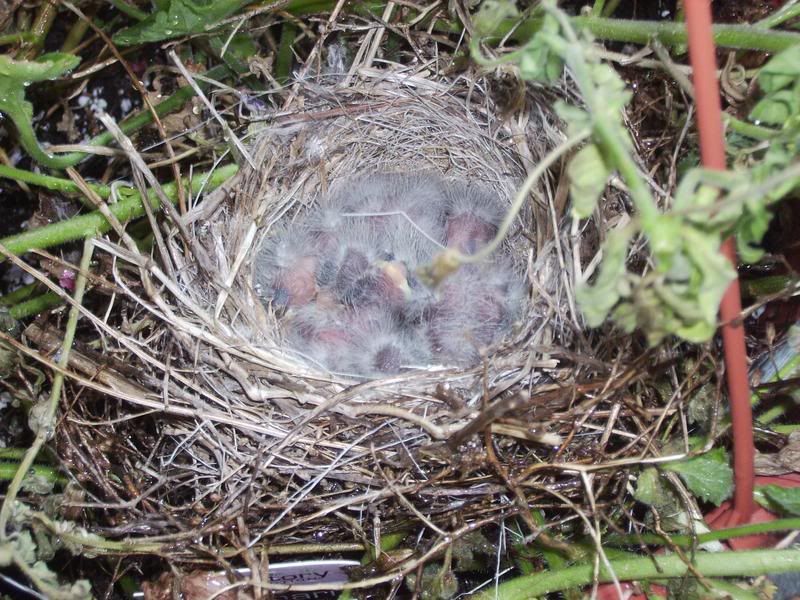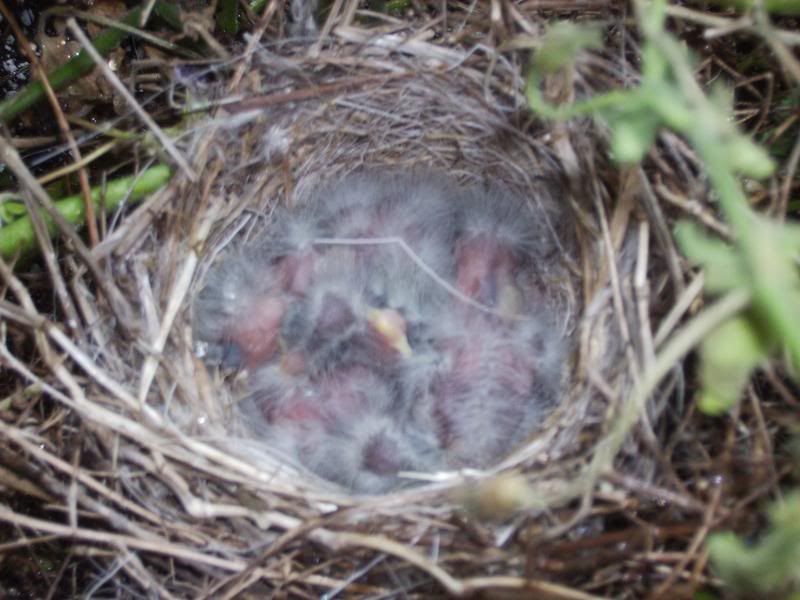 Day Seven | One Week.
Now
they start to get exciting. The flight feathers are starting to come in. They're also getting a little snug in the nest. And the one at the back looks like it has a mohawk!
The "worms" on the side of the nest are actually fresh poop. I'd never seen a baby bird poop before. Now I can say that I have. The things that we accomplish in life!
Here they are again, closer but blurrier. *needs macro lens*
And all of them curled up and sleeping in the nest.
Day Eight.
The next day, not much change ... maybe a few more feathers? A little less fuzzy?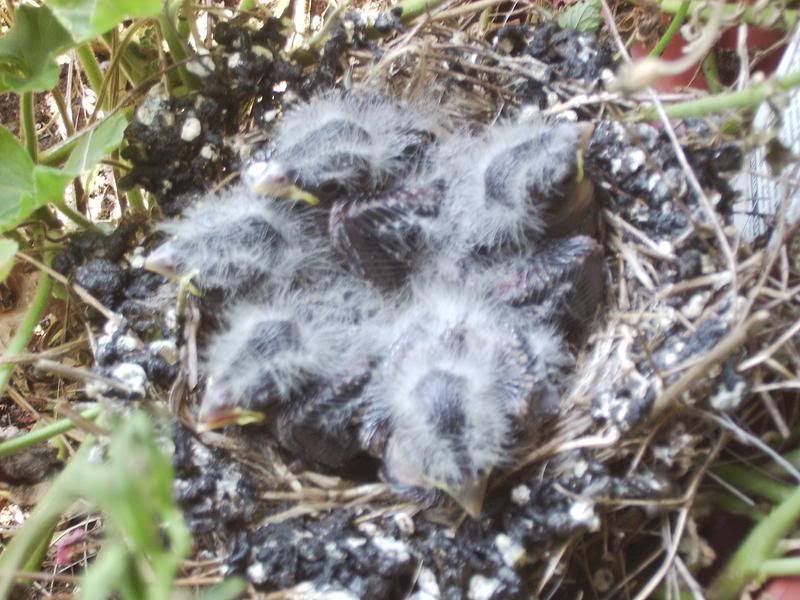 Fledging | Day Sixteen.
I took a few days off, being busy with the move and all. This was the final day that all of the birds were in the nest. They look like birds now and not fuzzy lumps of pink-gray skin! They're actually really cute.
They'd outgrown the nest and moved into the flower basket itself.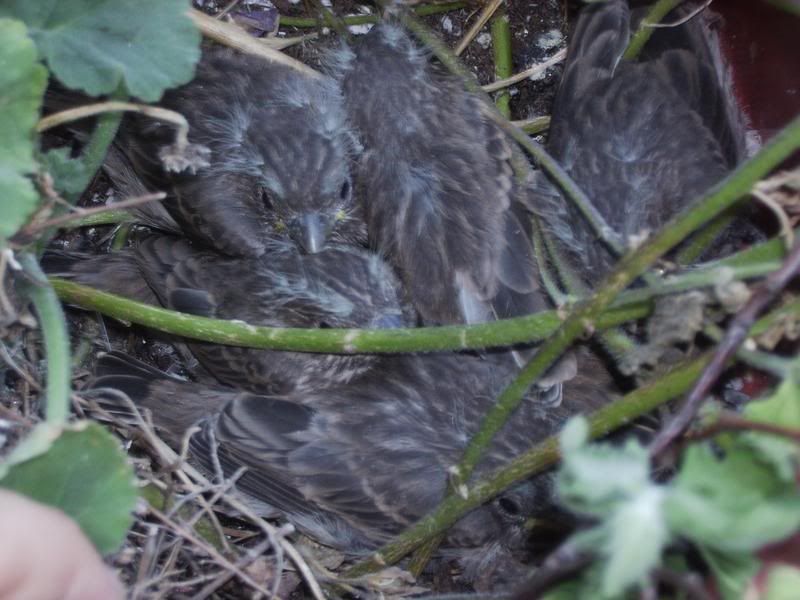 One flew away when I started messing with them to take pictures. Another hopped out and started fluttering around the balcony but clearly wasn't strong enough to fly yet. I caught him/her a few times, trying to return him/her to the basket, but the little one wanted no part of that, so I birdy-proofed the balcony and left him/her out there.
However, I did get a good picture: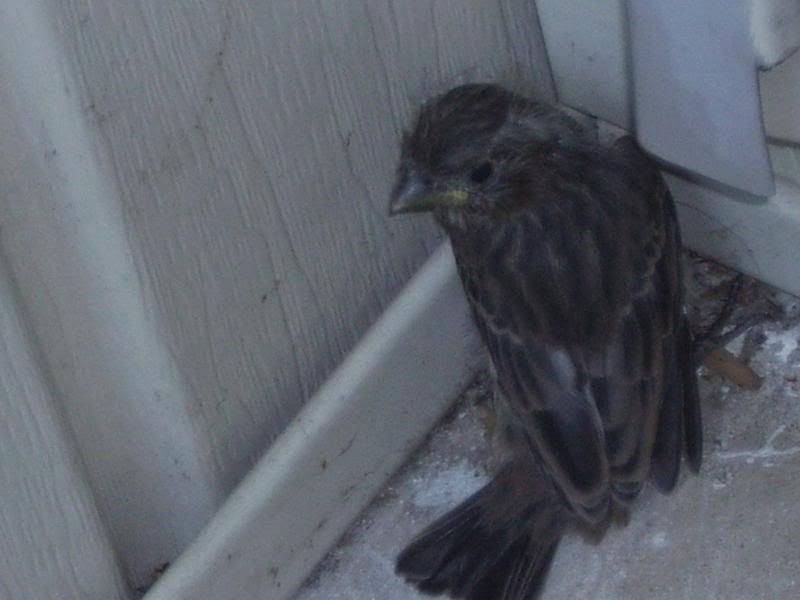 And an even better one of the baby and Alex, but I'll save that for last.
Yes, no pic spam would be complete without pictures of Alex. He's still growing and getting prettier by the day. All that puppy awkwardness is nearly gone, and he's getting feathers on his legs and tail.
He still loves it under the coffee table, even though he barely fits. Especially now that it's not, he loves to lay against the cool wood. He spends a couple of hours under there each night.
Some random happy Alex:
Bobby can still pick Alex up, though it's not as easy as it used to be, and Alex is not as fond of it as he was either!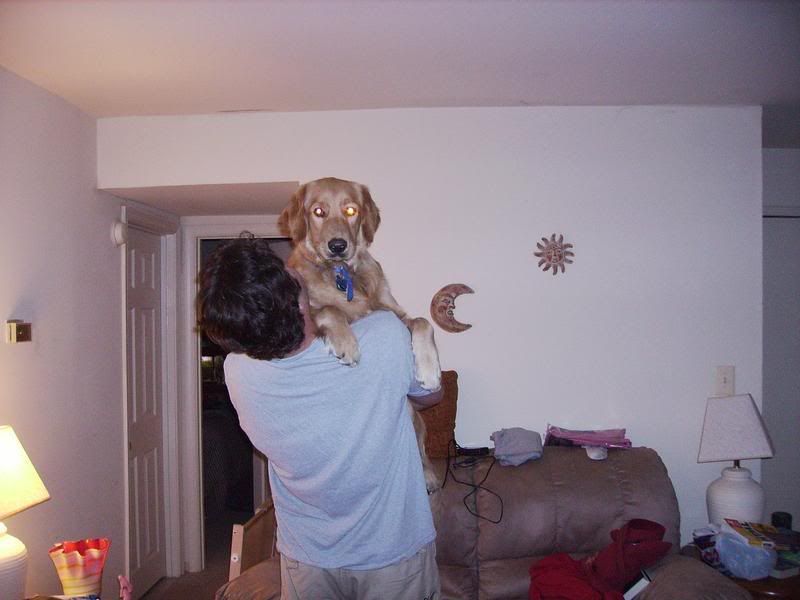 Alex was laying on Bobby on the bed. It was very cute ... but as soon as he heard me turn on the camera, Mr. Photogenic had to get up and pose.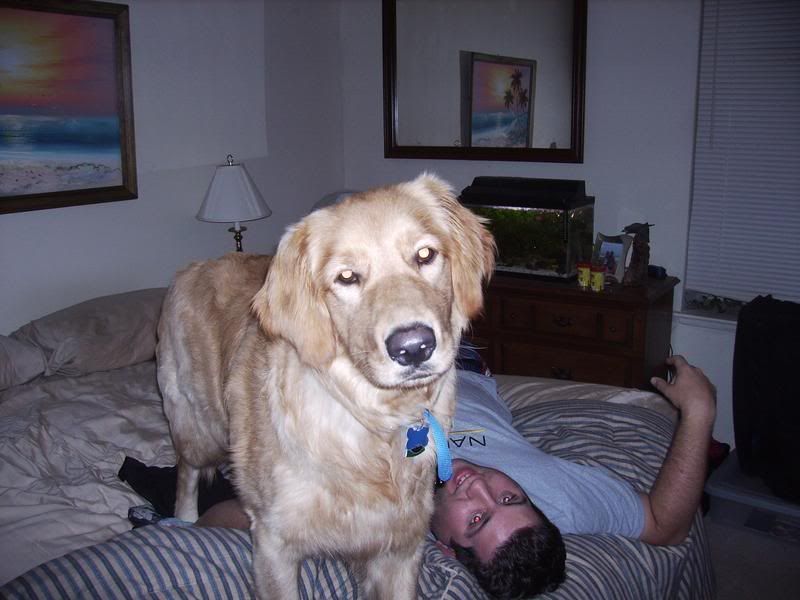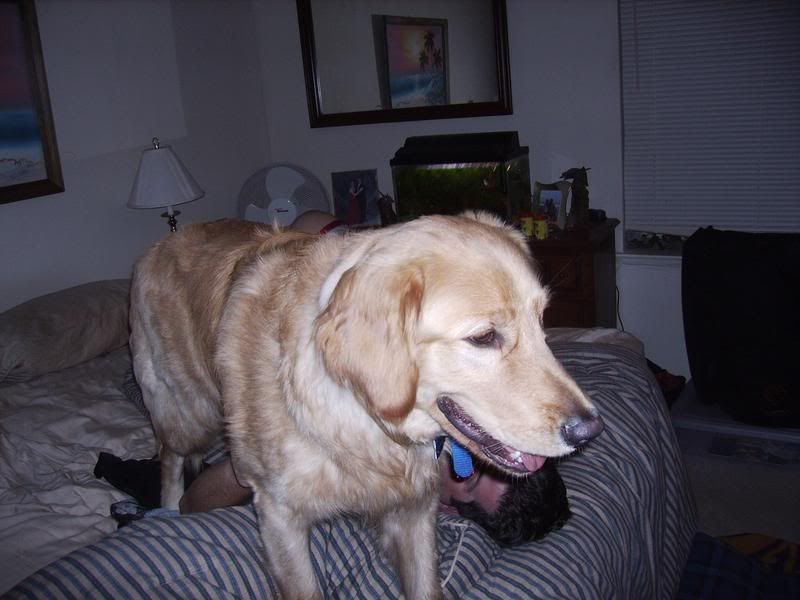 Sunday, 3 June was a Dog's Day in Ellicott City. Unfortunately, it rained, though we went and dutifully marched in the pet parade before deciding that it was not worth it. Here is Alex before we left, wearing his seatbelt and looking miserable.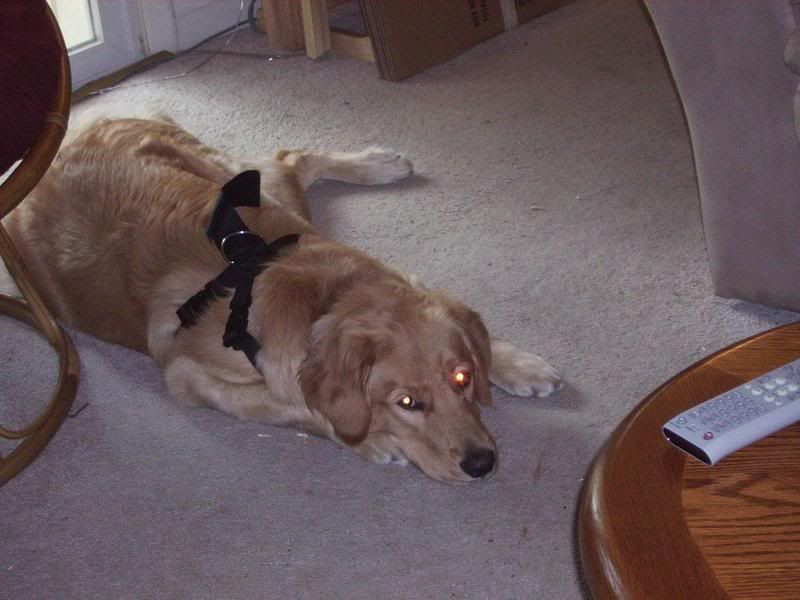 And Alex at the parade, in his fancy bandanna. The blue-toed feet belong to me.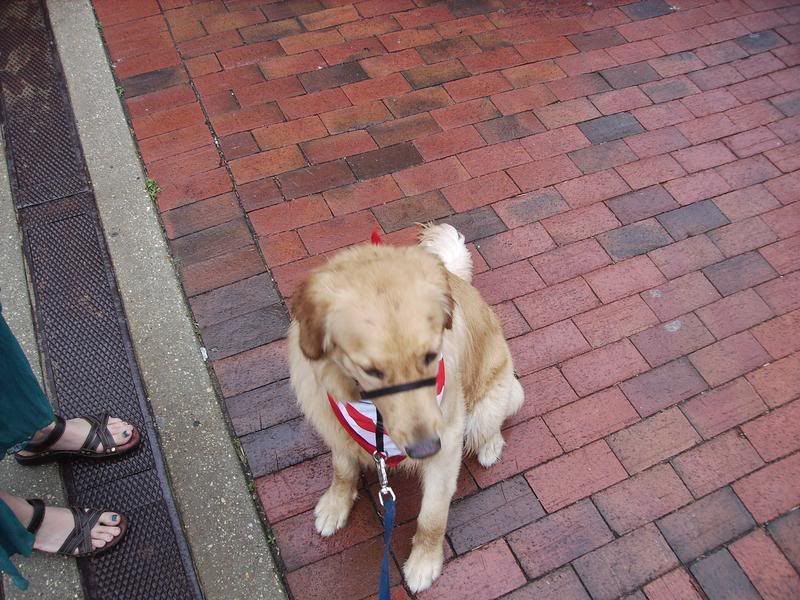 Alex making sad eyes at me because both Mommy and Daddy are "staring into those boxes," i.e. using the computers, rather than playing with him.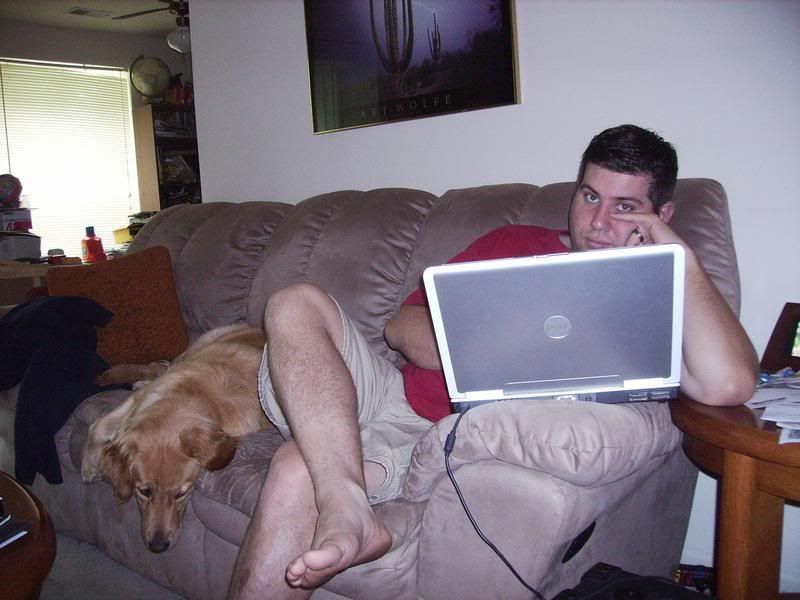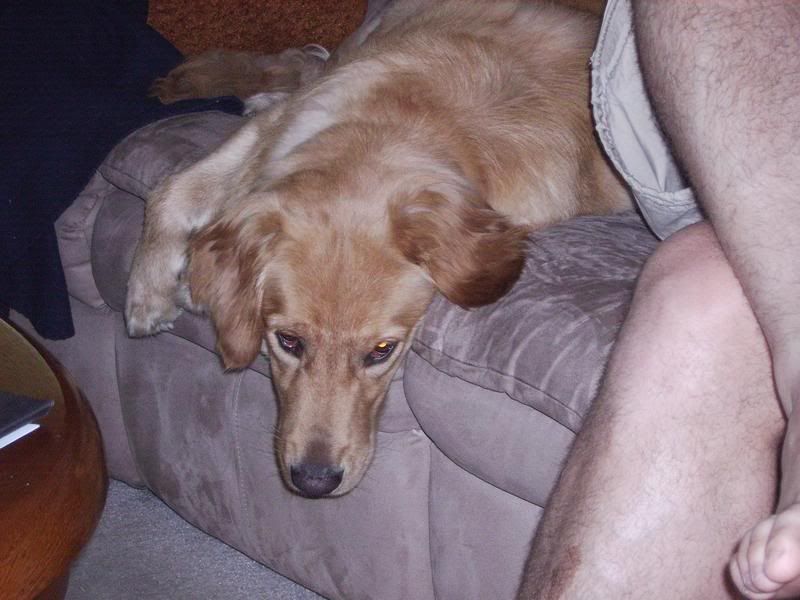 Alex and Bobby, Alex having made himself comfortable on the beanbag chair in the study.
Alex and his brontosaurus bone. He mows through rawhides now, so we got him this to last a bit longer. He still has it, amazingly!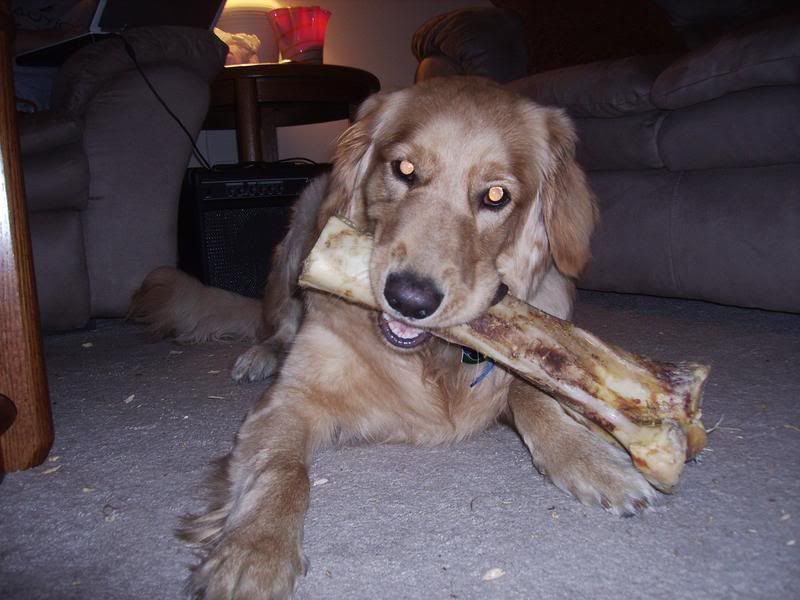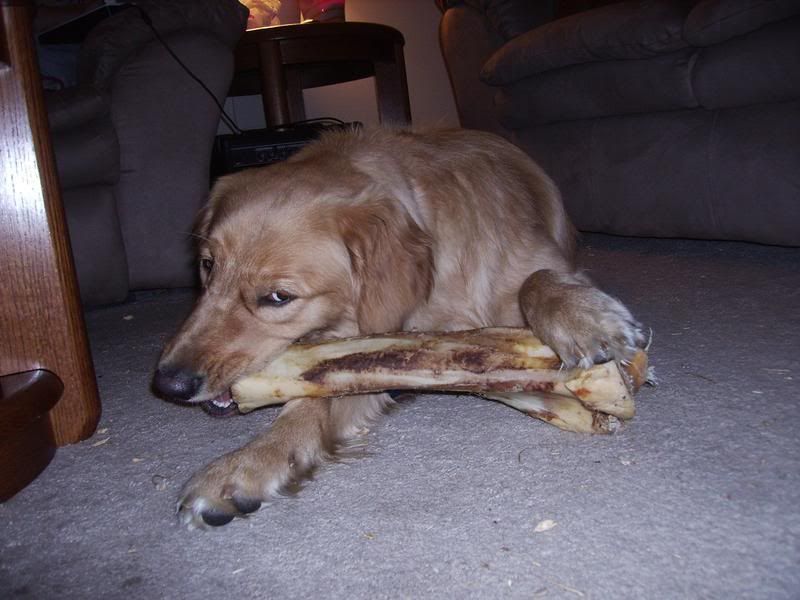 While cleaning out his closet, Bobby found his old ghostface mask as featured in the
Scream
movies. The year that the first movie was released, Bobby and I were still young enough to go trick-or-treating, and we both, along with both of our sisters, dressed identically as the ghostface monster and went marching, single-file and silent, around the neighborhood. We got a lot of stares and even more laughs!
Bobby dances with Alex as the ghostface.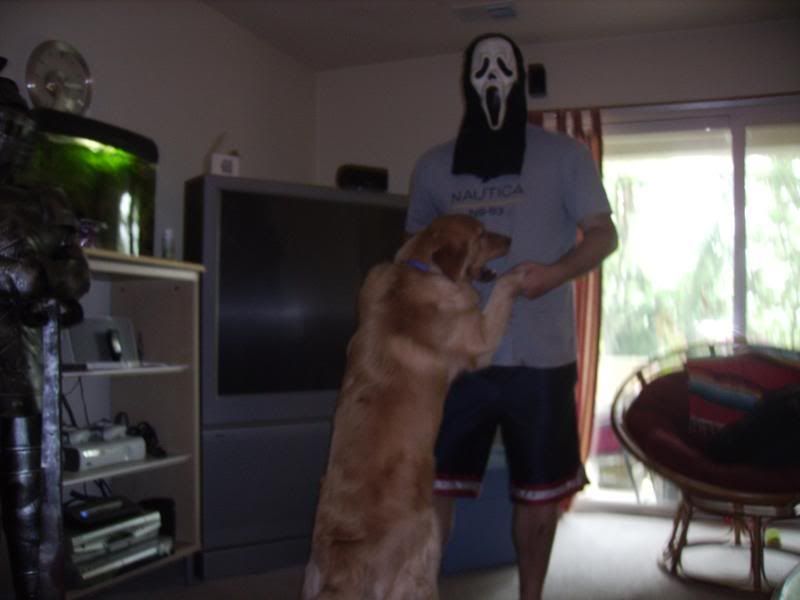 And finally, my favorite of the pictures. While I was messing with the baby birds, Alex was very curious about what I was doing. In all honesty, he was probably thinking, "Yum! A snack!" But I thought this was so cute: My baby dog and a baby bird, just fledged, gazing at each other through the glass.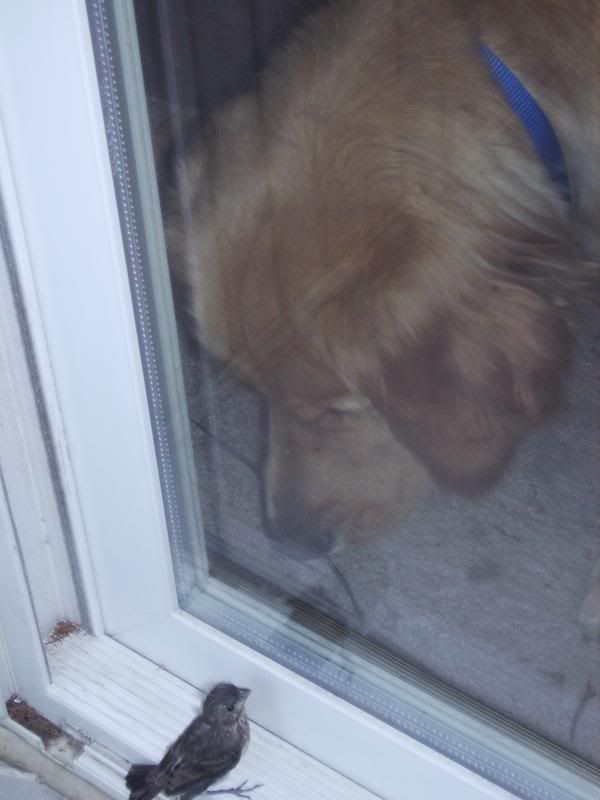 I have still more (yikes!) of Alex baby pictures just developed and pictures from Swallow Falls State Park, but I'll save those for another day.