Golden Sands and a Golden in the Sand
Massive quantities of Alex-and-sand-related pictures ... dial-up beware!
We begin with general Alex-in-the-sand pictures. Alex enjoyed the sand a great deal. He was permitted to dig in it, found the occasional piece of wood or shell to carry around, and was generally free to act like a nut (or, as Bobby calls it, "blow the stink off").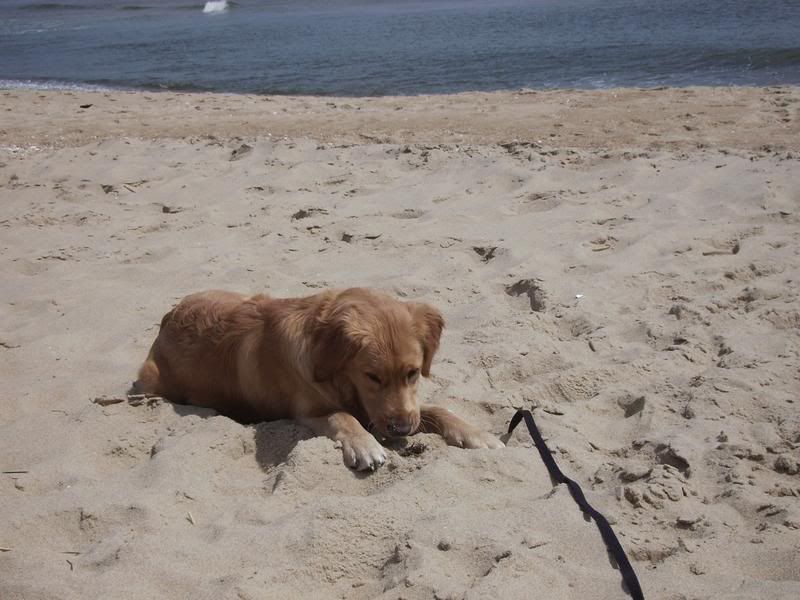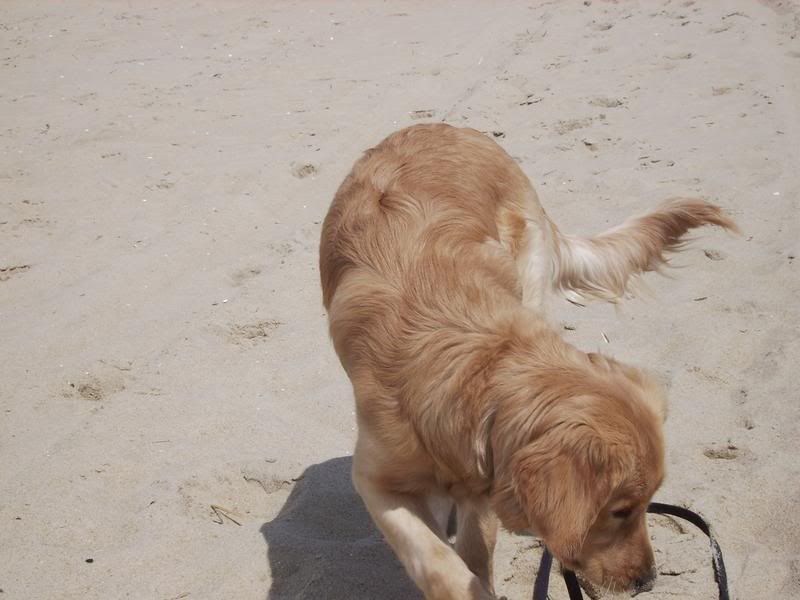 Here, I can almost hear Alex thinking, "Wow. That is one BIG bathtub ... Don't get any ideas, Mommy!"
(Alex, btw, is more than a week overdue for his bath. He needs it. He's getting one tomorrow.)
At this point, Alex begins his attempt at digging all the way through to China ...
Note the sand on the nose in many of these pictures, i.e. "I've been up to no good."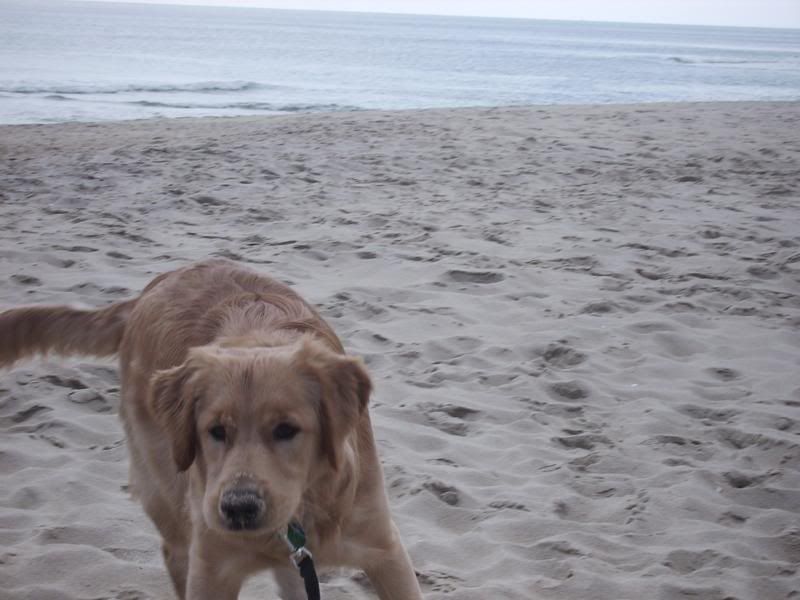 Here, Alex says, "I'm a happy guy!" Goldens do have adorable smiles. :)
But now, "Yech, I've eaten a lot of sand ... this might come back to haunt me!" (*ahem*
It did.
)
Alex is a Retriever. Here, he shows his retrieving skills by attempting to take himself for a walk.
The wind has its way with some floppy ears ...
Alex and his Daddy ...
Alex and his Mommy ...
Alex plays tug-of-war with his lead ...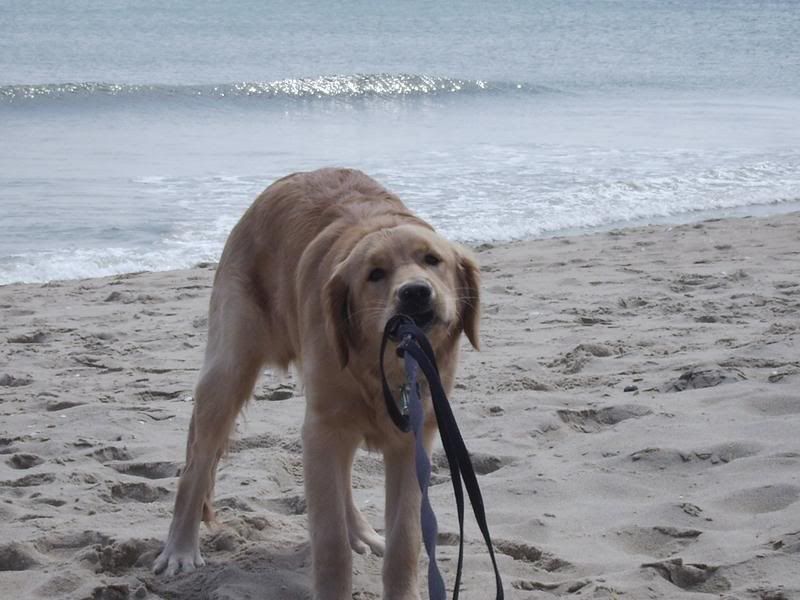 On the trail of somethin' good ...
I love this one. It looks, to me, like doggie joy.
And this one ... my beautiful little boy. :)
"You are the wind beneath my ... ears?"
"Sometimes, I have been known to bury my head in the sand."
(And Dawn loves the floppy ears spread out in the sand! :)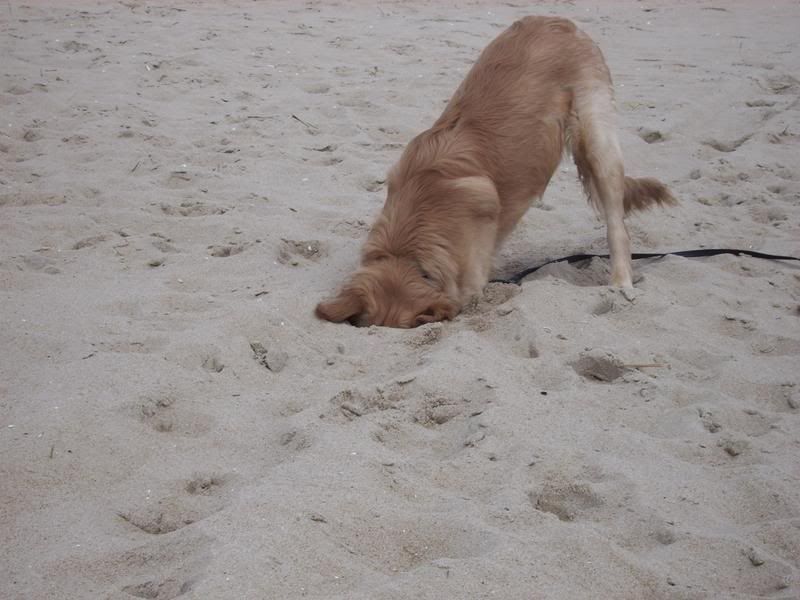 Playing with Mommy (who appears to be performing some form of awkward hip-hop dance) ...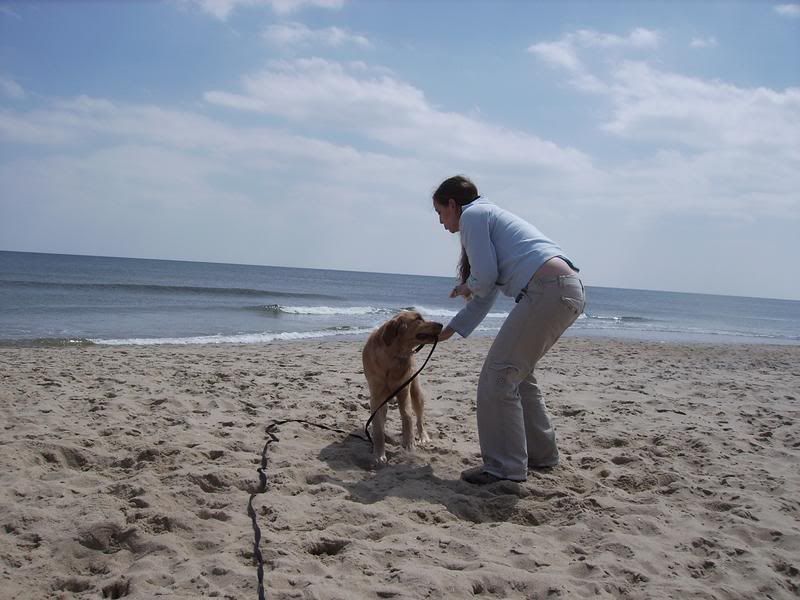 Alex struts his stuff with a piece of driftwood. What a proud Golden!
Alex playing with his Daddy ...
Alex's pawprints ...
Now we approach "the big bathtub." Here, Alex is thinking, "OMG. What is that thing? Why is it coming for me??"
"I don't think I like this ..."
"Shit. It got me."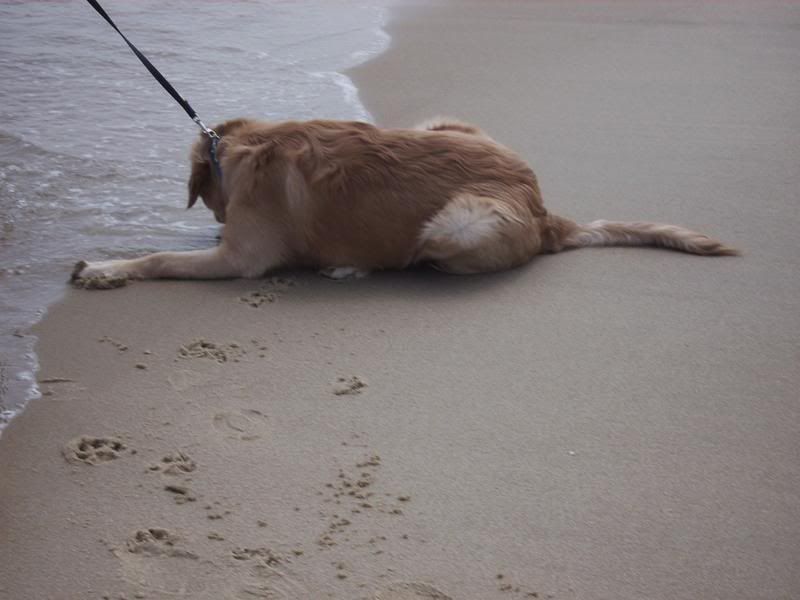 "Yikes!!!"
"Daddy, am I ever pissed at you!"
"Mommy, let me tell you what they did to me ..."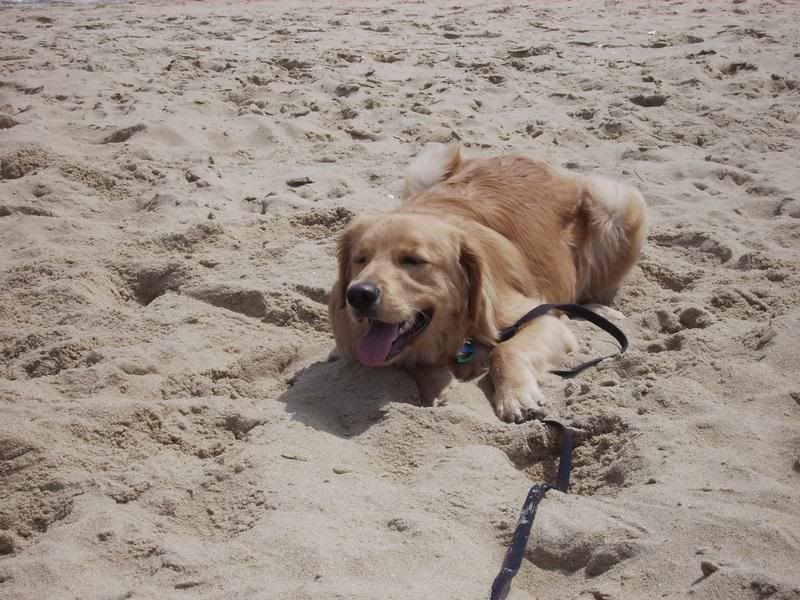 Now we come to Alex on the Boardwalk. We've been working with him on a chin lead versus a regular collar and lead (no, it's not a muzzle). It works like a halter on a horse and eliminates pulling. It's been a miracle for us; we had been leash-training Alex on a regular lead with some success, but he was unable to accompany us on long walks or trips because we had to be constantly in training mode. This lets us enjoy each others' company ... and I think that it also dissuades people from approaching us, as most people think that the chin lead is a muzzle. I don't mind people approaching Alex, but most people lack good petiquette and simply start shoving their hands in his face ("Awwww ... puppy!" ... bad idea; Alex doesn't bite but some dogs--even cute dogs--do) or ignore our attempts to control him before allowing them to pet or play with him. ("Oh, I don't mind if he jumps or mouths my hands! I have dogs!" "Yes, but we're trying to train him to ... *sigh* ... never mind.")
Anyway, walking Alex was a pleasant experience. Here he is, showing what a good doggie he is on the Boardwalk.
Mommy and Alex on the boards ...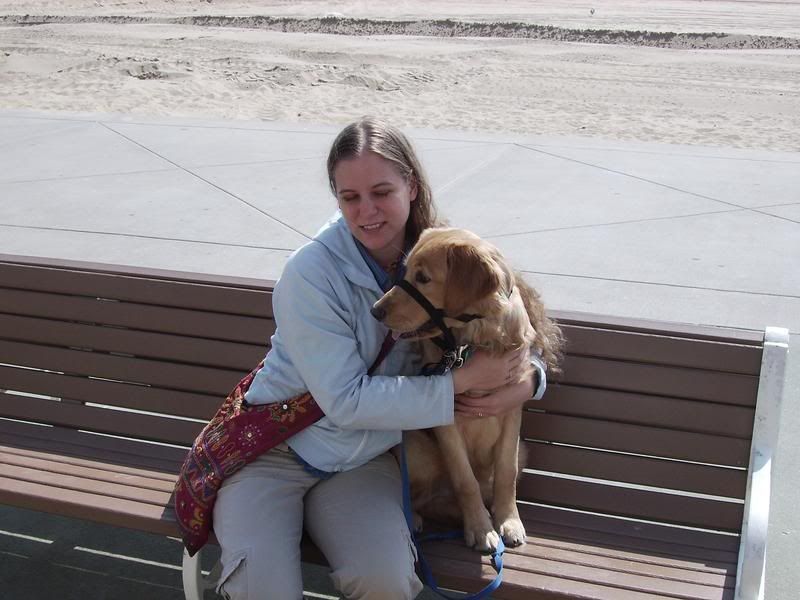 Daddy and Alex on the boards ...
At the Barefoot Mailman Motel, the front window looked out onto the walkway. One sad little Golden Retriever used to watch at the window and whine plaintively as his Mommy and Daddy went out without him. Only we uncovered it all to be an act ... not five steps down, there was a landing where we could peek up to see the window. Alex was gone from the window every time, probably devouring the steak treat that we left for him and on his way to taking a nap.
"Hmmm ... I might like this!"
I took these back at home tonight. When Alex was a little boy, Bobby used to carry him around with a paw over each shoulder and Bobby's hands under his bottom, like one might carry a little kid. Alex is beginning to outgrow it though ...