The Holidays in Few Words and Many Pictures
I've been too busy to write in my LJ (horror!) but I do want to remember this holiday. I did
lots
of stuff...hence being too busy to write about it all in my LJ. I will now attempt to write a brief summary of each (no rambling, Dawn!) and post the appropriate pictures.
Sunday, November 26th
(which, yes, I am aware is
not in December
!), we went to a farm in the Middle of Nowhere, Howard County, to cut down our Christmas tree. It's an annual tradition insofar as something done for two years now can be a tradition. This year was more difficult than most because we wanted a smallish tree that was rather sparse at the bottom, providing the least temptation to one carpet alligator. We found our tree, cut it down, and decorated it that same day. It looks a bit funny because the first two feet of branches have no decorations (ref. earlier remark about carpet alligator).
Alex did terrorize the tree, as expected. A tree suddenly appearing in the house is simply too much temptation for a three-month-old Golden Retriever to handle. He liked to walk by and slyly grab mouthfuls of pine needles, rendering useless any attempts to scold him or "make his tomato sandwich" (our code for a spritz in the face with water). We've since caught him in the midst of temptation now, though, that he pretty much leaves the poor thing alone.
On
December 1st and 2nd,
we went to Hershey Park for the Christmas event. Now this
is
a tradition, dating back many years, though as we've moved from penury as students, it has expanded from one evening to two days and a hockey game.
We arrived on Friday night, and the temperature was 76F (24C), which is beyond unseasonably warm. There were massive thunderstorms as a result and high winds. We had supper at the Hershey Grill, our usual haunt, and then trudged on down to the park...only to be greeted by a young guy who asked, "Are you going to the park? 'Cause they just closed it."
The winds were so high that they were terrorizing the Christmas lights and everything else. They had the walkway lined with Christmas trees, and even some of those had blown over. So this left us in Hershey--not a very exciting place, outside the attractions--with nothing much to do. We did the Dumb Tour Ride, which took about ten minutes. I remembered that we had a DVD player in our room, and I thought that I had seen a Blockbuster on our way to the park....
I was right. So we went and rented
Joyeux Noel
. The next problem arose when the instructions on how to operate the DVD player were horribly incorrect. It took Bobby a half-hour of tinkering and pulling out the TV to switch around wires before it would work.
Alas! He did manage it eventually, and we really enjoyed the movie and ate the candy that had come complimentary with the room. The next day, luckily, was not nearly as windy, so the park opened, and we did the usual array of rides, as well as the Dumb Christmas Show. The Dumb Christmas Show is really, well...dumb. But we do it every year. It's good to get out of the cold, if nothing else. And I actually think that the 2005 show was dumber than the 2006 show, surprisingly.
And cold it was: It dropped 30 degrees overnight and was 46F (8C) for much of the day!
Hersheypark also has Zoo America, featuring animals native to American states, so we strolled through that. It always amazes me--at the Aquarium as well as the zoo--how many people practically run through the exhibits. "Yup! An owl! Yup! Some otters!
Keep
it moving, folks! Gotta see the elk and the grizzlies in the next two minutes!" Bobby and I always stroll through, but then, we are kind of animal geeks.
Here are a screech owl and an elk. I don't think I need to label which is which.
That night, we went to see the Hershey Bears play. The
Calder Cup Champion
Hershey Bears! They won, and I was reminded that--despite my abiding love for one Alex Ovechkin--AHL is much more fun than NHL. There were three fights! Three! The game is just so much rawer, purer, if that makes sense. And Hershey is an awesome place to see a game.
A mere two days later on
December 4th,
we went via bus to New York City to see the Radio City Music Hall Christmas Spectacular. This was part of our Christmas gifts from my parents. We arrived around elevenish and went to Rockefeller Center to see the Christmas tree.
The ice skaters at Rockefeller Center.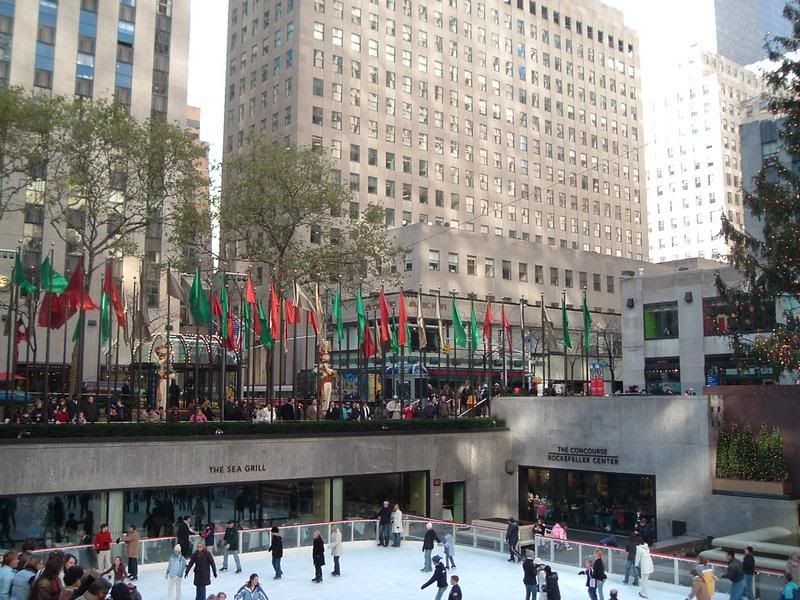 The dude at the bottom of the tree, who I am sure has a name but I don't know it. Maybe it's Celebrimbor flying through a giant Ring of Power?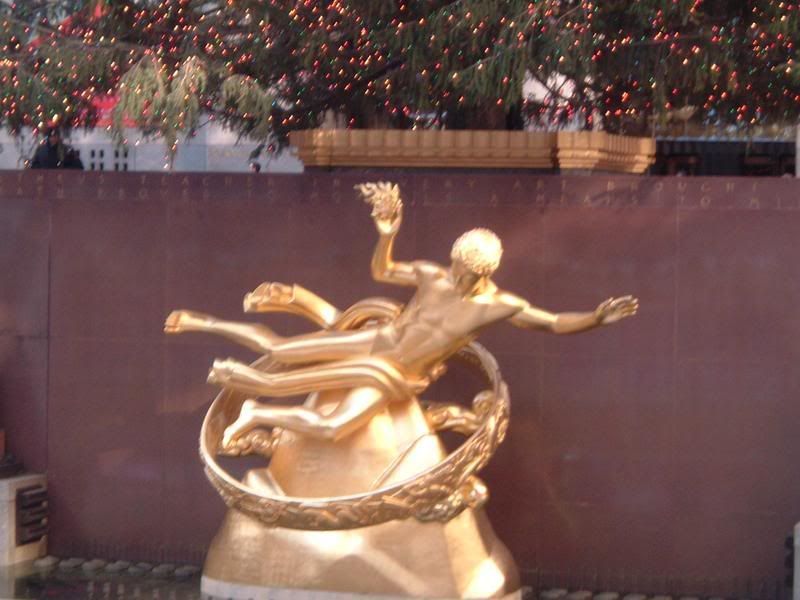 The Rockefeller Center skyscraper. New York is so...
tall.
This is me with some man that I picked up on the street. My dad took it with his camera which explains the date stamp at the bottom. *growls at dad*
Here are some random Christmas displays and decorations that we saw outside of the city. Radio City Music Hall during the day...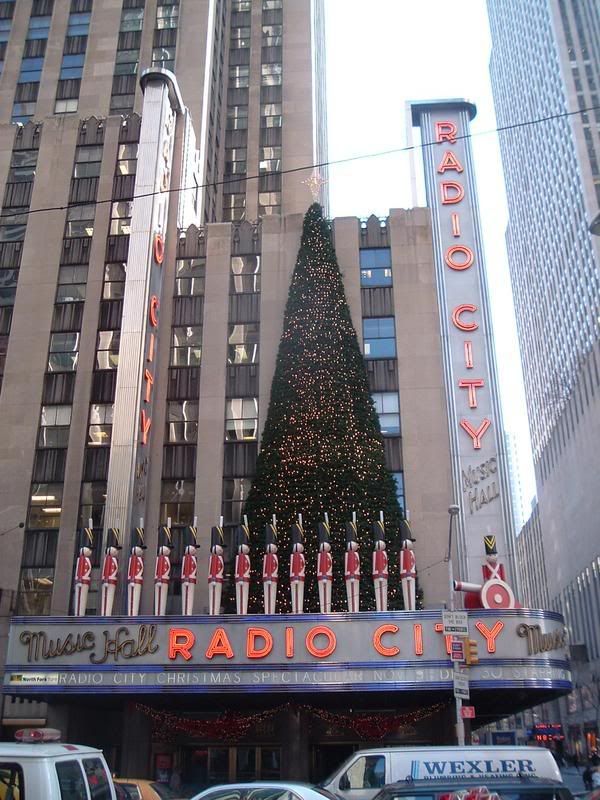 And across the street...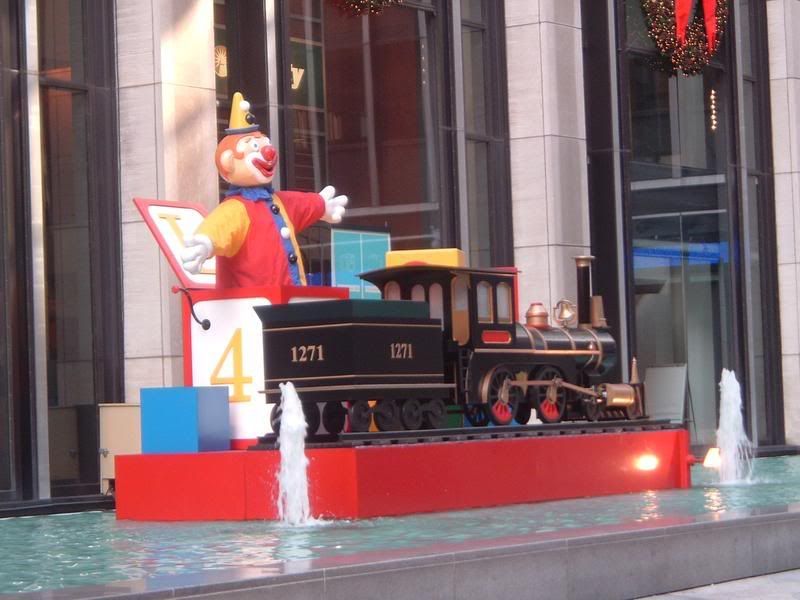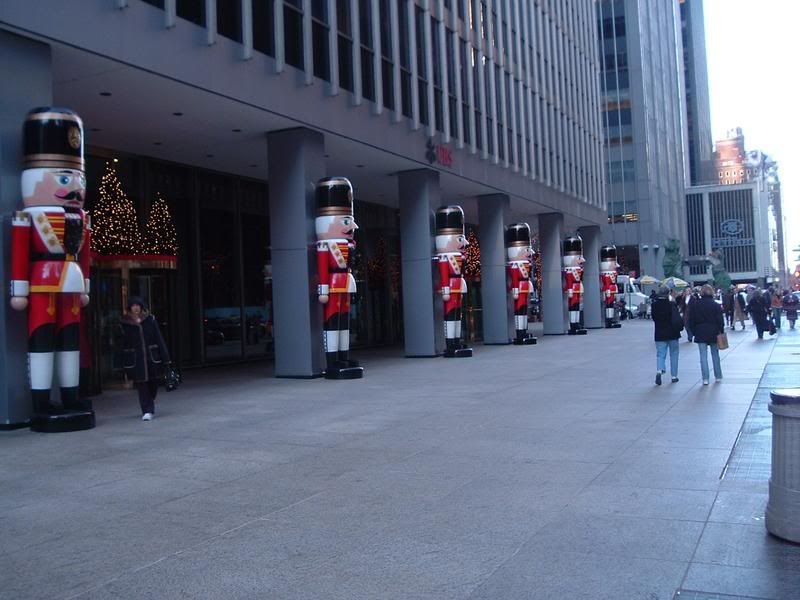 At Rockefeller Center...
Looking down at the Rockefeller Center Christmas tree...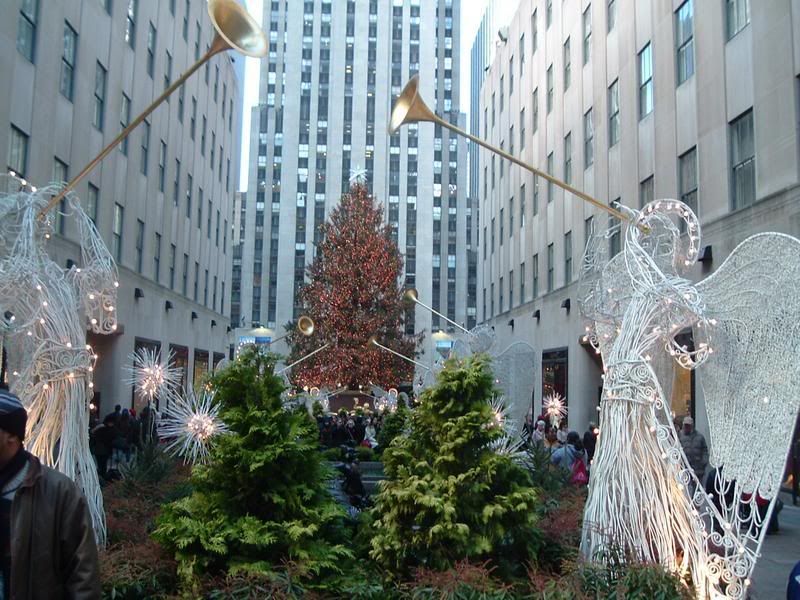 Next, we headed over to the Saint Patrick's Cathedral. We even went inside...and despite wary looks from all, Bobby's and my mere heretic presence did not cause the place to spontaneously combust! The cathedral was beautiful...though crowded. And we managed to lose the parents because I don't think either of us felt like submitting to a strip search in order to circle around the church a few times.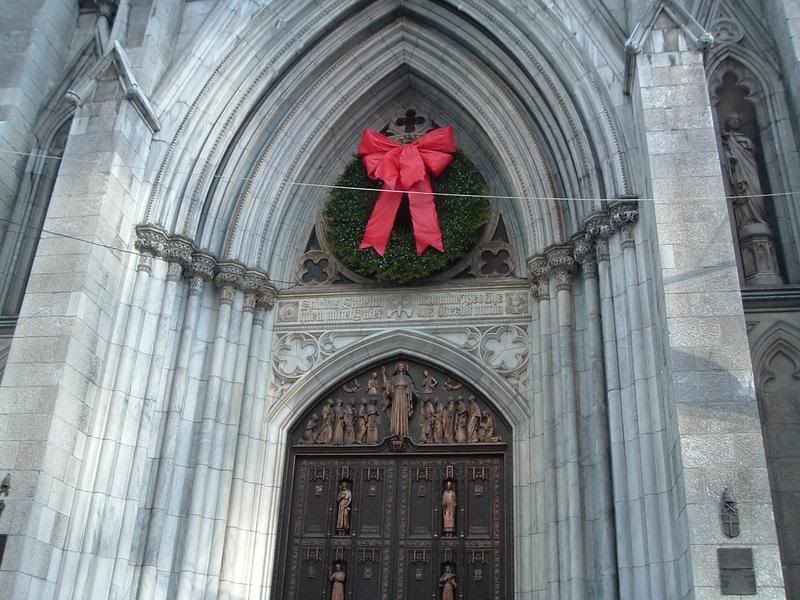 I had no idea that cathedrals were designed with typical Noldorin excess...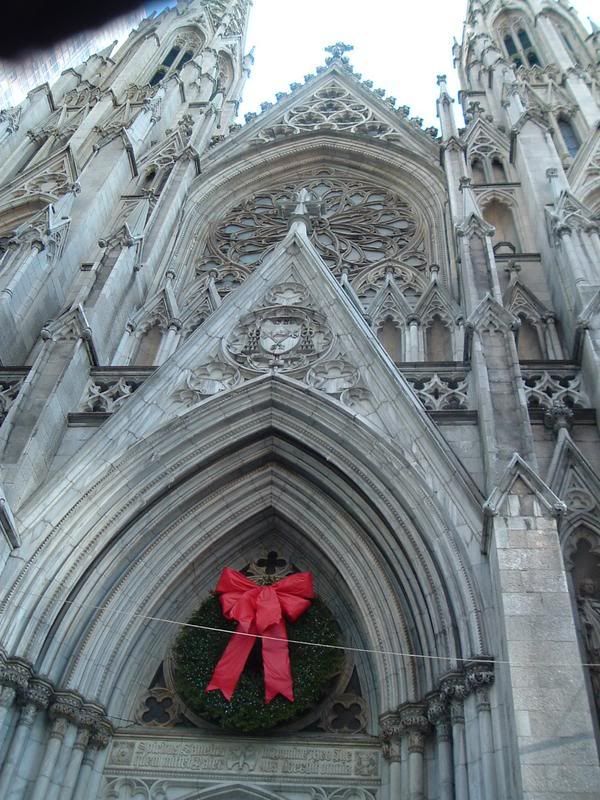 Inside of the cathedral...
And just outside, we found ourselves presented with the opportunity for some urban nature photography!
After that, we ditched the parents. Yes, we were that mean to send the people who had paid our way packin' with the inlaws and some of their friends from work. But we have a different style of touring, with Bobby and me preferring to be on the move constantly while the old folk...well, they sit down a lot. And smoke. And angst over where they're going and how to get there. Bobby and I just
go.
If we get lost, it's just part of the adventure!
We went to walk around Times Square first, and we spent a good hour in the giant Toys 'R' Us store. Outside, there was a queue about a block long that went into the store and down into the basement: people waiting to buy the Wii. (Little did I know that we already had
our
Wii.... *pointed look in Bobby's direction*)
The in-store Ferris wheel...
A giant Monopoly board with Wii Madness in the foreground...
The Statue of Liberty, constructed entirely of Lego blocks...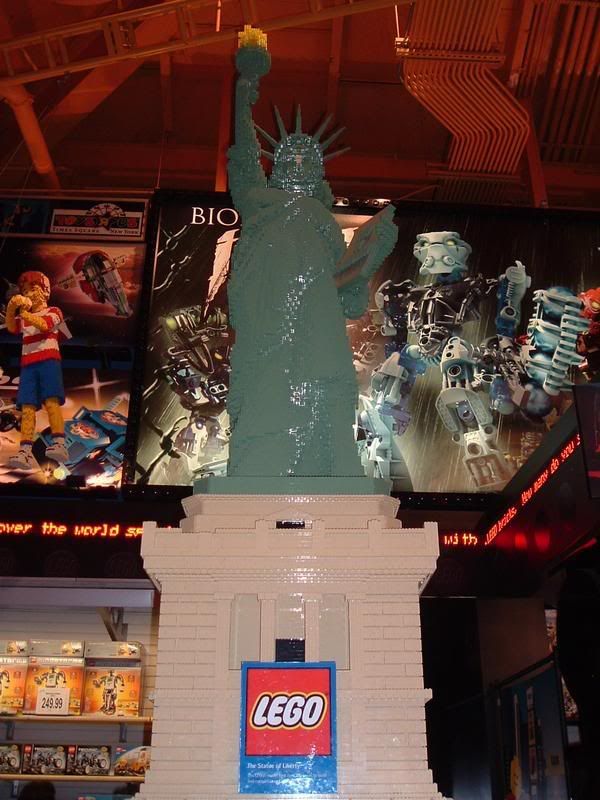 The Empire State Building--and King Kong--also made of Lego blocks...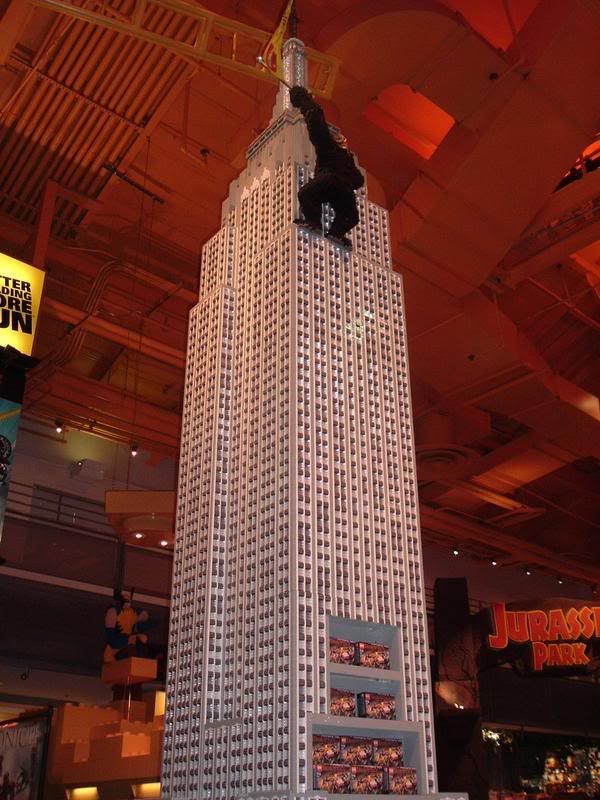 Times Square: big and shiny!
Only two days earlier, we'd seen the real thing! The Hershey's store...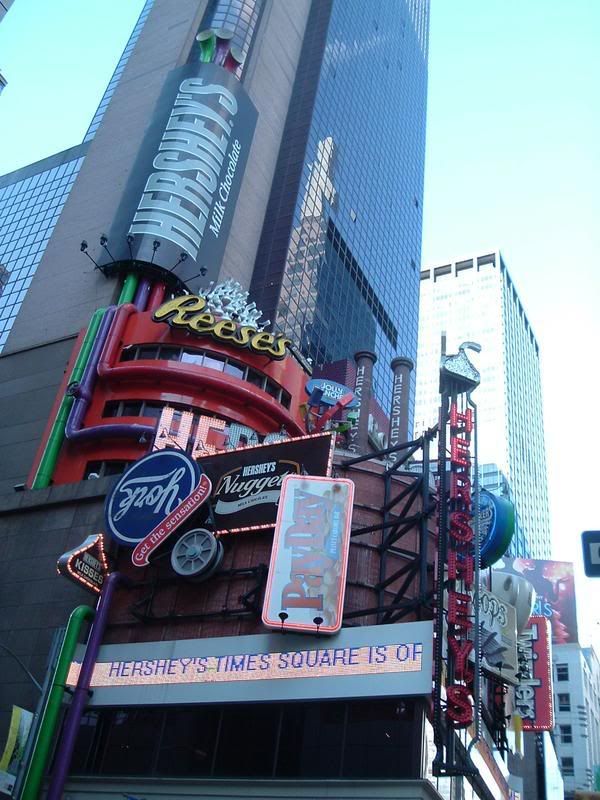 By now, we were getting foot-sore and hungry, so we stopped at an Italian eatery for pizza and salad. We had about an hour-and-a-half upon finishing before we had to be at the theatre, so we pulled out our map and saw what was nearby. The Museum of Modern Art was only about three blocks away, so we headed in that direction, managed to fenagle a student fee (for half-price!), and spent the rest of our time there. It was...interesting. Some of the stuff was really, really cool. Some of it was--in my words at the time--just silly. There was an aquarium with half-filled with dingy water and with three basketballs floating in it. We never did figure out that one. There was also a canvas that was plain white and slightly textured. But I can now say that I've seen a real honest-t'-goodness Picasso.
Next, we headed over to Radio City Music Hall and lined up for the show. After enduring the scrutiny of a typically polite New York City security guard--who was convinced that my digital still camera was a video camera--we found our way to our seats. They were, in short, awesome: in the front section, only about twelve rows back from the stage. Here's some pictures of the theatre as taken with my still-camera-posing-as-a-video-camera: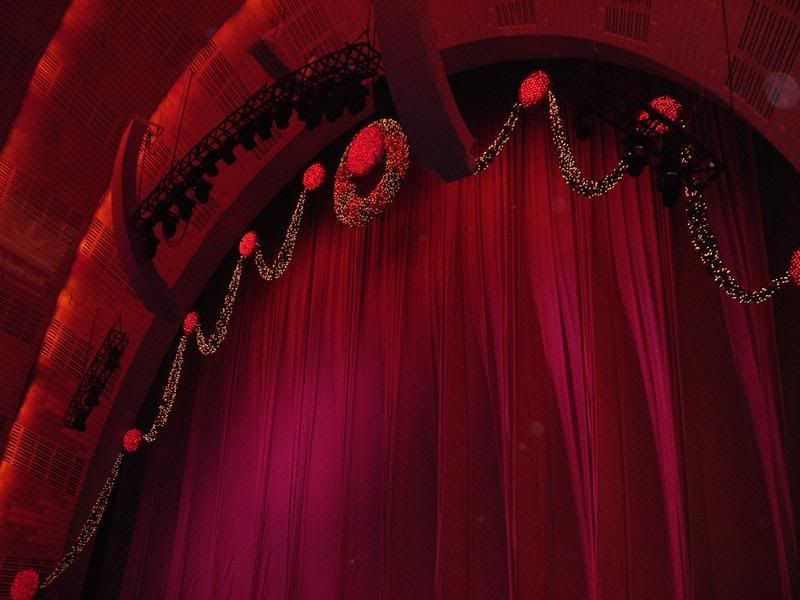 The show was fantastic, everything that it is purported to be. The music was great; the dancing was fantastic. As one who used to do such precision moves--albeit on rollerskates--I can appreciate the difficulty of what they do. And as a skater, I got to marvel at the song where an ice rink came out of the floor for a pretty impressive couples' performance (given the tiny ice surface). It was over much too fast, and then it was back through the very busy streets and to the bus and home.
Here are some shots of New York at night. Radio City Music Hall...
The crowded streets...
A light display...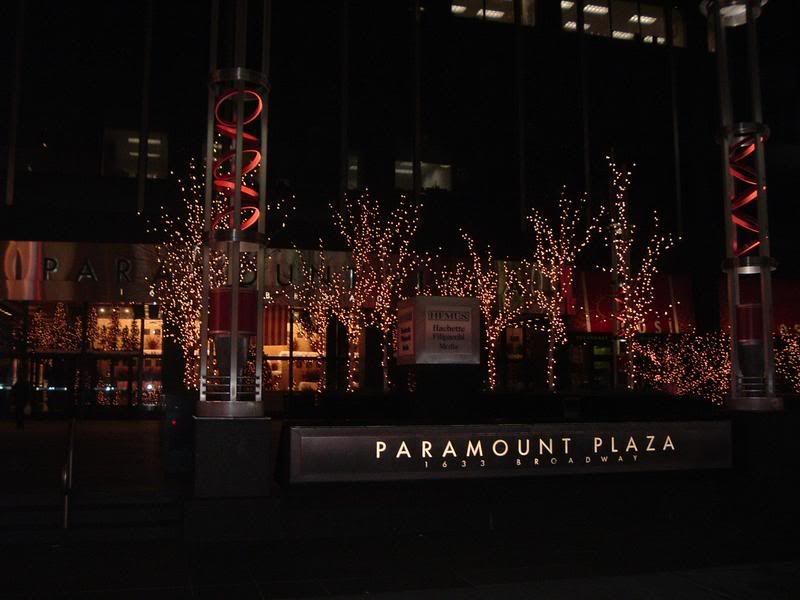 Times Square as seen through the bus windows (hence the bit of blur)...
(Note the ad for
Hairspray
in the lower right corner. Anyone know around which city's subculture
Hairspray
is built? Bal'more, hon!)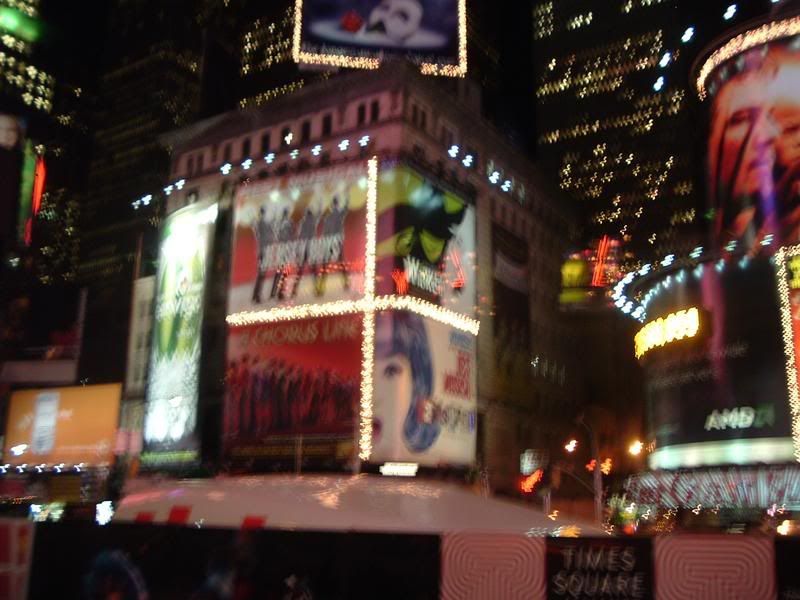 On
December 16th,
we went to the Meyerhoff Symphony Hall to see the Baltimore Symphony Orchestra's Christmas show. This was also part of our Christmas present from my parents. My family--as should be fairly apparent--has grown fond of giving shows as gifts, which is fine by me. Who needs junk when we can all get dolled up for a night on the town?
The BSO had been billing their Christmas show--only the second annual--as
better
than the Radio City Christmas Spectacular. It would take
a lot
to compete with that, in my eyes. And really, having seen both in close succession (and having seen the BSO program last year as well), I don't really think that it's easy to compare them. Radio City centers on the Rockettes. The BSO centers on...the BSO. The Radio City program is more visually appealing: the dancing is awesome, the sets are incredible, and there is an impressive 3D segment. The BSO program is more pleasing to the ears. There was a solo violin performance of "Greensleeves" that made me understand what it means to say one's heart
aches.
My parents liked the Radio City show better; my mother-in-law preferred the BSO. I liked them both and prefer not to compare apples and oranges.
Then came Christmas. I've summarized my Christmas
elsewhere
, so I will settle for posting the pictures here.
Here are our stockings. Alex's is filled and spilling over onto the shelves above.
And here he gazes longingly upon it, just
knowing
that it's for him. (And I make a cameo in my sexay new Steve McNair jersey!)
After Bobby and I got silly on champagne on Christmas Eve, Alex decided that
he
was old enough for a sip.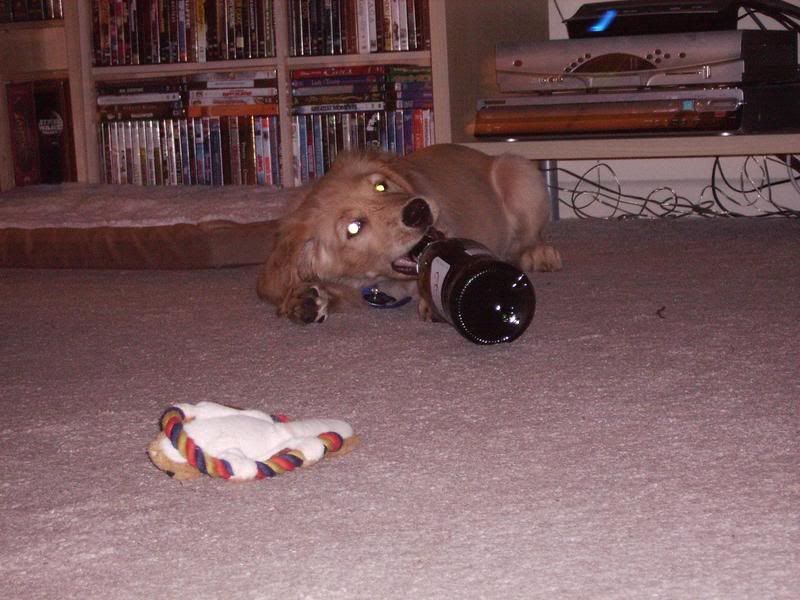 Before the gift-opening frenzy, here is our attractive and conservative pile of gifts. Unfortunately, we dared not chance them under the tree this year because of certain carpet alligators.
And after they'd been opened...
Before the damage gets bad, Alex gets started on his own version of holiday fun...
And the damage caused by a certain carpet alligator an hour later...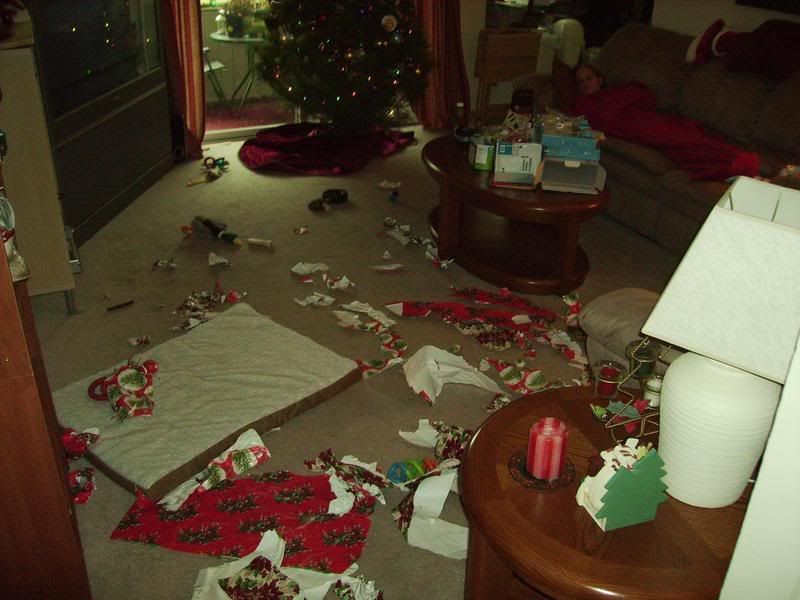 Alex enjoys his new pink squid that squeaks at the top and crackles at the bottom.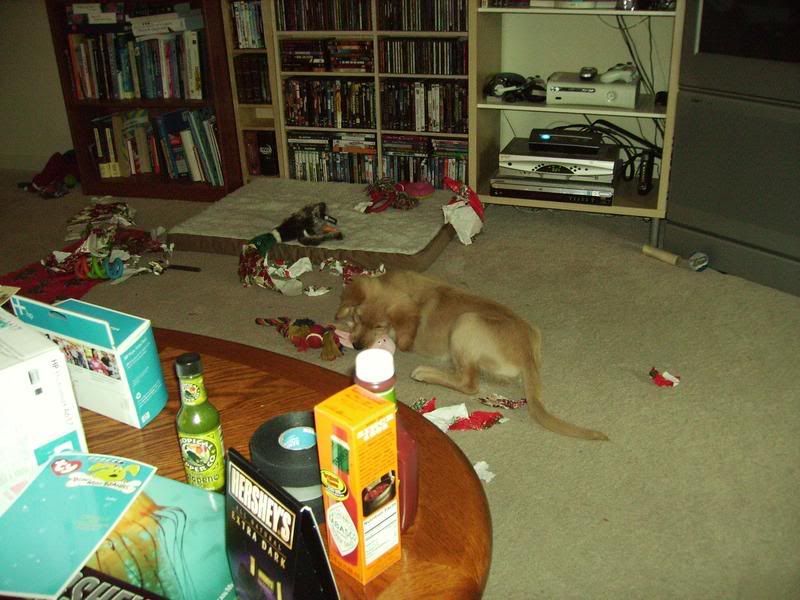 Because I know that y'all have always wondered how sexy I am in my animal-print pajamas trying to get the dog to sit like a gentleman before giving him a candy-cane-shaped bone...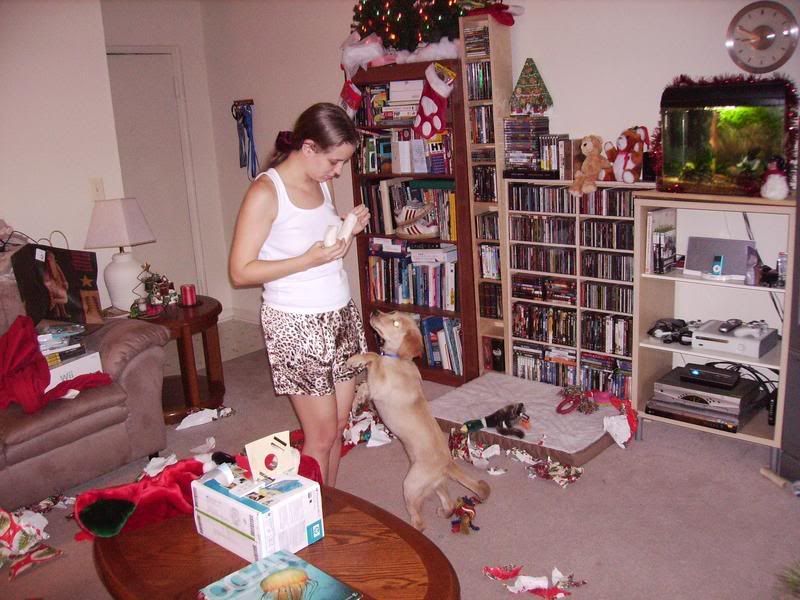 After agreeing to sit like a gentleman, he got to reap the rewards. He'd been stealing this bone from Bobby's closet all month!
Of course, why buy expensive gifts when wrapping paper is
much
more fun!?
Alex's Mommy is a tree-hugging vegetarian, so this is the only duck he'll ever get to retrieve.
Alex begins mauling one of his Christmas toys...
Dawn + Too Much Holiday Excitement =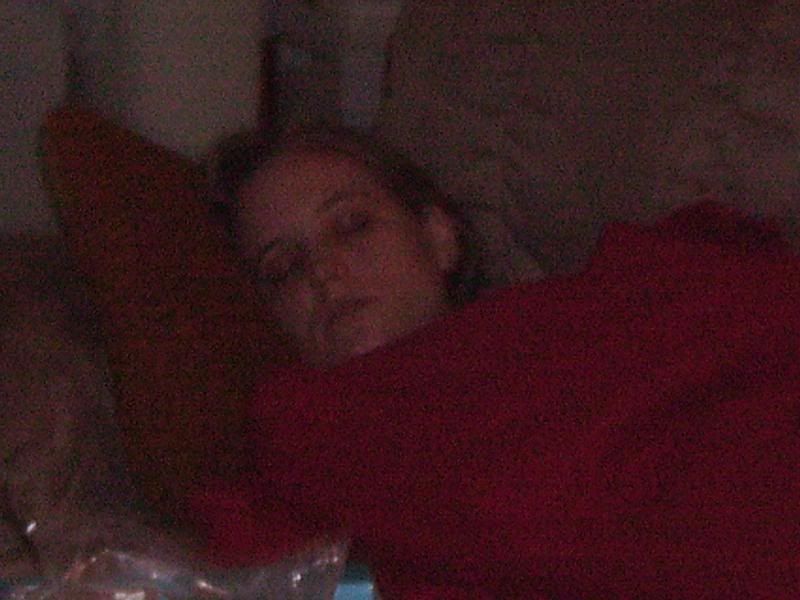 Later...I'm not sure why Dad is raising his hand. (The fat dog at his feet is
not
Alex--he doesn't grow quite that fast--but my inlaws' dog Toby. Or--as he is to Alex--Uncle Toby.)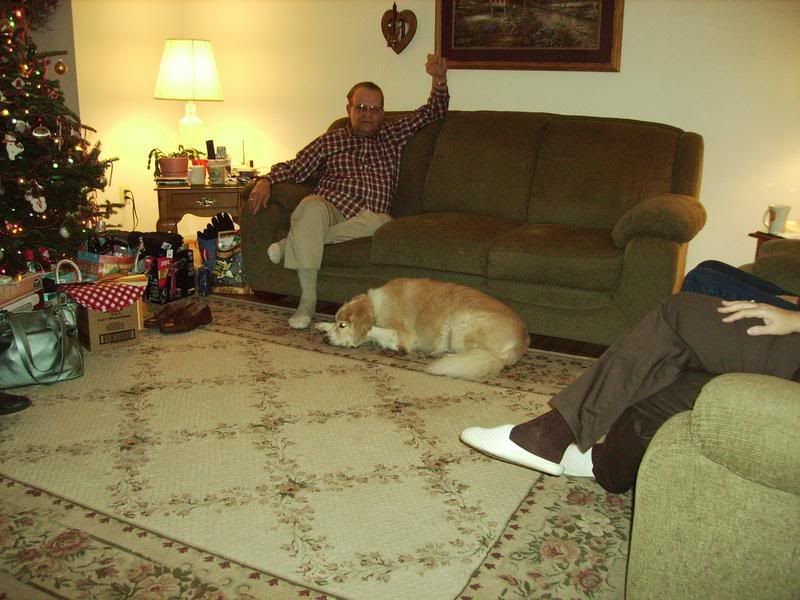 Uncle Toby up closer. Uncle Toby is half Golden Retriever and half Beagle and mean as a dragon. Alex is not allowed to play with Uncle Toby.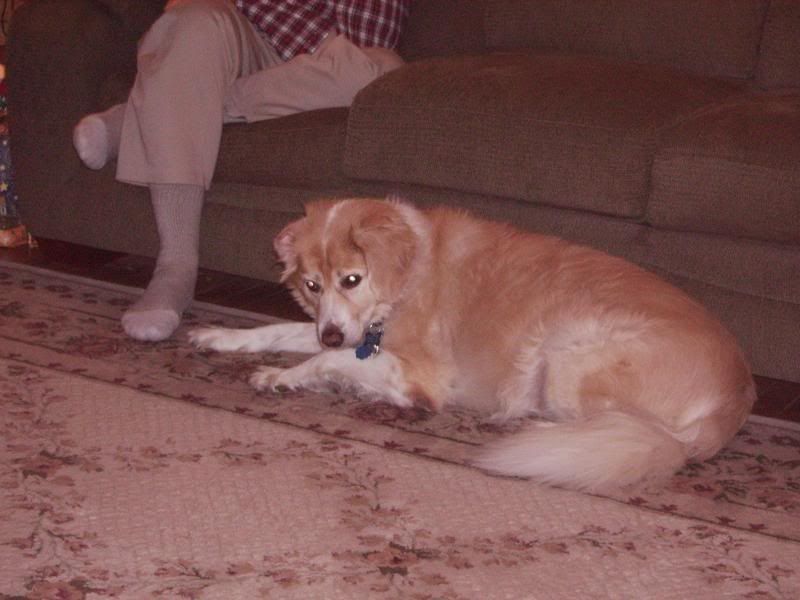 Me and best-good friend Potter pretending to be nerds. Note that we are just
pretending
to be nerds. Potter's Forrest Gump hairstyle and my all-black holiday ensemble surely proves that we are not.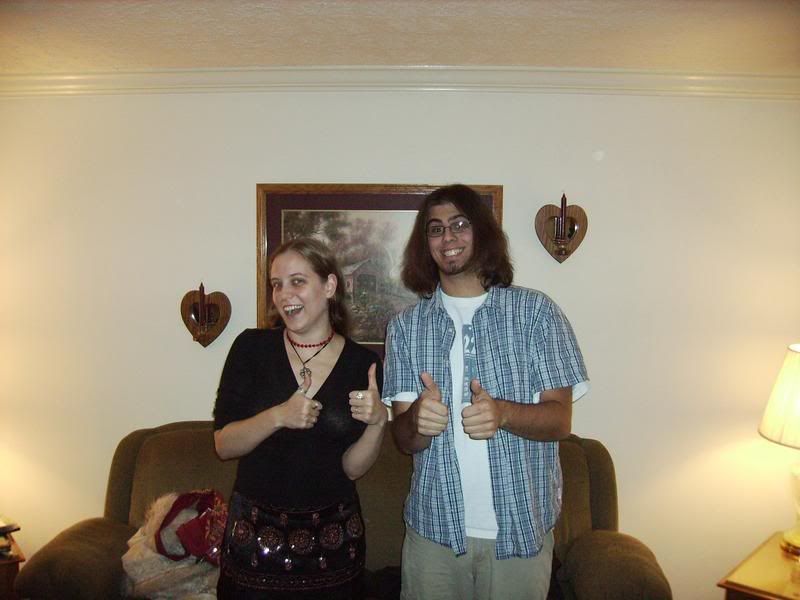 Another handsome man joins the group. Also known as the Rose between Two Thorns...
(For any fans of National Lampoon's
Christmas Vacation,
the Chicago Blackhawks jersey that Bobby is wearing in this picture is identical to the one that Clark Griswold wears in the movie, right down to the name and number. Bobby watched it on eBay for some time and then caved and bought it.
Christmas Vacation
is an annual tradition in the House of Felagund, so it just seemed right that he should have it.)
On
December 28th,
we went to see
The Nutcracker
performed by the Pittsburgh Ballet at the Hippodrome Theatre in downtown Baltimore. I've wanted to see
The Nutcracker
for most of my life, so when we got the chance to go, we grabbed it.
Nutcracker
tickets were (surprise surprise) part of Bobby's and my gift to my parents. The other half is (surprise surprise) tickets to see
The Lion King
on Broadway sometime in the spring.
The performance was beautiful. I marveled at the dancing and the athleticism that it takes to perform so strenuously for so long. Not to mention that the performance--the music, the set, the costumes, and most of all, the ballet--was simply breathtaking. It was easy to become so absorbed, to get lost in the fantasy. Even the boys--Bobby and my dad--enjoyed themselves. My mom and I were bowled over, but then she--like I--has also wanted to see this for some time now.
That brings us to New Year's weekend, the
30th and 31st of December.
I started my aquarist assistant apprenticeships on these days. I've written about it in better detail
here
in
the_nautilus
. To sum up my first two apprenticeships...
I spent a good amount of time shuffling between an enclosure that housed a 16-foot (5.3 m) anaconda and an enclosure with a half-dozen small alligators called caimans. This rather redefined "workplace hazards" for me!
I feed the piranhas.
There was a veterinary emergency involving a pelagic stingray and a prolapsed reproductive tract. (She was fine, last I heard.)
I met about ten baby southern stingrays.
I helped to feed a shark.
Anyone who knows me then knows that I love being there! Even if I have to wake up at 6:30 a.m. on the weekend!
On Sunday, New Year's Eve, after waking at 6:30 a.m., I left the Aquarium at 12:15 and drove home, donned my Ravens' regalia, packed up Alex and an overnight bag, and drove to my parents' to meet my father-in-law and go to the park-n-ride. Sunday's Ravens' game was part of both of our Christmas presents from Bobby. He got the tickets back in September, back when everyone was still saying, "Well, maybe the Ravens
might
make the playoffs...." And a rather wishy-washy "might" at that. After winning the division, Sunday's game against the Buffalo Bills meant more than anyone expected. If we won the game, we clinched a first-week bye during the playoffs. If we won and San Diego lost, we placed first and got not only the week-one bye but
also
home-field advantage through the entire playoffs.
Well, the Ravens won. So did San Diego. So we've got our bye and most games at home, unless we have to face San Diego. Then we'll play in their shop.
The game was great! I love football games: screaming till I'm hoarse, observing the "Make 'em puuuuuuunnnntttt!!!" tradition* until I'm lightheaded...yes, football games are awesome. Unfortunately, with the Aquarium and all, I could not paint my face. Next time....
*When we are defending important third downs, I have a tradition of shouting in a gravelly voice, "Make 'em puuuuunnnntttt!" until I almost pass out. Yes, it is probably stupid. Well, I'm blond. And I love my Ravens. And I'm superstitious about my sports, so I believe that it works. Giving the sign of the evil eye when the other team has to kick an important field goal also works. As does not washing the jersey until the team loses. (I just found out the other day that Bobby has yet to wash his Ed Reed jersey that I got him four Christmases ago because he's afraid to. I guess when Ed retires, it can finally go into the laundry.)
We tested out the SeaLife camera at the football game!
Before the game, fans file down the Ravens Walk.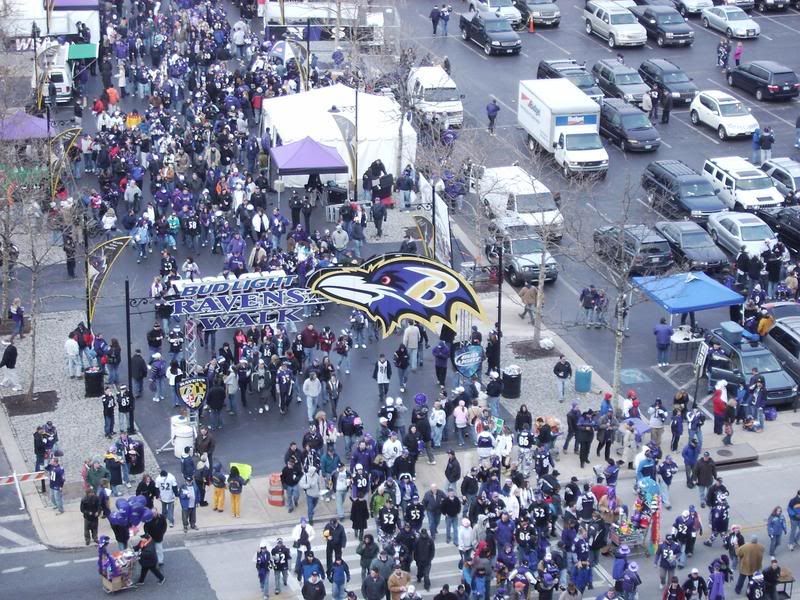 And it is good luck to rub Johnny Unitas's shoe as they pass. His left foot is worn completely smooth from all the touching.
(Look for the cluster of people at the center of the photo. At the center of the cluster is the statue. People literally queue in order to touch his shoe before the game.)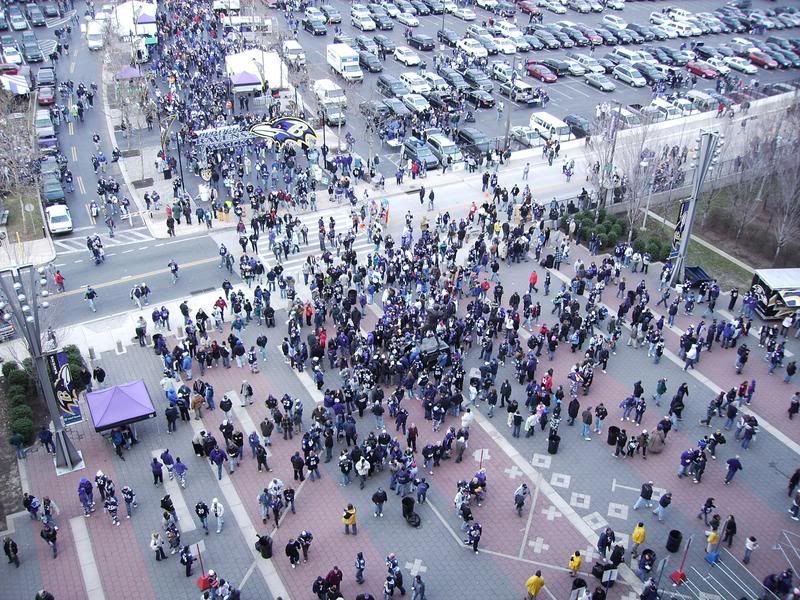 Oriole Park at Camden Yards where the Baltimore Orioles
lose
play.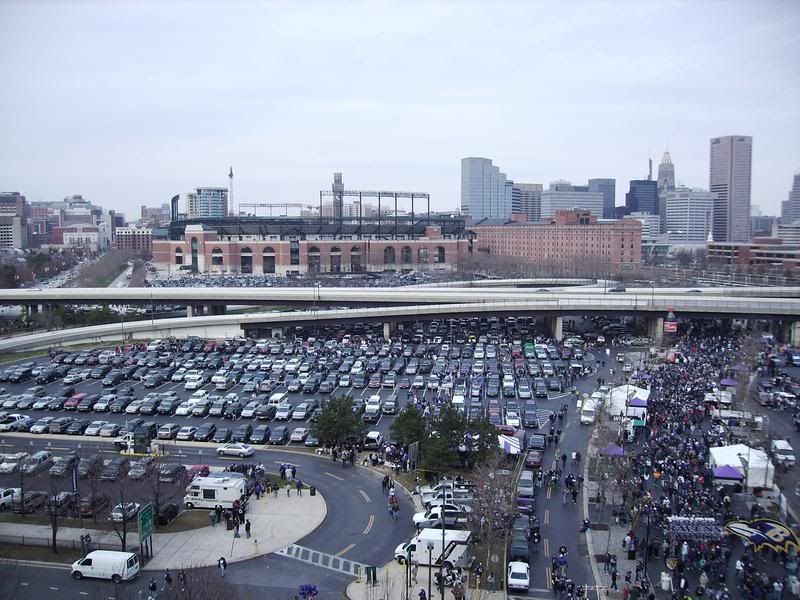 The Ravens practicing before the game begins. If you look closely, you can see quarterback Steve McNair (
#9
) and tight end Todd Heap (
#86
).
The full stadium during the fourth quarter before people began to file out because it was pretty much a certain win.
The Ravens at huddle.
The football game had been moved back from one to 4:15, so by the time that was finished, it was back to my parents' for New Year's Eve. After last year's disaster, this evening was to be much more subdued. By now, I was exhausted. I laid on the couch most of the night and talked about football, dogs, and movies with my Aunt Lois and Uncle Jim. Bobby and Mom kept me nicely supplied with alcohol, but I drank at a pace not to get drunk, lest I fall asleep. We watched the ball drop in Times Square on Dick Clark's Rockin' New Year's Eve. Dick Clark is a brave man, but he looks well, despite the stroke, I think.
On New Year's Day, I did virtually nothing. Nothing! And I enjoyed every minute of it.
Today, Bobby had off of work for the National Day of Mourning in honor of former president Ford's funeral. Of course, the cheap-ass State wouldn't give
us
a Day of Mourning. Bah. Though Charlie (one of the warrant officers) called me this afternoon to inform me that he would not be coming in, since he was in mourning.
"Well," I said, "since you're in mourning, I'll be sure not to call you with anything."
"Dawn, I think that you need to take a day of mourning too," he told me, and I informed him that my day of mourning had started at 9 a.m. since I did virtually nothing work-related today.
Bobby met me for lunch at Q'doba, and we went to Columbia Scuba to get our open water referrals. We will be going someplace warm in the next two months to finish these tests; then we'll be certified! We'll also be doing a couple of pool dives with one of the classes to get ourselves back into the feel of things.
In two weeks, I will be taking what I call a "weekend writing sabbatical." We are going to Deep Creek Lake in Western Maryland for Martin Luther King weekend. We are renting a cabin with some friends in the middle of nowhere. They're going off to do snow-type things like snowboarding and such, and Alex and I will be staying in the cabin to write. I can't wait. Peace. Quiet. Muses.
Well, the latter kind of cancels the first two. But I still can't wait!