NaNoWriMo Progress
Well, today is the halfway point. I'm almost at my quota for the day, and I still have the evening to write, so I hope to add another thousand or two before I drop from exhaustion.
Did you click the cut? Congratulations! You're a geek!
Here is a graph of my progress to date. The red line is my required daily minimum (assuming that I write all thirty days, which I have not and will not) and the blue line represents the number of words that I added for that day.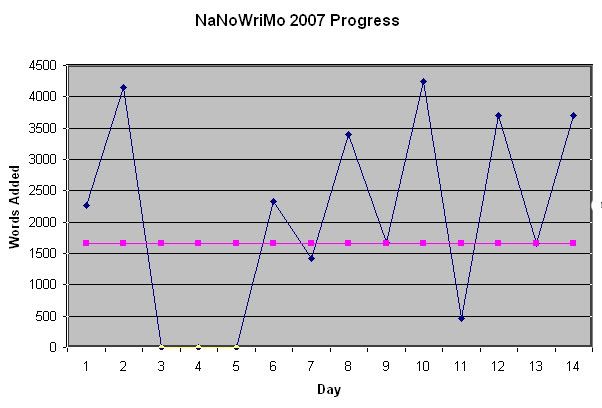 The weekend that we got Alex should be pretty clear. It's a big long string of
zeros
! Next weekend will look the same because we are going with Sharon and Kirsty to Ocean City and Pengolodh (my laptop) is staying home, though I can't guarantee the same for the muses.
I find it interesting the amount of fluctuation that is apparent on the graph. I've always suspected this about myself: I write in a spurt, then need to rest. There's no instance where you see me writing progressively more each day. Or progressively less. No, I throw myself into it to the point of exhaustion, then can't muster much the next day, then I'm sailing by the day after again. Today will be much the same. (Today is not on the graph, by the way, since I'm not finished yet.) I will probably manage about 2,000 to 3,000 words--certainly less than yesterday, when I almost reached the 4,000 mark.
Is this an effective way to write? I don't know, but it's how I've always done it. Often, I find myself writing a big scene in a single rush; the next day is slow as I transition to the next big thing. Especially because I'm working with an outline for this story, I often find myself feeling like I am crossing a river by leaping rock to rock. Though I do still occasionally stop to play in the water.
I haven't had a good sprint yet: that is, a day over 5,000 words. But it's to be expected, I suppose. RL is rather chaotic at the moment, with the new puppy and being up to my ears in warrants at work (not to mention a new officer started today who tagged along with me for much of my day).
So what do you get when you have a statistician who participates in NaNoWriMo? Stats!
Averages (including days off)
mean = 2073
median = 1969
midrange = 2125
Averages (not including days off)
mean = 2639
median = 2335
midrange = 2355
Minimum
= 459
(I'm not including the zeros here because...duh!)
Maximum
= 4250
And because NaNo is all about the word count, mine at this exact moment is...