DOC, a.k.a. Alex
Alex is ten weeks old today. Happy birthday, Alex!
In honor of his big ten weeks, we took him for his first walk in the park. It wasn't quite a hike, since it was on a paved trail (Grist Mill trail at Patapsco Valley), but I told Bobby that until he can walk up the steps on his own, I don't think it's such a good idea to have him hiking up steep trails. He did great, though; I'm amazed at how well he walks on the leash. We're trying to get him used to staying on the left side and teaching him the "easy" command. He also had the opportunity to get used to bikes and other hikers, since that trail--being paved--is popular for cyclists and runners. At first, the bikes scared him. I think it was the whir of their tires. But soon, he was used to them and eager to meet anyone who paused to make a big deal over him.
We walked for about an hour and a half at a brisk pace, and he kept up. Then he fell asleep in my arms in the car. These are the times that I try to enjoy. One day not to long from now, he will be too big for this sort of cuddling, and I will miss the days when he could curl up in my lap. (Or right now, he is stretched next to my leg on the couch. He likes sleeping next to me while I work on the computer. Earlier today, he tried to sleep with his head resting on the corner of it. He gets this from me, I guess! A geeky dog for a geeky woman.)
Here's the latest batch of Alex pictures.
Laying under Bobby's legs, looking up like, "Aww, man, I'd rather be on the couch...."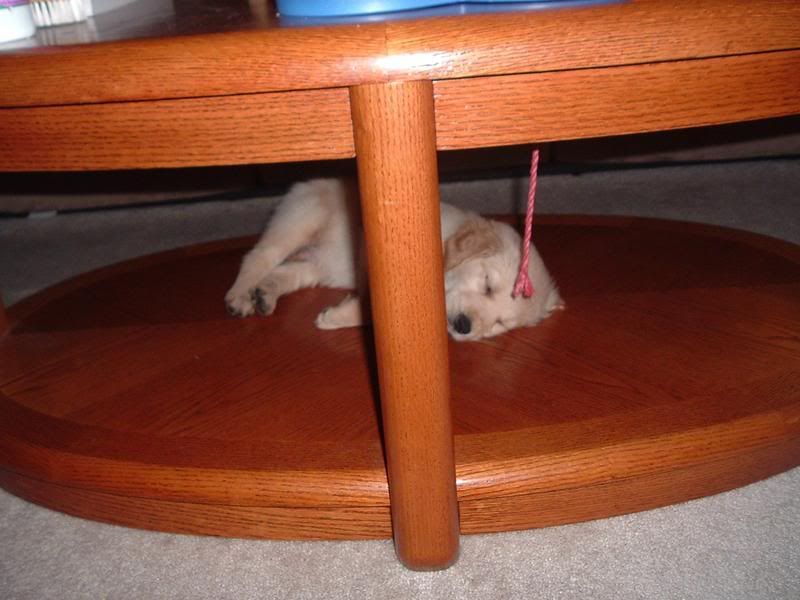 Sleeping under the coffee table. He plays with the piece of yarn stapled underneath of it. This is one of his favorite places.
At ten weeks, Alex's first nature walk: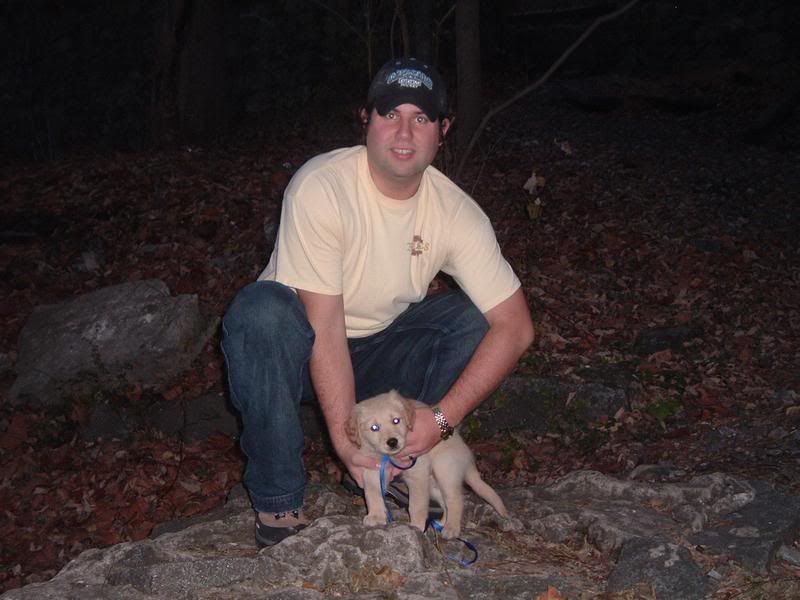 The other day, Bobby came home from work to a surprise. I had left Alex in the kitchen, his "room." I put his crate under the breakfast bar, gave him some old towels and his toys, a bowl of water, and blocked him in with the baby gate. Yet...Alex was out when Bobby came home.
Once before, when we put his crate up by the gate, he climbed on top of the crate and jumped over the gate. This time, though, the crate was a good two feet away from the gate. We could not figure out how he did it.
We had supper the other night, and Alex goes into his room for this, as he gets a bit too excited. At one point, we heard the distinctive ringing sound of the wires of his crate being struck. Bobby snuck around the corner and caught Alex on top of his crate, under the breakfast bar.
Apparently, he'd been getting on top of it and jumping the nearly two feet to clear the baby gate. He's clever and apparently more athletic than one would expect from a nine-week-old puppy!
Tonight, we went out to dinner at Rocky Run, so we put Alex in his room but put his crate away from the baby gate, against the counter. We came home and Alex wasn't in his room. Or didn't seem to be. He'd gotten on top of the counter and was standing on the stove, pretty as you please. He had his eye on the baby gate. From the top of the stove, he could jump over it and fall the three feet or so to the other side.
He's obviously quite a problem solver, and he's forcing us to do the same, to outsmart him! I've nicknamed him DOC (Division of Corrections) because Johnny the Boss, Bobby, and I were talking about our puppies the other day. Johnny has a Bichon puppy named Jackpot, and he says that when Jackpot goes into his crate, he starts the "DOC walk," pacing back and forth, waiting for the first opportunity to escape. Alex, likewise, has a DOC outlook on life.
Alex won't be spending so much time in his room, though. We'd thought of hiring a dog walker to take him out midway through the day; he is alone for eight hours when we are both at work, and we don't really like this, since he's so young. Alas, my mother-in-law is having some issues with her job, so we offered her the job, and she took it! She will be coming three times during the week to puppysit for an hour or two: walk him, feed him lunch, and just keep him company. He'll still spend most of the day alone, but it won't be such an unbearably long stretch, and we're much more comfortable with his grandmother coming into our apartment than a complete stranger.