Painting Project: Meryth and Talban
After too many months of not painting, I finally got off my butt and did two models for my dear pal Jenni. It was a combination of a birthday gift and also gaming models, since
themidhavens
will soon be moved completely online, which means she'll be able to play with us. (*SQUEE!*) So I painted her models for both Meryth and Talban, sent them away two weeks ago, and they finally arrived safely. Whew.
This post will probably not be of interest except to artsy types and gaming types, so don't feel bad for skipping it. As I start painting again, I am trying to do step-by-step photographs of the projects as they evolve. I hope that this will help me to improve, but no one should feel obligated to follow my blatherings about paint colors and blending techniques and the like. But if you want to, right this way....
Both were entirely pewter models on plastic bases. They stand about 2 in/5 cm from the base to the top curve of the sword. Including cleaning, each model took about six hours to finish. Aside from sticking them to the bases, no additional assembly was required though--as with all pewter models--they required a good deal of filing and cleaning away of the mold lines.
They were then sprayed with a black primer coat. White primers are available and allow one to go straight to painting the colors versus having to add a gray basecoat. However, I choose to use a black primer for two reasons: 1) the models often have areas that are next-to-impossible to reach with a brush, and the black basecoat forms a natural shadow (whereas white paint in a shadowed area looks like an obvious mistake) and 2) painting the gray basecoat familiarizes me with the model, the details that I will have to do, any spots that are going to be difficult, et cetera.
After the primer coat dried, a Fortress Gray basecoat was added. Most painters tend to be sloppy on the basecoat and fix it later, but I tend to focus on the details now as practice for coloring and blending them later. Here are the models after the basecoat has been applied:
The next step is adding color. I generally start with the largest and most difficult areas first. At this stage, I have a lot more patience than when I'm almost finished and ready to move on to something new, and blending takes
a lot
of patience.
I decided to start with their cloaks as cloaks require a lot of blending and, hence, a lot of time. Meryth and Talban are the Midhavens equivalent of Wood Elves, though they are of mixed ancestry and have a quarter of Human blood and a quarter of more noble Elven heritage. Nonetheless, they were raised as Wood Elves, and so I chose a subdued, "earthy" color scheme for them. I wanted the cloaks to be green. Because I prefer to blend "upward" from dark colors to light (rather than from light colors to dark), I started with two coats of a color called Dark Angels Green.
This picture shows Meryth's cloak finished beside Talban at stage one. Meryth's shows the light better because of blending. (Though the frustrating thing about blending really well is that it creates such a natural effect that no one realizes it's blended at all!)
The deep folds in the cloak would remain Dark Angels green. For the next step, I added a layer of Goblin Green--a good bit lighter--on all but the deepest folds.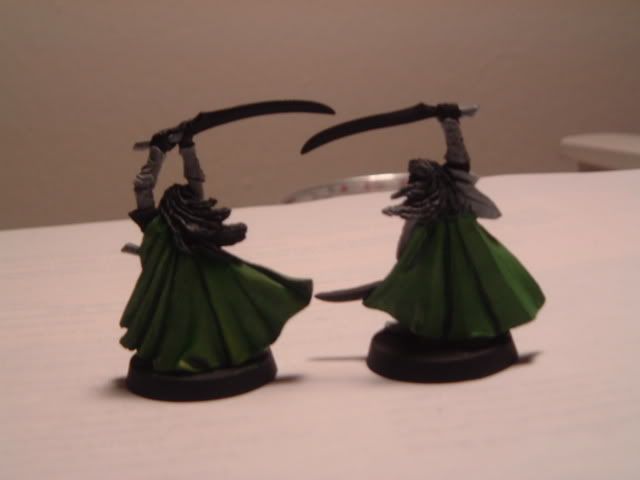 The rather drastic separation of light and dark is where the blending comes in. It is possible to create a beautiful transition between two colors using gradients--that is, mixing in gradually more of Color 1 into Color 2 until Color 1 is reached. I do a lot of gradient work with my Noldor, where I often use flames or gradients between red to gold or violet to gold. But working in such a small space and between such close colors, blending--while a more difficult technique--is much more sensible.
Blending involves drawing small amounts of Color 1 into Color 2. It is very tedious and done with a detail brush. It is easy to mess it up. It takes forever. But the effect is wonderful.
Here, Talban is completely blended to match Meryth. The Dark Angels green has been blended into the Goblin Green and a highlight has been added on the high folds of the cloth--Goblin Green mixed with Golden Yellow--and then blended down into the Goblin Green. In a few instances, teensy amounts of Golden Yellow have been used and blended into the Goblin Green/Golden Yellow color. The result is (hopefully) a cloak that looks like fabric would naturally look under the light. Sorry, the picture is blurry, but the overall effect can still be seen:
Cloaks finished, it was time to move onto the next-most difficult step: clothing. Clothing of course involves folds and wrinkles which involves--you guessed it!--more blending. Given their heritage, I chose simple browns and beiges for their clothing that I hoped would be reminiscent of leather or suede. Here is Meryth's clothing (finished) next to Talban, who has had a basecoat of Scorched Earth for his top layer of robes and a basecoat of Graveyard Earth for his second layer. Unfortunately, the photos turned out dark, but the finished effect can be nicely seen on Meryth's sleeves.
I also decided to do their belts a little more colorfully. For one, the models needed a bit of color. Secondly, given their mixed heritage, it makes sense (to me) that Meryth and Talban might also want to carry a bit of their noble lineage with them. The belts were fairly simple: painting increasingly smaller shapes with a detail brush. The details on their bracers were already present on the models and so were a simple matter of overbrushing with Golden Yellow then touched up any inconsistencies or mistakes.
Their clothing finished:
If there are any other miniatures' painters out there who use Citadel colors, the colors that I used for the clothing are Scorched Earth blended up to Bestial Brown blended up to Graveyard Earth blended up to Bleached Bone blended up to Skull White.
Next step: faces. Bobby hates painting faces. Indeed, for as small a space as they take up, faces
are
a bit of a pain: easy to do but difficult to perfect. And it is so often the case of trying to fix a tiny error, slipping a bit with the detail brush, and having a worse problem to fix than you did in the first place. Still, I like painting faces. They are a challenge and can really finish a model.
To start, I paint all exposed skin--in this case, hands and face--with Dark Flesh with the effect that the models look like they either spent too long fake-and-bake tanning or were too close to Chernobyl during meltdown.
Next, I add a layer of Dwarf Flesh covering all but the areas that will have the deepest shadows. For painting Elves and fair-skinned creatures, this is most of the face except the grooves beside the nose, the brow, and right along the hairline (where the hair might create a shadow, anyway). For hands, I usually overbrush the fingers to leave the spaces between dark and paint the rest Dwarf Flesh. Now they look slightly better, though still like their faces might have melted.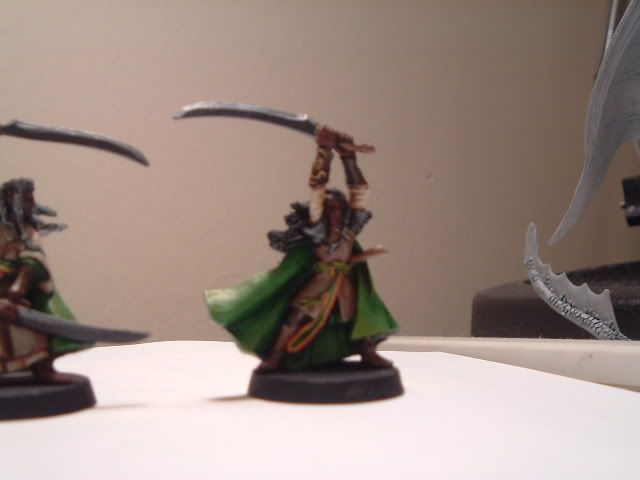 Next, the faces are highlighted with Elf Flesh: the tips of the nose, the forehead, the cheekbones, et cetera. I fix any mistakes in shadowing and add eyes. The finished faces (and hands):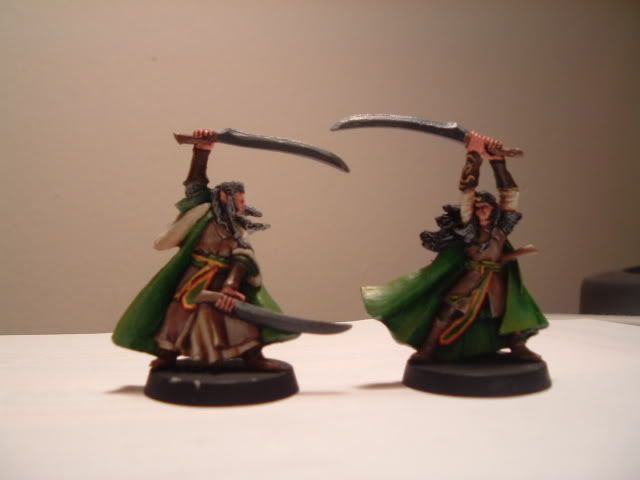 Next comes the metal portions: the bit of chainmail that they are wearing (and is visible) and their weapons. Citadel makes metallic colors that have bit of metal in them that create a natural shine. Until this project, I always took the easy route and used metallic paint, maybe three shades to convince myself that I wasn't being lazy. However, it is generally recognized that the ability to create a metallic effect without using metallic paints is a mark of being a skilled painter.
Of course, I had to try it.
The chainmail (at their sleeves) was easy: start with a half-and-half mix of Chaos Black and Fortress Gray for the base, then add a drop of Fortress Gray for each subsequent step and add layers according to how the light falls on the chainmail. Weapons are a bit more difficult, but I'm pleased with my first attempt, though I think that I need to be a little less cautious in using light highlights to show the gleam of light on the blades. But for a first try, I was fine with how they turned out.
Meryth's blade (Meryth is on the right, with one sword) is not the best example because that actually
is
my daylight lamp shining on it and creating the effect! It's best to look at Talban's blade and their chainmail.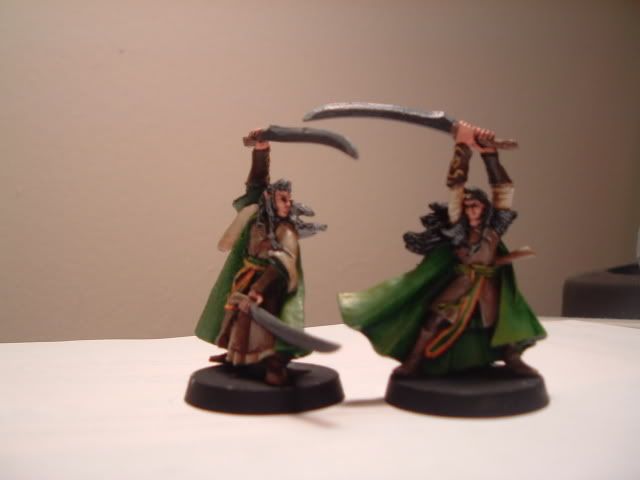 The final step was hair. Meryth's hair is black, so I painted it Chaos Black and blended in Fortress Gray for highlights. Talban's hair is reddish brown, so I used a base of Dark Flesh and highlighted it with a mixture of Dark Flesh and a little Golden Yellow.
Here are the finished models at a variety of angles and also with a ruler to show scale. (Because they always look huge in photos but are really quite tiny!)
And after twelve hours of work over the course of two weeks, my desk looked a little worse for the wear.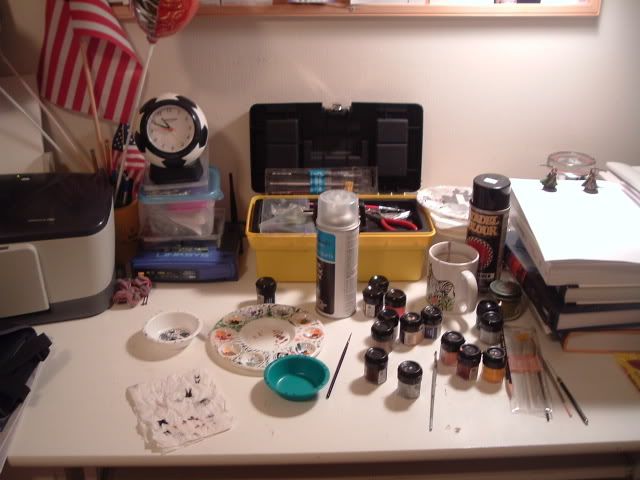 In all, I was very pleased with the results. The cloaks and clothing were probably my best blending to date, and I proved to myself that I could paint non-metallic metallics (even if I do need more practice). They weren't highly detailed models like some of my Noldor are, but sometimes, the less-detailed are my favorites to do: far more relaxing and far less eye strain!