Patapsco Valley State Park--Glen Artney Area
Bobby has been in training for work for the past two weeks, and Friday was his last day, so he had a half-day. We met for lunch around 12:30, and he asked if I was not too tired to consider doing a hike when I got home from work. The weather in Maryland for the past week-and-a-half has been unbearable, and our outdoor activities have tapered off as a result, but Friday, temperatures only reached the mid-90s F (about 35C), which was suitable for walking in the woods.
Last week, we had returned to the Patapsco Valley State Park that we'd discovered a few weeks earlier and gone to an area called the Lost Lake. There had been literally dozens of butterflies. We'd wanted to return to see if we could get some nice pictures of them.
This week, when we arrived, there was easily five times more butterflies than there had been the week prior. It was an instance of standing with the camera in my hands, unsure where to point it first. We got some
beautiful
pictures, which I will organize here by species.
I haven't been putting this on my posts since I tend not to think of our photos as worthy of stealing, but I've had three people in the last week ask for prints of some of the photographs we've taken on our various excursions, so I kindly ask that anyone interested in using our photographs for personal use
ask
first. Chances are, I will say yes, so long as the person is willing to credit properly either Bobby or me. But if I find our photos in the wilds of the Internet, without permission and/or credit, I will not be a happy 'gund.
Tiger Swallowtail
These bright yellow-and-black butterflies are common in Maryland. With a wingspan that can reach six inches (15 cm), they are impressive indeed. They are not shy butterflies and I have successfully tamed them in the past to allow me to touch and move them while they feed.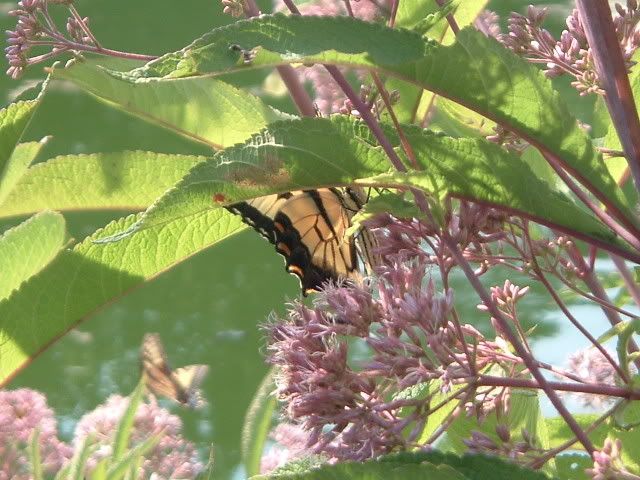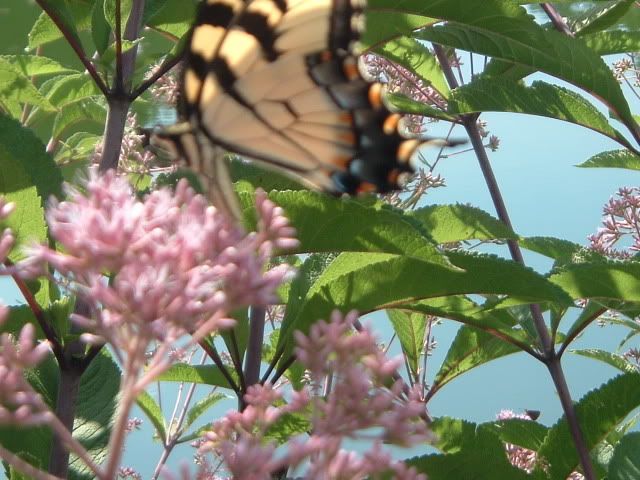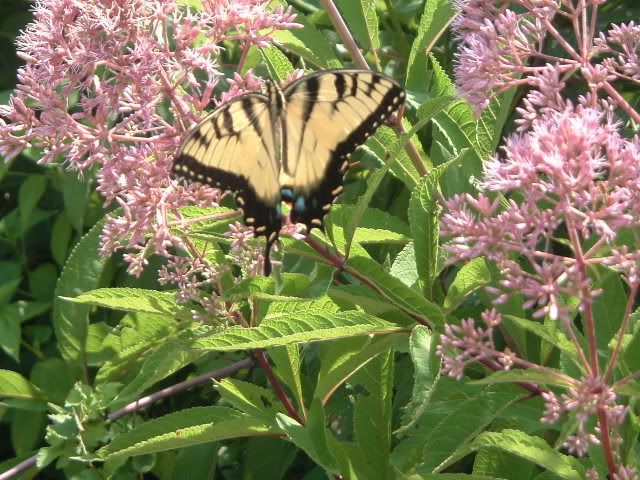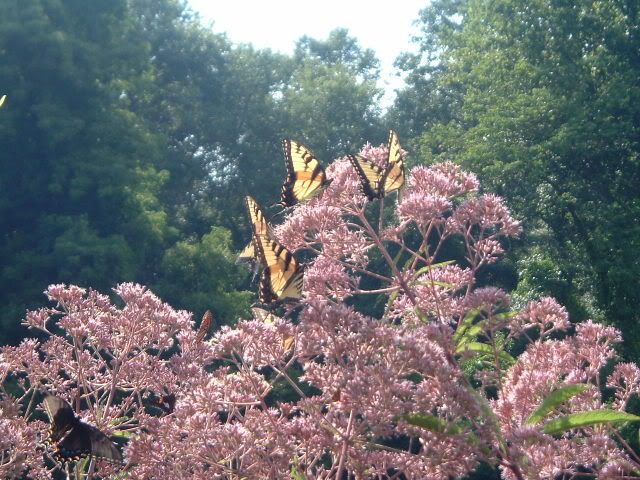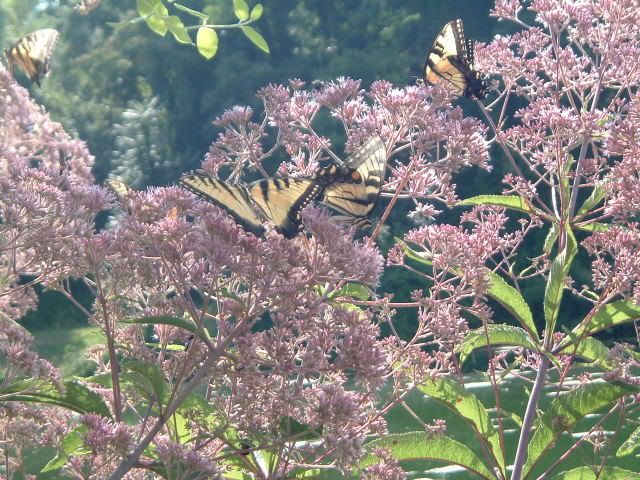 This one, taken by Bobby, is probably my favorite of the tiger swallowtail pictures. The detail and color are amazing and I love the view from the front as the butterfly feeds on the flower.
Yellow-banded Skipper
I am not completely positive that this is the species represented in these pictures. It is the only species in my butterly field guide that resembles this butterfly, and as they are rather common, I have trouble believing that a book on North American butterflies could omit them. The problem is that all the pictures show them with open wings, and all
my
pictures show them with closed wings. But the description of the underwing seems to fit.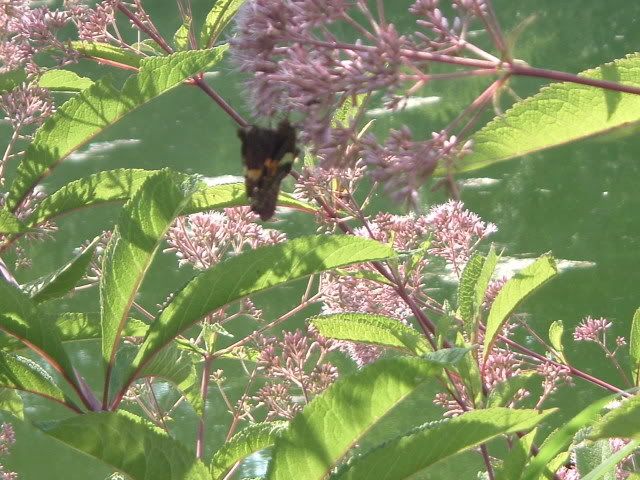 Monarch
These large, well-known butterflies can be found in Maryland but are not as common as some of the swallowtails, which are similar in size. We were lucky that there was one monarch at the Lost Lake when we visited, and he was willing to pose for us!
Buckeye
Until last week, I didn't even know that we had these in Maryland. They were on of my favorites as a child when I would peruse the field guide, so imagine my delight to see one in the flesh, at last! This week, there was only one on the flowers, and he was camera-shy. I did my best to get pictures of him, but unfortunately, I never got one with his wings opened, showing the beautiful blue-purple eyespots for which the species is named.
Zabulon Skipper
Skippers are small butterflies with folded wings that are often mistaken for moths. This was the first time I had ever seen the Zabulon Skipper; I had to look it up in the field guide, but the wing patterns between my butterfly and the one in the book match exactly, making me quite certain that I have identified it properly.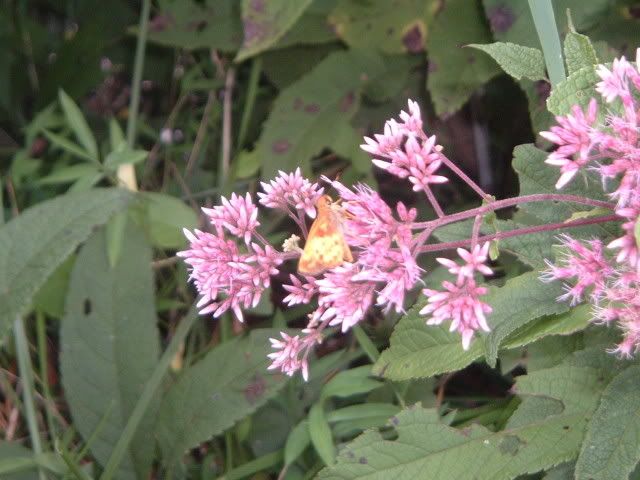 Spicebush Swallowtail
Spicebush swallowtails are as large and impressive as tiger swallowtails but not nearly as common. While initially unexciting when viewed at a distance, a closer look reveals a beautiful blue hindwing and intricate markings.
And I have saved the spicebush swallowtail for last because this is my favorite photo of almost fifty that we took that day. Bobby took this one too.
Ailanthus Webworm Moth
Not a butterfly, no, but this moth is quite spectacularly patterned.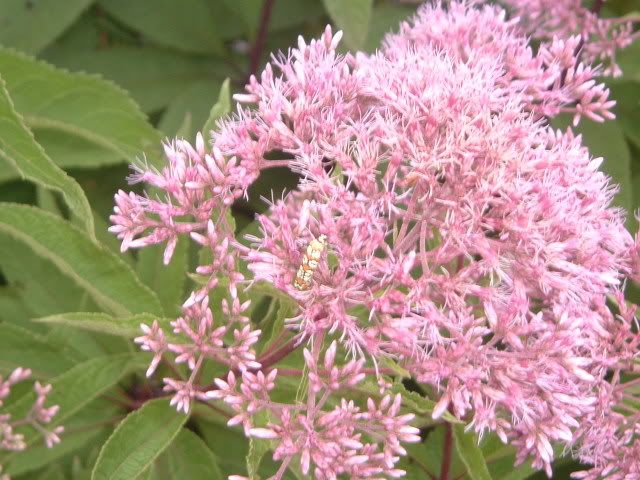 Still-Unidentified Dragonfly
My insect field guide doesn't identify this one. The closest I found was the green darner, but this one doesn't have a blue thorax and is too small.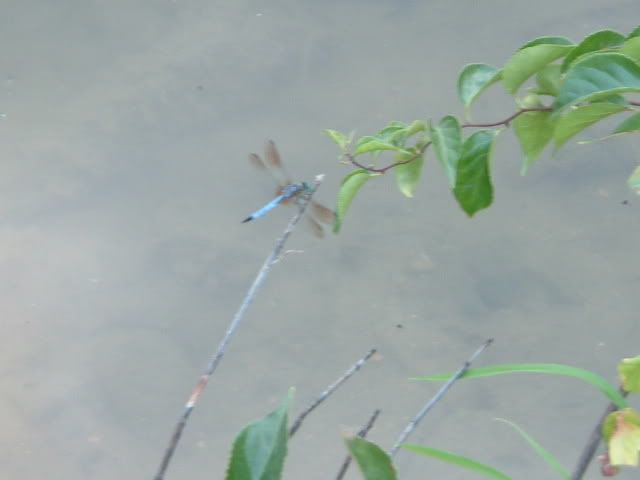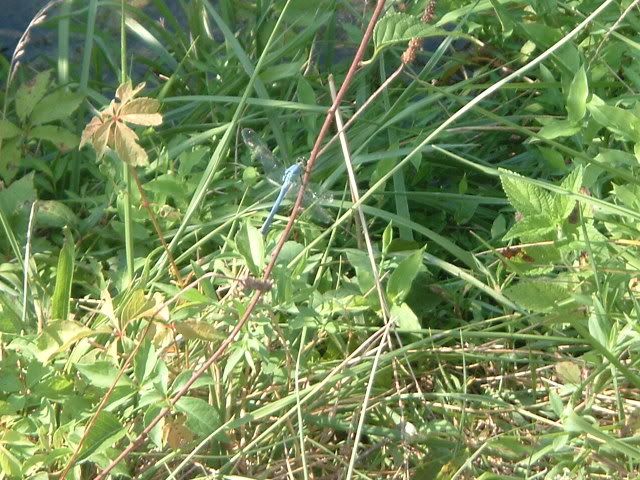 Following are general pictures of the butterfly flowers at the Lost Lake. Multiple species can be found in some of the pictures; others show the sheer volume of butterflies on these flowers.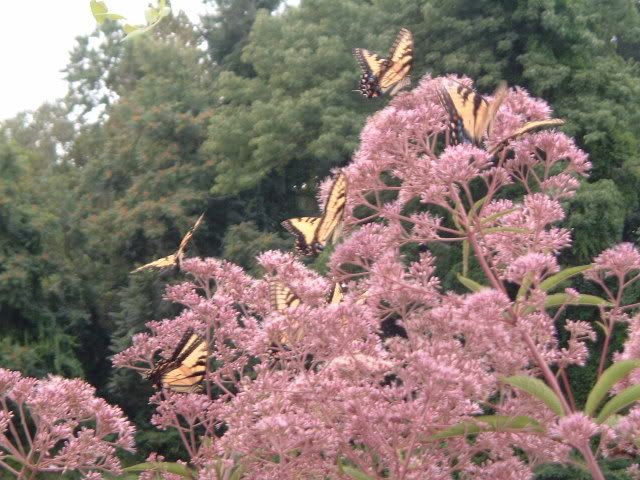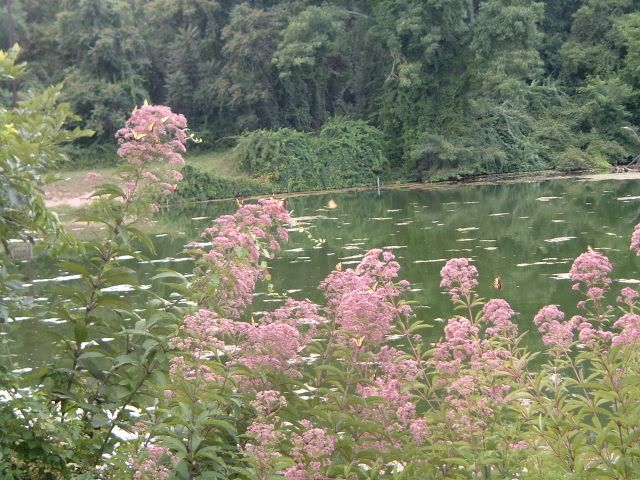 And my favorite from this batch, taken this time by me, looking up into a sky threatening storms, the light made the butterflies' wings translucent. And, yes, that is a bee in flight between flowers, not an airplane or a UFO!
Because we went to the Lost Lake on a Friday afternoon (versus Sunday afternoon last week), we were the only ones there and got to explore the pond without interruption. We spent an easy half-hour, watching the butterflies and staring into the water. Here is the pond from the parking lot:
And two ducks that followed me, hoping to be fed. Unfortunately for them, I was more preoccupied with the butterflies!
When we were finished with the butterflies, we crossed the road to explore some of the trails. The first we walked was the Soapstone Trail, a short loop, half uphill and half downhill. We found lots of fungus, and Bobby had to endure me saying, "There's a fungus among us!" every time. Here are some pictures from the Soapstone Trail:
The Soapstone Trail forked after the loop, and we could either continue on a spur also called the Soapstone Trail or do another loop called the Bull Run Trail. We opted for the Bull Run, since loops are always nice, as you get to enjoy twice the scenery than if you have to walk up and back the same trail. The Bull Run was quite a climb in the heat and took us to a swatch of field cleared for power lines. Up and up we went even further, now in the sunlight, getting our legs cut to pieces by these innocuous-looking heart-shaped plants that were loaded with tiny thorns. Just before emerging from the woods, Bobby caught a faceful of spiderweb and proceeded to have an arachnoleptic fit. I checked him and the spider (though he insisted that he saw it the split second before he caught a grill full of web) was nowhere to be found. He continued to twitch, and I offered to walk in the front, since I haven't walked through a big spiderweb in years. (How, you ask, when we hike at least once per week? Why, I always make Bobby walk first!) Just before emerging from the trees, we found where the spider had gone: In the curve of the bill of his baseball cap, some of the web had been caught and preserved without tearing, and there was a tiny spider in it. I cleaned it out for him with my hand. Little spiders don't bother me; it's the hand-sized ones that need to keep their distance!
As we climbed down the latter half of the Bull Run Trail, we passed a stump with an excellent example of the funnel spiderwebs that are so prevalent in this park for some reason.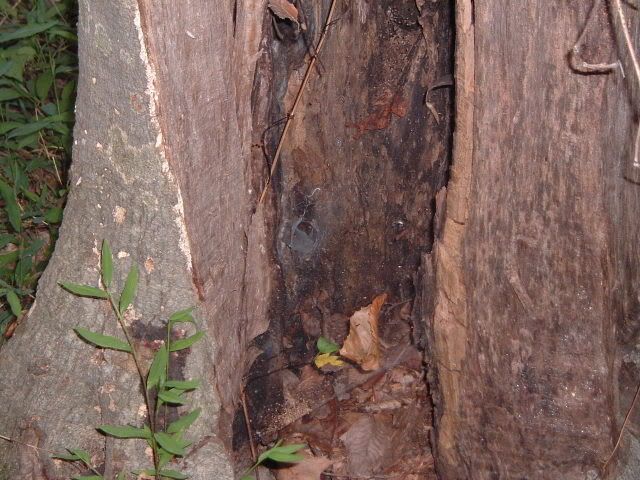 Unfortunately, this one was either unoccupied or the spider was shy. Even further down the hill, we caught sight of a white-tailed deer and heard more of her friends in the brush around us, but they refused to reveal themselves. Bobby got a spooky shot of her in the dusky forest with her eyes lit up by the flash.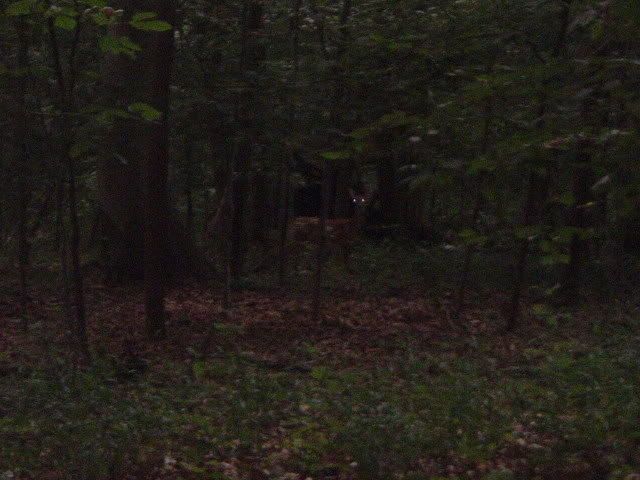 All told, we did 1.75 miles (2.8 km) of walking, a good bit of it uphill, despite the heat. We were ready for showers and dinner by the end of it, but we had a great time.