Ocean City, hon!
Following is an account of our weekend holiday to Ocean City, Maryland last week. Dial-up beware: I'm including a lot of pictures! Some of the pictures were taken last weekend; others were taken last August, and I never got around to posting them. Because the weather was more favorable last year, I am posting some of them now, particularly those that I took of famous OC landmarks.
When I got home from work on Thursday, Potter and Bobby were already loading the stuff into the car. It didn't take more than a few minutes before we were on the road. Of course, we hit a bit of traffic. It's Maryland and impossible not to hit
some
traffic while traveling. But that was over quickly, and it was smooth sailing from there.
At which point, my chills and aches decided to return.
It has been hot in Maryland, and so Bobby had the air-conditioning blasting, and I was
freezing
. I had to wrap myself in a beach towel and kept getting sharp aches throughout my body. It figures: on my way to vacation and having a relapse of whatever weird illness had been plaguing me all week.
We'd decided that for our first night, we would check in at the hotel, then head off down the Boardwalk to Shenanigan's Pub, an Irish restaurant right on the Boardwalk. The food there is excellent, and they have live music nightly. On our way down the Boards, we stopped at Sunsations for some (overpriced) single doses of Advil. I was
determined
that my weird illness would not keep me from enjoying my vacation, even if I had to take Advil non-stop for the whole weekend. We sat down in Shenanigan's, and I ordered my usual--the stuffed eggplant, which is deliciously evol--and took my medicine. When the pain was gone and the chills subsided, I became my usual jovial self again.
Shenanigan's had a one-man band playing that night: a harmonica, an acoustic guitar, a cymbal with his left foot, and a bass pedal with his right. He was great, so we stayed and listened to quite a few songs after our meals were done. By then, I was feeling really good again, so we struck off down the Boardwalk toward the inlet. We were staying on 15th Street, so it was about a two-mile walk. One of the great things about Ocean City is that it's one of the few places in Maryland that is still largely a pedestrian town. Most of the attractions are concentrated around the Boardwalk and inlet. Even if you want to get to the upper streets but don't want to drive, Ocean City runs a bus the length of the city, twenty-four hours a day, and a day-pass costs only $2. When we stay there in the summer, we stay on the lower streets and walk just about everywhere. The only times we got into our car was to go to dinner at La Hacienda (80th Street), miniature golf, and to Dumser's for ice cream, also higher streets.
The Ocean City Boardwalk is lined with hotels, houses, and shops selling all sorts of beachwear, souvenirs, and junk. One of our favorite attractions is
Ocean Gallery
, an art store that boasts literally thousands of original paintings, prints, and posters. Ocean Gallery is unmistakable from the Boardwalk, as the shop is covered from top to bottom in handmade signs and random junk. The artwork is stacked so thickly inside that two people cannot comfortably pass. Bobby and I have been known to wile away hours in the untamed depths of Ocean Gallery, looking for that
perfect
picture that we know must exist, that we need to decorating our apartment.
Ocean Gallery, one of the most distinctive landmarks on the Boardwalk, with three stories of over 30,000 pieces of artwork.
This time, with some regret, we remarked that we would need to buy anything from Ocean Gallery. As we approached it on the Boardwalk, there was an original painting of a seascape with palm trees tucked half out of sight beneath some other paintings. We both exclaimed over it and kept walking. Further along was
another
seascape with palm trees, done at sunset, and this one literally stopped us in our tracks. It was an original and framed; the price tags in Ocean Gallery are torn bits of cardboard done in block letters in magic marker, and I dreaded glimpsing at this one, knowing that we probably would not be able to afford the painting.
But...$39.98. We both almost fell over. On the walk back, we decided to get it. We don't have room for another piece of artwork in our apartment, but as I tell Bobby, one day, we will have more than one bedroom to decorate. And we couldn't take the chance that someone would grab it before we did. The shop owner told us that it was a $100 painting on sale for $39.98. That's quite a sale!
We continued on down the Boardwalk, to the inlet, where are all of the arcades and rides and games, noise, clutter, and people. But the inlet--as obnoxious as a first-time visitor might find it to be--is in a place in my heart beyond despise. The same shops and game booths have been there since before I was born; even the uniforms on the employees at Trimper's Rides have remained unchanged. My sister and I used to ride the Whip first and then move on to the other rides. The Whip is still there, among Trimper's indoor rides; I always peek in on it, like calling hello to an old friend.
The inlet on a weekend night...busy, busy, busy!
The inlet at OC, with Dumser's Dairyland, the local famous ice cream shop.
We walked all of the way to the end of the Boardwalk, where they have on display the huge sharks that people have caught off the coast. Bobby and Potter scoped out the various arcades, seeing which had which games they wanted to play. For me, the choice is always clear: in the far right dark corner of Marty's Playland are the pinball machines; second to the end is the
Lord of the Rings
. Sometimes, it has to be tipped and shaken to work, but I would feed it much over the course of the weekend, fifty cents at a time.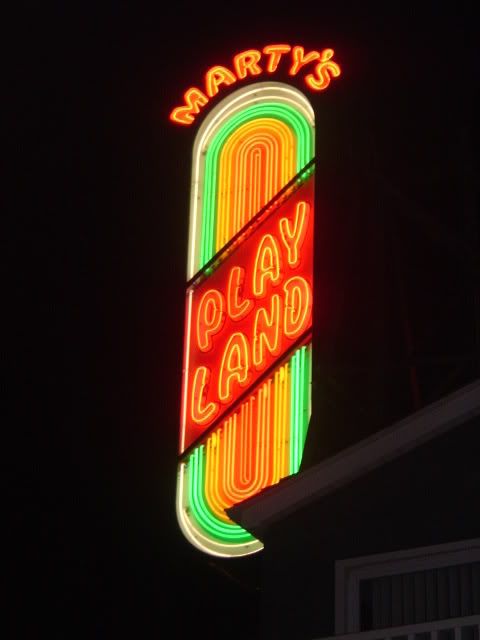 Marty's Playland...this sign has been a symbol of summer for me since I was very small.
The front of Marty's Playland, where some arse was whopped in LotR pinball. (Or not....)
We made our way slowly back up the Boardwalk. There is a long white wall that lines the Boardwalk, and we learned years ago that one of the hidden joys of Ocean City is hopping up to sit on it, swinging your feet, and watching the
oddities
people pass. We also sat out on the beach for a long while that night, watching the moon climb higher in the sky.
Then it was back to the Buckingham Hotel, to sleep in preparation for a full day at the beach!
Friday morning, we had breakfast at the Brass Balls Saloon, only a few blocks down from our hotel. They make the breakfast to end all breakfasts: the Bountiful Burke, which is a hashbrown patty covered in eggs and cheese sauce, a sampling of fresh fruit, and a biscuit the size of my head. Our old couple friends prior to their breakup had turned Bobby and me on to Brass Balls, and now we take everyone we bring to Ocean City and they, in turn, become addicted.
Friday was overcast, but it was not an unpleasant day; in fact, it was a blessing in many ways because it kept the worst of the sunburn from us. The tight achiness in my back and chest had returned, so I would take it easy, going no deeper than my knees into the sea. Bobby and Potter had their boogie boards and plunged right in; I spent the day reading and napping beneath the umbrella, listening to my iPod. We spent eight hours on the beach that day.
The beach and Boardwalk by day. The big kites in the background are part of the Kite Loft, another notable local shop.
The OC beach from above, taken from our parents' balcony last summer.
The sea is magical to me, I realized. When Bobby and Potter finally came out of the water, I walked down to the edge alone. I like to watch the coquina clams, the tiny multi-colored clams that live at the surf's edge, washing up with the sea in droves, wriggling and burying themselves nose first back into the sand. I kicked at the water and watched the coquina clams, and I let the sea speak to me. Stories that are stuck come undone when I am near the sea. I "finished" the scenes for my current short-story WiP, "Salt." I started the story that I am working on for Jenni's birthday. I do not know from where the words come, but they come when I am near to the sea, and I am grateful.
(Incidentally, Bobby and I also made a potentially life-changing decision while kicking around in the ocean together. More on this will come later. So far, only Potter knows. You are welcome to hazard a guess, but I can pretty much guarantee that no one will guess what we've decided to do.)
That night, we went for supper at La Hacienda, which might be my favorite restaurant in the whole world. I ate until I could eat no more, then it was back down to the Boardwalk to walk it all off. Bobby and Potter played in the arcades, and I got re-acquainted with my friend the LotR pinball machine. We had a little Outrun tournament that Potter won and I lost miserably. I think I'll stick to pinball, I said! After a hot, overcast day, the fog put meaning to the saying, "thick enough to cut with a butterknife." We were well down the boards before we could see the lights of the pier rides--notably the Ferris wheel--through the gloom, and those are usually visible well past our hotel on 15th Street.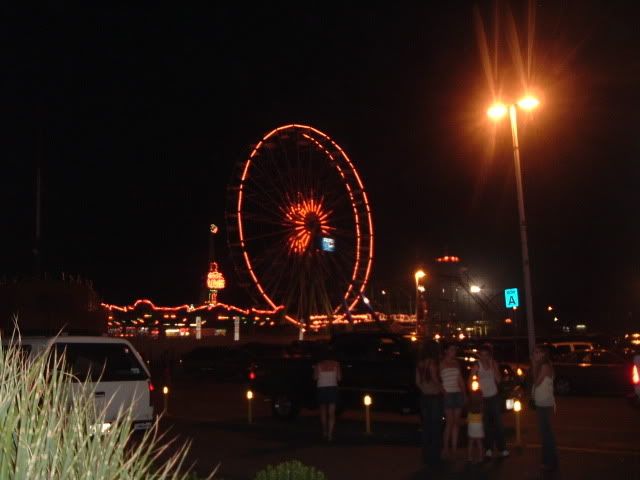 The Jolly Roger pier rides at night. Jolly Roger is another local enterprise rumored to be going out of business last summer. Imagine our surprise (and delight) to discover them not only still around but having purchased the pier as well!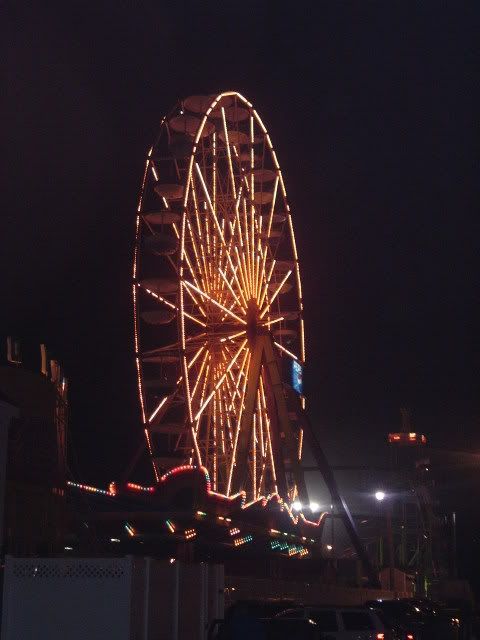 The big Ferris wheel on the pier. Unfortunately, my strange illness meant no rides for me....
Last summer, we were lucky enough to wind up on the Ferris wheel at the peak of the sunset. This is the Boardwalk and beach, as viewed from the top of the Ferris wheel.
The Boardwalk and Assawoman Bay, from the top of the Ferris wheel.
Assawoman Bay, from the top of the Ferris wheel, at sunset. (This post is also a contest to see how many times I can find reason to type "Assawoman.")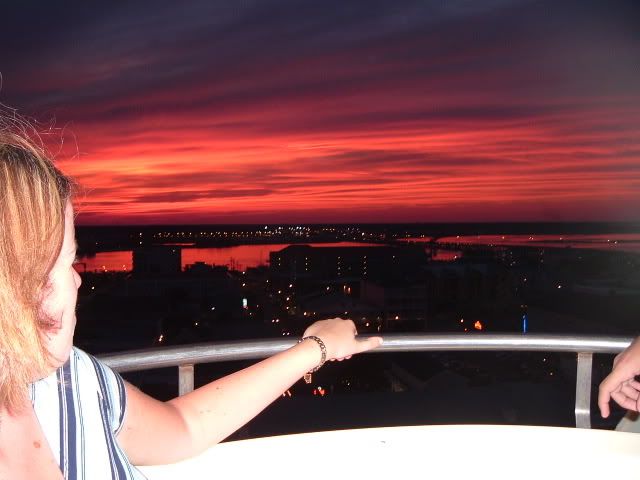 I love this one of my sister-in-law Erin looking out from the Ferris wheel at the sunset. It was spectacular indeed!
Erin again and the sunset through the Ferris wheel, rather a neat angle, imho.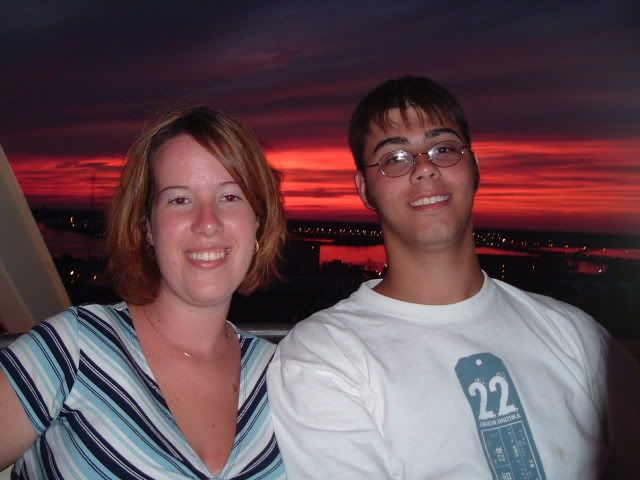 Erin and our best good friend Harry Potter with the sunset behind them. (No, they are not a couple, though they often get stuck together by default when traveling with Bobby and me!)
Saturday was overcast again, another beach day. Bobby and Potter were straight out into the water, and even my fish-husband took a while to ease into the icy water. I was content in the shade, with my book, iPod, and AMC for revising. While they were out in the water, they saw a mysterious yellow-gray fin surface about ten yards away. We still don't know what it was, but we suspect that it was a porpoise. Porpoises swim the length of Ocean City and can be seen from the beach, though they were not as numerous as in years past...or I was just looking at the wrong time. I saw one school only, during the whole weekend.
Around two o'clock, it started to drizzle; not long after, the lifeguards cleared the beach because of imminent thunderstorms.
We had planned to do pizza on the Boardwalk for dinner that night and Phillips the next night, but we reversed our plans. Phillips is a local seafood restaurant and famous in Ocean City. They have eat-in dining and a buffet. Now, Felak does not do buffets. There is just something extremely distasteful to me about food in large quantities being picked over by unsavory people who last washed their hands Eru-only-knows-when and might not be most discretionary in where they aim their sneezes. But a few years ago, our friends Dave and Angel--the same friends who brought us to Brass Balls for breakfast--chose the Phillips buffet for their dinner choice, and we went along. And we have been back every year since for four years now (and once in the winter too, I will admit!) For Bobby, they have all the weird seafoods that he either cannot get elsewhere or cannot convince anyone else to eat with him, like steamed mussels. They also have snow crab legs, crab cakes, and crab imperial, all of which he loves. For Dawn, they have a build-your-own-pasta station. That's all that I need to say.
Because Phillips is so famous around here, it is next to impossible to get in during prime dinner hours. So we discovered another little secret: the early bird. Between 3:30 and 5:00, you can not only get in and enjoy the full buffet, but you also wait in much shorter lines at the different stations and it costs $2 less per person. So we always plan a day to go to the early bird, usually the day that we are leaving. This time, the rain made it perfect, and we were eating by four.
Because we were finished early, we took a drive down Coastal Highway to the shipwreck museum just over the Maryland-Delaware line on Fenwick Island and then played a rousing game of miniature golf at the Old Pro pirates course. Ocean City has two dozen miniature golf courses if it has one. Bobby and I spent much of the first half tied for the lead, but I always lose interest around the fourteenth or fifteenth hole and start slacking, so Bobby ended up winning with Potter and me tied for second.
Bobby and Potter, playing a rousing game of miniature golf. (Actually, since Potter hasn't cut his hair since Hector was a pup, Bobby and I both agree that he looks more like Forrest Gump in his runnin' days!)
Bobby and me, on the front nine.
Bobby celebrates a hole-in-one....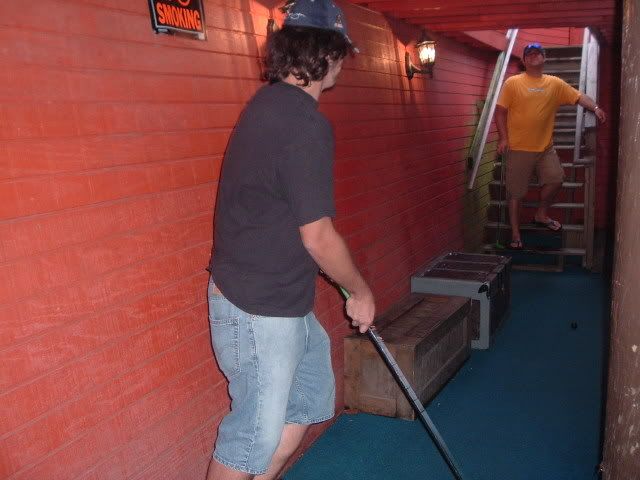 ...and Potter again acknowledges that he has been defeated by a small dimpled ball.
Some cheeky Bal'more girl, showing off.
Bobby poses in front of the RMS Barracuda.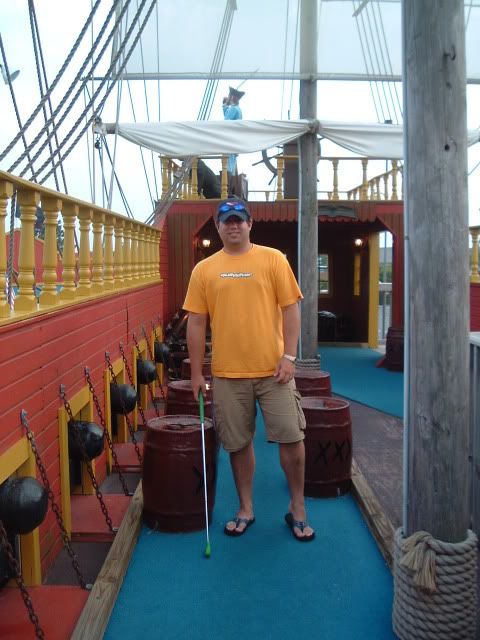 And on the Barracude, amid some dangerous-looking barrels. (Just use your imaginations, people.)
I find this particular statue to be rather amusing....
It was another foggy night, though not so bad as the night before. We walked down the boards again; I had hopes of getting on some rides, but my back tightened up again and I made the mature decision to wait until we come back in August before taking my chances. (Although it was mighty hard to pass the Crazy Dance and not say, "To hell with it!" and forget my back just long enough to be locked into a seat with no escape!) We played more in the arcades; Bobby and Potter had played Ocean Hunter on Friday night--a game where you dive and kill sharks and other sea critters in search of "monsters"--and complained about how terrible a game it was, yet had no qualms about forking over another two dollars to play it again on Saturday. The first monster you fight--for PotC fans--is the Kraken. Potter does a marvelous Scottish accent, and I was clutching my poor sore muscles with laughter at his frequent exclamations of "It's the Kraken!" I filched enough of Bobby's quarters for four games of LotR pinball, then filched two more for a fifth, ending when my fingers got sore from playing so much and I'd managed a high score of 10,000,000-something, which delighted me (being as I'd played the game maybe three times prior to this weekend, on prior trips to the ocean) and depressed me since replay is at 12,000,000, and I was *this* close!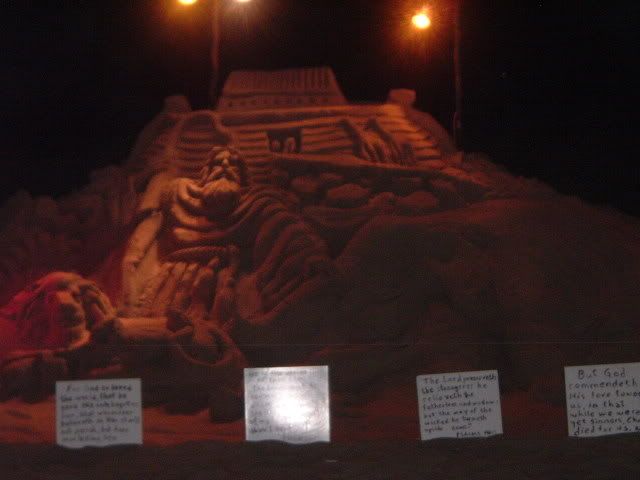 One of the famous Jesus-castles that are built each summer in the sand along the Boardwalk. Whether you agree with the religious messages or not, the artistry of these sculptures is astounding.
Bobby and I have a tradition of walking out onto the Ocean City fishing pier each year. In the winter, it is free; in the summer, it costs fifty cents to sightsee, and it is the most fun that fifty cents can buy. On clear nights, it is fun to watch the fishing boats come in. The pier affords a view of the Boardwalk to about 30th Street as well. After we'd had enough of the flashing lights and screaming electronic voices of the arcades, we went for a quieter angle and walked out onto the pier. The fog was still thick, and there wasn't much to see out to sea, but tradition is tradition, and we are glad that we went because--after we'd been out there for about ten minutes--a woman behind us started shouting and pointing down into the water. "That's them! That's one of those stingrays, I tell you!" She was close...they were two skates, each about five feet (1.6 m) across from wingtip to wingtip. We could see them moving as vague but very distinct shapes beneath the water, then one would come to the surface and leave no mistake. They'd disappear for a few minutes, then come back, a pair of them. I wouldn't have been surprised to learn that we had skates in Ocean City, though I'd never seen one before, but that large? They were beautiful. Then Potter went to throw out his soda bottle and more shouting ensued because one of the people fishing had caught a small skate, about a foot (.3 m) across. The poor critter was writhing on the pier as the guy tried to hold down its wings to cut the hook from its mouth. I looked at Bobby, and he had a look of horror on his face...but I know that I did too. Such beautiful animals...it is beyond my understanding how one gleans joy from the natural world through killing. Hunting and fishing alike, these pursuits--called "sports," although undeserving of a name that implies some form of justice--baffle me. It is one thing to kill for food, for survival. It is another to claim that one is appreciating nature through killing. That is not appreciation; that is mastery, and that is not what nature is about.
Luckily, after taking a picture of it, the guy threw the little skate back into the water, and it fluttered away. I hope that it was okay, that it is able to feed properly and will not attract the attention of predators with its injury.
But the skates have now bumped off the porpoises from the top spot on the Coolest Critters to See in Ocean City list...at least in my mind!
We walked back up the Boardwalk, stopping to sit on the white wall and watch the
idiots
people walking past. My pain had grown pretty serious again: from my neck to my waist, front and back, on my left side, I hurt. Potter made me laugh, and it was like being stabbed in the collarbone and sucker-punched in the back and ribs at the same time. Sitting on the wall, I started to get small spasms in my back and declared it time to go to bed. Unfortunately for me, it was too late. Whatever I'd done to aggravate my already bafflingly aggravated body was irreversible. I had a terrible night and could barely sleep for the pain. I took Advil and most of the pain of the back spasms went away but the sensation--like little critters were scampering beneath my muscles--did not. I could lie only on my back and try progressive muscle relaxation until I slept. When I dared to turn onto my side, I hiccuped once and my collarbone stabbed again and a spasm ran the whole length of my back that
hurt
--Advil or not--and I didn't dare try it again.
I was seriously questioning whether I would be able to go to the beach the next day or walk the few short blocks to Brass Balls for breakfast.
As it turned out, my body appreciated standing much more than lying down...and my marvelous husband went out early for a bottle of ibuprofen and a jar of mineral ice that he smeared on the sore half of my back. I still have no idea what I did to injure myself. I honestly believe that I might have simply been sitting too long in too awkward a position while playing on the computer, and it went from there. I am concentrating now on my posture again, which has been suffering lately anyway, and keeping my back against the back of my chair instead of leaning forward in all sorts of strange contortionist poses.
I made it to Brass Balls after all and down to the beach without any serious pain, although my muscles left me with no mistaking the fact that they were still injured and were willing to rebel again at any time. It was finally a beautiful day--clear, without a cloud in the sky--but I could not chance going far into the water and being battered by the waves. Bobby took me down to the edge of the water, and we talked as we always have by the sea, of our future and our dreams and how we have both come to realize--over ten years of life together--that we are happiest with the ocean, that our lives will involve the sea in some way. And then it was time to bid our beloved ocean farewell.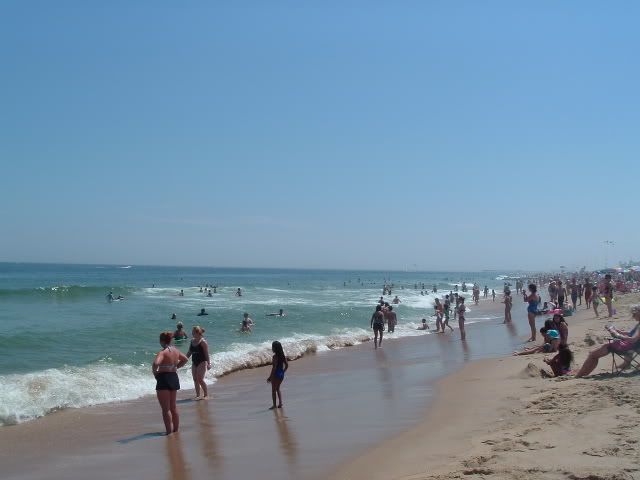 At last, a sunny day! And a busy Sunday on the beach.
Looking toward the inlet, with umbrellas as far as the eye can see.
A handsome man that washed up with the tide.
Bobby and me on the beach with the Boardwalk at our back.
We packed the car and drove down to the inlet, where we had pizza at Piezano's (the best pizza in Ocean City, where the put the sauce on top of the cheese, strange as that sounds!) and finished the last of our shopping. We drove across the Division Street bridge and were on our way home.
But it was not all sadness for Bobby and me. We will be back in August and again for my birthday in September, and we are planning to take a couple of days when Sharon and Kirsty come to visit around Thanksgiving. Laughing, Bobby realized that this meant we would be at Ocean City five times this year. I asked him, "Is that a bad thing?" and of course, the answer was no.
For the Tolkien fans on my flist...are you interested in real estate in Rivendell?
Because apparently, you can buy it in Ocean City now.
Ocean City has for a long time had a well-known seafood restaurant called The Hobbit.*
The Hobbit is conveniently located right behind La Hacienda, my personal favorite restaurant in OC and possible the world.
This year, though, we got quite a surprise: The Hobbit was gone! In its place was some pretty extensive construction, and a bit of poking around while in the midst of trying to find a parking space revealed that the restaurant had a trailer, so apparently they aren't out of business, just closed for construction. I thought that maybe they were undergoing some extensive renovations.
But no. It seems that they are building condos there. What will happen with The Hobbit, I do not know. But the condos are called...Rivendell!
Naturally, I did some flipping out. Naturally, I had to take a picture of the sales office.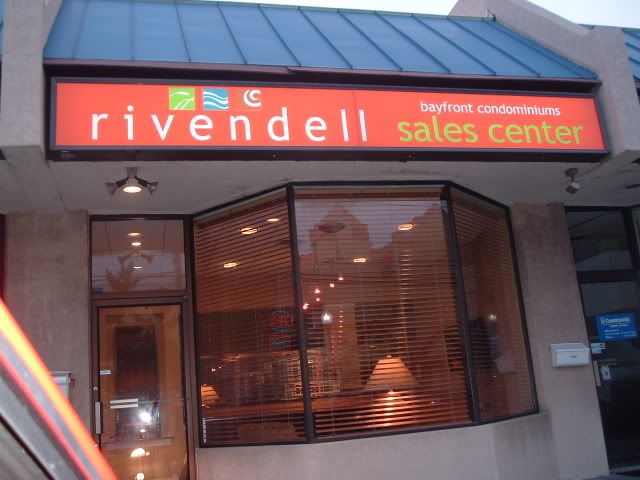 The rest of the evening was filled with nerdy and intelligent exclamations along the lines of "OMG Elladan and Elrohir live there!" and "Elrond is so cool!" and "I bet it smells like Elves!" and similar bunk. Who knows, maybe someday we'll have money enough to buy a condo in Rivendell....
* Bobby and I ate there once, during one of our winter trips to OC. We weren't really that impressed; the food was overpriced and mediocre, and there was this rich old lady behind us who kept cutting these really loud and juicy farts. I kid you not. Now I know that an old lady's flatulence is hardly the restaurant's fault, but we can't mention The Hobbit without recalling that and laughing.