Day Four: Culebra Island...or the Day that Dawn and Bobby Discovered a New Obsession
Well, we had our first rainy day. The blister on my finger caused by my wedding rings while kayaking finally ripped open last night. Around 4:30 a.m., while turning over to avoid my sunburn (so many insignificant pains!), I pulled it again and woke up, and it was
POURING
! My first, barely-awake thought: Who's running water at this hour?
Of course, we'd hung our beach towels on the balcony to dry. One was salvageable; the other was dripping.
At 5 a.m. we woke up "officially" (since the rainstorm and towel fiasco had done well at starting the job) to leave for Puerta del Rey, which is on the opposite side of the island and is supposed to take about three hours.
A half-hour later--amid a deluge of rain--we hit sudden, inexplicable traffic in Ponce. It turns out that, with the construction work they're doing there (no matter where we go, we seem destined to endure rigmarole brought on by construction), the road cannot drain properly and was flooded. Like midway-up-the-tires flooded. After driving/floating through that, we
had
hoped for smooth sailing.
Our journey required us to take la Autopista from Ponce to Puerto del Rey. After fording the River Ponce, I went to sleep since even Bobby can navigate a straight stretch of highway, and we were making great time. Around Patillas, Bobby woke me up to say taht Rte-53 (la Autopista) had...disappeared.
After a bit of consulting and exploring, I concluded that indeed it had. It seems that la Autopista remains unfinished around the southeast corner of the island. But it was no big deal (or so she said) since we'd built extra time into our trip and Rte-3 rejoined la Autopista about twenty miles to the north. We were right on schedule.
What we neglected to note was driving through the towns. While the highway system rivals what we have in the U.S., logic breaks down in the little towns, where streets are poorly labeled, apt to become one-way without notice, and (if two-way) probably
should
be one-way. Once we reached Maunabo--since renamed Funtown--we found Rte-3 suddenly...gone. Gone and left us staring the wrong way down a one-way street.
Through some fenagling and a bit of guesswork, we ended up again on what appeared to be Rte-3 (we hoped) and headed up a mountain, since renamed Fun Mountain. Around here, it's called Cerro la Pondura, which (yes) translates to Fun Mountain. Really.
Fun Mountain is aptly named because it's lots and lots of
FUN!
Picture a one-and-a-half-lane road (with traffic in both directions, yes) with one side against the mountain and the other with nothing between you and the ground (516 feet) below but a guardrail and maybe some tall grass, that consists primarily of blind turns. Oh, the fun of near head-on collisions and imminent drops to one's death!
By the time we navigated the twenty-or-so miles of Rte-3 (including Fun Town and Fun Mountain) back to la Autopista, it took more than an hour and we were significantly behind schedule. I phoned the marina from the road, and we had our first stroke of luck all day: Because of the persistent rains, the captain was doing a trial run and the boat's departure would be delayed enough for us to make it on time.
And make it we did...about five minutes before the boat departed. The tour was aboard a catamaran--my first trip on a catamaran--which is known for cutting waves. It was fast and, atop the waves recently upheaved by storms, it was pretty wild too. Our first stop was to snorkel the reefs of Culebra, then on to Flamenco Beach. It took about a half-hour to reach Culebra, during which I had my earliest alcoholic beverage of the day: a piña colada at 9:30 a.m.! Hey, they were free; it was all good.
We anchored off the coast of Culebra, at the dive site. At first glance, I will admit, it was pretty disappointing. Here we were, off a supposedly beautiful island hosting a supposedly beautiful reef...and it was basically a foilage-covered hump poking out of the water with a few scraggly rocks in the sea around it.
It was explained to us that the scraggly rocks were in fact coral, and we were lectured that they living organisms and not to be touched, blah blah blah. We donned our gear, and I didn't expect to see much else but slimy grass and...well, scraggly rocks passed off as coral. Maybe a fish or two.
(To make myself sound less pessimistic, Bobby thought the same.)
Bobby, naturally, was off the boat before me, since he is willing to jump straight into the water and I find it aversive to go from completely dry to completely wet and so used the steps. I was almost in when he surfaced: "Ree, you have ,i>got</i> to see this!" Given his reaction to the foot-long brown fish of two days, prior, I'm afraid I grunted something impolitely and continued puttering into the water. Below me swam a school of yellow fish, and I thought,
Hmmm...might be a
little
interesting....
Was I ever wrong! Wrong in a good way! Like an OMGWTF way! I dove down, and it was like a National Geographic calendar. my first sight--and thought: Holy cow, there's sea fans! Big
purple
seafans! Bobby and I were nudging each other every few seconds; it was like being inside an aquarium. Fish I'd never really though real--in the sense that they'd never been tangible to
me,
a humble Bal'more girl--swam around us, all colors of the rainbow. We found brain coral and butterfly fish and a school of blue disk fish several yards long. We saw fish a foot-and-a-half long, big as dinner plates. One had little symbiotic cleaner fish picking at it; I saw an eel; Bobby saw urchins; each ended up jealous of the other. The most beautiful (imho) that I saw was a small dark fish with shiny blue spots like sequins. It looked like it was adorned with Christmas lights.
We stayed out for the full hour-and-a-half; by the time we swam back, it was pouring rain. We were the last out of the water--big surprise! We each had an underwater disposable camera and took a combined total of fifty-four pictures. If even half turn out as we hope, that's quite a souvenir indeed!
Lunch was served on board the boat, at which point it became clear that the rain was worsening and Flamenco Beach was futile. Bobby and I couldn't even feign disappointment, after what we'd experienced. We grinned the whole way home like two kids on Christmas. Most of our money was refunded at our return, so we felt like we really made out like the proverbial bandits.
We were staying the night in Fajardo, at the Fajardo Inn, to tour the El Yunque rainforest the next morning so we set off to Fajardo. The Fajardo Inn boasts a huge swimming pool complex, so we played in that even though it was still raining off and on. We talked excitedly of what we'd seen and what we planned to do with the rest of the trip. We hope to have two more dives at coral reefs. When we return home, we are going to get our SCUBA certification. We floated in the deep end of the pool, away from kids and interruptions, and schemed.
When we were both starving, we returned to the room for a shower and went to the Inn's Blue Iguana Mexican restaurant. Dawn had her first taste of nachos since arriving in Puerto Rico. We both had marguaritas, and they were
very
strong, and I got thoroughly intoxicated.
It was only 6:30, but we'd had a long, full day, so we returned to the room and got into bed. We were asleep by nine, and we fell asleep to a coquí frog singing outside the window.
Our first dive site...very unimpressive from above, yes, but do not be fooled, for below lies something extraordinary!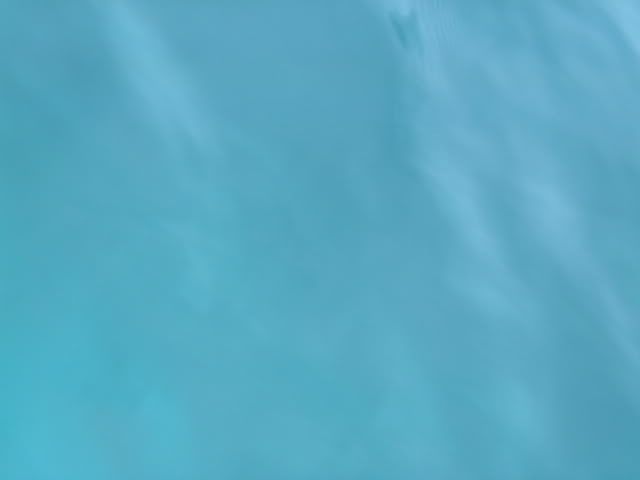 Is this the color of perfect swimming pool water? Yes...but it's not a swimming pool but what we saw, looking straight down off the boat at Culebra.
The small islands that make up Culebra, taken from the catamaran boat on our way to the dive site. Note also the mounting storm clouds....
More islands, marching into the fog after the day decided to turn grumpy and start raining. Bobby and I were not daunted, however; after spending an hour-and-a-half on the coral reef, our spirits refused to be...erm...dampened!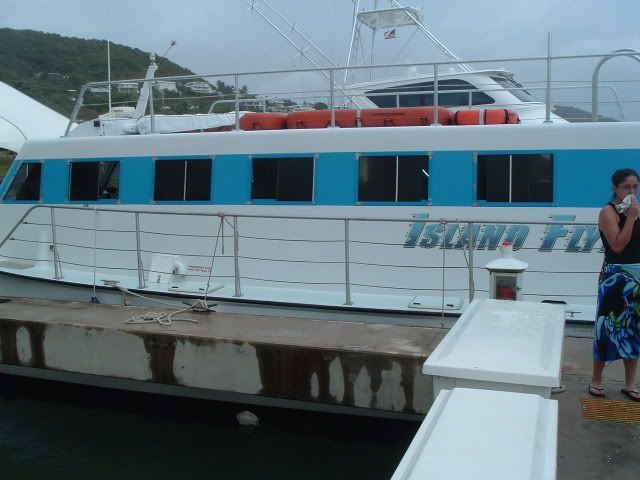 The catamaran, which delivered a wild ride on the choppy sea!
The catamaran from the front. The skiis are what allows it to "cut" the waves and move twice as fast as an ordinary boat of its size.
The second place that we called home in Puerto Rico, though only for one night: the Fajardo Inn, which boasted a Mexican restaurant (yum), a miniature golf course, and the biggest pool I've ever seen.
The rain made the day hazy, but even still, you can see the Caribbean from the Fajardo Inn and one of the islands that lies just off of the coast.
One half of the biggest pool I've ever seen, found at the Fajardo Inn. This half sports a lap pool, hot tub, and swim-up pool bar. Raining or not, Bobby and I couldn't resist the opportunity to test the waters a bit!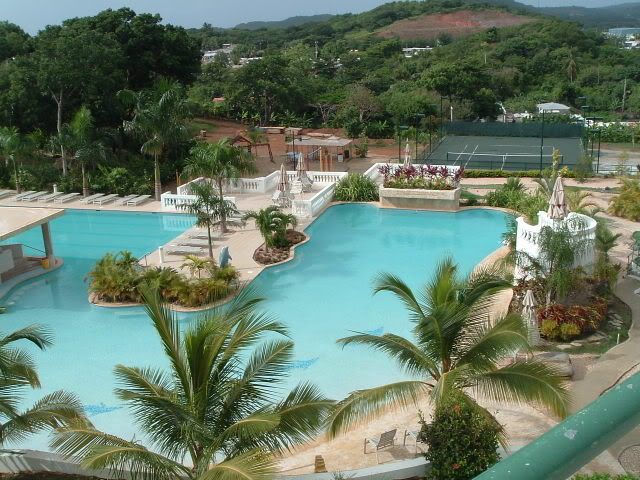 And...the second half of the pool at the Fajardo Inn! This half is more oriented toward kids, with shallower water and a waterslide.
We did take over 100 pictures underwater. Since we were using disposable underwater cameras, most did not turn out, but some are truly memorable. Since they require scanning, however, I will post them at a later date, in conjuction with the underwater pictures taken at the Wall.