NaNoData
I am power-walking my way through NaNoWriMo. Not quite running! I'm not done yet, and I know there are people who are. But I'm bookin' like an octogenarian mall walker who heard they're giving away free cups of decaf in the food court! (Seriously, I used to work in a mall--those people would run you over!)
Today has been my best day so far with just under 7500 words written. I like the new NaNoWriMo site; it graphs your progress for you, so I do not have to make an Excel graph as in years past.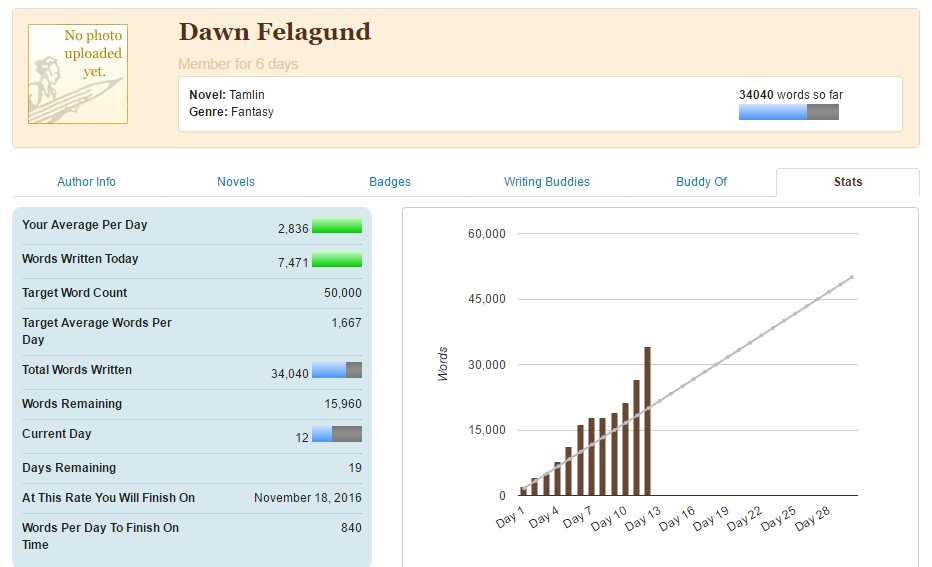 You can tell this was a long weekend: I had two strong days in a row. (My goal for each day this weekend is 5000 words.) You can also see Election Day: The one day I made no progress at all. I was too nervous to write.
The NaNo site estimates me finishing by Friday. I don't need to finish that soon, but I did want to have the bulk of the project finished before my family arrives for Thanksgiving since I can't count on any writing time from that Tuesday through Saturday.
What is interesting is that, in past years, I would have a strong day with a high word count followed by two or three days with more modest progress. This year, my progress much more closely follows my work week. Capping 2000 words is REALLY hard on a school night. In addition to my writing time competing with the work I sometimes bring home, I'm generally exhausted by the time I get to finally sit at my desk. I fell asleep while writing my novel this past Wednesday (because I hadn't slept much or well on Election Day and then had a long workday and resisted taking a nap). So you can see I barely made any progress that day.
It seems now that I
can
have two days in a row with a high word count: yesterday and today! Will I be able to to 5000 again tomorrow? It will be interesting to see. Based on past study of my NaNo progress, I would have doubted my ability to do over 5000
today
. And indeed, I did put off getting started by working on some SWG stuff that has needed doing for a while. But once I began, I was off to the races.
In any case, "Tamlin" definitely has 15,000 more words in it, though probably not much beyond that, which will put it at 75,000 words total, much longer than I expected it to be (but that's always the way with me). I should probably call it
Tamlin
now; it will definitely be a novel, though on the shorter side of that classification.
---
This post was originally posted on Dreamwidth and, using my Felagundish Elf magic, crossposted to LiveJournal. You can comment here or there!
http://dawn-felagund.dreamwidth.org/394997.html